Check Availability before Pre-Ordering
The Macraigor Systems usb2Demon U2D-Atom-31 USB to 31-pin Intel Atom interface is an affordable tool, designed for debugging embedded CPUs and programming on-board Flash memory.
Many types of BDM and JTAG interface are supported by the usb2Wiggler and different versions are available to support each type. Please note that the different versions are not convertable.
This version supports the 31-pin Intel Atom interface.
View full details
SKU: U2D-ATOM-31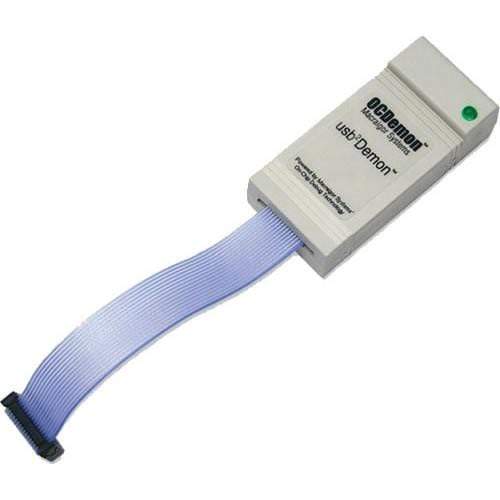 The Macraigor Systems usb2Demonis a mid-cost interface used in the design, debug, and programming of microprocessor based embedded systems.
One side of the usb2Demon interfaces to the USB port of a host IBM compatible PC and the other side connects to an OCD (On-Chip Debug) port of the target system. This port may be JTAG, E-JTAG, OnCE, COP, BDM or any of several other types of connections. When connected to a USB 2.0 or USB 3.0 port on your PC, the usb2Demon will operate up to Hi-Speed USB rates (480Mb/s).
Flash Programming Software
The usb2Demon has the ability to be licenced to use the Macraigor Systems OCDemon Flash programming software. This allows the usb2Wiggler to program on-board Flash EPROM from any PC with the Macraigor Flash Programming software installed.
Macraigor U2D-Atom-31 USB2Demon USB to 31-pin Atom
Frequently Asked Questions
Have a Question?
Be the first to ask a question about this.
Ask a Question