Optically Isolated, Single Channel
Pre-Ordered items ship within 10 days of ordering
The Trycom TRP-C06 allows an RS-232C line signal to be optically isolated and bi-directionally converted to RS-422 or RS-485 standard and communicate data along twisted pair lines up to 1.2Km in length. This makes it ideal for connecting your PC to RS-422 and RS-485 control networks.
The intelligent device automatically switches the RS-232 baud rate and direction flow control for RS-485.
It is competitively priced and available with free shipping to the UK and EU by standard delivery.
View full details
SKU: TRP-C06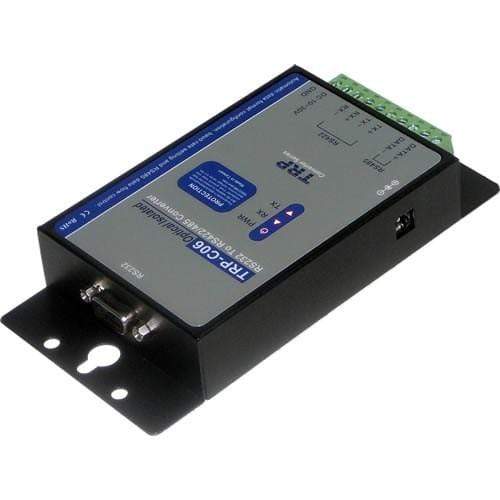 Features
Wide range input DC power supply.
Automatic data format configuration.
Auto direction flow control on RS-485.
Auto baud rate switching from 300bps to 115.2Kbps.
3000V DC isolated protection.
Surge protection on RS-422/485 data lines.
Power/TX/RX mode LED indicator.
Support screw terminal and external DC power adaptor.
Din rail or panel mounts support.
Specifications
Power input voltage: DC +10V to +30V.
Host connection: Standard D-Sub 9 pin female connectors.
RS-232 interface: Standard D-Sub 9 pin female connector
RS-232 signal: TXD, RXD, and GND.
RS-422/485 interface: Industrial plug-in screw terminal.
RS-485 signal: differential 2 half-duplex wires (DATA+, DATA-).
RS-422 signal: differential 4 full-duplex wires. (TX+, RX+, TX- , RX-)
Plug-in screw terminal wiring: Accepts AWG #12 ~30 wires.
Transmission distance: RS-422/485 up to 4000ft (1200M).
Communication speed: from 300bps to 115.2Kbps.
Isolation voltage: 3000V DC.
Serial data format: Asynchronous data with all common combinations of bits, parity, stop.
Signal LED: Power on, TX, and RX.
Power supply: Screw terminal, or external DC adapter.
Power consumption: 1.2 watt.
Operating Temperature:-10 to 50℃ .
Storage Temperature: -20 to 70℃.
Humidity: 10-90% Non-condensing.
Dimension: 151mm X 75mm X 26mm
Weight: 375g .
Trycom TRP-C06 RS-232C to RS-422/485 Converter
Frequently Asked Questions
Have a Question?
Be the first to ask a question about this.
Ask a Question