When pre-ordered, this item normally ships within 10 working days
The TouchPanel Controller PROTO Board enables you to connect your prototype device to a Touch Panel. There is also a Touch Panel controller with a connector provided on the board.
View full details
SKU: MIKROE-317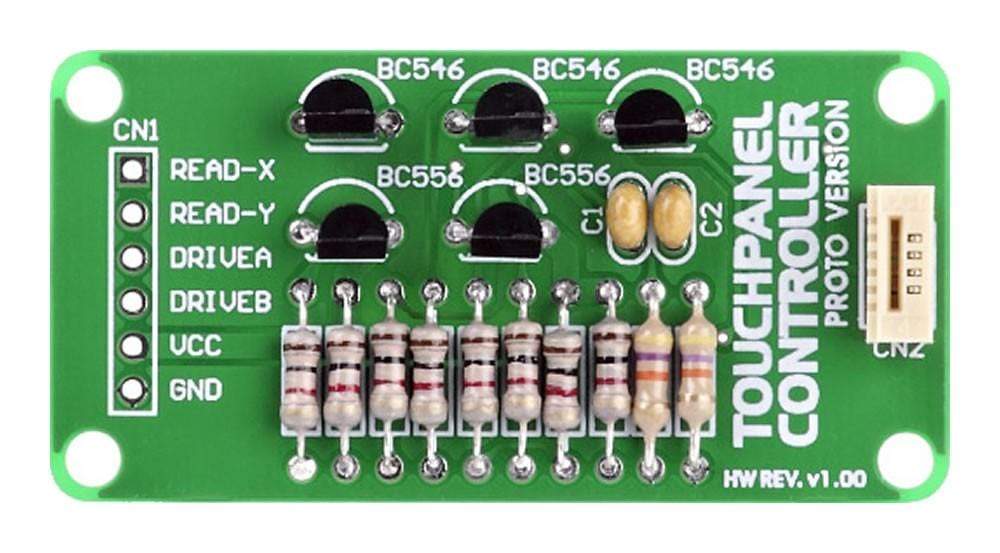 Resistive Touch-Screen Concept
A resistive touch screen is fabricated with two transparent, flexible sheets coated with a conductive material stacked on top of each other, separated by an air gap. When pressure is applied by a finger or a stylus on the screen, the top layer makes contact with the lower layer. When a voltage is applied across one of the layers, a voltage divider is created. The coordinates of a touch can be found by applying a voltage across one layer in the Y-direction and reading the voltage created by the voltage divider to find the Y-coordinate, and then applying a voltage across the other layer in the X-direction and reading the voltage generated by the voltage divider to find the X-coordinate.
Board Connections
Using a 1x6 connector CN1, the TouchPanel Controller PROTO can be connected to a port of the development system. On the other hand, the connection between a touch panel and the TouchPanel Controller PROTO is established using the connector CN2.
TouchPanel Controller PROTO Board
Frequently Asked Questions
Have a Question?
Be the first to ask a question about this.
Ask a Question