800 x 480 Resistive Touchscreen Display
When pre-ordered, this item normally ships within 10 working days
Add a touchscreen display to a prototype or a final product using the TFT Proto 7" Display. It includes an 800x480-pixel FRD070IF40-A TFT screen, capable of displaying 262K in different colours. The screen is covered by a 4-wire resistive touchscreen panel driven by a STMPE811 touchscreen controller. The display is driven by an SSD1963 graphics controller with an 8/9/16/24-bit MCU interface that includes a deep-sleep power-saving mode (via the GPIO0 pin on the side of the board for added convenience). Two rows of 26 pins provide an interface to the host microcontroller with 16 data and 7 control lines for the graphic controller, I2C lines and an interrupt line for the touchscreen controller. The TFT Proto 7" board has four corner mounting holes that simplify integration to the design. It is designed to use a 3.3V power supply only.
With such features, the TFT Proto 7" Display make an economical and hands-on option for adding a TFT touchscreen interface to your design.
View full details
SKU: MIKROE-1762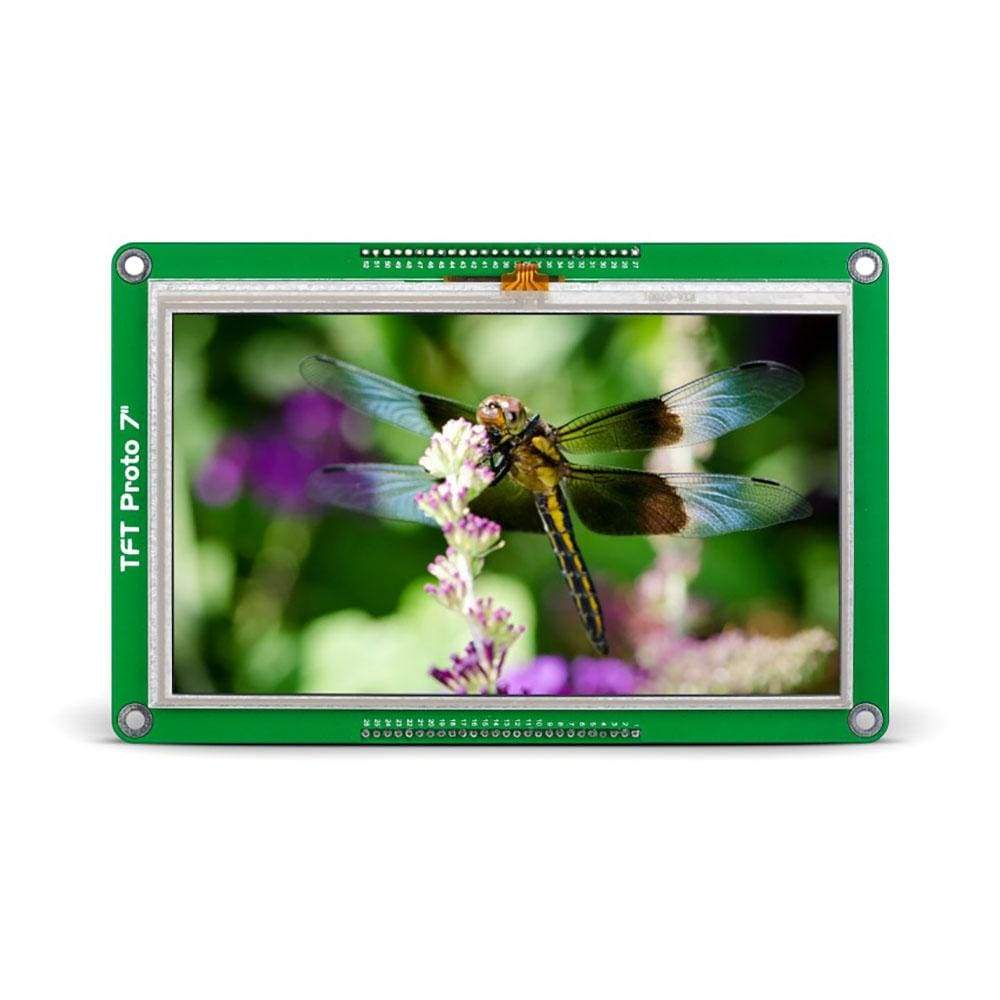 SSD1963 LCD Graphic Controller
SSD1963 is a graphic controller with built-in 1215K bytes frame buffer that support 864 x 480 x 24-bit graphics content. It features microcontroller connectivity (8/9/16/18/24-bit MCU interface) and I/O connectivity (4 GPIO pins). This display controller has a built-in clock generator and deep-sleep mode for power saving.
STMPE811 Touch-Panel Controller
STMPE811 is a 4-wire resistive touch screen controller with GPIOs that helps to reduce the load of the host and simplify data processing. Offering great flexibility, this high-resolution touch panel controller can be configured as input, output, or specific functions. It has a 128-depth FIFO buffer as well as movement tracking functionality.
TFT Proto 7" Display
Frequently Asked Questions
Have a Question?
Be the first to ask a question about this.
Ask a Question