Universal Programmer

Regular price

$1,155.00 USD

excluding tax

Regular price

$1,668.00 USD

Sale price

$1,155.00 USD

excluding tax

Unit price

per

Sale

Sold out

Pre-Ordered items ship within 10 days of ordering

The Xeltek SuperPro 6000 is a USB-interfaced ultra-fast stand-alone universal programmer based on an ARM9 CPU, with built-in 144 universal pin drivers and support for NAND devices up to 256GB.

View full details
SKU: SuperPro-6000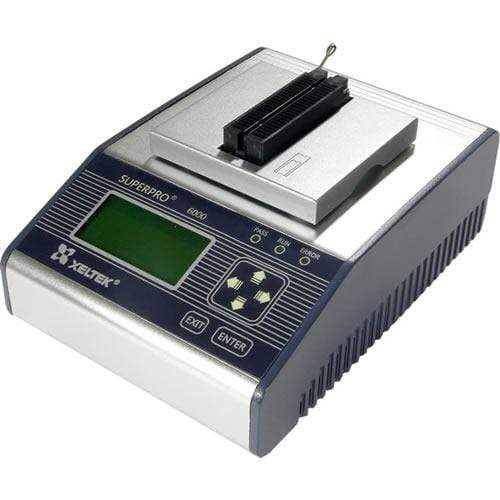 USB Interfaced Ultra-Fast 144pin Stand-Alone Universal Programmer
88,000+ devices supported by 314 IC Manufacturers.
ARM9 32 Bit MCU + Linux for algorithm processing.
Supports NAND / eMMC devices up to 256 GB .
Stand-alone (no PC required) and PC hosted mode.
Built-in 144 universal pin-driver.
Expanded Features
Support devices with Vcc from 1.2V - 5V.
30% faster-programming speed compared to SuperPro-5000 with ARM9 MCU Processor + Linux ultra-fast algorithm processing engine.
Support files up to 256 GBytes.
Built with 144 universal pin-drivers. Universal adapters are available for various package types up to 144 pins. More efficient for new device support.
Stand-alone mode (No PC required) and PC hosted mode.

Under PC hosted mode the programmer is controlled by a PC via USB2.0 (high speed) to program a chip.
Under stand-alone mode, the programmer is controlled via the 6-KEY keypad and the 20 characters 4 line LCD display.
A CF (compact flash) card is used to store the project files.

Cluster 1-15 units for flexible volume production. Operate multiple units to construct a concurrent multi-programming system.
Over-current and over-voltage protection for safety of the chip and programmer hardware.
Compatible with Windows XP / Vista / 7 / 8 (32/64 bit)
Only IC manufacturer approved programming algorithms are used for high reliability.
Vcc verification at (+5%~-5%) and (10%~-10%) enhances programming reliability.
Advanced and powerful software functions:

Production mode starts chip operation the moment the chip is inserted properly.
Project function simplifies processes such as Device Selection, File Loading, Device Configuration Setting, Program Option, and Batch File Setting into one step.
Password for project files can be set for volume production control
Batch command combines device operations like Program, Verify,and Security into a single command at any sequence.
Serial numbers generators are available as standard or customer-specific functions. A Log file is useful for quality tracking. 
Xeltek SuperPro 6000 Fast Universal Programmer
Frequently Asked Questions
Have a Question?
Be the first to ask a question about this.
Ask a Question
Download Files