Pre-Ordered items ship within 5 days of ordering
The SPI Development Kit from Total Phase is a complete bundled set of tools and accessories that help system engineers in developing and debugging SPI bus systems.
This kit is designed for both novice and advanced developers and is a convenient and cost-effective solution for developing and analysing the SPI bus modules.
View full details
SKU: TP120212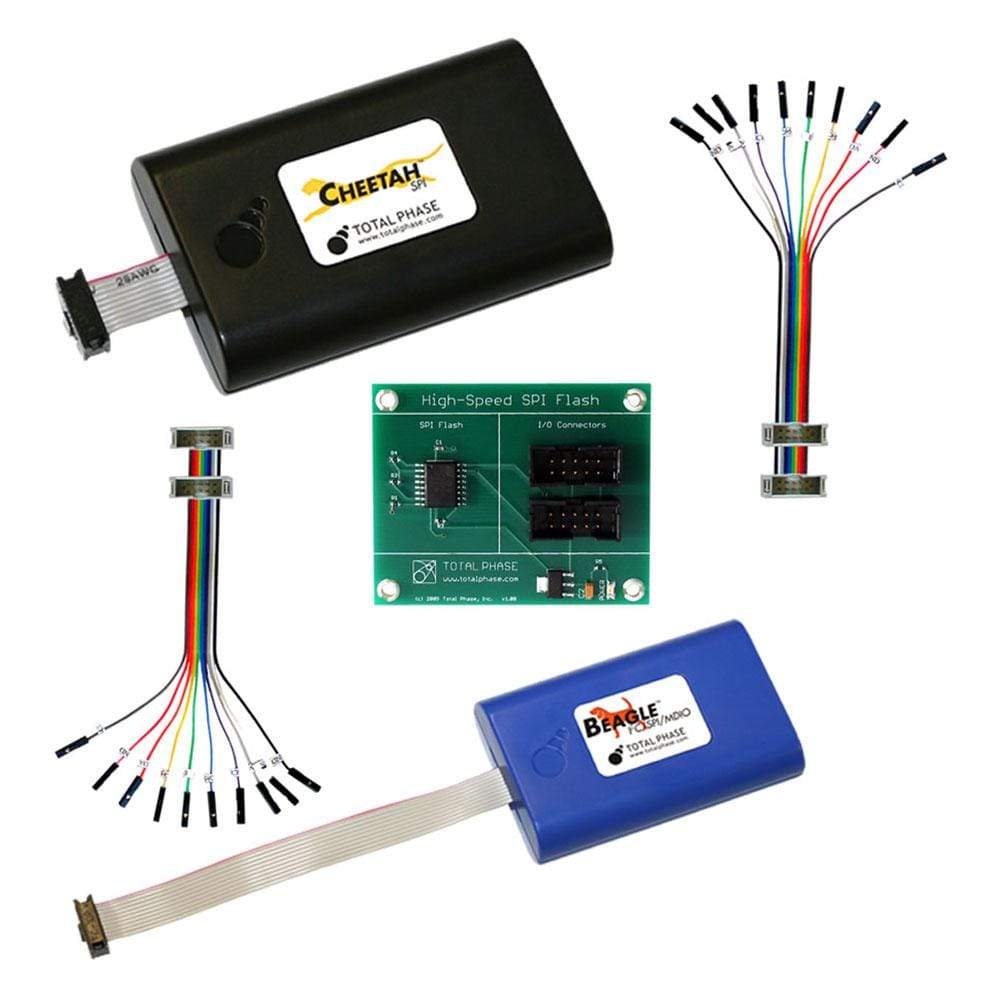 This development kit comes complete with a Cheetah™ SPI Host Adapter, Beagle™ I2C/SPI Protocol Analyzer, 10-Pin Split Cables, and High-Speed SPI Flash Demo Board. It developers with various applications that include exercising target devices on an SPI bus as a master device, simulating an SPI master device, programming and verifying SPI-based Flash devices and passive monitoring of an SPI bus in real-time with 20 ns bit-level timing.
Cheetah™ SPI Host Adapter
The Cheetah™ SPI Adapter is a high-speed, bus powered USB 2.0 device that allows you communicate over the SPI interface, at speeds up to 40+MHz. Designed to communicate with the SPI-based, high speed flash memory, this SPI adapter is the perfect tool for developers to for developing, debugging and programming SPI-based systems.
Beagle™ I2C/SPI Protocol Analyzer
The Beagle™ I2C/SPI analyzer is a protocol analyzer is the perfect tool for developing an I2C, SPI, or MDIO based product. This small and portable analyzer delivers high performance bus monitoring solution of bus signals and is an ideal companion for engineers working in the field or in the lab. This analyzer is compatible with all leading operating systems and non-intrusively monitors I2C up to 4 MHz, SPI up to 24 MHz and MDIO up to 2.5 MHz.
10-Pin Split Cables
The 10-Pin Split Cable is a useful tool that allows you to use the 10-pin ribbon cable without any adapter boards. This universal cable is compatible with a lot of applications and comes with a 10-pin box header that connects to the ribbon cable. This cable uses a standard 5x2 0.100" (2.54mm) pitch IDC type keyed box connector at one end and all the individual leads are terminated with a single pin crimp connector with the same 0.100" (2.54mm) pitch at the other end. To ease identifications, all the leads are have different colours and are labelled with the pin name.
High-Speed SPI Flash Demo Board
The High-Speed SPI Flash Demo Board is a highly useful device for developers that work with high-speed SPI flash memory. This board comes provided with a known good slave memory that can communicate at a rate of 50 MHz. This board allows an easy connection of the Cheetah™ SPI Host Adapter with the Beagle™ I2C/SPI Protocol Analyzerand the SPI flash memory provided on the board can be used various analysing and debugging applications.
Total Phase SPI Development Kit
Frequently Asked Questions
Have a Question?
Be the first to ask a question about this.
Ask a Question
What's Included
Total Phase SPI Development Kit
(1) Cheetah SPI Host Adapter

(1) Beagle I2C/SPI Protocol Analyzer

(1) High-Speed SPI Flash Demo Board

(2) 6 foot USB A->B cables

Software (downloadable from Total Phase)