Pre-Ordered items ship within 10 days of ordering
The SPECTRAN V6 Command Center is the culmination of Aaronia's efforts in building its Spectrum Analyzer Battleship:
It scans 6GHz in less than 1 millisecond, which is an astonishing speed of 4THz per second.
This high-end spectrum analyzer offers the RF performance you need with all measurement details available at the same time.
The setup is completely customizable and thanks to its cascadable system can dock up to 4 independent analyzers.
The two 4K widescreen monitors display and capture the bandwidth of up to 980MHz in real-time (with four internal analyzers), with a POI
below 10ns (I/Q-based) and 97ns (FFT-based). With up to 24TB hard drives you basically have an "unlimited" recording time, as only 1GB is needed per minute.

View full details
SKU: 102/016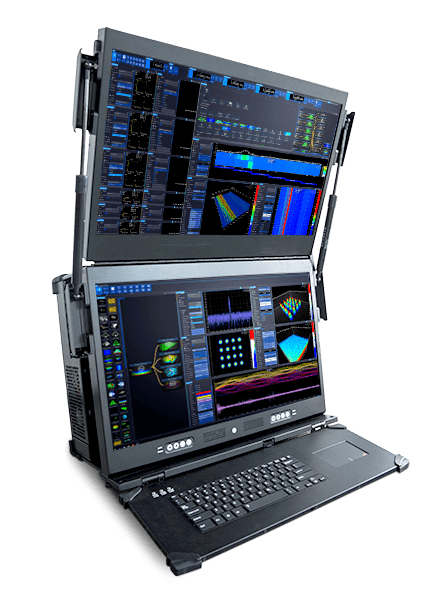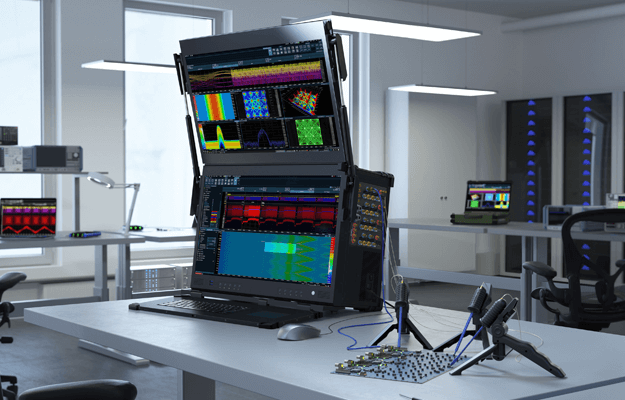 Specifications
V6 CC
V6 CC PRO
V6 CC ENTERPRISE
Real-time bandwidth Rx
160 MHz RTBW
490 MHz RTBW
980 MHz RTBW
Real-time bandwidth Tx
-
320 MHz RTBW
(opt. 490 MHz)
640 MHz RTBW
(opt. 980 MHz)
DSP processing
930 GMACs
1860 GMACs
3720 GMACs
FFT-rate
480 million
1920 million
3840 million
ADC
1 x 2GSPS 16 Bit
4 x 2GSPS 16 Bit
8 x 2GSPS 16 Bit
DAC
1 x 2GSPS 14-Bit
2 x 2GSPS 14-Bit
4 x 2GSPS 14-Bit
RF connectors
1x Rx (SMA)
4x Rx, 2x Tx (SMA)
8x Rx, 4x Tx (SMA)
Hardware
The Command Center has a wide measuring range of 10MHz to 6 GHz and includes up to four receivers (8 x 2GSPS 16 Bit I/Q-data) and four vector signal generators (4 x 2GSPS 14-Bit I/Q). In terms of hardware, the computer features the best components available. The SPECTRAN® V6 Command Center runs on the AMD Ryzen 9 5900X (12Core) processor (opt. AMD Ryzen Threadripper 3960X (24Core), with 64 GB DDR4 RAM and an Nvidia GTX 1660 Ti graphics card allowing for gapless streaming and playback.
Perfect for any RF Problem
The setup is completely customizable, and – thanks to its cascadable system – can be combined with up to four independent analyzers. Two 24" 4K widescreen displays capture and visualize a instantaneous bandwidth (complex I/Q) of up to 980 MHz (I/Q) , with a remarkable POI of 10ns (I/Q). Moreover, with up to 18 TB hard drives, you have virtually unlimited recording time.
Peak Performance Measuring
Various trigger functions and unlimited number of markers
Different views: Spectrum / Persistence Spectrum, Spectrogram / Waterfall, 3D Waterfall, Histogram, etc.
Multi-window feature supports several simultaneous views, e.g. Spectrum & Waterfall & Histogram at the same time
Virtually unlimited storage of measuring data (HDD can be expanded to up to 18 TB for gapless recording)
Comfortable reference level and color settings
Reporting and recording functions
Storage of personal sessions
And much more ...
Applications
Technical surveillance countermeasures (TSCM)
Security surveys for detecting and preventing eavesdropping
Interference hunting
Spectrum monitoring and enforcement
Maintenance, installation and repair both in the factory and in the field
VIP monitoring
Conference monitoring
EMC / EMI testing
Detection of weak signals masked by stronger ones
Detection of rare, short-duration events
Capturing spread-spectrum and frequencyhopping signals
Investigating abuse of crowded RF spectrums
Aaronia SPECTRAN V6 Command Center (10 MHz - 8GHz)
Frequently Asked Questions
Have a Question?
Be the first to ask a question about this.
Ask a Question