When pre-ordered, this item normally ships within 10 working days
Develop your own GSM-GPRS based device with the SmartGM862 Board. It is a full-featured development tool for the Telit's GM862-QUAD and GM862-GPS cellular modems. The SmartGM862 Board features an integrated GM862 module connector, antenna holders, speaker, and microphone screw terminals. The board uses 9-32V DC or 7-23 AC power supply voltage and provides voltage regulation ensuring no need to connect additional power supply circuits. The on-board DIP switch is for configuring UART communication lines with the target microcontroller. The SmartGM862 Board features IDC10 connector for connection to development boards.
On flipping the board, the user gets to see double row soldering pads for accessing each module line separately. SmartGM862 Board supports GM862-GPS, GM862-QUAD-PY and GM862-QUAD Telit GSM/GPRS modules, which combine the access to digital communication services in GSM 850, 900, DCS 1800 and PCS1900 MHz networks.
With such features, this additional board makes a great choice for automotive, military, education, and telecommunication applications.
View full details
SKU: MIKROE-492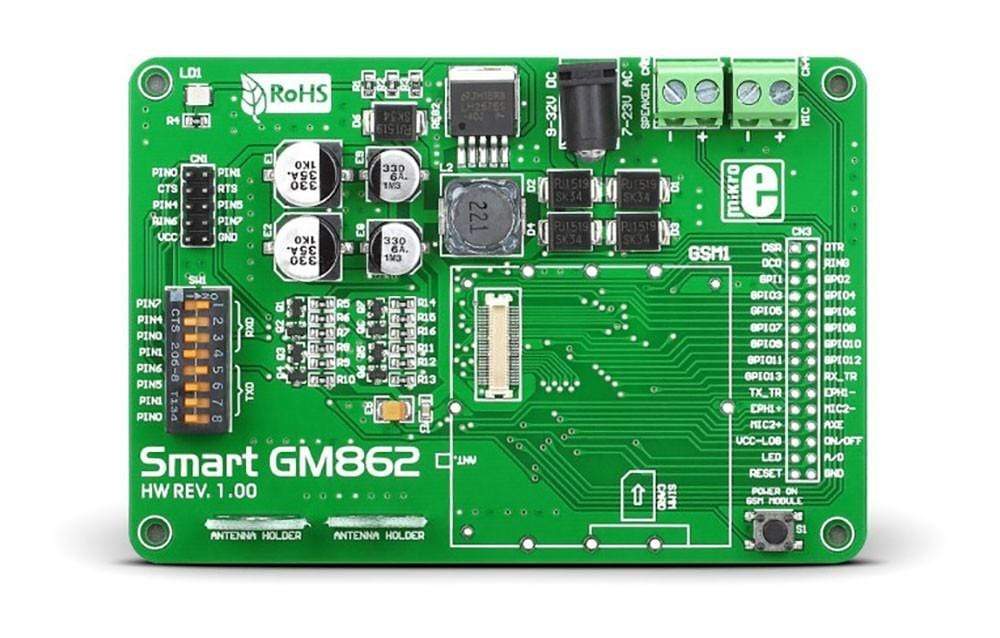 IC/Module: Telit GM862-QUAD GSM/GPRS Module
The GM862-QUAD GSM/GPRS module is the next generation of the GM862 product family continuing Telits success in the field of easy-to-integrate GSM/GPRS module for all industrial m2m applications. It features extended temperature range and integrated SIM card holder. It is specifically designed for applications that involve portable data, voice, telematic, and GPS. Additionally, it includes jamming detection, integrated TCP/IP protocol stack, and Telits patented Easy Scan functionality extends capabilities without adding cost.
IC/Module: Telit GM862-GPS Module
The GM862-GPS Module by Telit combines superior performance in quad-band GSM/GPRS modem functionality equipped with the innovative 20-channel high sensitivity single-chip GPS receiver. It features a ruggedized design, extended temperature range, integrated SIM card holder, and industrial-grade connectors. This low-cost module offers jamming detection, integrated TCP/IP protocol stack, and Easy Scan functionality.
SmartGM862 Board
Frequently Asked Questions
Have a Question?
Be the first to ask a question about this.
Ask a Question