23K640 64K Serial RAM with SPI Interface

When pre-ordered, this item normally ships within 10 working days

The Serial RAM Board uses a 64 Kbit Serial SRAM device to add to your development board. This additional board features a 23K640 Serial RAM device designed to communicate with a microcontroller via Serial Peripheral Interface (SPI). Using discrete I/O lines, the Serial RAM Board can be interfaced with a microcontroller with no built-in SPI port. It is equipped with onboard voltage translators that allow connection with systems operating at different voltage levels. The board is designed to support both 3.3V and 5V power supplies. It has an LED indicator that tells about the power status of the board. Driven by low-power CMOS technology, this board works in three flexible operating modes: byte read and write, page mode (32-byte page) and sequential mode.

With these features, the SerialRAM Board is an excellent choice for depositing large amounts of temporary variables and acquisition data. It makes a great choice for increasing your microcontroller.

View full details
SKU: MIKROE-427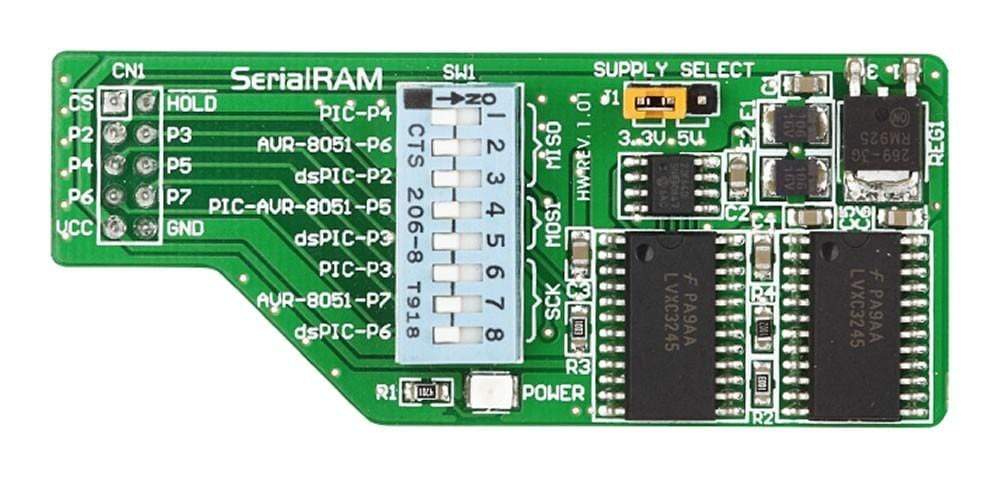 IC/Module: 23K640 64K SPI Bus Low-Power SRAM
The 23K640 is a 64 Kbit SRAM device that access memory via a simple SPI compatible serial bus. The bus signals required are a clock input (SCK) with separate data in (SI) and data out (SO) lines. Access to the device is controlled through a Chip Select (CS) input. It has a hold pin (HOLD) to pause communication to the device.
Board Connections
The Serial RAM Board can be easily connected to a development systems port through a 2x5 connector CN1. It also has an on-board jumper J1 that can be set to appropriate positions to connect to 3.3V and 5V development system. The DIP switch is used to set which pins are used for MISO/MOSI/SCK, and the silkscreen marking describes the settings required for specific MikroElektronika development systems with a matching IDC10 header.
SerialRAM Board
Frequently Asked Questions
Have a Question?
Be the first to ask a question about this.
Ask a Question
Download Files