EN25F80 1024KB Serial Flash with SPI
When pre-ordered, this item normally ships within 10 working days
The SerialFlash Board is an add-on board featuring an EN25F80, 8-Mbit (1024-byte), low-voltage Serial Flash Memory with advanced write protection mechanisms accessed by a high-speed SPI-compatible bus. Various electronic devices and applications use serial-interface memory. Initially, it is used to store preference data and configuration/setup data. Known to be one of the most flexible non-volatile memory modules used today, the Serial memory modules are rated way better than other NVM solutions. The EN25F80 memory module offers a lower pin count, smaller package, lower voltage, and lower power consumption.
The onboard LED indicator denotes the power status of the board. The DIP switch allows for the selection of communication lines and sets the pins used for MISO/MOSI/SCK. The Serial Flash Board is designed to operate using both 3.3V and 5V power supplies.
The Serial Flash Board, with such features, makes an ideal choice for multimedia devices, drives, optical and printing devices.
.
View full details
SKU: MIKROE-479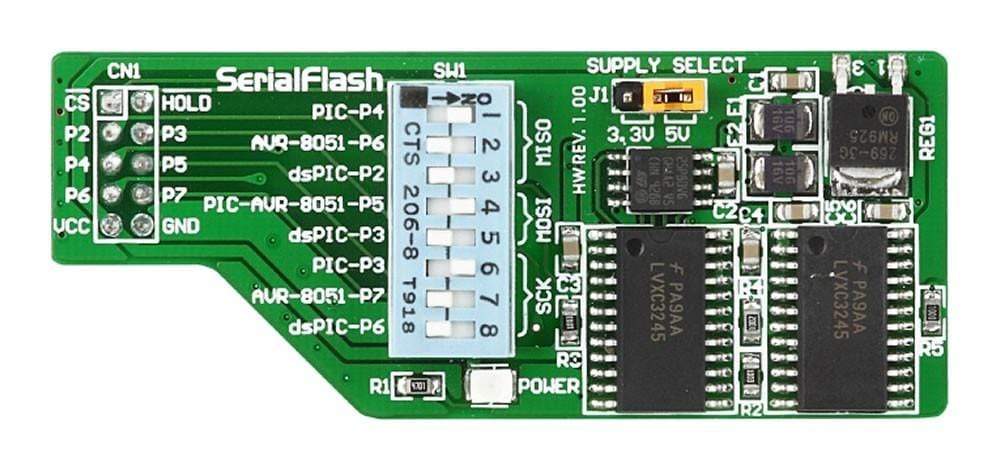 IC/Module: EN25F80 8 Mbit Serial Flash Memory
The EN25F80 is an 8 Megabit (1024-byte) serial flash memory with 4 Kbytes uniform sector. Driven by SPI-compatible bus, the memory can be programmed 1 to 256 bytes at a time, using the Page Program instruction. It can either erase a single sector at a time or a full chip. The module is also configured to write protect all or part of memory using software.
Board Connections
The Serial Flash Board is connected to a development system using a 2x5 connector CN1 on the add-on board and a 2x5 connector on a development systems port. Based on the development system used, the user can position the appropriate switches on DIP switch SW1 to the ON position. The Serial Flash Board has a jumper J1 that enable the user to select the power supply voltage to be used to power the additional board.
SerialFlash Board
Frequently Asked Questions
Have a Question?
Be the first to ask a question about this.
Ask a Question