J-Link USB connector to provide host side electrical isolation.

Regular price

$190.00 USD

excluding tax

Regular price

Sale price

$190.00 USD

excluding tax

Unit price

per

Sale

Sold out
Key Features
Basic isolation (3 kV DC for 1s)
Propagation delay 70 ns max. (to be treated as one additional hub)
Max. output current 200 mA (meaning that the connected debug probe may not consume more than 200 mA)
USB Full-Speed
Introducing the USB Isolator: Ensure Optimal Performance and Protection!
Are you seeking a reliable solution to enhance performance and safeguard your valuable development tools? Look no further than our cutting-edge USB Isolator! With seamless interconnectivity between J-Link or Flasher and your host PC via USB, this isolator is a must-have for every developer and tech enthusiast.
Unleash the Power of Electrical Isolation
Our USB Isolator provides crucial electrical isolation for your J-Link or Flasher, safeguarding them from potential issues caused by a mismatch in-ground connections with the application. Say goodbye to worries about compatibility and ground-related problems!
Protect Your Development Tools with Confidence
Electrical spikes and overvoltage can harm your precious development tools, leading to costly damages and setbacks. But worry no more! Our USB Isolator acts as a robust shield, effectively safeguarding your tools from these hazards and allowing you to focus on what matters most - your projects and innovations!
Say No to Low-Budget USB Hubs
Using low-quality USB hubs can introduce unwanted voltage fluctuations and instability, compromising the performance of your development tools. Our USB Isolator is a reliable buffer that neutralises any adverse effects and ensures a smooth and uninterrupted development experience.
View full details
SKU: 8.07.02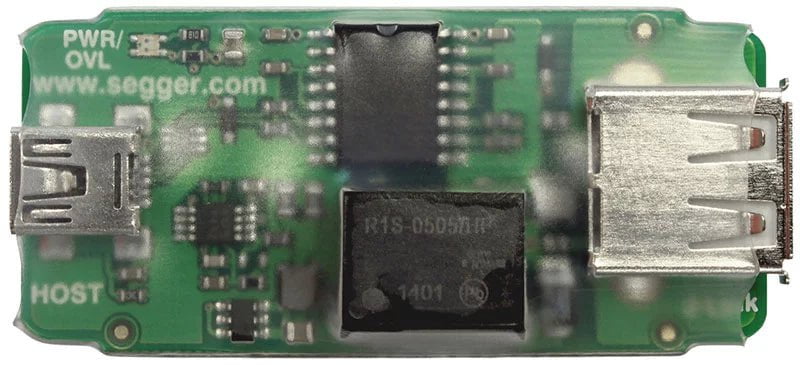 SEGGER USB Isolator Adapter
Frequently Asked Questions
Have a Question?
Be the first to ask a question about this.
Ask a Question