Includes SF100 Programmer and BBW-16W Adapter
Pre-Ordered items ship within 10 days of ordering
The Backup Boot Flash Kit (SO16W) is used as a Serial Flash Emulator for easy code development to reduce your time to market. Our Backup Boot Flash Module (included) can be connected to the application by 2 different methods:
On the Main Serial flash package soldered on board by using our SO16W Test Clip (included).
On your application 2.54mm (2X5) BBF connector (if application designed with) by using the appropriate BBF cable (included).
Your application will work automatically on the backup SPI Flash inserted in our tool is SO16W socket that can be changed easily or even updated easily for new trials with our SF100 programmer (included). Our Kit is completely transparent for the application and will offer to developer high flexibility for code trials or update. The Kit is frequently used to boot failing computers and use the Flash Utility tools to update the corrupted Bios memory.
Please note that the BBF modules only support 3.3V/2.5V IC.
For offline programming demand only, it is recommended to use socket adaptor.
View full details
SKU: SBK03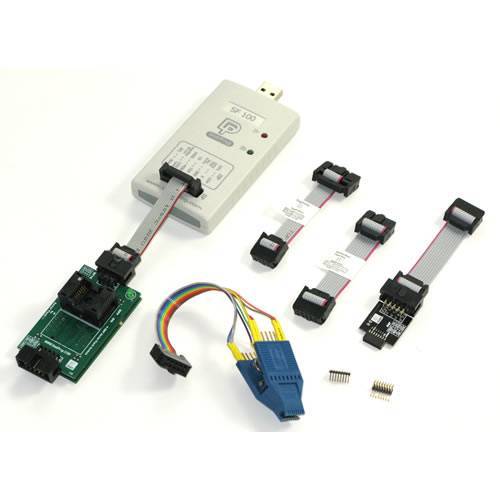 Features
Serial Flash emulator transparent for the application
Compatible with most of the applications (no hardware modification needed)
Disable automatically the main serial flash soldered on board (no need to remove it)
Image download speed at 1Mbits/s to SPI flash and read at 2Mbits/s
USB Interface
Signal conflict protections
Application Hardware Requirements
Pull up resistor between Hold Pin and Vcc if serial flash on the application is not removed (schematics available under request).
Email to support@dediprog.com for the schematic request.
Dediprog SBK03 Backup Boot Flash Kit
Frequently Asked Questions
Have a Question?
Be the first to ask a question about this.
Ask a Question