When pre-ordered, this item normally ships within 10 working days
The RFID Click Board™ from MikroE offers an easy and compact solution to introduce RFid functionality to the design. This add-on board includes CR95HF, an integrated transceiver IC for contactless applications, as well as a PCB trace antenna. The CR95HF 13.56 MHz contactless transceiver can operate in reader/writer modes. It contains a dedicated internal frame controller and analogue front end (AFE) for RF communications. RFid Click Board™ communicates with the target board MCU through the MikroBUS UART (TX, RX), SPI (MISO, MOSI, SCK, CS) INT, RST, PWM and AN lines. The board supports a 3.3V power supply only. The power supply status is indicated by a green LED.
RFID Click Board™ supports ISO/IEC 14443 type A and B, ISO/IEC 15693 (single or double subcarrier) and ISO/IEC 18092 communication protocols. It also supports the detection, reading and writing of NFC Forum Type 1, 2, 3 and 4 tags. RFid Click Board™ can be used with 13.56 MHz RFid tags or identification cards. It is a perfect option for tracking and security systems that need RFID support.
View full details
SKU: MIKROE-1434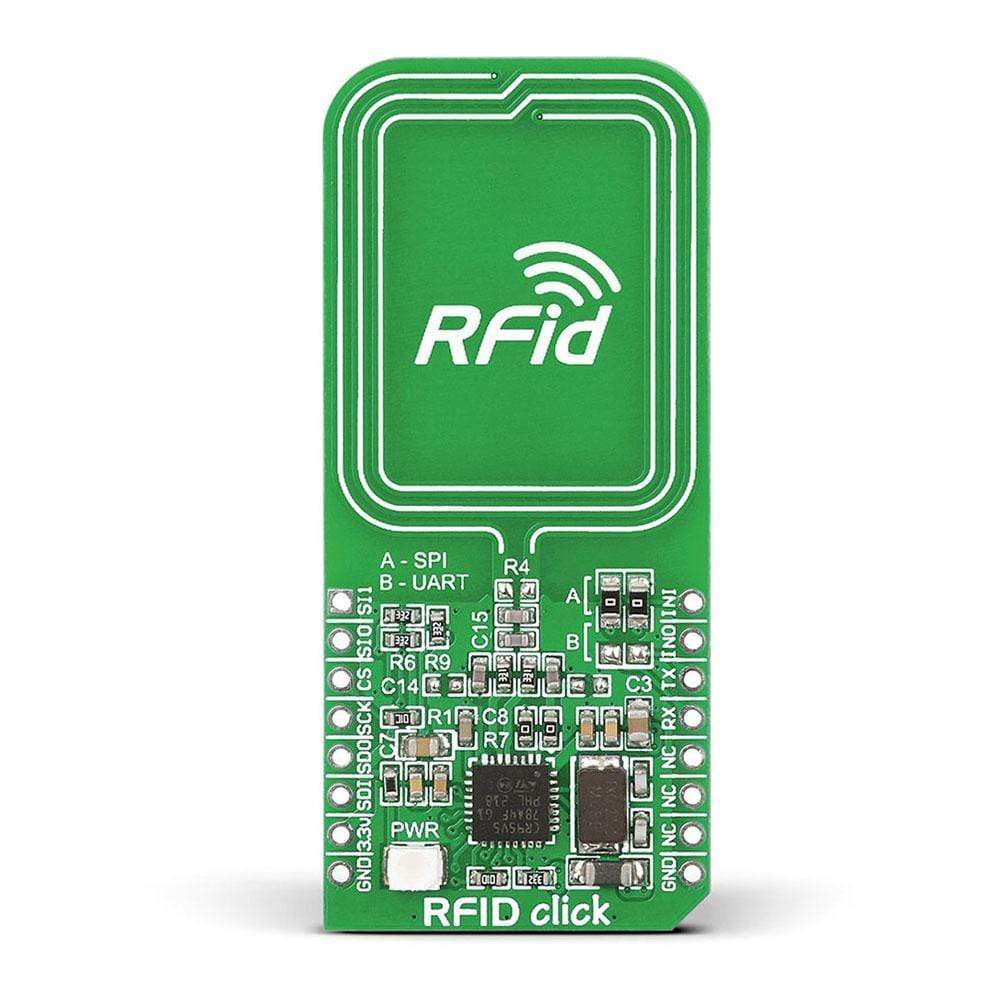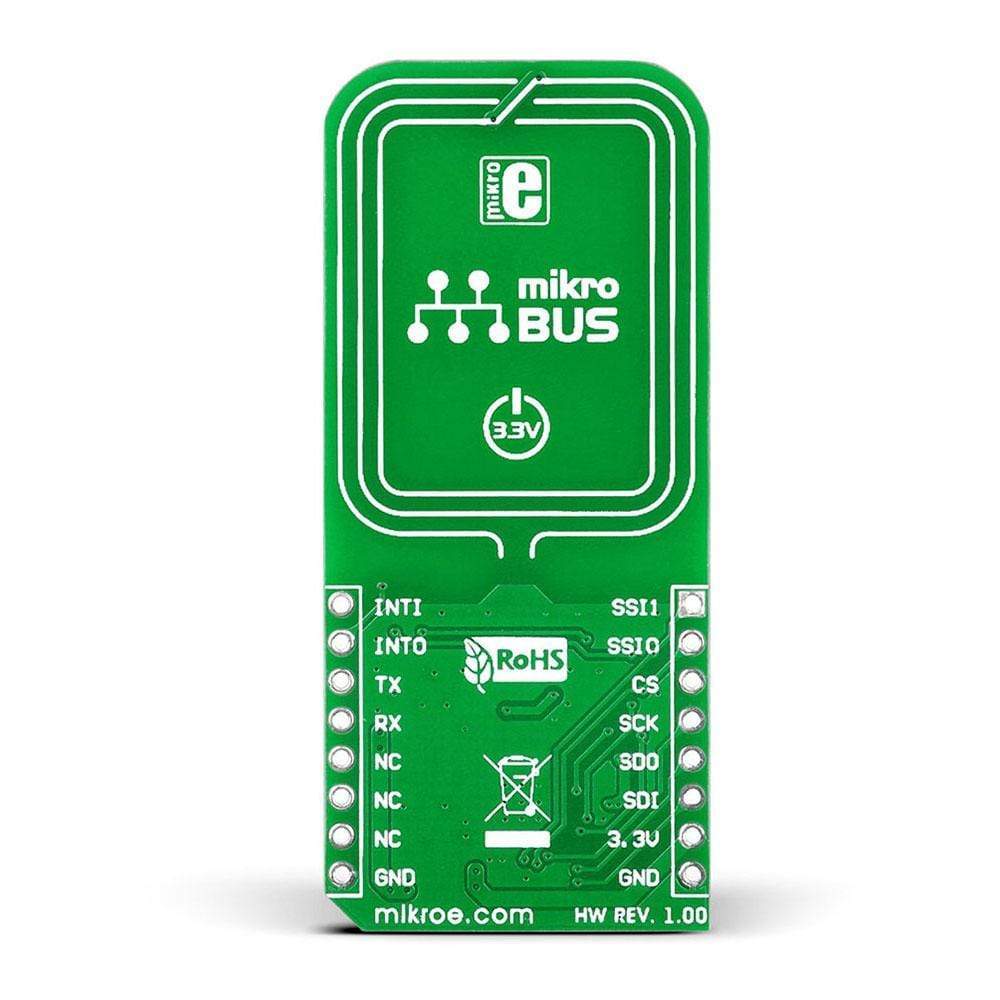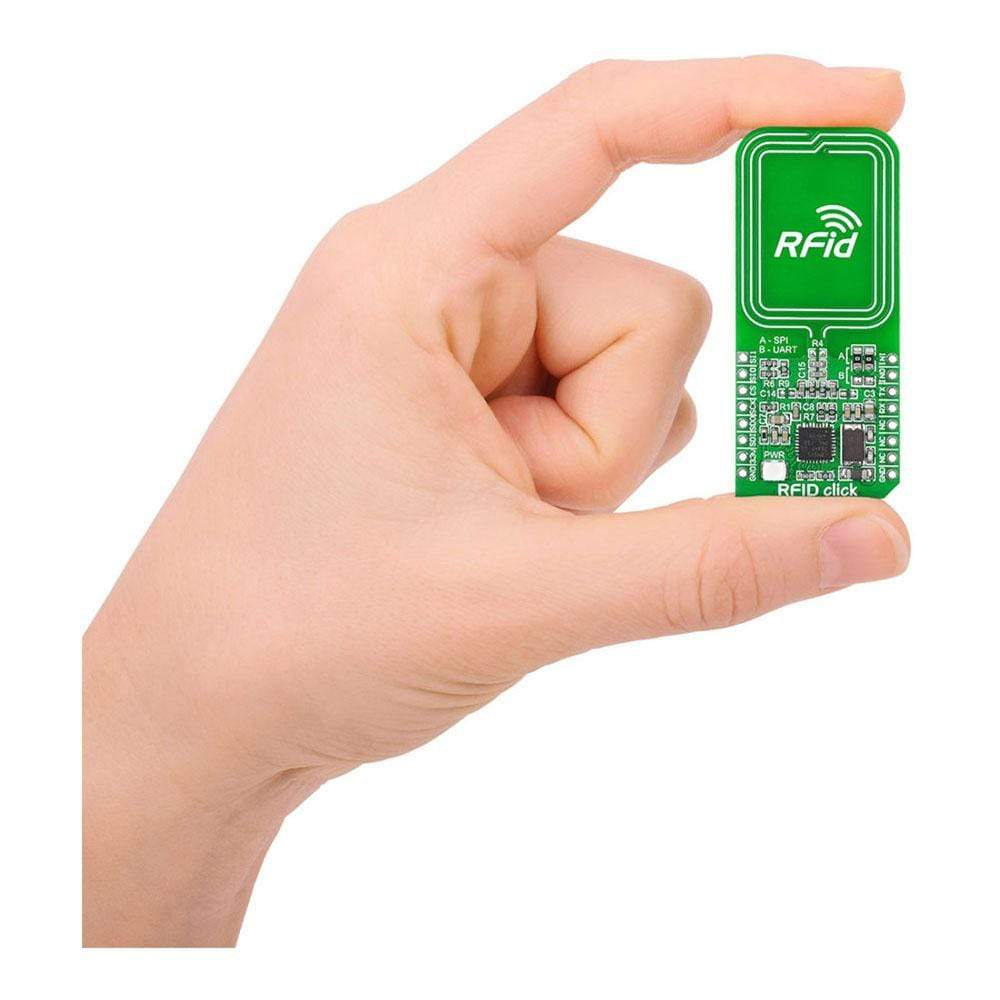 IC/Module: CR95HF 13.56 MHz Contactless Transceiver
The integrated CR95HF transceiver IC intended for contactless applications. In the Reader mode, it manages frame coding and decoding for standard applications, like near field communication (NFC), proximity and vicinity standards. The embedded Analog Front End, which provides the 13.56 MHz air interface.
Communication Interface: SPI or UART
RFid Click Board™ uses the mikroBUS UART (TX, RX) or SPI (MISO, MOSI, SCK, CS) lines for main communication with the target boards MCU. The communication interface is selectable using the two SMD jumpers. For SPI, the SMD jumpers will remain in the default (A) position, but to choose UART, it is necessary to solder the SMD jumpers in (B) position. If set to UART mode, interrupt pins are not usable.
RFID Click Board
Frequently Asked Questions
Have a Question?
Be the first to ask a question about this.
Ask a Question