Regular price
$1,039.00 USD
excluding tax
Regular price
Sale price
$1,039.00 USD
excluding tax
Unit price
per
Sale
Sold out
Pre-Ordered items ship within 10 days of ordering
Key Features
Supports the 2 Port Shunt Thru impedance measurement required for Power Distribution Networks (PDNs)
Ultra-low noise output - Ultra-high ripple rejection
Two output connector versions, BNC and N
Maintains 50 Ohm transmission line integrity to at least 6GHz
J2102B Common Mode Transformer - Enhance Your Signal Quality!
Discover the ultimate solution to mitigate the negative impact of low-frequency ground loops with our advanced J2102B Common Mode Transformer. Designed to provide exceptional performance and unmatched results, this transformer is the perfect addition to your toolkit for superior signal integrity.
Key Features
1. Ground Loop Attenuation: Experience a significant reduction in the adverse effects of low-frequency ground loops, ensuring your signals remain clean and free from interference.
2. Impedance Measurement Support: Facilitates the essential 2-Port Shunt Thru impedance measurement required for Power Distribution Networks (PDNs), enabling accurate assessments for optimal network performance.
3. Ultra-Low Noise Output: Enjoy an ultra-low noise output that guarantees pristine signal quality, allowing you to capture even the most delicate details confidently.
4. Ultra-High Ripple Rejection: Say goodbye to unwanted ripple effects in your signals as our Common Mode Transformer offers exceptional ripple rejection, resulting in a smooth and consistent output.
5. Versatile Output Connectors: Choose between two output connector versions - BNC and N - to suit your specific setup and equipment requirements, ensuring a seamless integration process.
6. Transmission Line Integrity: Maintain the integrity of your 50 Ohm transmission lines effortlessly, extending up to an impressive 6GHz, for consistent and reliable signal transmission.
7. Compatibility: Our Common Mode Transformer is compatible with various test equipment, including Network Analyzers, Oscilloscopes, and Spectrum Analyzers. Say goodbye to ground loops and unlock the true potential of your equipment!
View full details
SKU: J2102B-BNC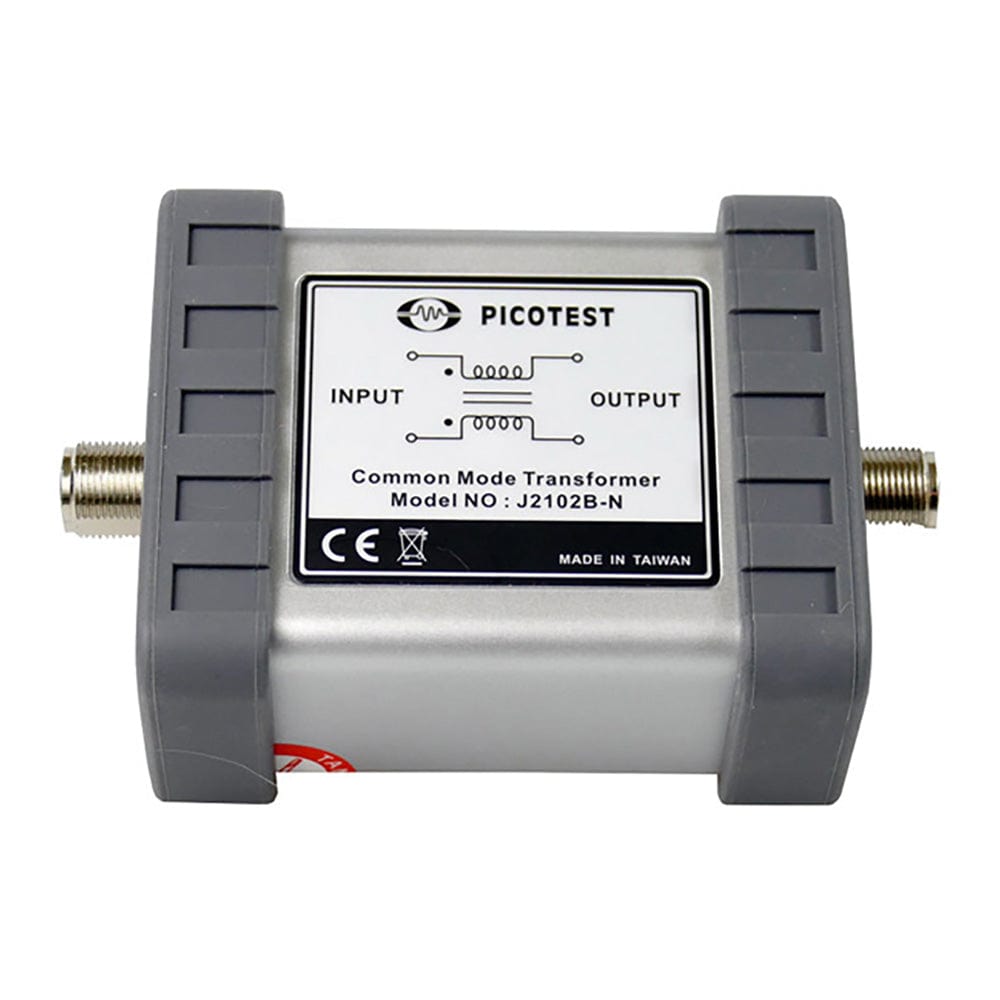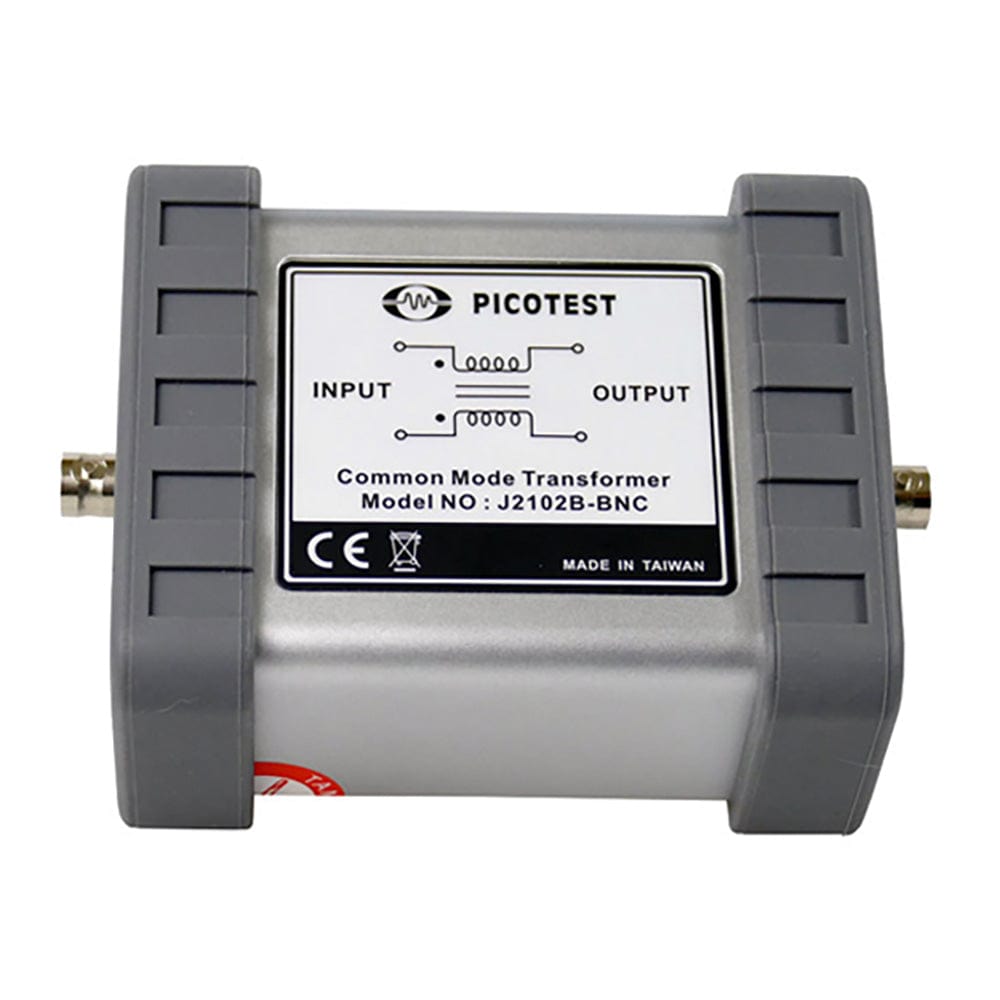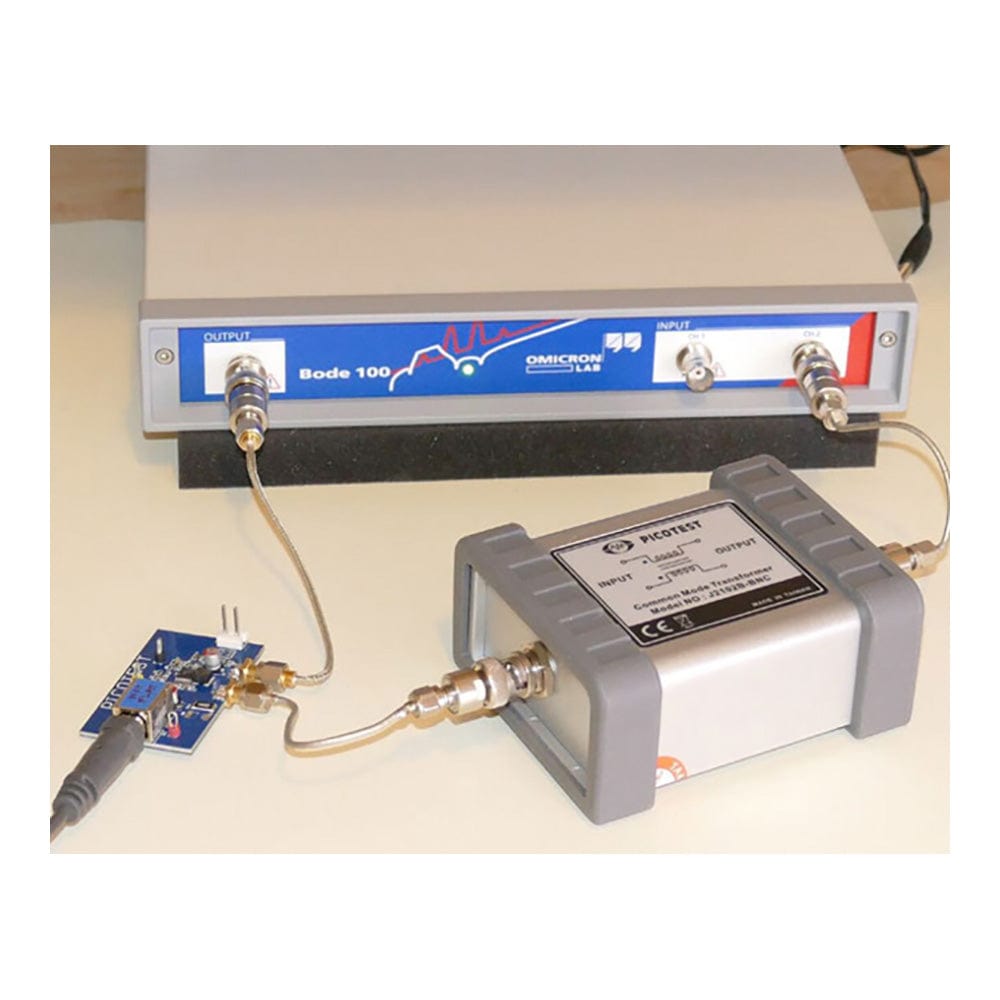 The simplest and most effective method for eliminating a ground loop is to add a wideband common mode transformer to the measurement, such as the Picotest J2102B Common Mode Transformer. The transformer for a low impedance PDN measurement must have very wide bandwidth, low loss and tight coupling, otherwise, the results will not be accurate over the measured frequency range. It is also important to maintain the 50 Ohm transmission line impedance through this transformer. The J2102B accomplishes this with ease.The J2102B paired with the Picotest PDN Cable is the best general solution. The J2113A is a better choice if you need to measure below 3kHz and below a maximum frequency of 500kHz. Due to the limited CMRR, the J2113A is not recommended below 1mOhm. If other cables are used with either solution, there may be significant degradation in measurement accuracy below 1MHz due to poor cable shield resistance and isolation.
Specifications
Specifications
Characteristic
Rating
Usable Bandwidth
1Hz-6GHz
Insertion Loss
TBD
Return Loss
TBD
Maximum Voltage
50V
Temperature Range
0-50C
Maximum Altitude
6000 Ft
Absolute Maximum Voltage
< 50VAC and 75VDC
*Note: The upper end of the bandwidth is heavily dependent on the interconnect between the Injector and the DUT.
Picotest J2102B Common Mode Transformer
Frequently Asked Questions
Have a Question?
Be the first to ask a question about this.
Ask a Question
Download Files