Very-Low Current Measurements for Low-Power Designs
Pre-Ordered items ship within 5 days of ordering
Key Features
A large 11-digit display shows mA, uA, nA and pA, all on one line.
Running Average reading (current and time elapsed) to measure power consumption of specific events; for example, a radio transmission.
Fully isolated USB Interface for device control and readings export
Low Burden Voltage (<50mV) on all ranges.
Fast Up-Range switching (30uS / range) under load changes.
Introducing the NR-01 NanoRanger™ Nanoammeter: Precision Meets Affordability
Seeking an ultra-precise DC ammeter that doesn't break the bank? The NR-01 NanoRanger™ Nanoammeter is your go-to instrument. With a remarkable 3.5-digit display, you can measure currents as minuscule as 20pA and as robust as 800mA. Thanks to its auto-ranging feature, you get a dynamic span across 8.5 decades with an impressive resolution of just 10pA.
Perfect Tool for Low Power Standby Measurements
Are you in the field of embedded hardware development? Does your work require pinpointing the exact current drain from a meager standby mode to its peak during operation? If yes, the NanoRanger™ is tailor-made for you.
Auto-Ranging: Covering the Spectrum
The inherent auto-ranging capability of the NanoRanger™ ensures that you're equipped with a vast dynamic range, making your measurements both easy and precise.
For Everyone: Pros and Hobbyists
Whether you're a seasoned professional or just starting with your electronic enthusiasm, the NanoRanger™ Nanoammeter is your trusted companion for accurate measurements.
The TuffTest Package: Robust and Ready
For those on the move or working in challenging environments, the NanoRanger™ is available in the TuffTest package. This special edition comes with a rugged, waterproof carrying case, ensuring your instrument's protection. Also included are a set of leads, a USB Cable, and alkaline batteries to ensure you're always ready for action.
Usage Note
Caution: The NanoRanger™ should not be used for measuring currents above 800mA.
View full details
SKU: TT-NR-01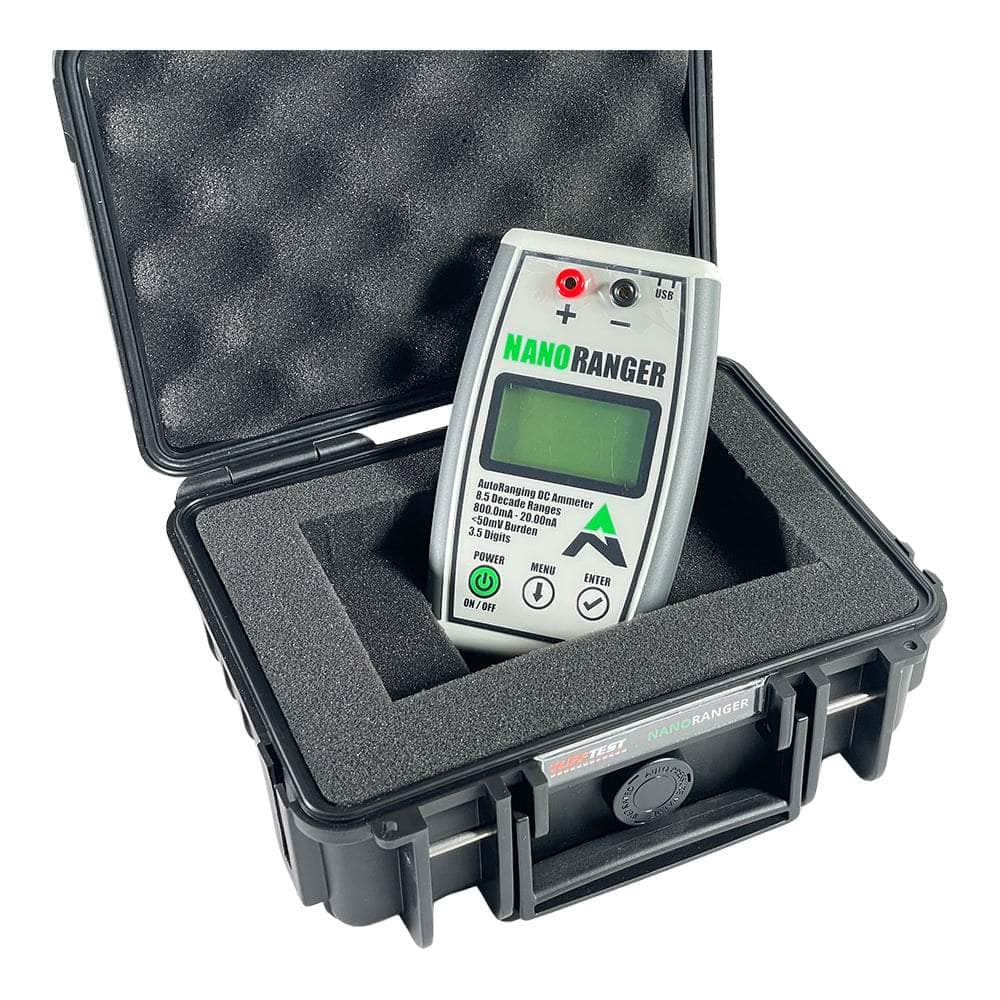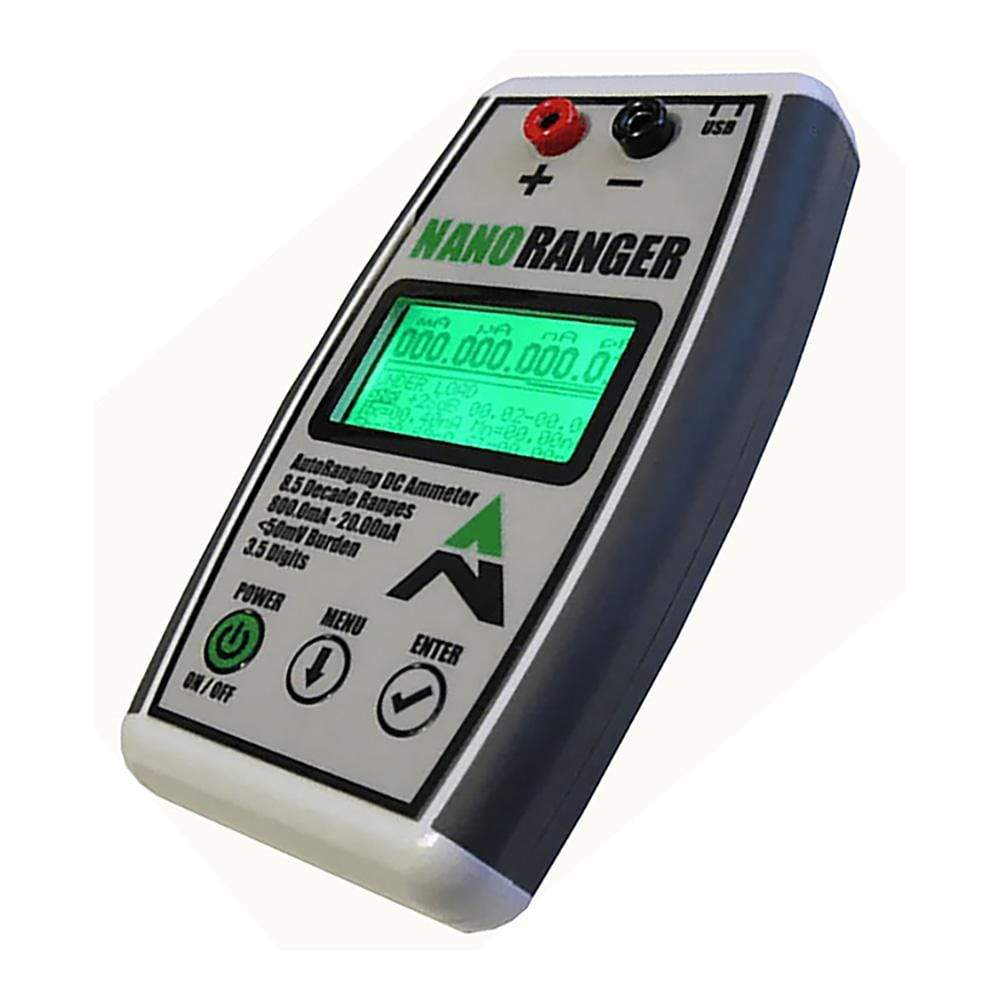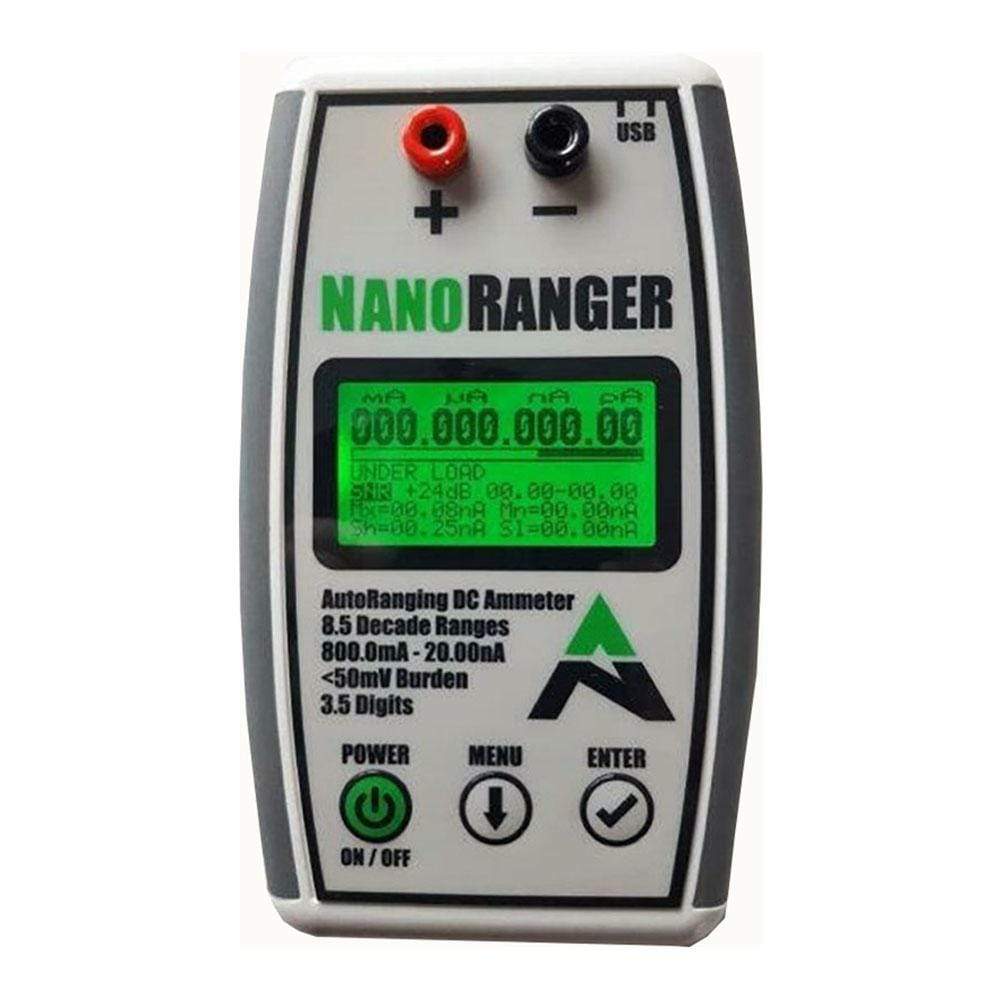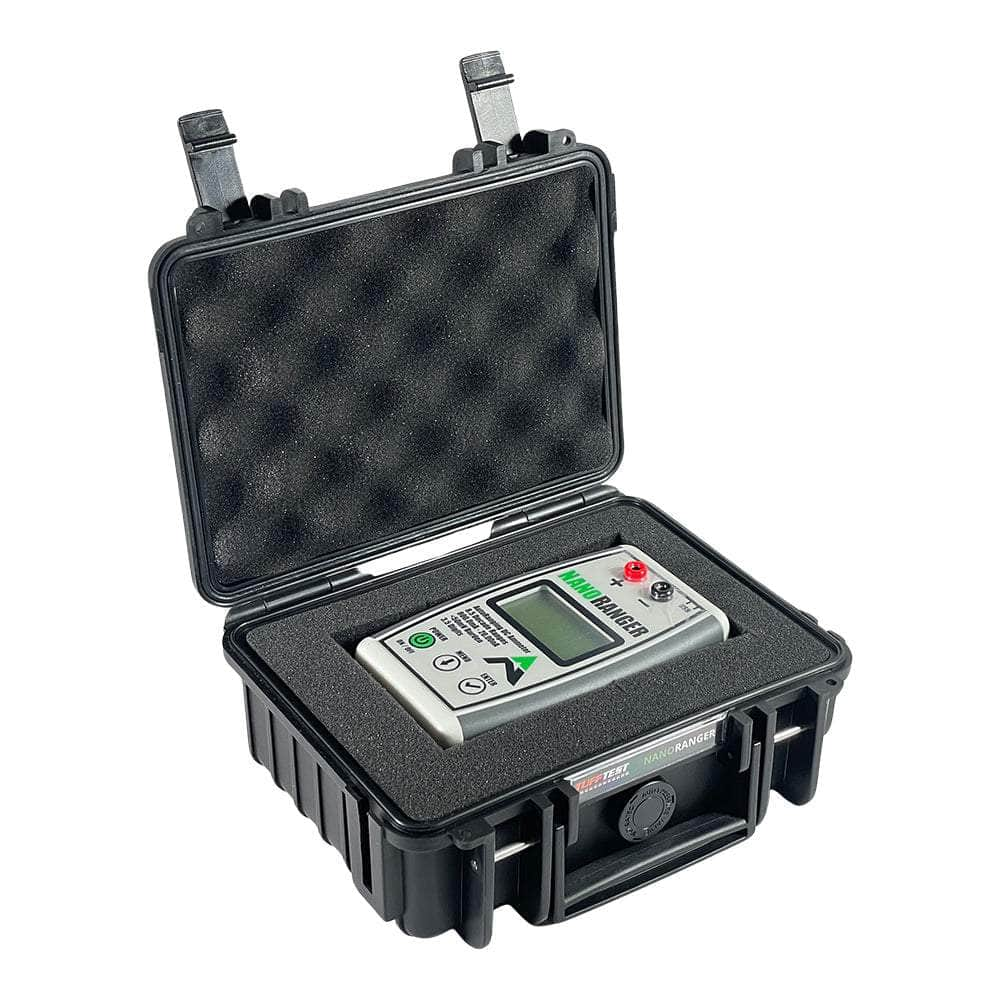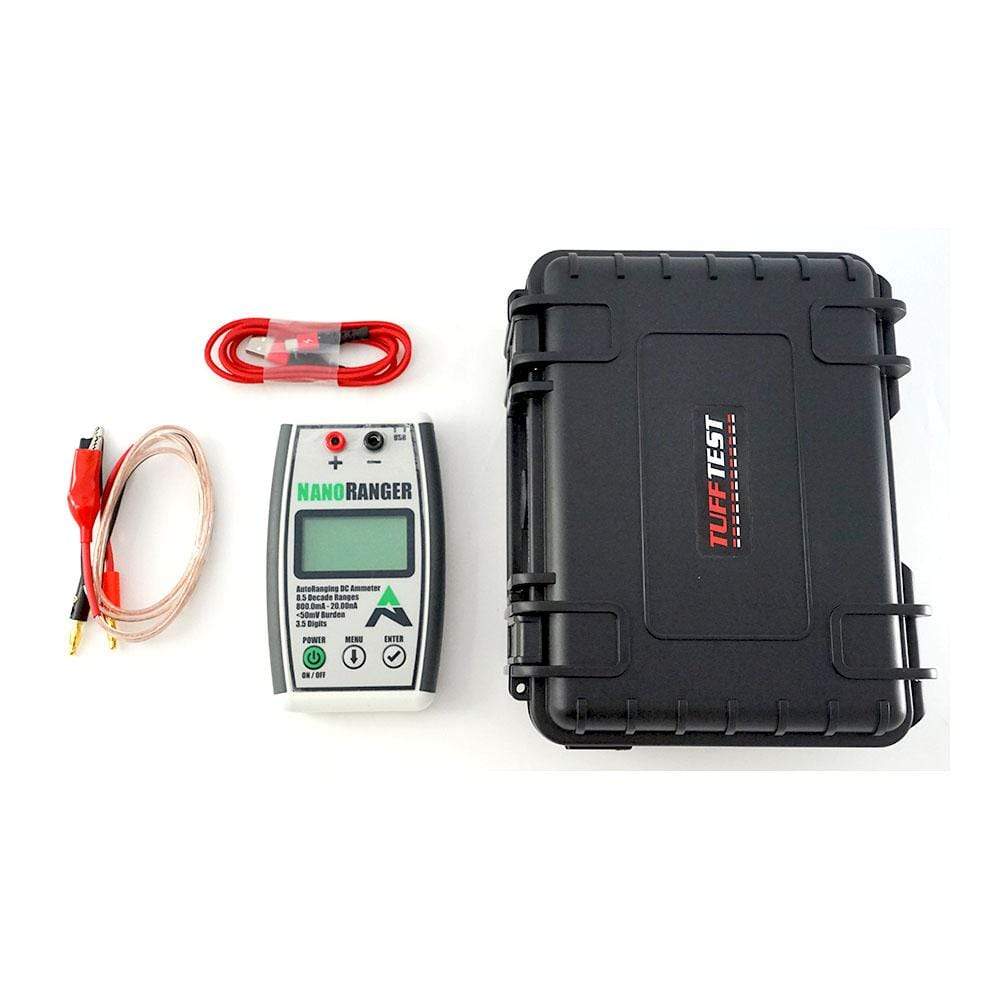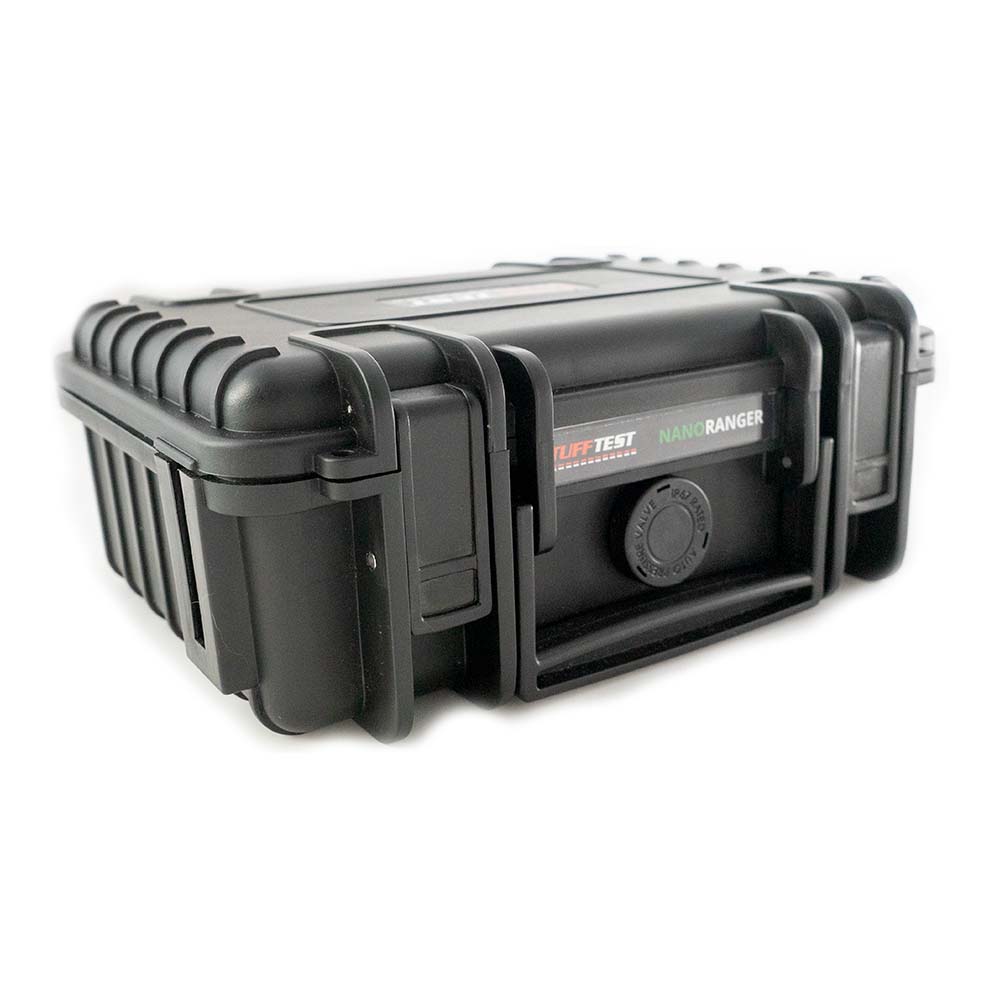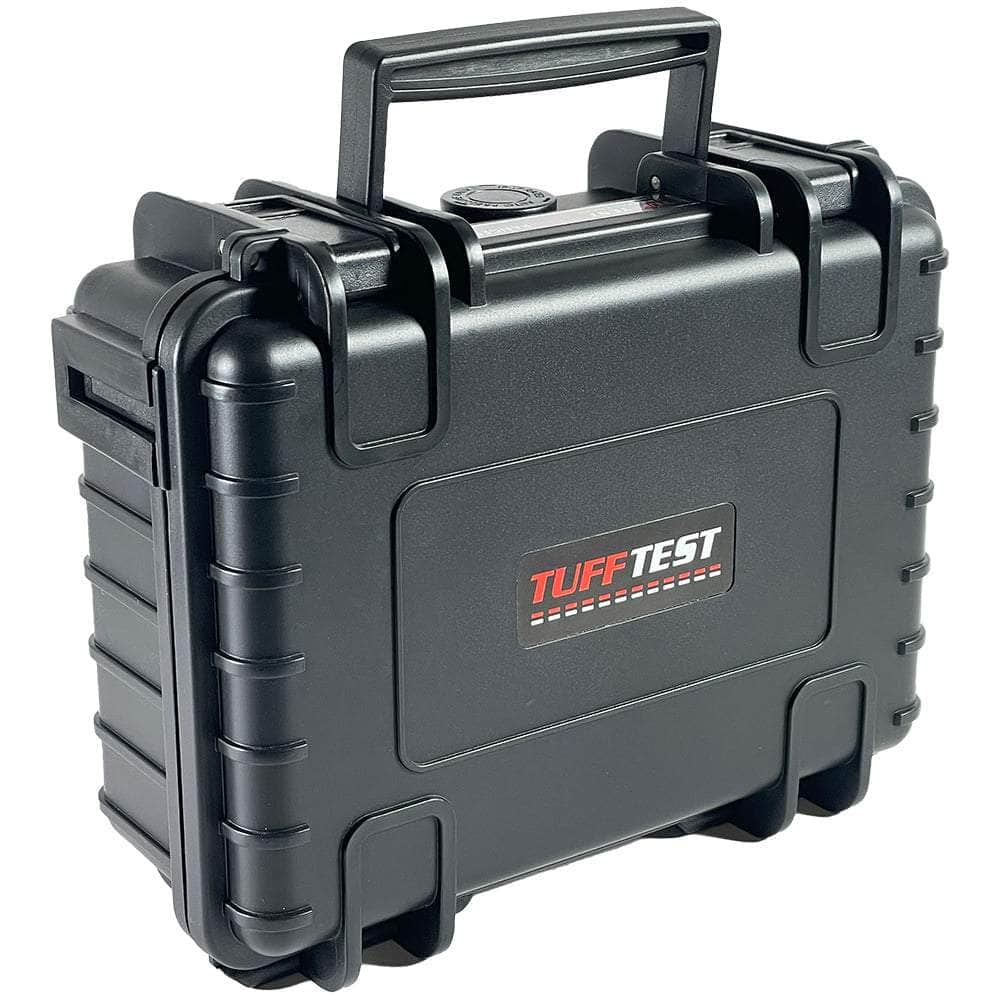 NanoRanger is an accurate, affordable, auto-ranging DC nanoammeter for the measurement of very low currents.
As we strive for greater efficiency from new and existing products, the measurement of device current consumption is becoming more critical.
Previous solutions to this challenge ranged from very expensive ammeters (thousands of pounds), to cheaper solutions that only have limited manual ranges.
The NanoRanger nanoammeter is a solution to these challenges, as it provides a 3.5-digit, 9 range ammeter that can switch over 8.5 decades (from 1nA to 800mA), with resolution as low as 10pA. It features:
A 128 x 64mm LCD display, giving a wealth of information about the User's current readings.
The large 11-digit display shows the User mA, uA, nA, pA, all on one line.
A SNR display shows how much noise, or AC, is present on the current signal.
A range bar shows which range the User is in, plus the minimum / maximum range settings.
Minimum and maximum ranges can be adjusted to limit the auto-ranging, or just to fix it at 1 range.
An automatic Power Off timer, and configurable LED backlight, enables the User to maximise battery life.
Readings are completed approximately every 300mS, with samples collected every 170uS and averaged out over 200mS to remove most of the mains noise associated with circuits (50Hz and 60Hz).
An averaging mode allows the User to run the sampling for however long the User chooses. When finished, it reports the average current, time, and total charge in mAH or smaller. This enables the User to use it to measure the charge of specific events; e.g. a device coming out of Standby to make a radio transmission.
Data Logging
If current measurements need to be logged over time then using the NanoRanger with Data Logging software is suggested. The RealTerm Software has been tested with the NanoRanger. It uploads data to a host PC for display, which can then be saved in a file for subsequent data processing.
PC Interface
Data captured by the instrument can be uploaded to a host PC by the use of commands in SCPI format.  The Nanoranger is fitted with a galvanically isolated USB interface.  This is important as it helps prevent electrical noise from the host PC from being conducted to the Device Under Test (DUT).
Power
The NanoRanger Is powered by two AA alkaline cells. Although the instrument has a USB connection, the USB data signals are isolated from the NanoRanger circuitry and the USB interface is unable to power the instrument. It is also important for the instrument to be separated from any mains-borne interference, due to the very-low currents being measured. Powering the instrument with batteries solves this problem.
Due to the low power consumption of the NanoRanger, it is capable of over 150 hours of continuous use with one set of new batteries.  
Note: The USB leads and test leads are only included as part of the TuffTest package.  Batteries are included with the TuffTest package.
TuffTest
A professional version of the NanoRanger is also available.  The NanoRanger is a sensitive piece of kit and needs to be looked after carefully.  The TuffTest version of the NanoRanger is fitted into a rugged, waterproof case and protected by a foam insert to keep it safe from damage whilst being transported or stored.
The Tufftest version also includes a set of test leads and a USB cable for connecting to a PC, and two - AA size Alkaline cells so the instrument can be used straight out of the box
Altonovus NanoRanger™ Nanoammeter
Frequently Asked Questions
Have a Question?
Be the first to ask a question about this.
Ask a Question