When pre-ordered, this item normally ships within 10 working days
The mikroMedia™ for Stellaris M3 is a compact multimedia development system rich with on-board peripherals that support for development of multimedia content applications.
It is equipped with a 32-bit ARM Cortex-M3 LM3S9B95 microcontroller, which comes programmed with fast USB HID bootloader by default. For more demanding applications, the user may use the external programmers, such as MikroProg for Stellaris or JTAG programmer. The mikroMedia™ for Stellaris M3 board is loaded with modules, such as stereo MP3 codec, TFT 320x240 touch screen display, accelerometer, MMC/SD card slot, 8 Mbit flash memory, battery charger, and many others. The board is also equipped with 8 MHz crystal oscillator (X1) circuit that provides external clock waveform to the microcontroller OSC0 and OSC1 pins. The on-board microSD card slot allows user to store data externally while saving microcontroller memory. It comes with a touch screen that combines a TFT 320x240 display covered with a resistive touch panel.
The mikroMedia™ for Stellaris M3 is a good choice for mobile devices thanks to its compact and slim design.
View full details
SKU: MIKROE-974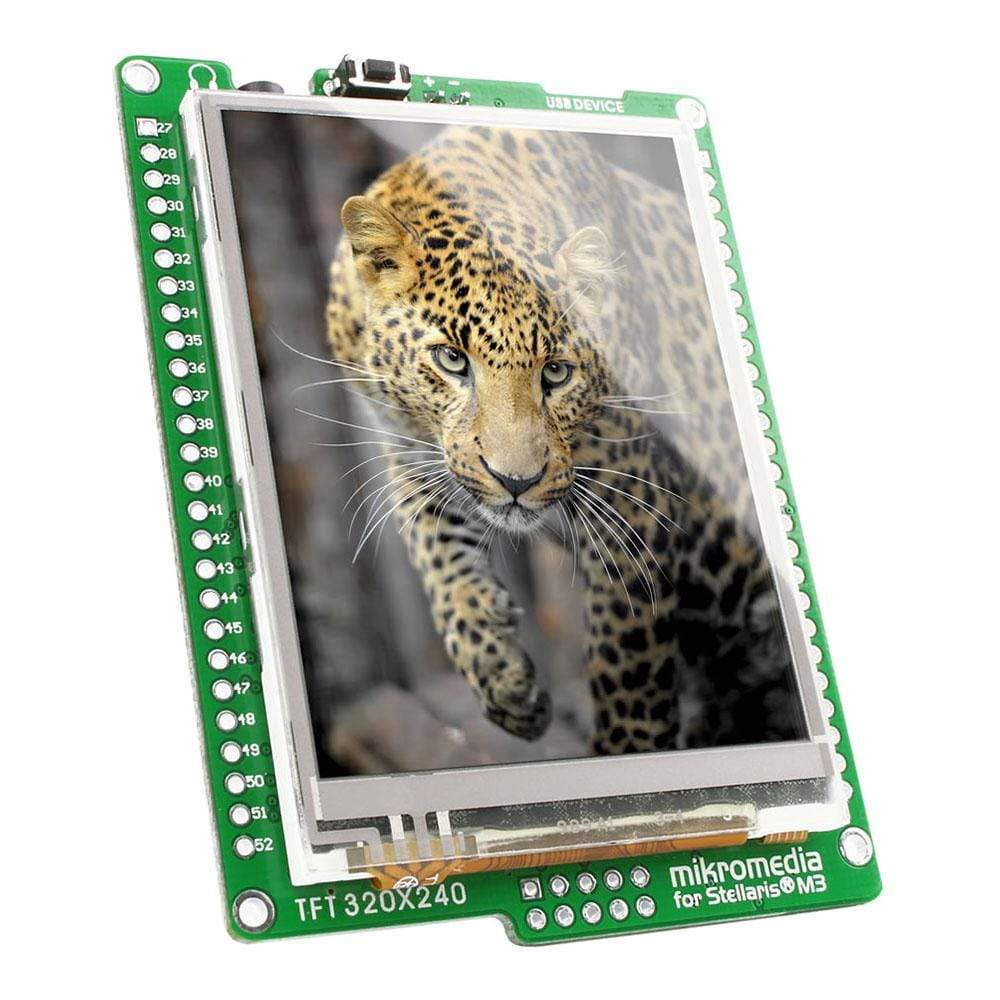 LM3S9B95 ARM Cortex-M3 Microcontroller
An ideal choice for multimedia applications, this high performance 32-bit microcontroller has 80-MHz operation; 100 DMIPS performance, Nested Vectored Interrupt Controller (NVIC), 256 KB Flash memory up to 50 MHz; 96 KB SRAM, and more.
Power Supply Options
The mikroMedia™ for Stellaris M3 board can be powered using the provided Mini-B USB cable or using a Li-Polymer battery via the on-board battery connector. Using the Mini-B USB cable, on-board voltage regulators provides the appropriate voltage levels to each part of the board. The green LED indicates the presence of power supply. An MCP73832 battery charger circuit facilitates user to charge the battery over USB connection. The red LED indicates the charging status of the battery.
mikroMedia for Stellaris M3
Frequently Asked Questions
Have a Question?
Be the first to ask a question about this.
Ask a Question