12-bit Digital to Analog Converter
When pre-ordered, this item normally ships within 10 working days
The DAC Board has a 12-bit digital-to-analog converter MCP4921 featuring an optional 2x buffered output and SPI interface.
View full details
SKU: MIKROE-80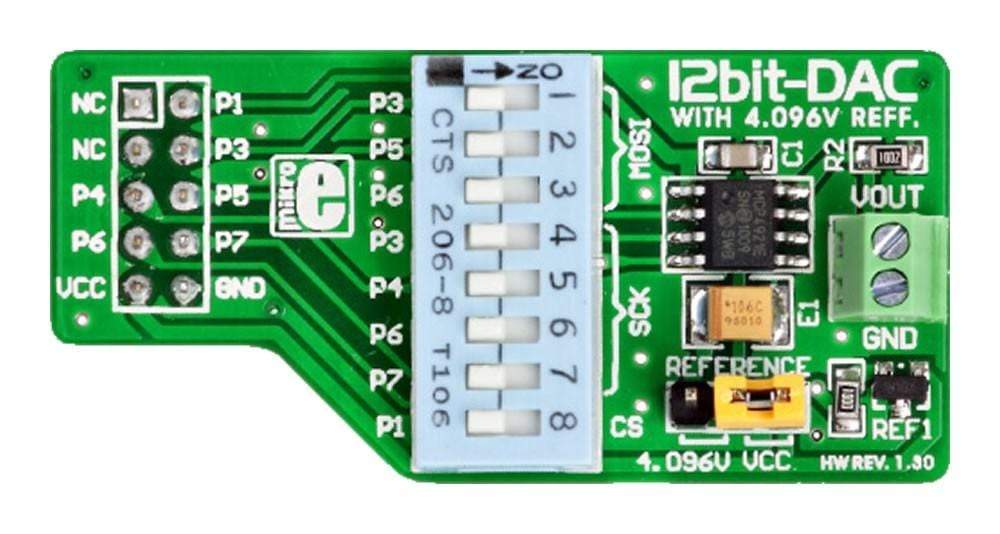 IC/Module: MCP4921 12-bit Voltage Output Digital-to-Analog Converter
MCP4921 is a single channel 12-bit buffered voltage output DAC that operate from a single 2.7V to 5.5V supply with Serial Peripheral Interface. It offers very high accuracy and low noise performance, which makes it highly suitable for consumer and industrial applications.
Jumper Settings
The DAC Board has a jumper J1 that allows user to set reference voltage (Vref) by placing it in adequate position. In order to set reference voltage of 4.096V, place jumper J1 to 4.096 position. To set the board to Vcc reference voltage (3.3V or 5V), position jumper J1 in Vcc position.
Applications
The DAC Board serves as a perfect option for a wide range of consumer and industrial applications, such as set point or offset trimming, precision selectable voltage reference, motor control feedback loop, digitally-controlled multiplier/divider, calibration of optical communication devices, and so on.
DAC Board
Frequently Asked Questions
Have a Question?
Be the first to ask a question about this.
Ask a Question