Ambient Light and RGB Sensing with Flicker Detection
Key Features
Invisible ALS and color sensing under any glass type, unique fast ALS integration mode, integrated ambient light flicker detection on-chip, integrated status checking for all functions, low power consumption, programmable gain and integration time, tailored ALS and color response, and more
Based on the TCS34083M - ALS/color sensor with selective flicker detection from ams-OSRAM
Can be used for the development of brightness management for displays, color management for displays, camera image processing, flicker-immune camera operation, and more
Introducing the Color 11 Click Board™
Revolutionize your colour-sensing experience with the Color 11 Click Board™ – the ultimate solution for precise and versatile colour detection. This remarkable add-on board is equipped with the state-of-the-art TCS34083M sensor from ams-OSRAM, delivering exceptional capabilities that will elevate your projects to new heights.
Unmatched Accuracy and Versatility
The TCS34083M sensor offers a range of cutting-edge features that set it apart from the rest:
- Invisible ALS and Colour Sensing
Experience unparalleled accuracy as the sensor effortlessly detects ambient light and colours (RGB) under any glass type, making it perfect for various applications.
- Unique Fast ALS Integration Mode
Save time and energy with this unique feature, allowing for lightning-fast ALS integration. Get results quickly and efficiently.
- Configurable Programmable Gain and Integration Time
Tailor the sensor's settings to your specific needs with ease. Adjust gain and integration time for optimal performance in your application.
- Customisable ALS and Colour Response
Achieve precision in your colour and light detection with the ability to fine-tune the sensor's response to match your requirements.
- ALS/Colour Interrupt with Thresholds
Stay in control with built-in interrupt capabilities. Set thresholds to trigger actions when specific conditions are met.
Endless Possibilities
The Color 11 Click Board™ is your gateway to a world of possibilities. Its versatility makes it ideal for a variety of applications, including:
Brightness management for displays
Colour management for displays
Camera image processing
Flicker-immune camera operation
Simplified Development with mikroSDK
We understand that your time is valuable, so the Color 11 Click Board™ is supported by a mikroSDK-compliant library. This library simplifies software development, ensuring a smooth and efficient integration process.
Ready for Action
Save time on complex setups. The Color 11 Click Board™ comes thoroughly tested and ready to use, making it a seamless addition to any system equipped with the mikroBUS™ socket.
View full details
SKU: MIKROE-5894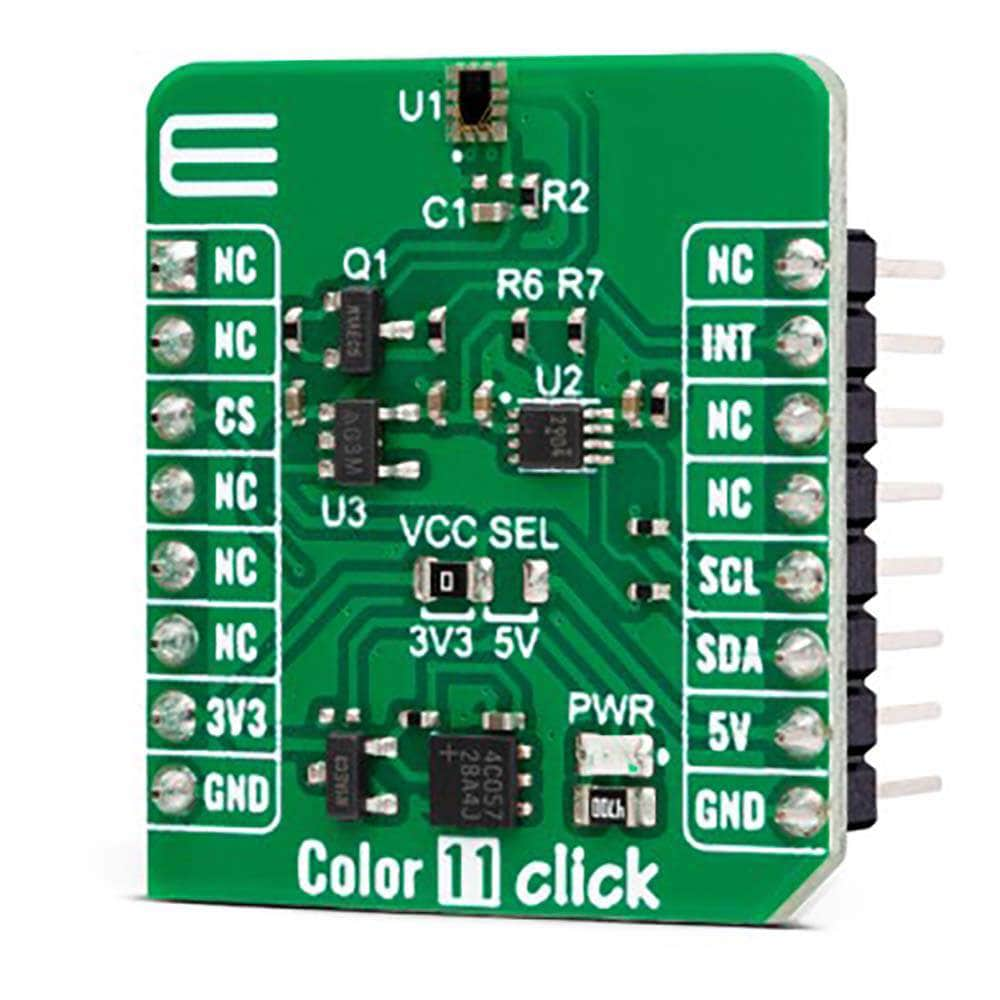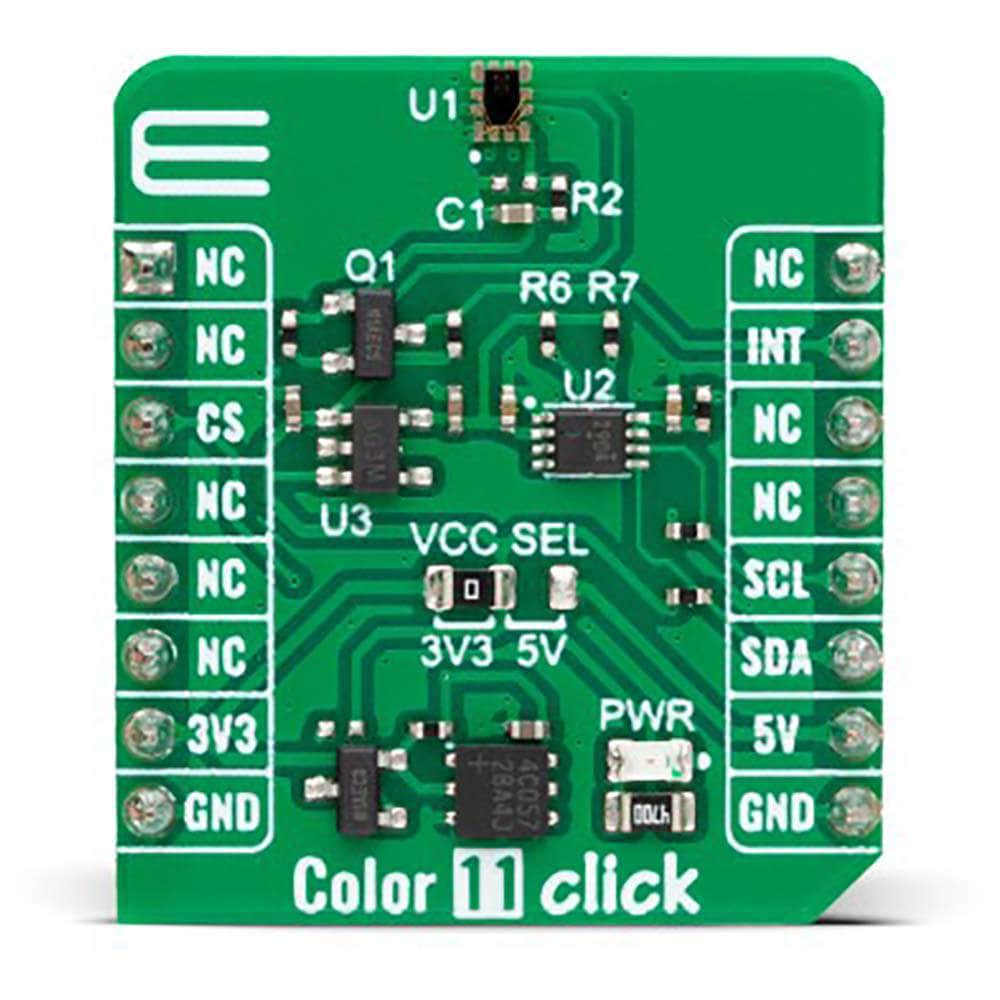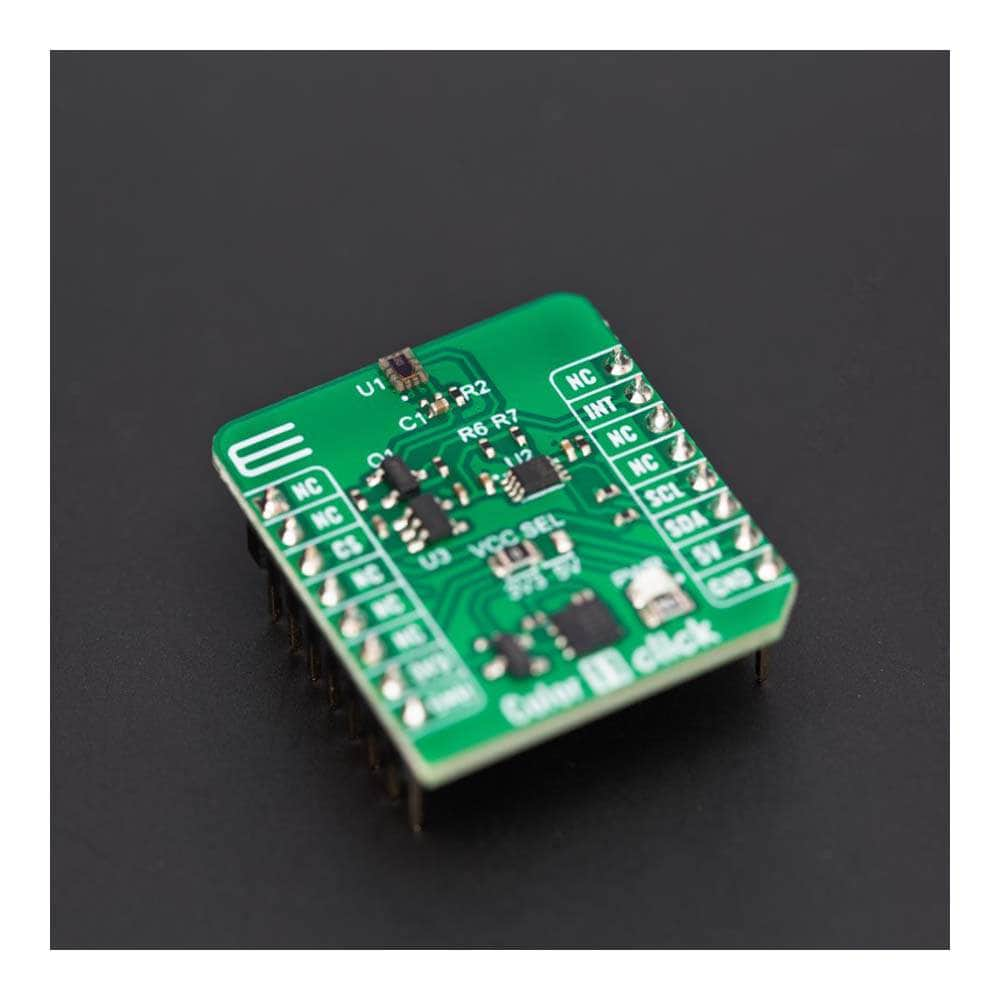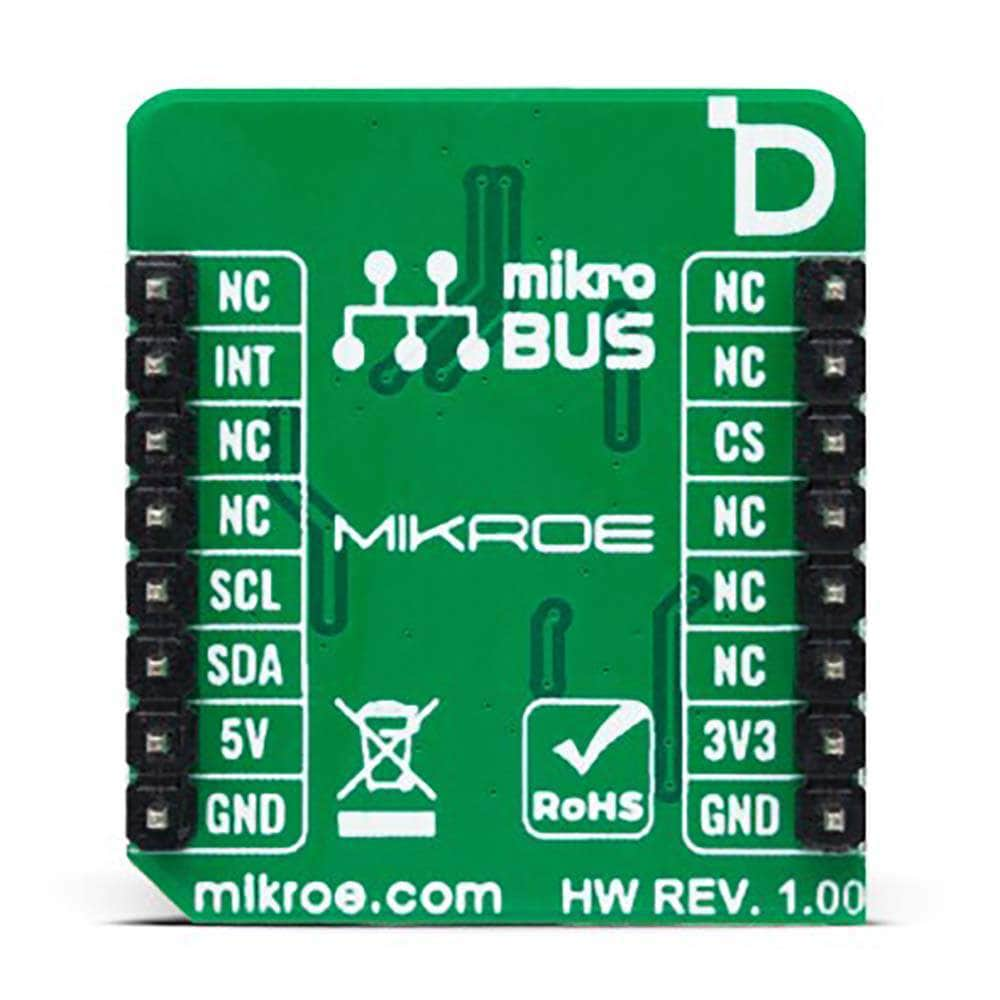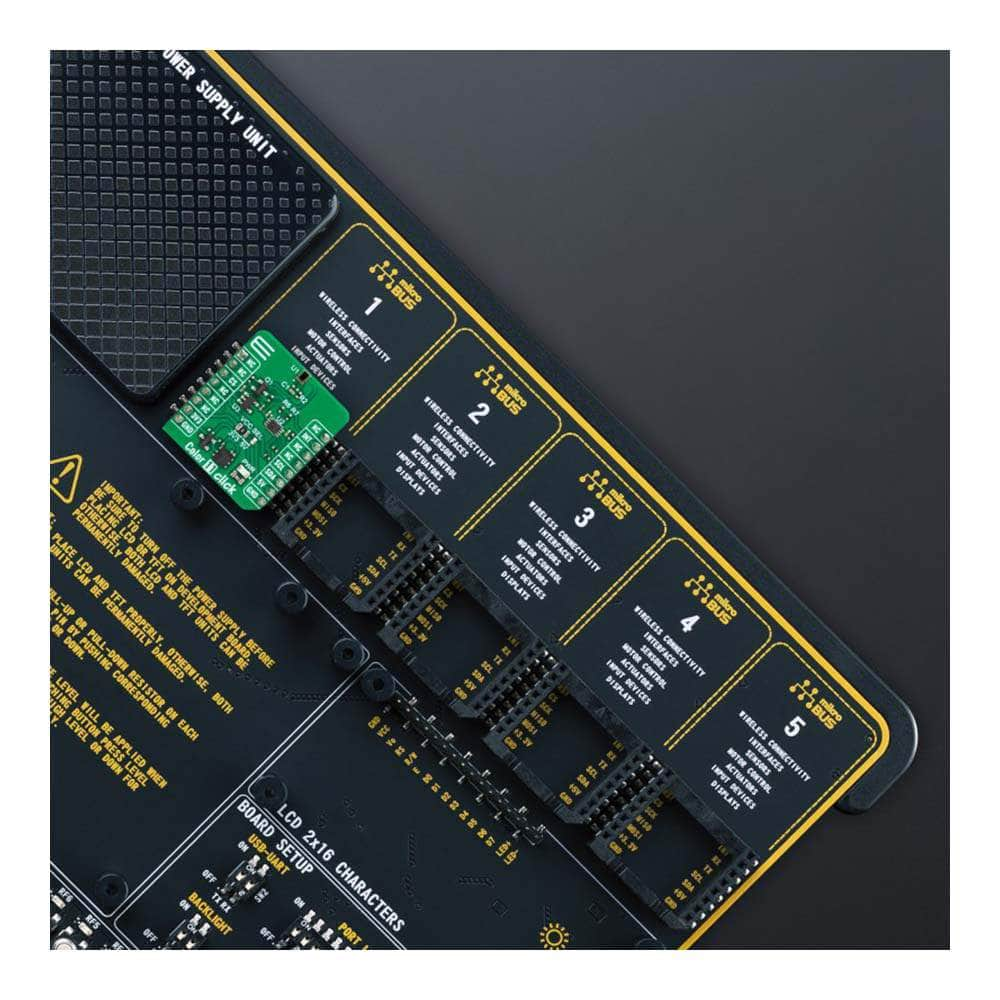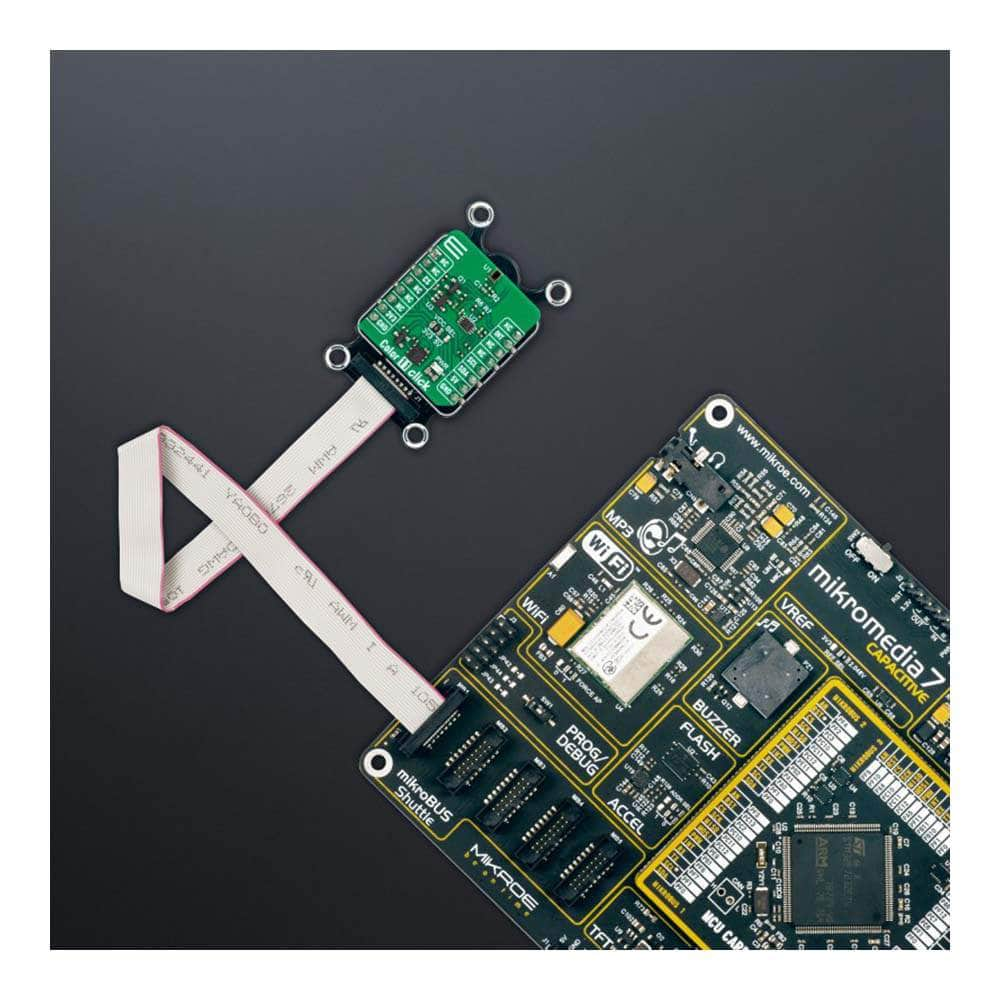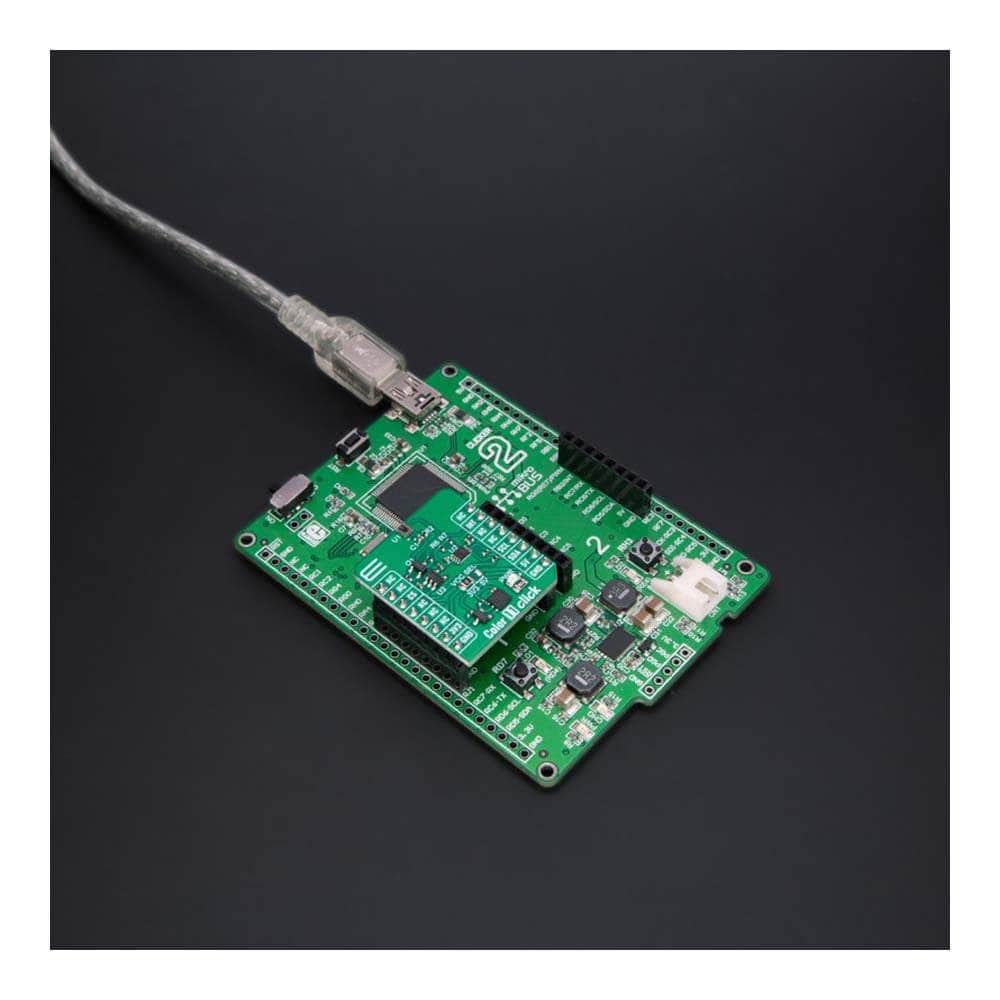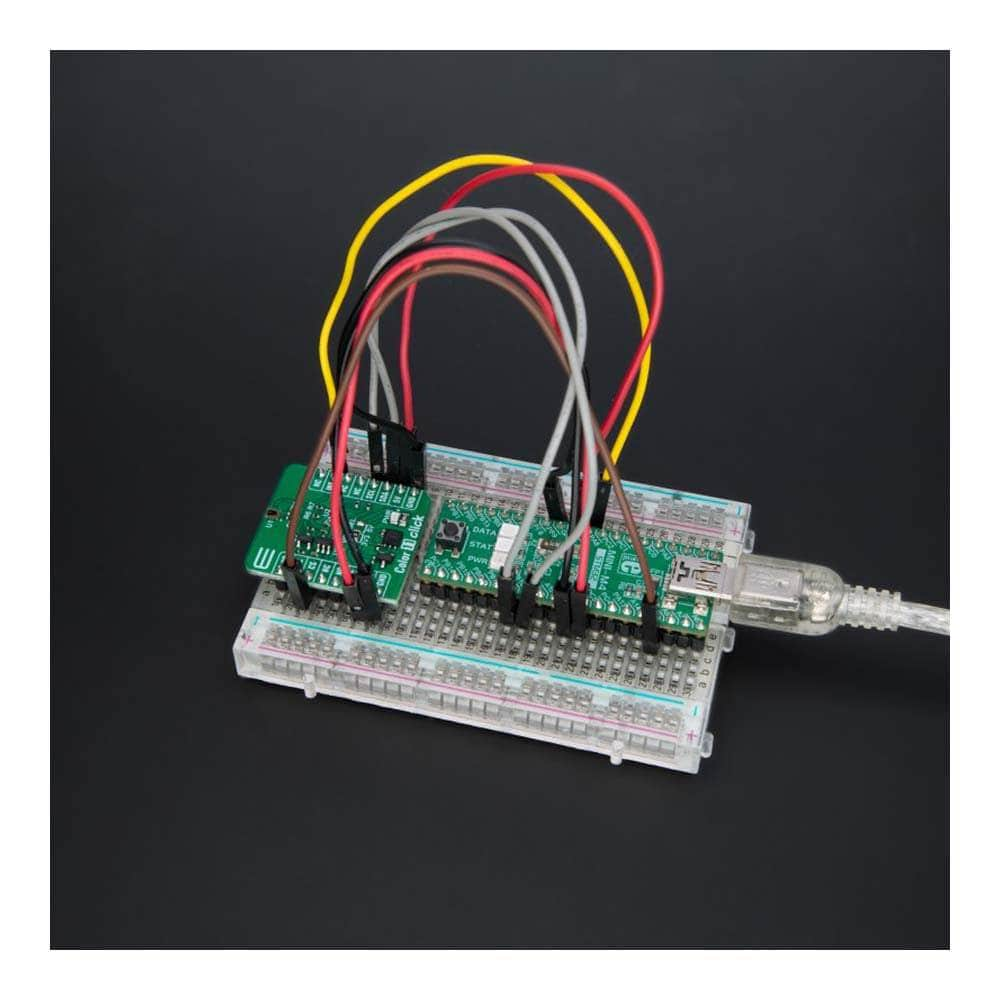 Color 11 Click Board
Frequently Asked Questions
Have a Question?
Be the first to ask a question about this.
Ask a Question