Microchip PIC18F Development Board with Four MikroBus Sockets
Key Features
8-bit Microchip PIC18F MCU operating at up to 64 MHz, 128kB Flash memory, eXtreme low-power, nanoWatt XLP technology, high-precision PLL for USB
USB Type-C connectors. Six LEDs, six push buttons, and a reset button
On-board debugger and Microchip ICSP header for interfacing with external electronics.
Four mikroBUS™ sockets for adding Click board™
Side headers for interfacing with external electronics
Introducing Clicker 4 for PIC18F: Revolutionise Your Development Experience!
Unleash Your Creativity with the Ultimate Gadget-Building Solution!
Are you ready to elevate your prototyping experience and bring your unique gadget ideas to life? Discover the Clicker 4 for PIC18F, a compact and versatile development board designed to be your complete solution in building gadgets with unparalleled functionalities!
Seamless Hardware Debugging
With Clicker 4, say goodbye to the hassles of prototyping! It comes equipped with an on-board Debug Unit and MIKROE's advanced CODEGRIP programmer/debugger, compliant with the CMSIS-DAP on-board emulator standard. This feature allows you to use, test, and debug the target device straight out of the box, making your prototyping experience as convenient as possible!
Flexible and Practical Power Supply
Powering your development needs with utmost flexibility, Clicker 4 is armed with five different power supply inputs and a reliable and safe battery charging circuit. This allows a single-cell Li-Po/Li-Ion battery to be charged, ensuring your projects run smoothly and efficiently!
Key Features & Benefits:
8-bit Microchip PIC18F MCU operating at up to 64 MHz
128kB Flash memory
eXtreme low-power, nanoWatt XLP technology
High-precision PLL for USB
USB Type-C connectors
Six LEDs, six push buttons, and a reset button
On-board debugger and Microchip ICSP header for interfacing with external electronics
Four mikroBUS™ sockets for adding Click board™
Small, Affordable, and Powerful: A starter development kit that is both economical and potent.
Easy Integration: Mounting holes included for straightforward integration.
Compact Design: Clear and descriptive silk screen markings make usage intuitive.
Enhanced Interfacing: Side headers available for interfacing with external electronics.
Why Choose Clicker 4 for PIC18F?
Unmatched Convenience: The on-board Debug Unit and advanced CODEGRIP programmer/debugger allow for seamless testing and debugging.
Ultimate Flexibility: Adapt to any development needs with ease thanks to multiple power supply inputs and enhanced interfacing options.
Reliable Performance: Equipped with high-precision components and advanced technology, ensuring optimal functionality and efficiency.
Build with Confidence: The reliable and safe battery charging circuit guarantees smooth operation of your unique gadgets.
Capture Your Ideas and Transform Them into Reality!
Whether you are a seasoned developer or a hobbyist looking to explore new possibilities, Clicker 4 for PIC18F is your gateway to creating gadgets with unique functionalities. Its advanced features and flexible options make it the ideal companion for all your development needs!
View full details
SKU: MIKROE-5849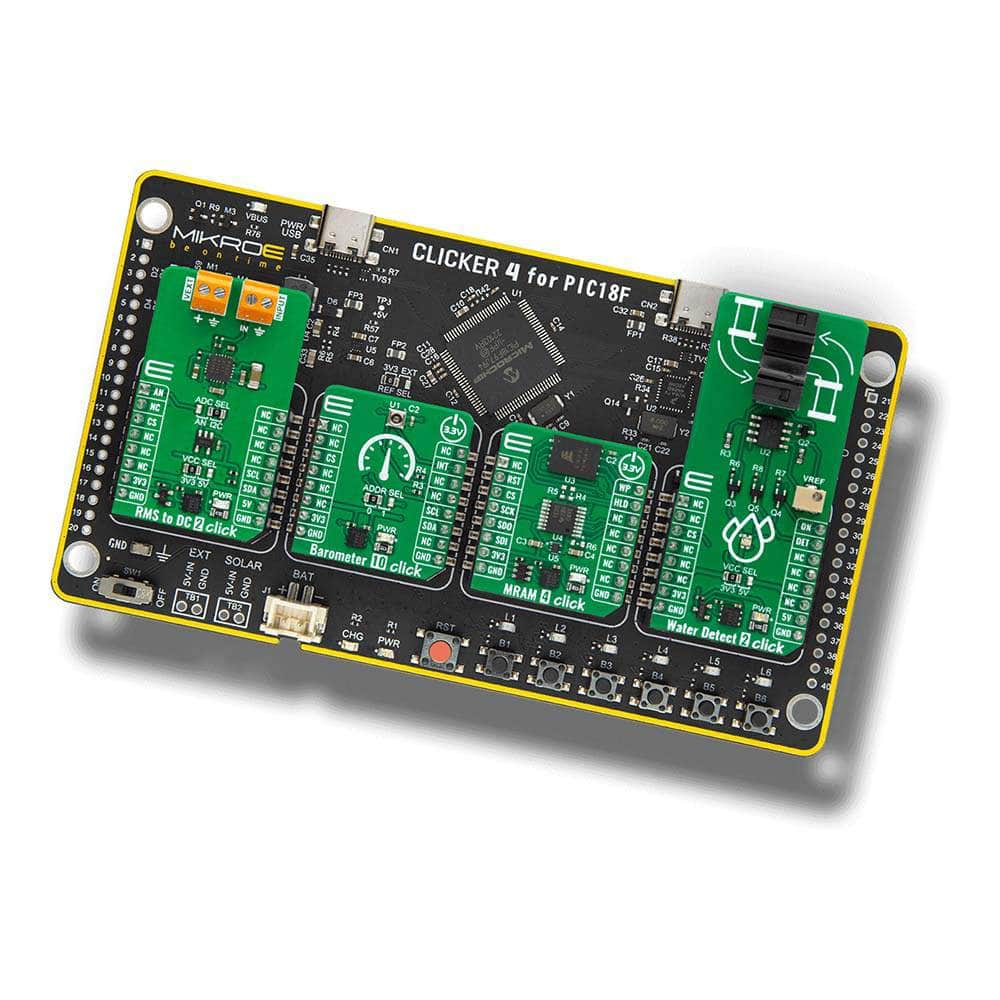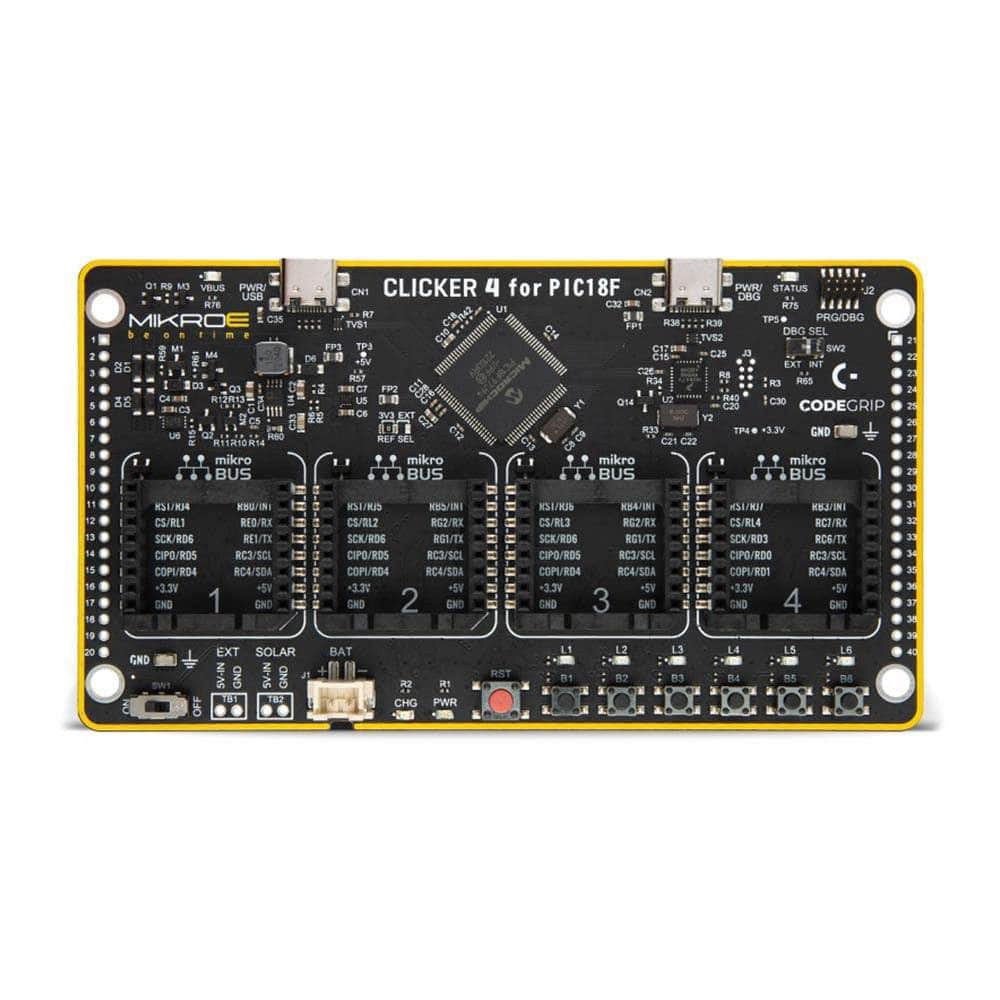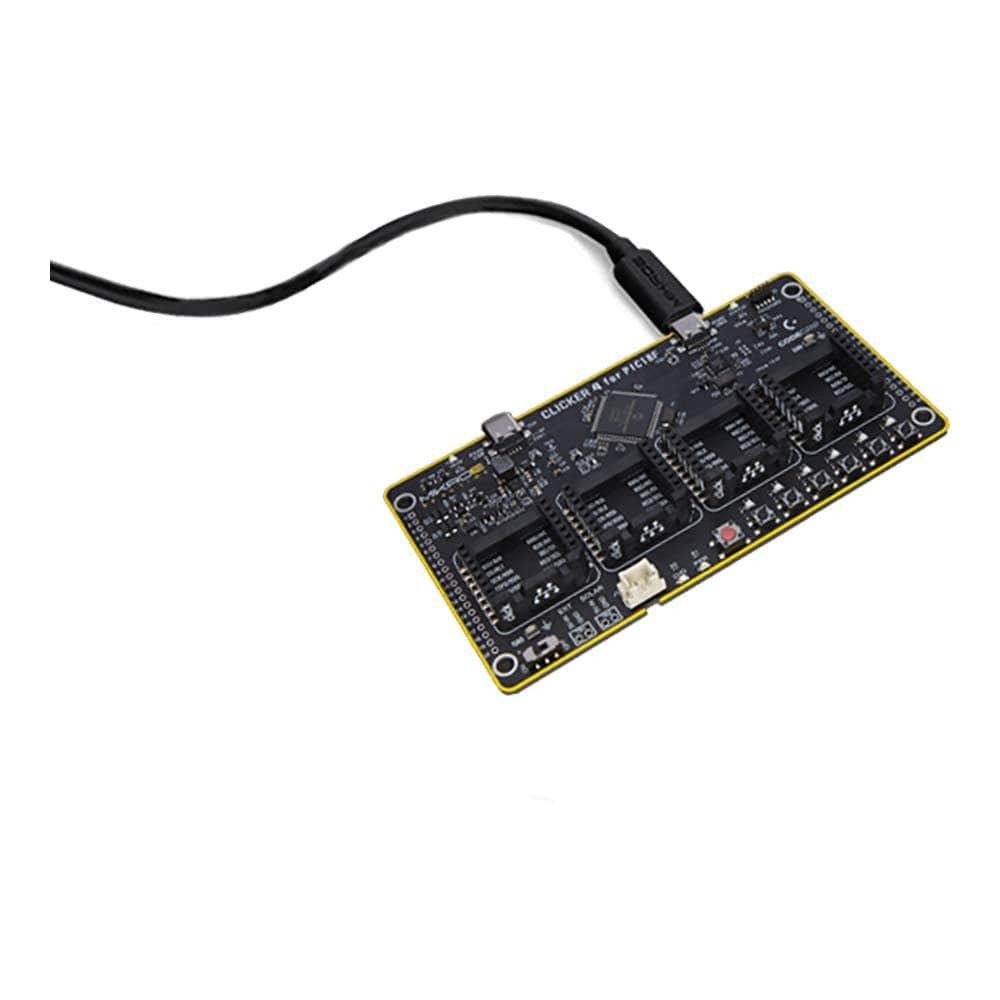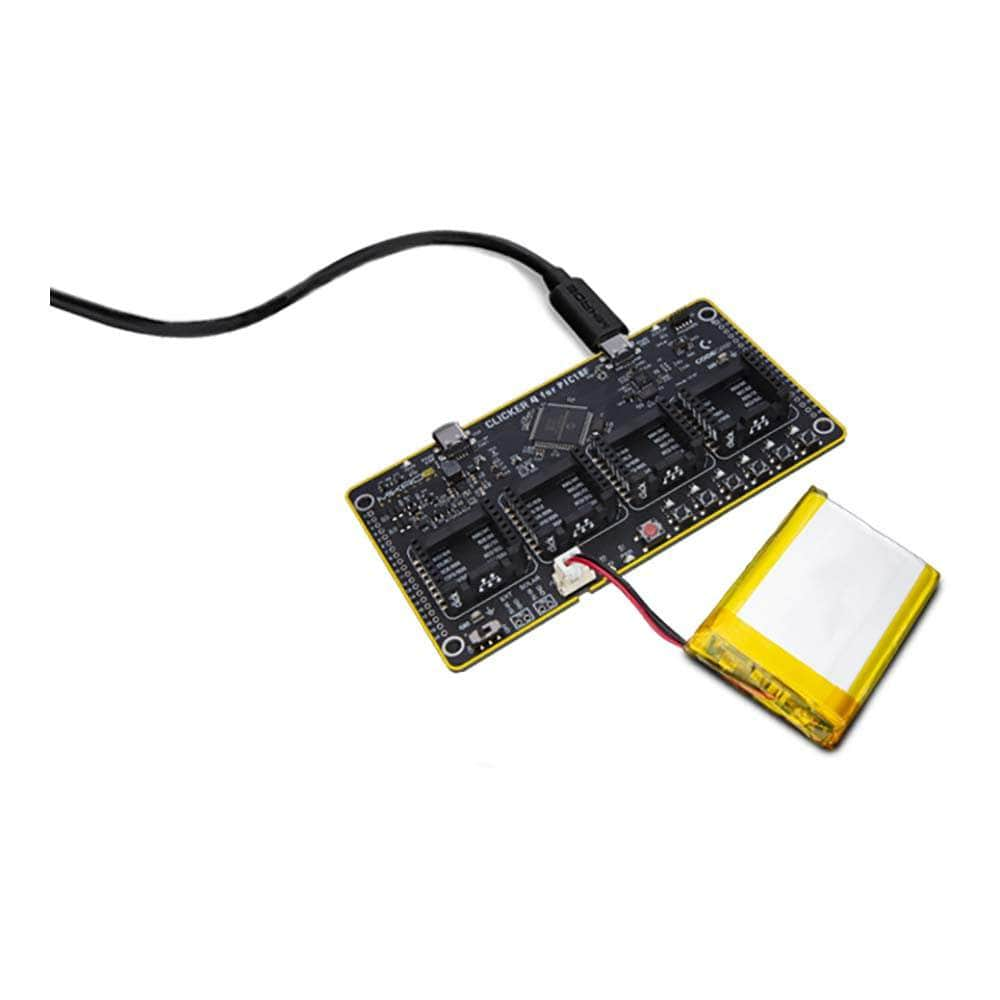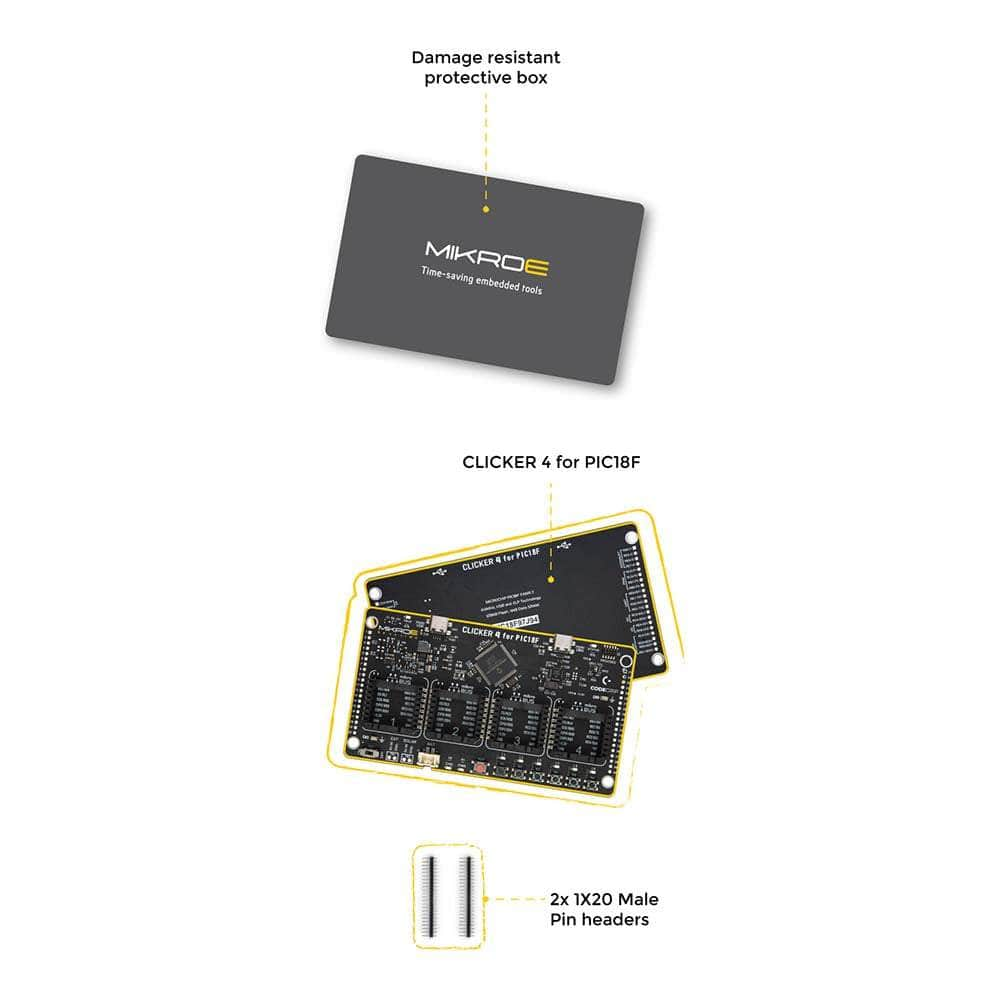 Clicker 4 for PIC18F
Frequently Asked Questions
Have a Question?
Be the first to ask a question about this.
Ask a Question