USB 2.0 Full Speed Galvanic Isolation
Key Features
USB 2.0-compliant, supports low and high-speed signaling, supports automatic speed and connection detection, supports automatic role reversal for USB On-the-Go, and Type-C dual role port, insulation barrier for high voltage protection, entire USB protocol is handled on the UART chip, and more
Based on the ISOUSB111 - full/low-speed isolated USB repeater from Texas Instruments FT232R - USB to UART bridge from FTDI
Can be used for the development of USB hub, host, peripheral, and cable isolation applications
Elevate Your Connectivity with the Revolutionary USB UART ISO Click Board™!
Introducing the USB UART ISO Click Board™, a compact and transformative add-on, meticulously designed to deliver an unparalleled isolated USB experience. Utilize groundbreaking technology from Texas Instruments and FTDI to maximize your device's connectivity potential, ensuring optimal performance and impeccable isolation in USB interface scenarios.
Unmatched Isolation and Interface
Experience the pinnacle of interface technology with the ISOUSB111, a full/low-speed isolated USB repeater from Texas Instruments. Enjoy complete isolation with a differential pair of lines, enhancing the integrity and reliability of your USB physical interface. The USB 2.0-compliant device supports low-speed (1.5Mbps) and full-speed (12Mbps) signaling, USB On-The-Go (OtG), and Type-C Dual Role Port (DRP), catering to a diverse range of connectivity needs.
Comprehensive USB-to-UART Solution
The inclusion of the FT232R, a distinguished USB UART IC from FTDI, culminates in a comprehensive USB-to-UART isolated solution. The integration of these premium components makes the USB UART ISO Click Board™ an essential tool for anyone seeking seamless development in USB hub, host, peripheral, and cable isolation applications.
Streamlined Software Development
Supported by a mikroSDK-compliant library, this Click board™ simplifies software development by providing functions that streamline the coding process. The ease of access to these functions enables developers to focus on innovation and implementation, reducing development time and increasing efficiency.
Ready-to-Use and Fully Tested
Receive a fully tested product, primed for immediate use on any system equipped with the mikroBUS™ socket. Dive into the world of isolated connectivity with confidence, knowing that the USB UART ISO Click Board™ stands up to the rigorous standards of modern technology.
Why Choose USB UART ISO Click Board™?
Revolutionary Isolation: Superior differential pair of lines for an exceptional isolated USB physical interface.
Versatile Connectivity: Supports low-speed and full-speed signaling, USB OtG, and Type-C DRP, enabling a wide range of applications.
Simplified Development: Benefiting from a mikroSDK-compliant library, software development becomes a breeze.
Premium Components: Features world-renowned technology from Texas Instruments and FTDI.
Ready Out of the Box: Comes as a fully tested product, allowing immediate integration into your system.
Unlock Next-Level Connectivity Now!
Don't miss the opportunity to enhance your connectivity with the USB UART ISO Click Board™. Whether you're developing USB hubs, hosts, peripherals, or focusing on cable isolation applications, this Click board™ is your gateway to optimal isolated connectivity solutions.
View full details
SKU: MIKROE-5815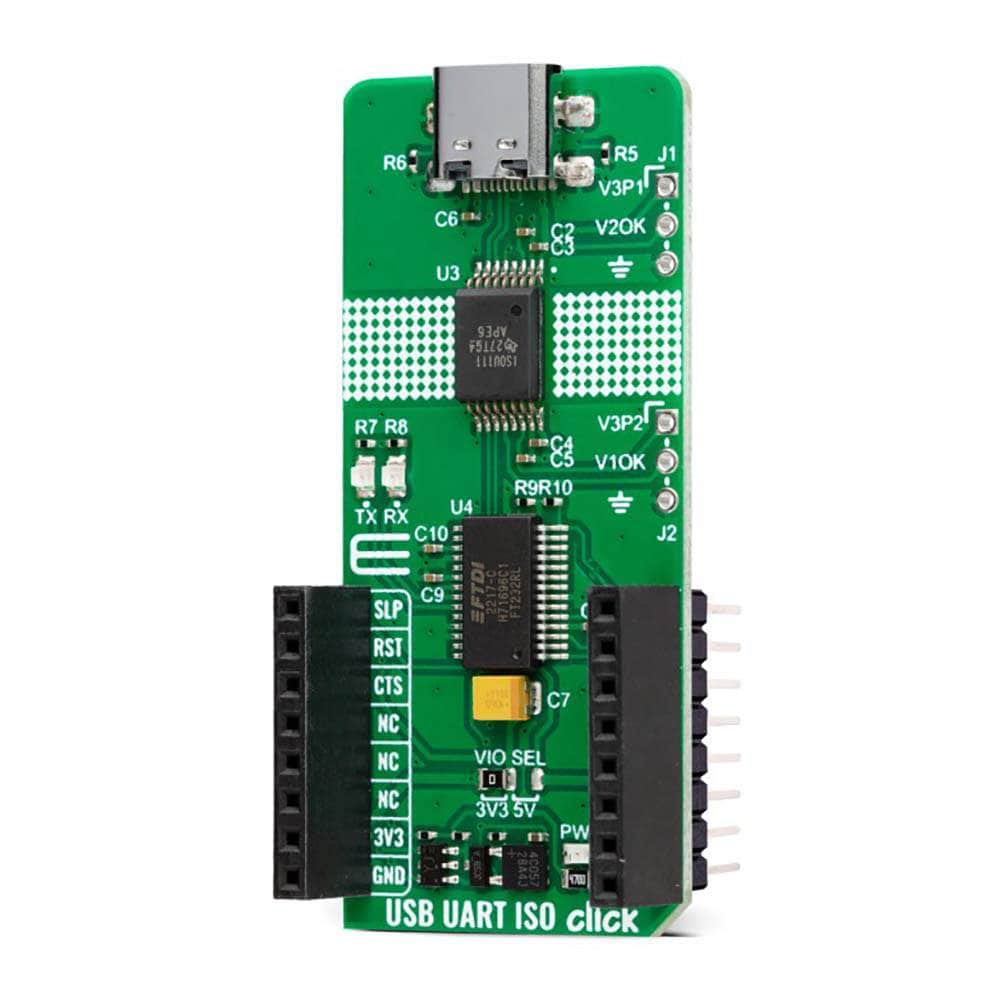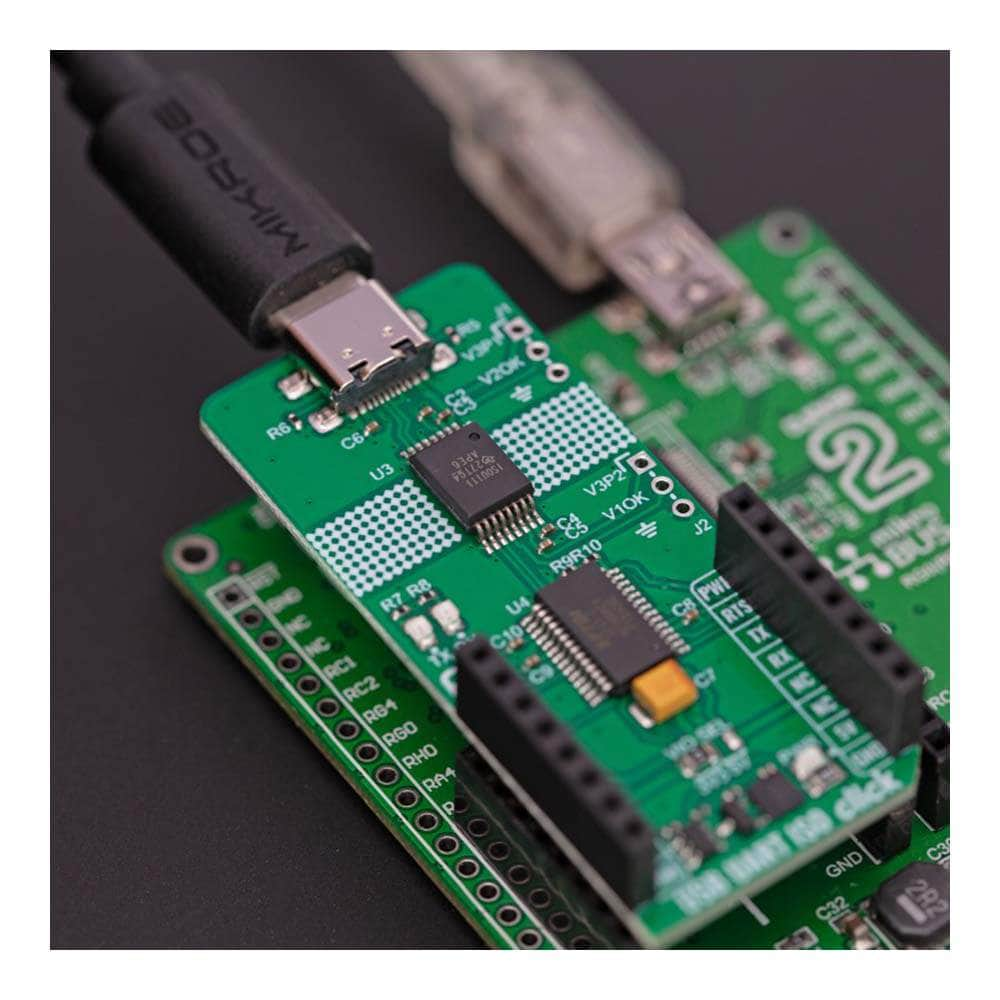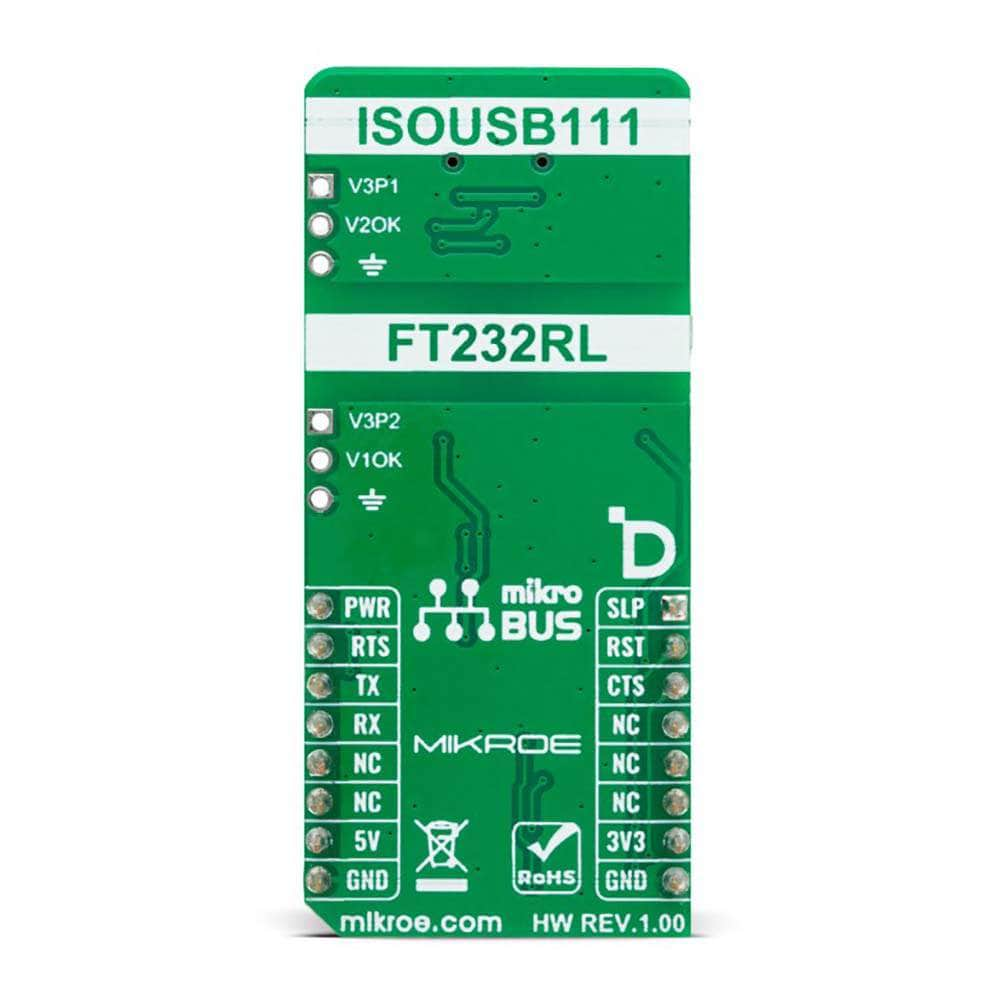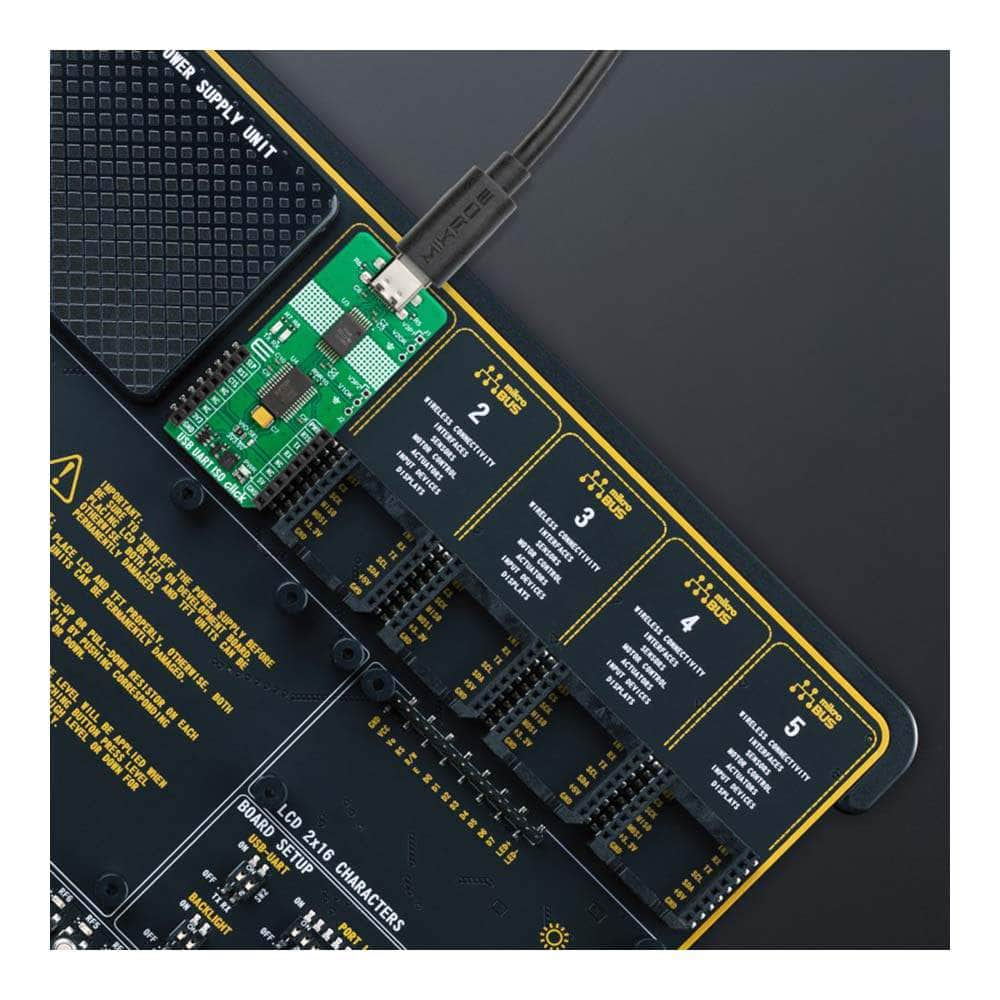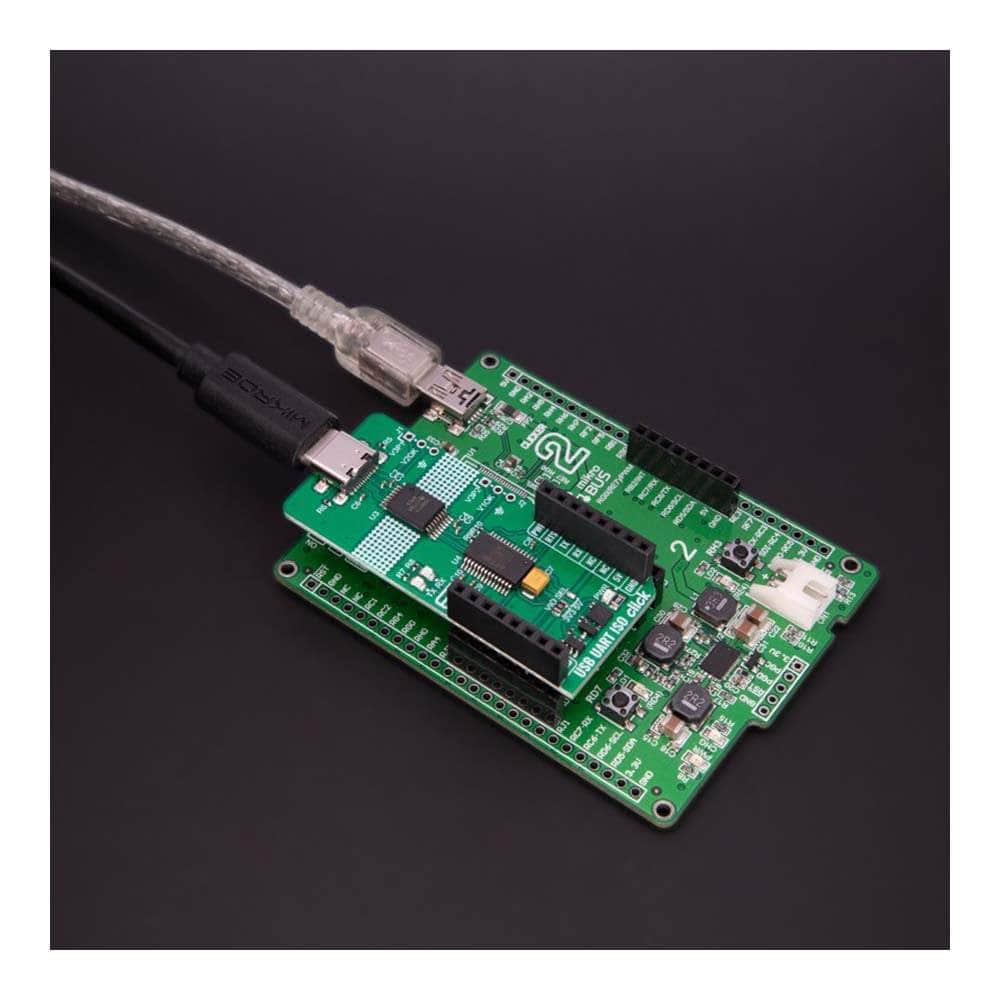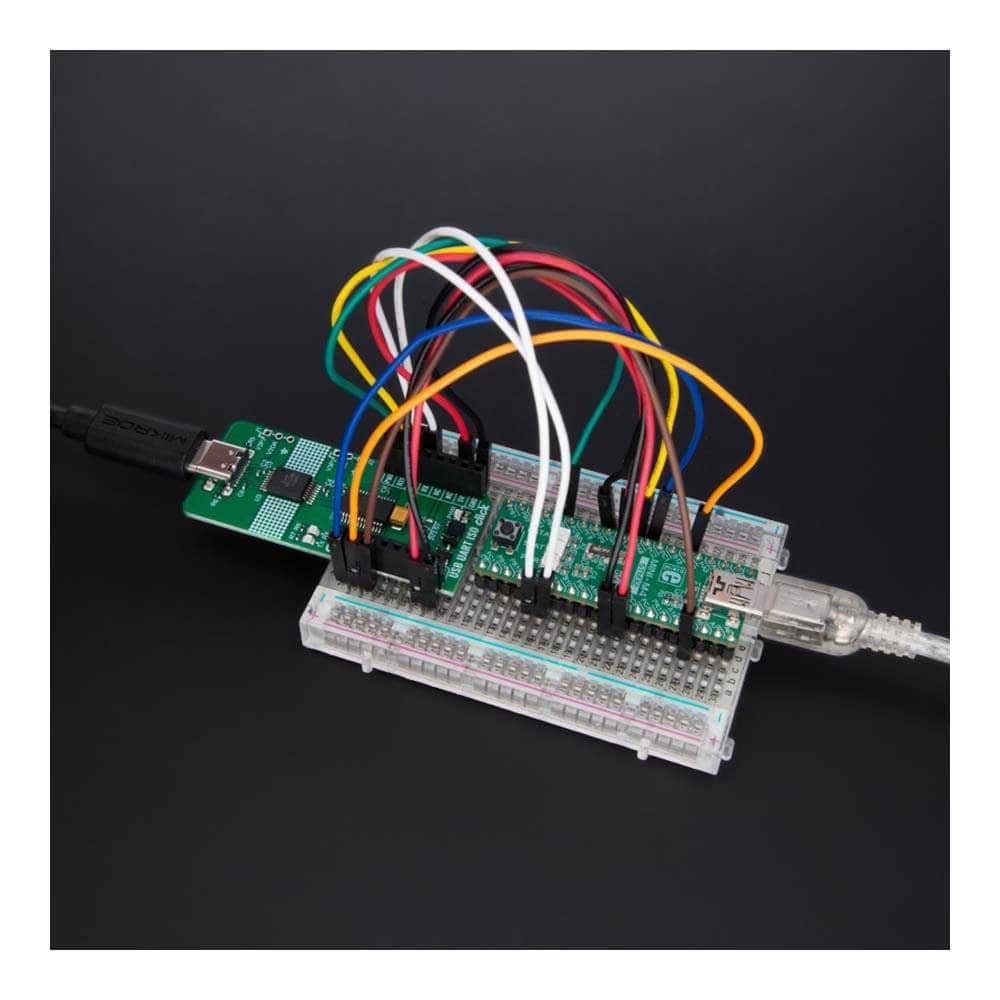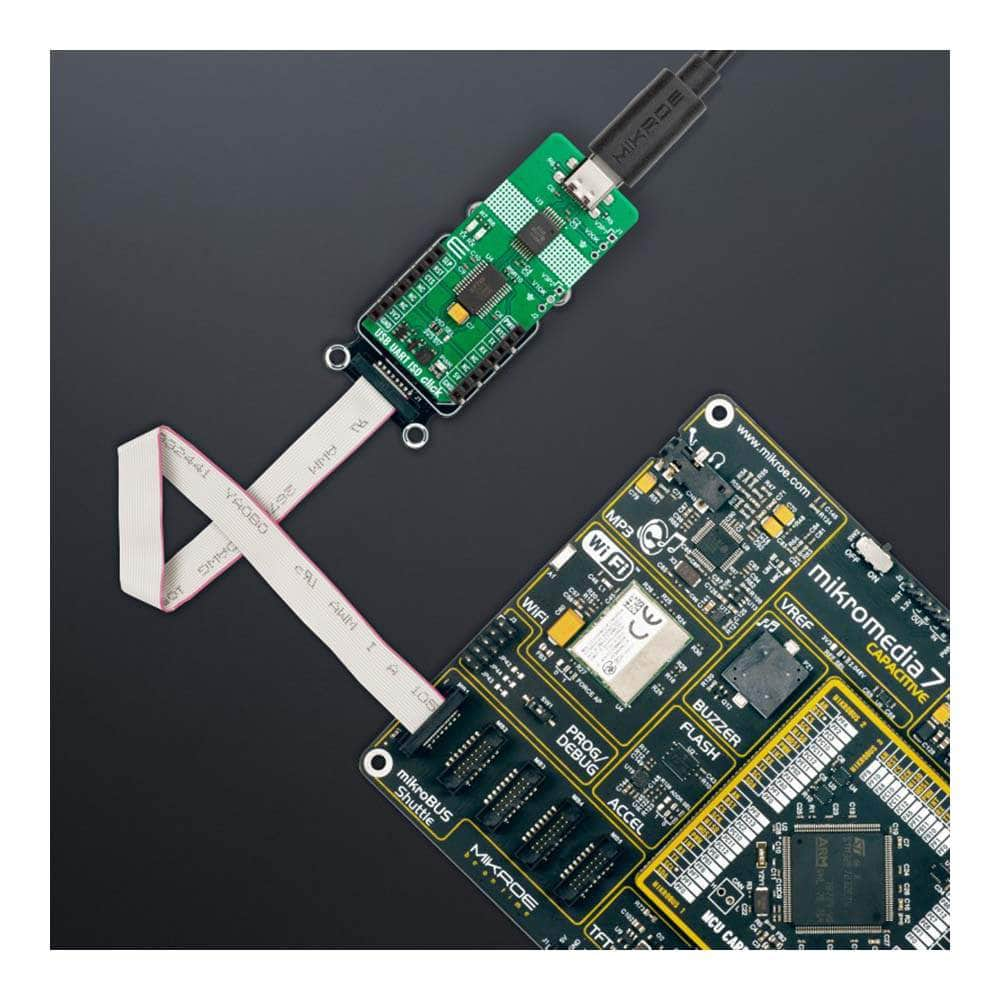 USB UART ISO Click Board
Frequently Asked Questions
Have a Question?
Be the first to ask a question about this.
Ask a Question