Bluetooth Beacon for Asset Tracking, Retail etc
Key Features
Bluetooth Low Energy 5.3 compliant, three beacon modes, ease of use, two types of memory (OTP and SRAM), low-power mode advertising, RF radio, low power consumption, UART and I2C interface, security and privacy, and more
Based on ther IN100 - ultra-low power Bluetooth 5.3 Beacon SoC from InPlay
Can be used as a standalone retail beacon setups, asset tracking, real-time location systems (RTLS), active RFID, wireless industrial applications, and more
Introducing the NanoBeacon Click Board™: Revolutionize Your Connectivity
Are you ready to experience the future of Bluetooth beacon technology? Look no further than the NanoBeacon Click Board™ — the compact add-on board that's about to change the game!
Unveiling Unmatched Power and Efficiency
Say hello to the IN100, a powerhouse of an ultra-low power Bluetooth 5.3 Beacon SoC from InPlay. This isn't just another beacon solution; it's a revolution in efficiency. With its cutting-edge technology, the NanoBeacon Click Board™ sets the new standard for beacon performance.
Benefits that Matter
Ultra-Low Power Consumption: Imagine a Bluetooth beacon that lasts longer on a single charge. The NanoBeacon Click Board™ ensures extended battery life, making it perfect for long-term deployments without constant maintenance.

Enhanced Privacy Mode: Your data deserves protection. With an enhanced privacy mode, your sensitive information stays safe and secure, setting a new benchmark for data integrity.

Three Beacon Modes, One Effortless Experience: No Bluetooth programming required! With three beacon modes at your disposal, seamlessly switch between functionalities hassle-free. It's the ultimate plug-and-play experience.
Packed with Potential
This tiny board is packed with features that can transform your ideas into reality:
Two Built-in Memory Types: Get 4KB of OTP and 4KB of SRAM, giving you the space you need to store critical data without compromise.

Versatile Interfaces: The NanoBeacon Click Board™ offers UART and I2C interfaces, opening doors to a world of connectivity possibilities.

Hardware Security Engine: Keep your data safe with a built-in hardware security engine. Your information remains confidential and protected from unauthorized access.
Endless Applications
The NanoBeacon Click Board™ doesn't just fit into one mold — it's your key to endless possibilities:
Standalone Retail Beacon Setups: Transform customer experiences with targeted marketing and real-time promotions.

Asset Tracking: Keep tabs on your valuable assets with precision and ease.

Real-Time Location Systems (RTLS): Enhance logistics and streamline operations with accurate location tracking.

Active RFID: Revolutionize inventory management and reduce losses with real-time tracking.

Wireless Industrial Applications: Improve efficiency and safety in industrial environments using cutting-edge wireless technology.
Simplified Development with mikroSDK
We understand that the journey from idea to realization can be challenging. That's why the NanoBeacon Click Board™ comes with a mikroSDK compliant library. Develop software effortlessly using the provided functions and focus on bringing your ideas to life.
Ready to Shine
Rest assured, the NanoBeacon Click Board™ is more than just a concept. It's a fully tested, ready-to-use product designed to fit seamlessly into systems equipped with the mikroBUS™ socket.
View full details
SKU: MIKROE-5794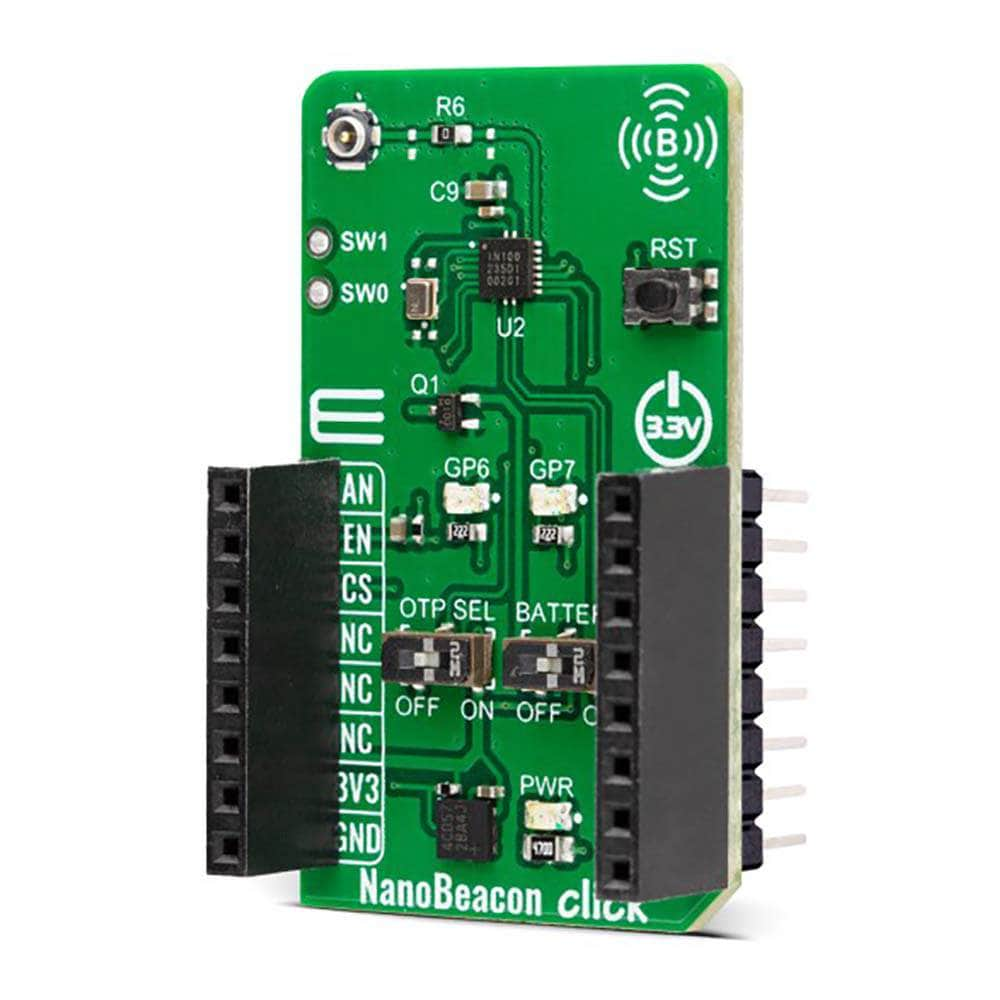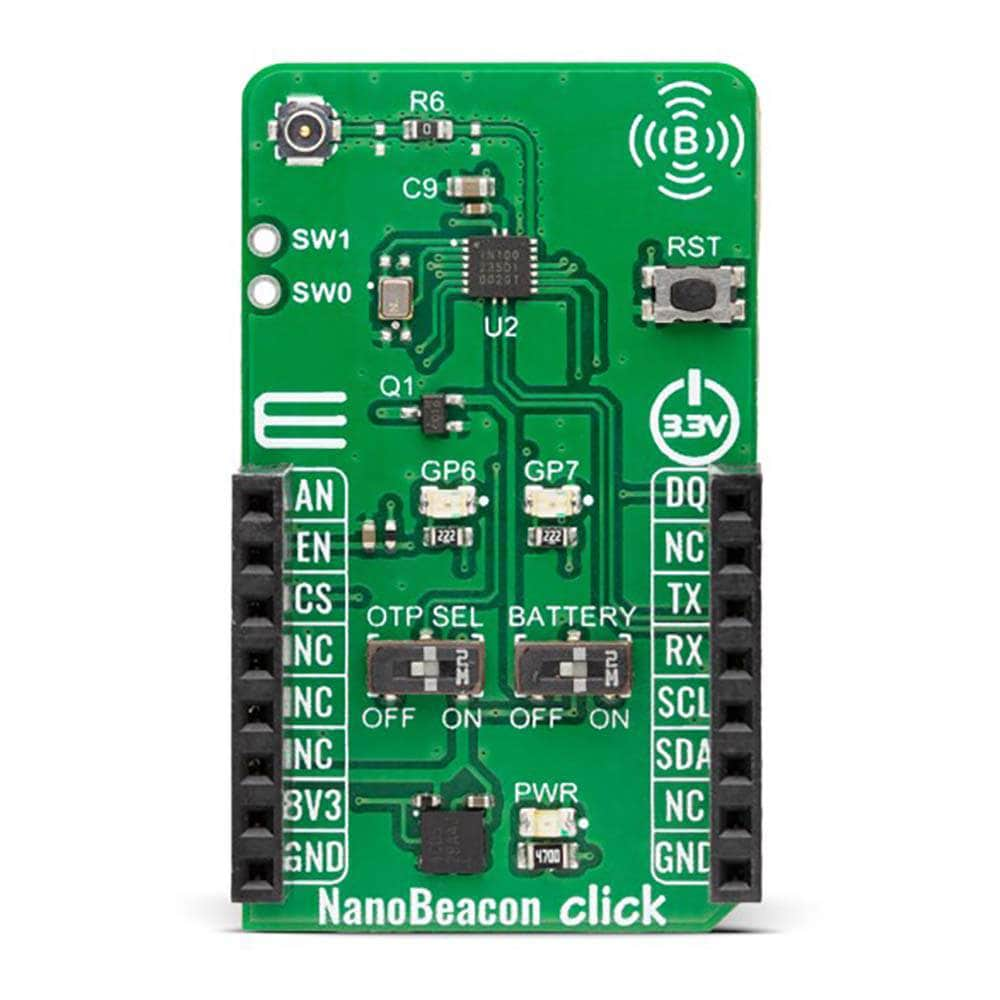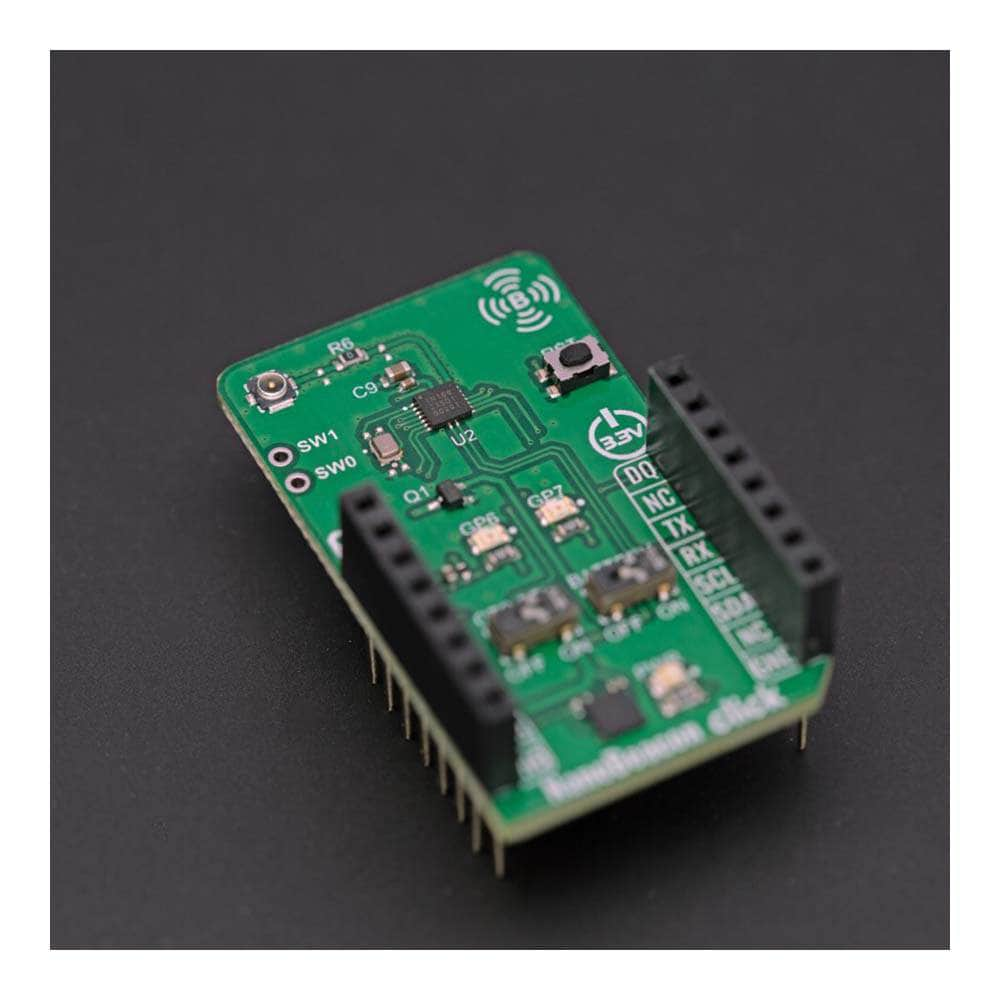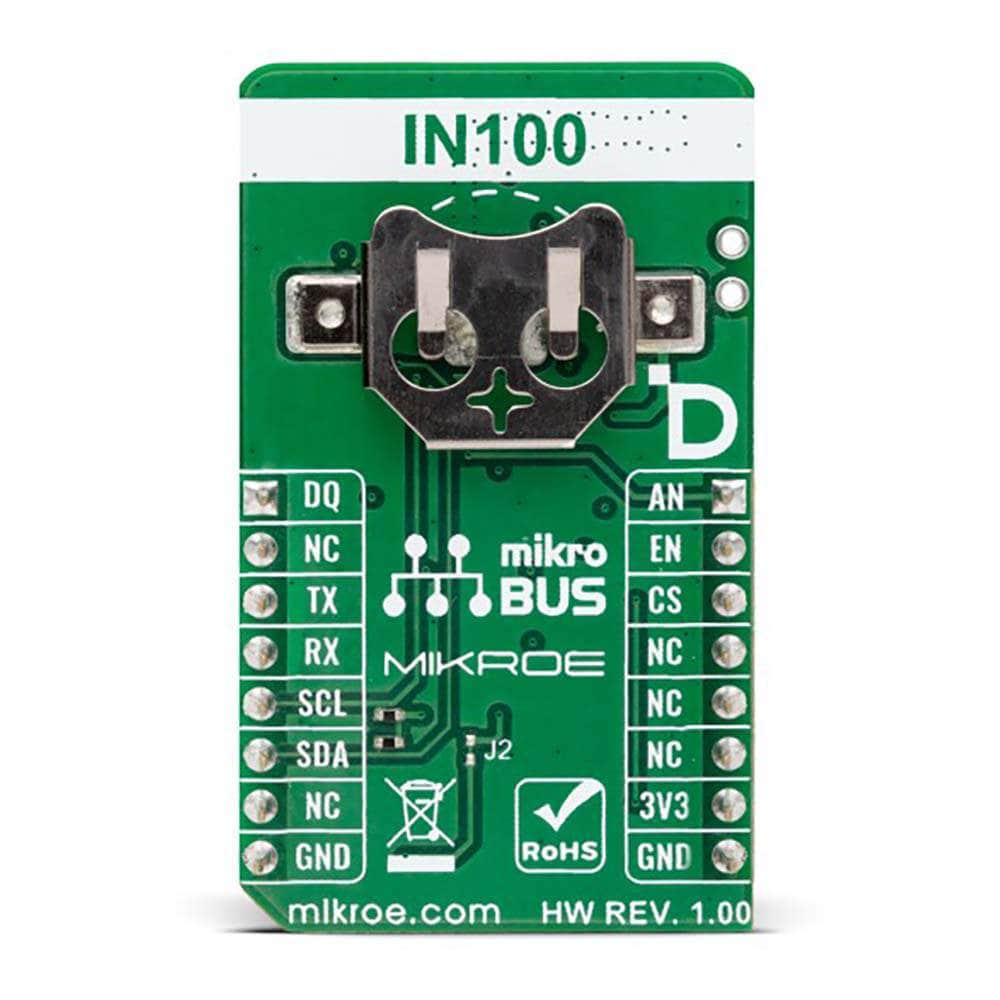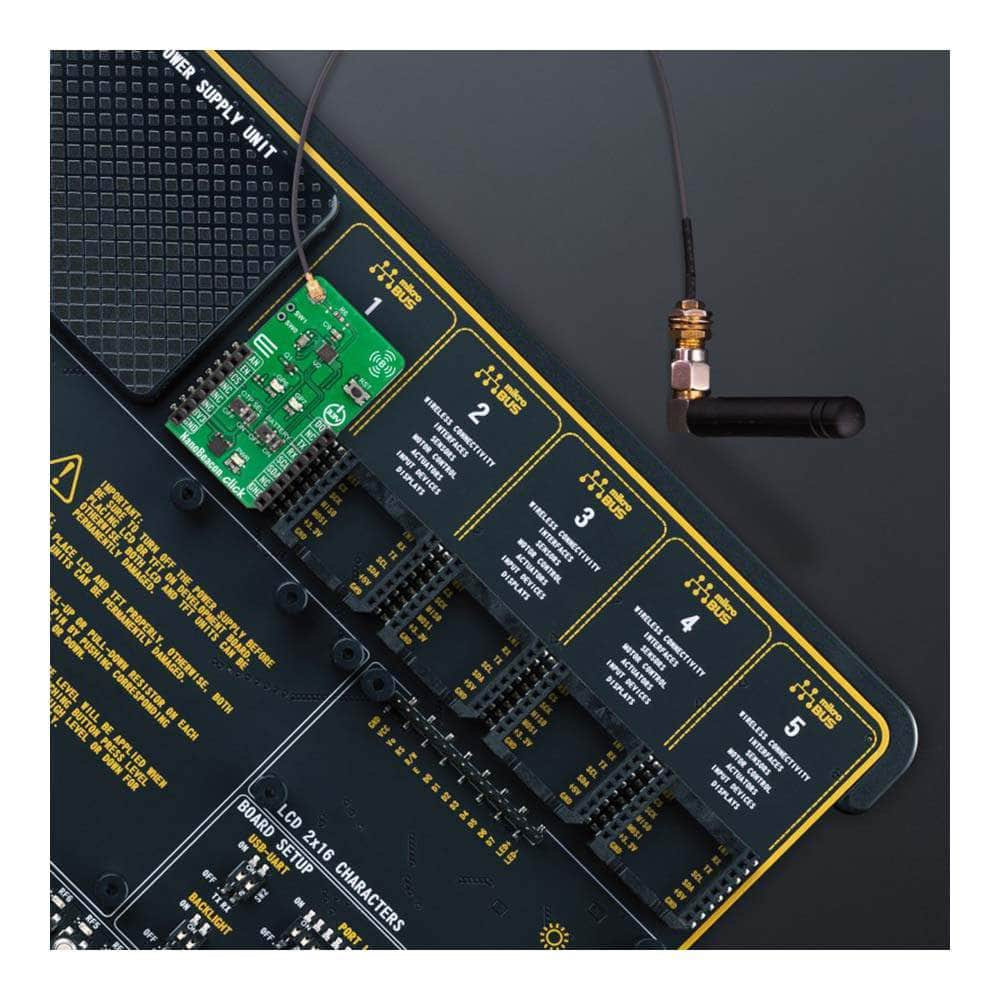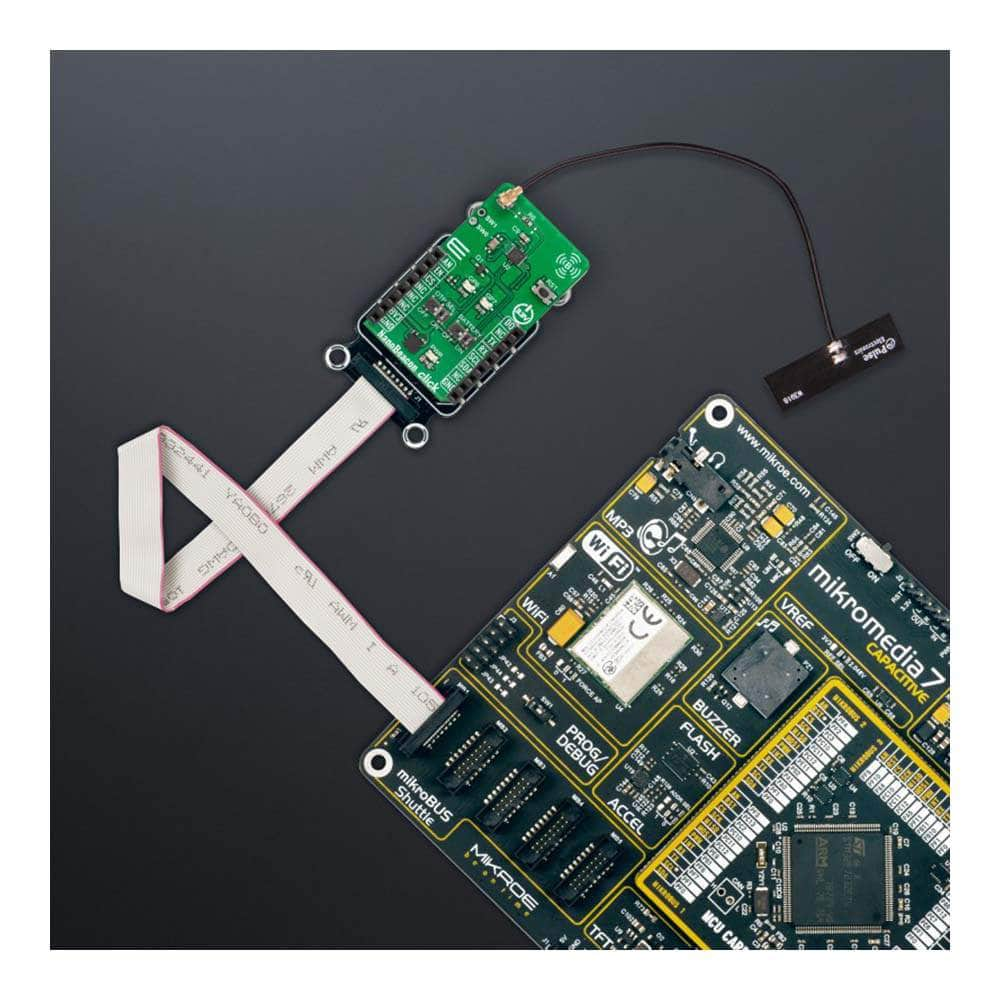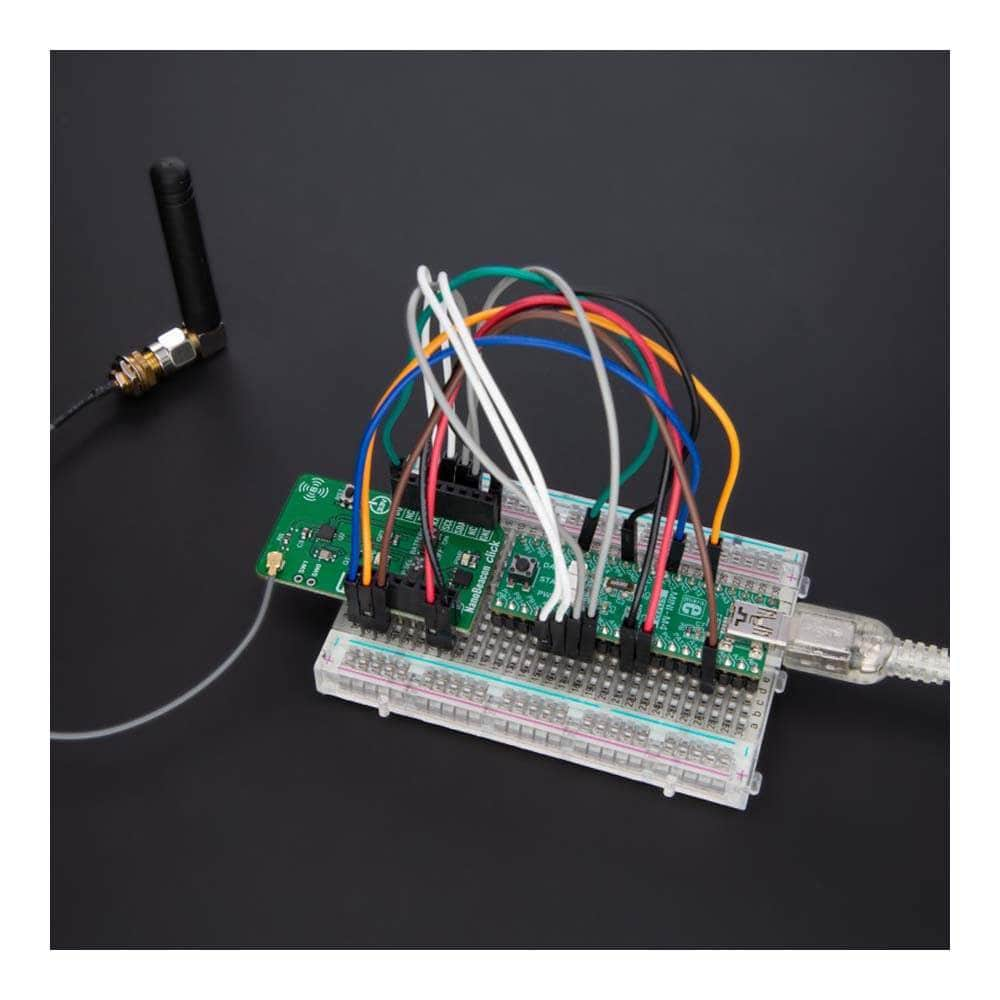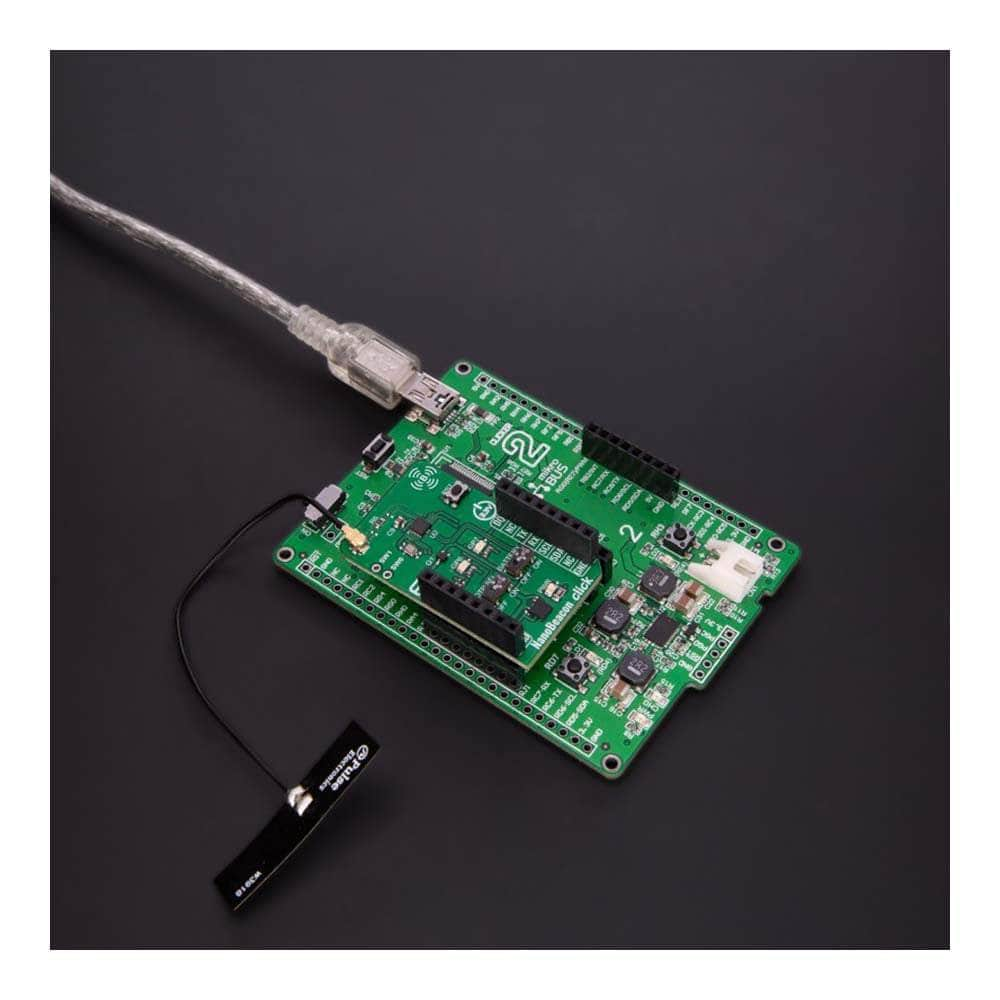 NanoBeacon Click Board
Frequently Asked Questions
Have a Question?
Be the first to ask a question about this.
Ask a Question