2-Way USB Multiplexer/Demultiplexer
Key Features
High bandwidth 1:2 switch, wide bandwidth, support USB 1.1 and high-speed USB 2.0 standards, ESD-protected, single enable, low power consumption, supports partial power-down mode, one host – two outputs, two different hosts- one output, and more
Based on the TS3USB30E - USB 2.0 multiplexer/demultiplexer switch from Texas Instruments
Can be used for the development of multi-purpose signal-switching devices, portable electronics, and other applications with limited USB I/Os
mikroBUS: GPIO Interface
The USB MUX Click Board™: Switch and Isolate High-Speed USB 2.0 Signals with Ease
Introducing the USB MUX Click Board™, a powerful and compact add-on board designed to enhance your system's USB connectivity. With its high-bandwidth switch and isolation capabilities, this Click board™ is the ultimate solution for systems with limited USB I/Os.
Superior Signal Switching with the TS3USB30E
At the heart of the USB MUX Click Board™ lies the TS3USB30E, a cutting-edge USB 2.0 multiplexer/demultiplexer switch from Texas Instruments. With its single enable functionality and impressive 900MHz bandwidth, this switch ensures that your USB signals pass through with minimum edge and phase distortion, guaranteeing exceptional signal quality.
Flexible Multiplexing for Enhanced Connectivity
The USB MUX Click Board™ enables you to multiplex differential outputs from a USB host device to one of two corresponding outputs, or two different hosts to one corresponding output. This flexibility opens up a world of possibilities, making it ideal for the development of multi-purpose signal-switching devices, portable electronics, and other applications with limited USB I/Os.
Seamless Software Integration
To simplify software development, the USB MUX Click Board™ is supported by a mikroSDK compliant library. This comprehensive library includes a range of functions that streamline the integration process, allowing you to quickly incorporate the Click board™ into your project without hassle.
Ready to Use, Right Out of the Box
When you choose the USB MUX Click Board™, you can rest assured that you're getting a fully tested and reliable product. It comes ready to be used on any system equipped with the mikroBUS™ socket, ensuring a hassle-free setup experience.
View full details
SKU: MIKROE-5748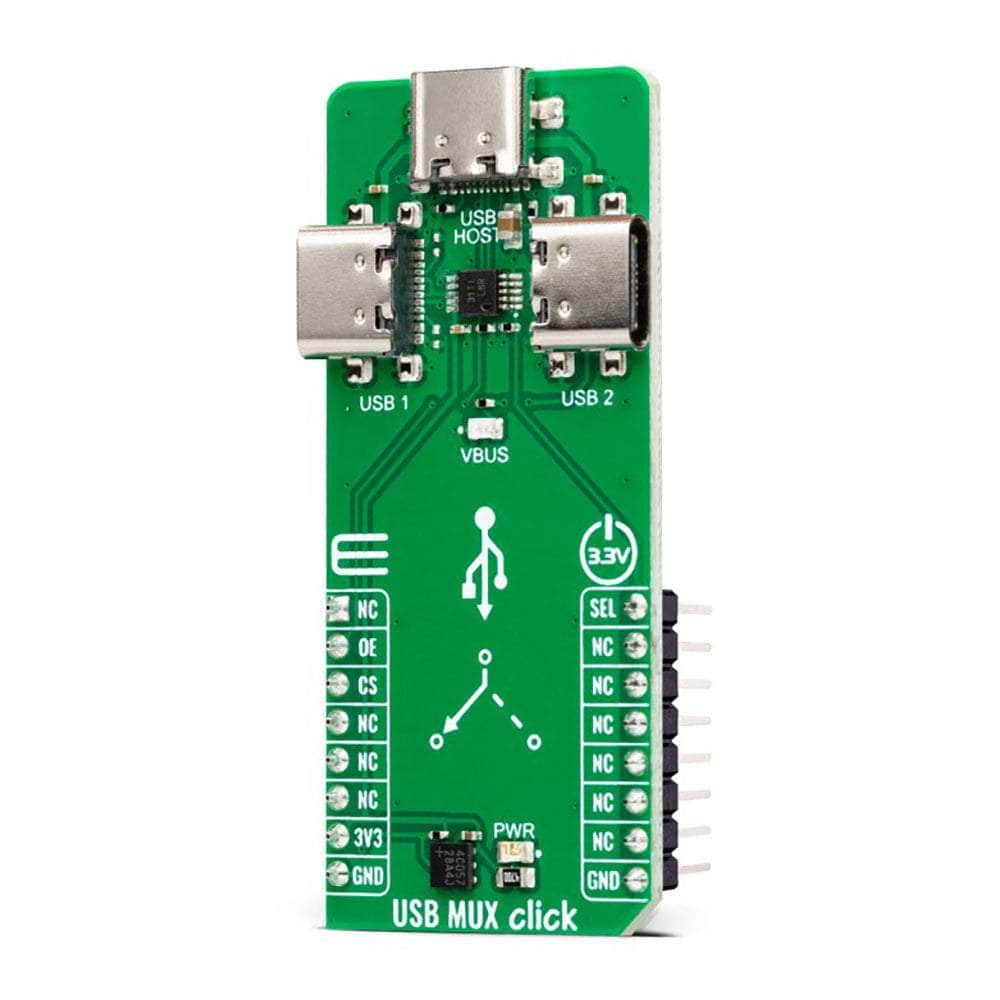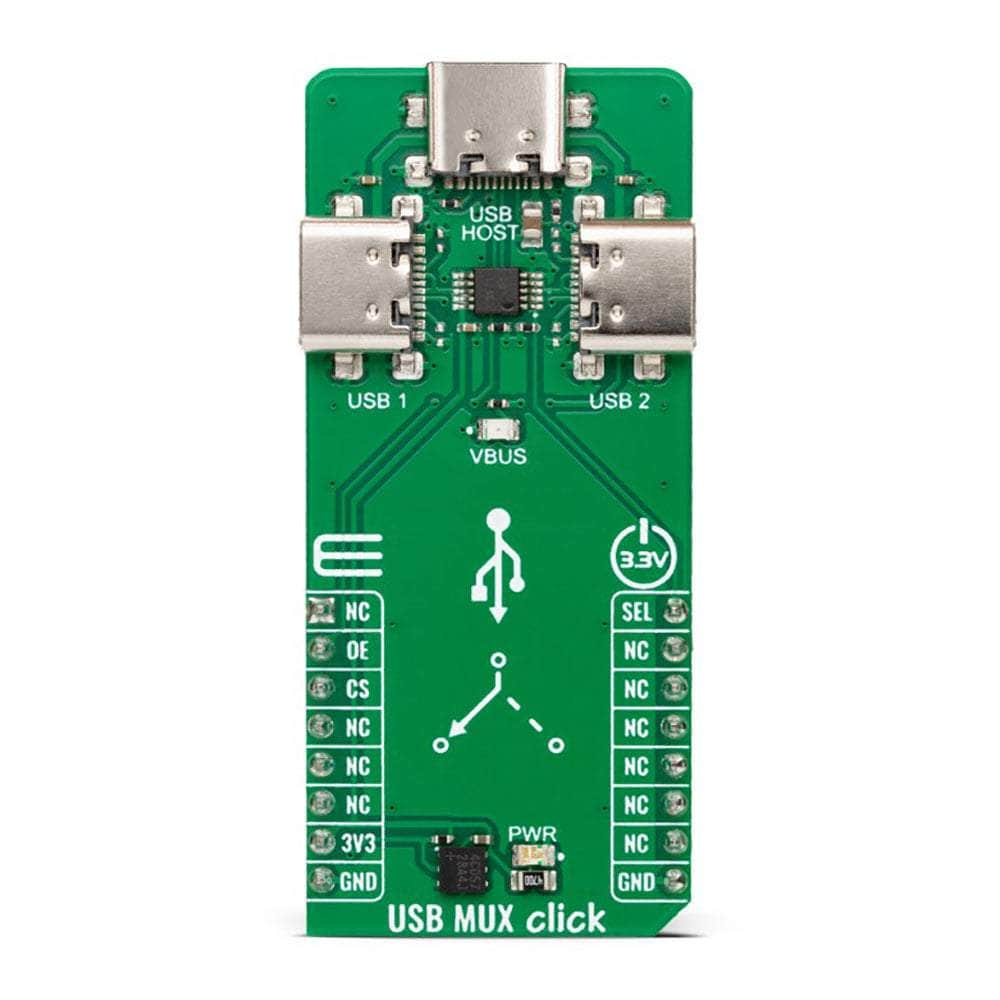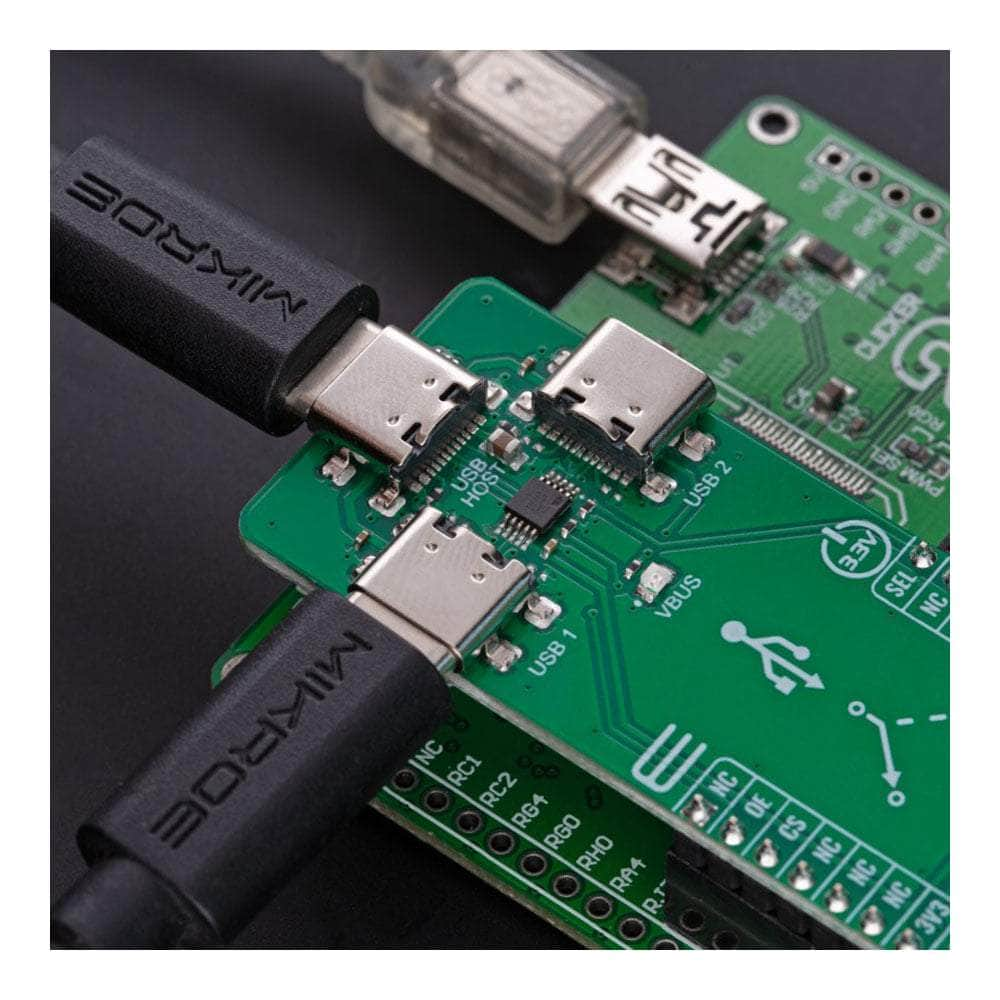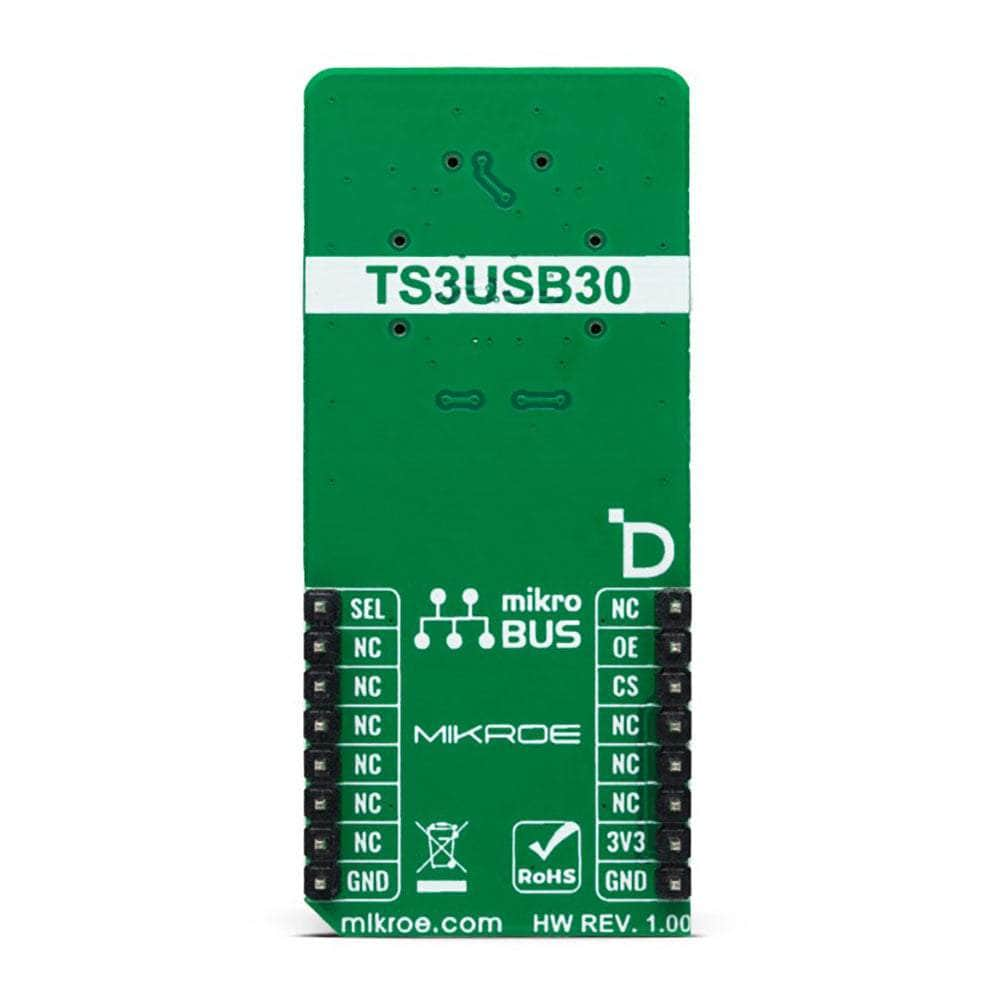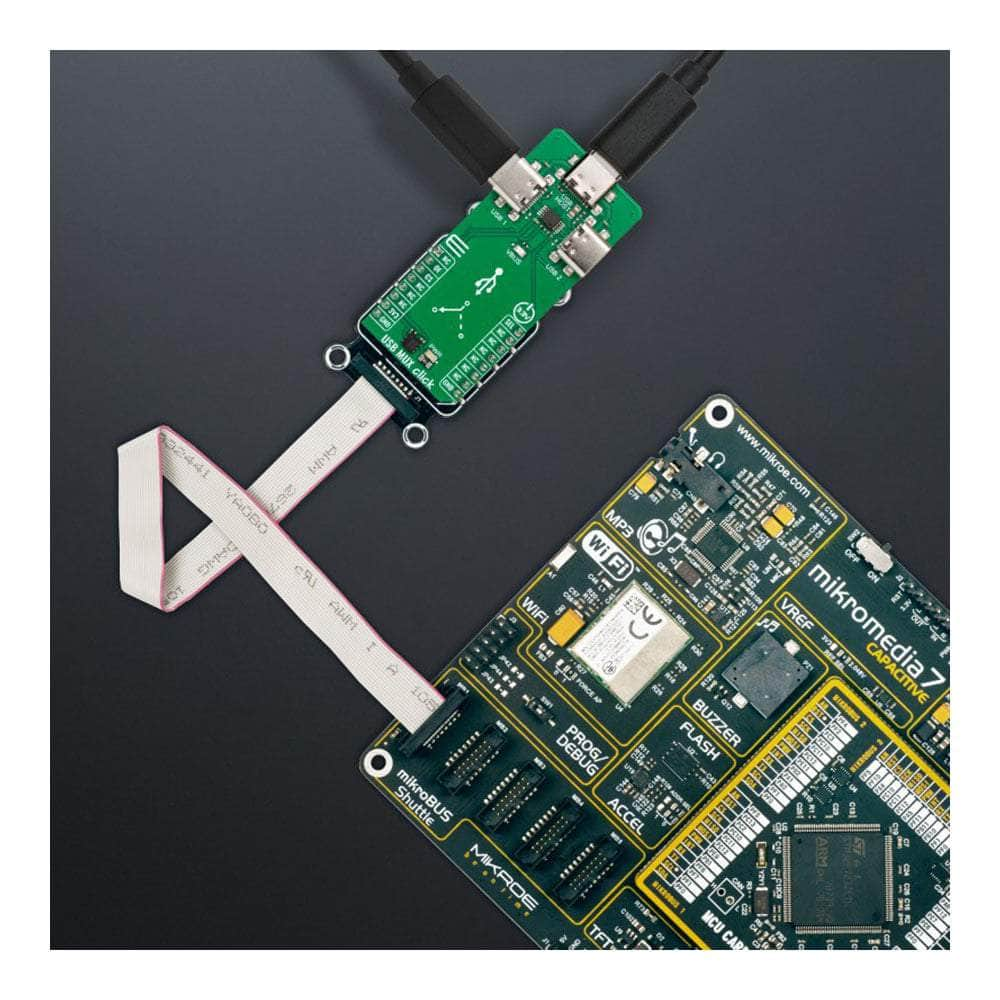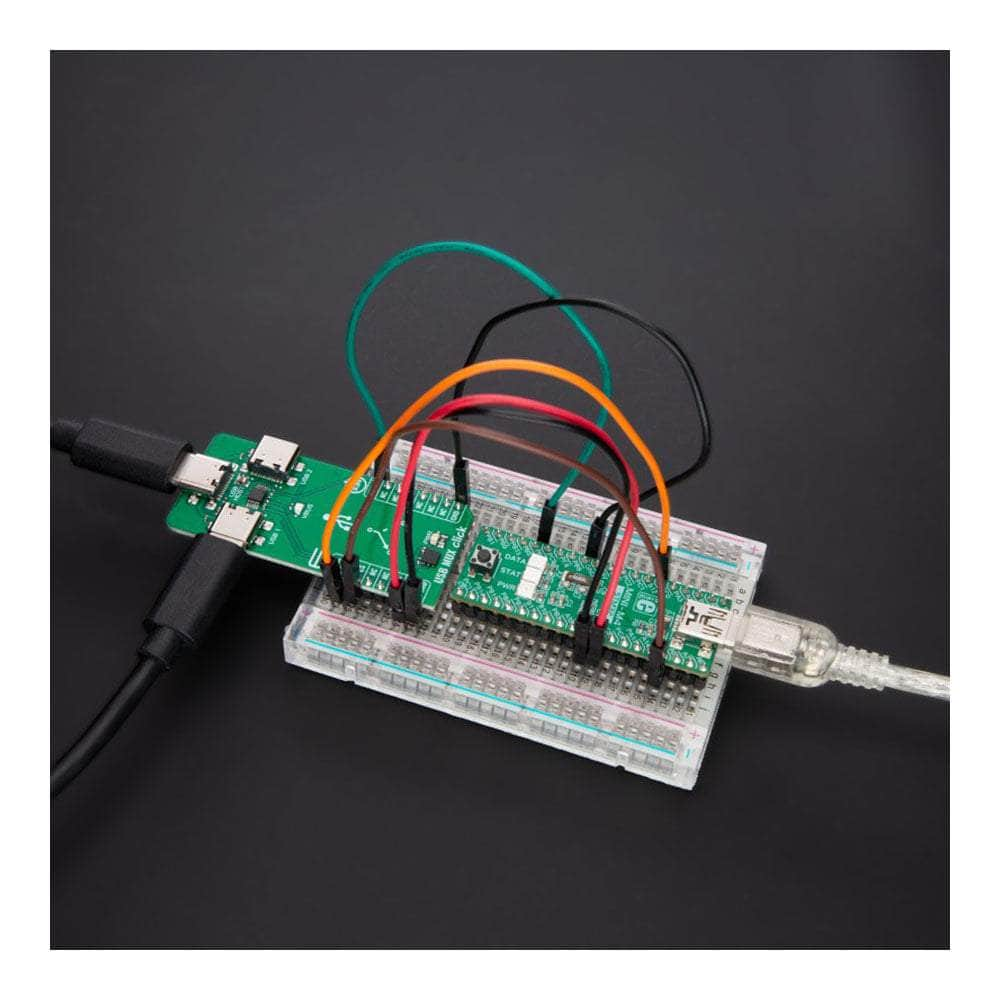 USB MUX Click Board
Frequently Asked Questions
Have a Question?
Be the first to ask a question about this.
Ask a Question