When pre-ordered, this item normally ships within 10 working days
The USB UART Board is a prototype board that connects USB devices to the UART module built into a microcontroller. The board offers USB support with an integrated FT232R UART to USB serial converter that simplifies serial to USB designs while reducing the external component count. The board also includes an external EEPROM, USB termination resistors and a clock circuit requiring no external crystal. It performs serial data transfer through UART communication. USB UART Board supports both 3.3V and 5V power supplies. A jumper allows for the selection of the VCC output level.
With such features, the USB UART Board is an ideal choice for RS232 communication with hardware modems, printers, barcode readers, wireless applications, and various UART communication protocol devices.
View full details
SKU: MIKROE-483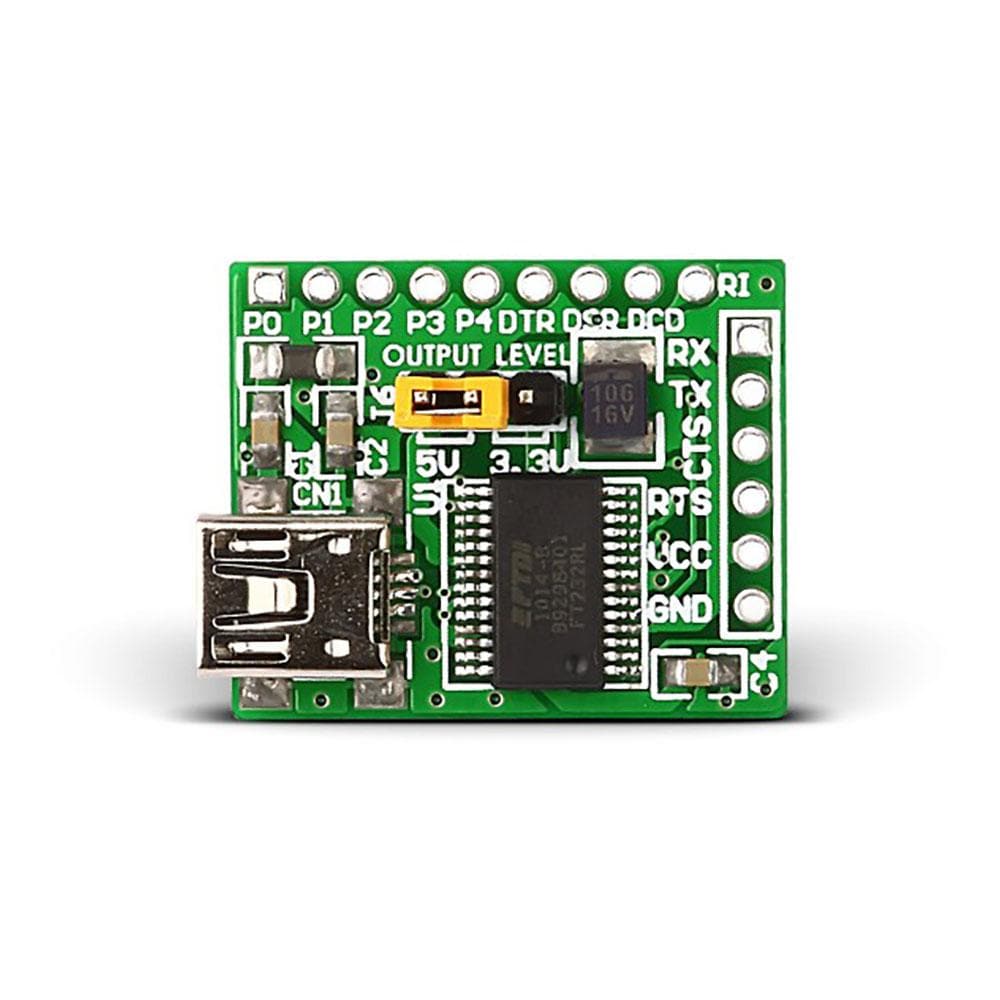 IC/Module: FT232R Serial UART to USB Interface
The FT232R is a fully integrated serial UART to USB interface that reduces the external component count by including external EEPROM, clock circuit and USB resistors onto the device. This way, it also ensures further simplification of USB to serial designs. FT232R also features synchronous and asynchronous bit bang interface options with RD# and WR# strobes.
Connectors and Jumpers
The USB UART Board utilizes the USB MINIB connector CN1 for connecting to USB devices. The 1x6 connector CN2 and 1x9 connector CN3 are used to establish connection with the microcontroller. On the other hand, the board features an on-board jumper J6 that allows selection of a logic level (3.3V or 5V), which is sent to the VCCIO pin on 1x6 connector CN2.
USB UART Board
Frequently Asked Questions
Have a Question?
Be the first to ask a question about this.
Ask a Question