EN25F80 8Mbit Serial Flash SPI
When pre-ordered, this item normally ships within 10 working days
The SerialFlash PROTO Board is an additional board featuring 8 Mbit flash memory that can be used by the microcontroller or some other device. The board features an onboard EN25F80 chip that allows the microcontroller to use an additional 8 Mbit flash memory space via SPI serial interface.
Designed to fit into all standard prototyping breadboards, the SerialFlash PROTO Board can be used in a wide range of applications and electronics. Previously used to store preference data and configuration/setup data, the serial memory modules are known to be the most flexible non-volatile memory modules used. This memory module works on low power consumption and low voltage and is offered in a compact package with a lower pin count. All this makes this board a better choice over commonly used NVM solutions.
The SerialFlash PROTO Board supports operation on a 3.3V power supply only. It comes with seven connection pads that are unpopulated to allow users to connect the board to the system. It is configured to operate on a 3.3V power supply only.
View full details
SKU: MIKROE-480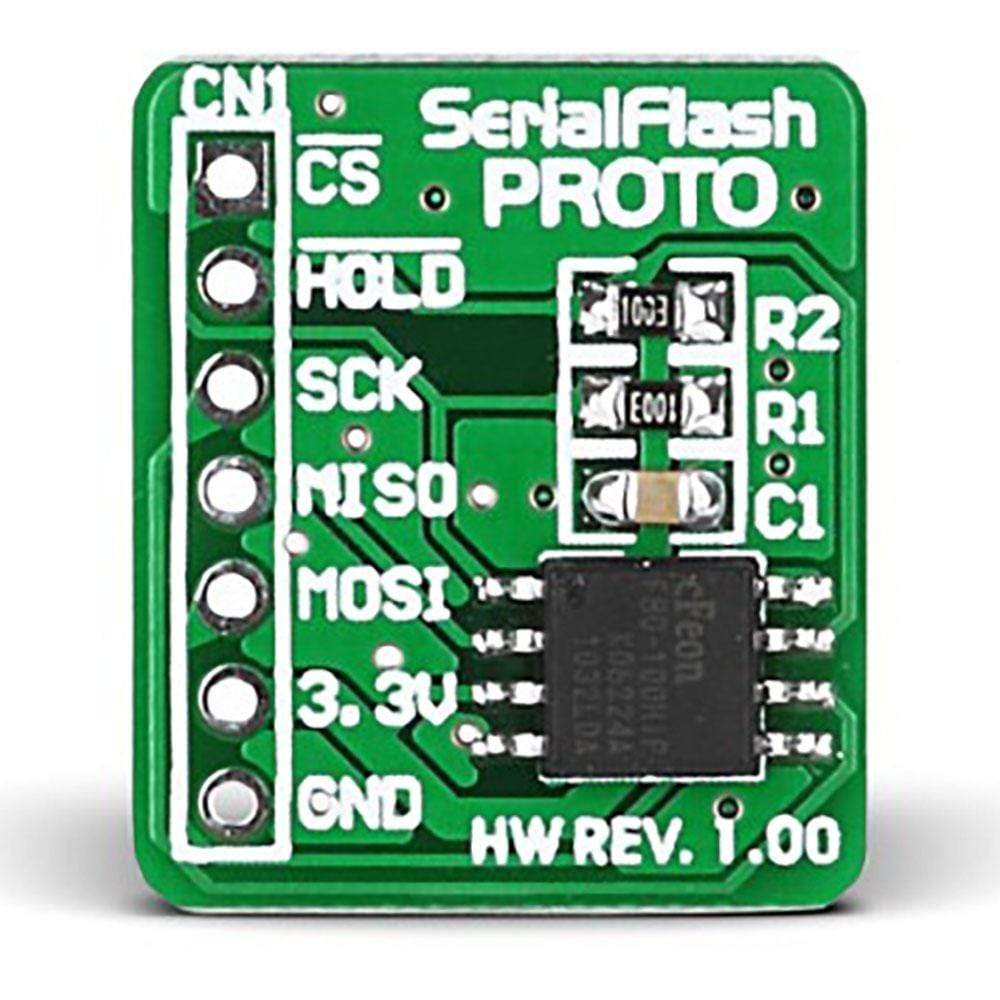 IC/Module: EN25F80 8 Mbit, low-voltage Serial Flash Memory
The EN25F80 is a low-power, high performance serial flash memory that allows the microcontroller to use additional 8Mbit flash memory via high-speed SPI serial interface. It is backed with high performance program/erase speed. It has 256 sectors of 4-Kbyte or 16 blocks of 64-Kbyte, where any sector or block can be erased individually. It can sustain a minimum of 100K program/erase cycles on each sector.
Board Connections
The SerialFlash PROTO Board is connected to other devices through the Serial Peripheral Interface (SPI). It uses a 1x7 connector CN1 for connection with the additional board. Next to the CN1 connector, the board denotes the function of pins provided on the additional board.
SerialFlash Proto Board
Frequently Asked Questions
Have a Question?
Be the first to ask a question about this.
Ask a Question
Quick and safe delivery
Needed a spi flash quickly for testing and found one on this site with quick delivery.
As an embedded engineer of many years I'm surprised to have never hit this site before, good selection of debug tools. Will use again.