When pre-ordered, this item normally ships within 10 working days
Add temperature and relative humidity measurement functionality to the device using the SHT1X PROTO Board. This add-on board includes a fully calibrated SHT11 digital humidity and temperature sensor IC, wherein a unique capacitive sensor element is used for evaluating relative humidity while a band-gap sensor measures temperature. All that the microcontroller has to do is read out the humidity and temperature values via the two-wire digital serial interface. The two-wire serial interface and internal voltage regulation enable simple and quick system integration. The onboard connection pads with 0.1
Note: This board is no longer available.
View full details
SKU: MIKROE-431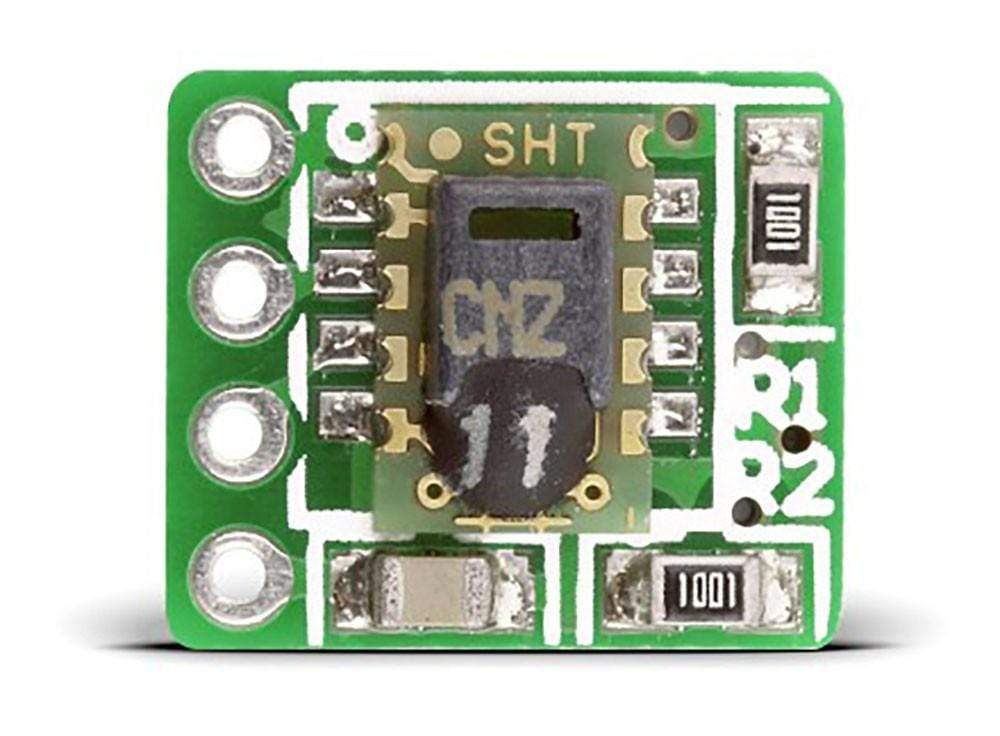 IC/Module: SHT11 Digital Humidity/Temperature Sensor
SHT11 is a surface mountable relative humidity and temperature sensor that integrates sensor elements plus signal processing on a tiny footprint. Seamlessly coupled to a 14-bit ADC and a serial interface circuit, it provides a fully calibrated digital output. The SHT11 has superior signal quality, a fast response time, and sensitivity to external disturbances. The compact design and low-power consumption make it an ultimate choice for even the most demanding applications.
Remarkable Performance
The SHT1x is factory calibrated to return temperature with a resolution of 0.01 degree Celsius and relative humidity with a resolution of 0.03 percent. The worst-case temperature accuracy is +/- 2 degree Celsius, but in the "room temperature" range the accuracy better than +/- 1 degree Celsius. The relative humidity sensor is similarly accurate: +/- 3.5% in the range 20% to 80%.
SHT1X Proto Board
Frequently Asked Questions
Have a Question?
Be the first to ask a question about this.
Ask a Question