When pre-ordered, this item normally ships within 10 working days
The Clicker 2 Board™ for CEC1302 is a battery-powered Click Board™ with two MikroBus sockets, based on the Microchip CEC1302 Cortex MCU. Inventing and putting together fully-functional standalone gadgets is now just 1% perspiration and 99% inspiration!
View full details
SKU: MIKROE-1969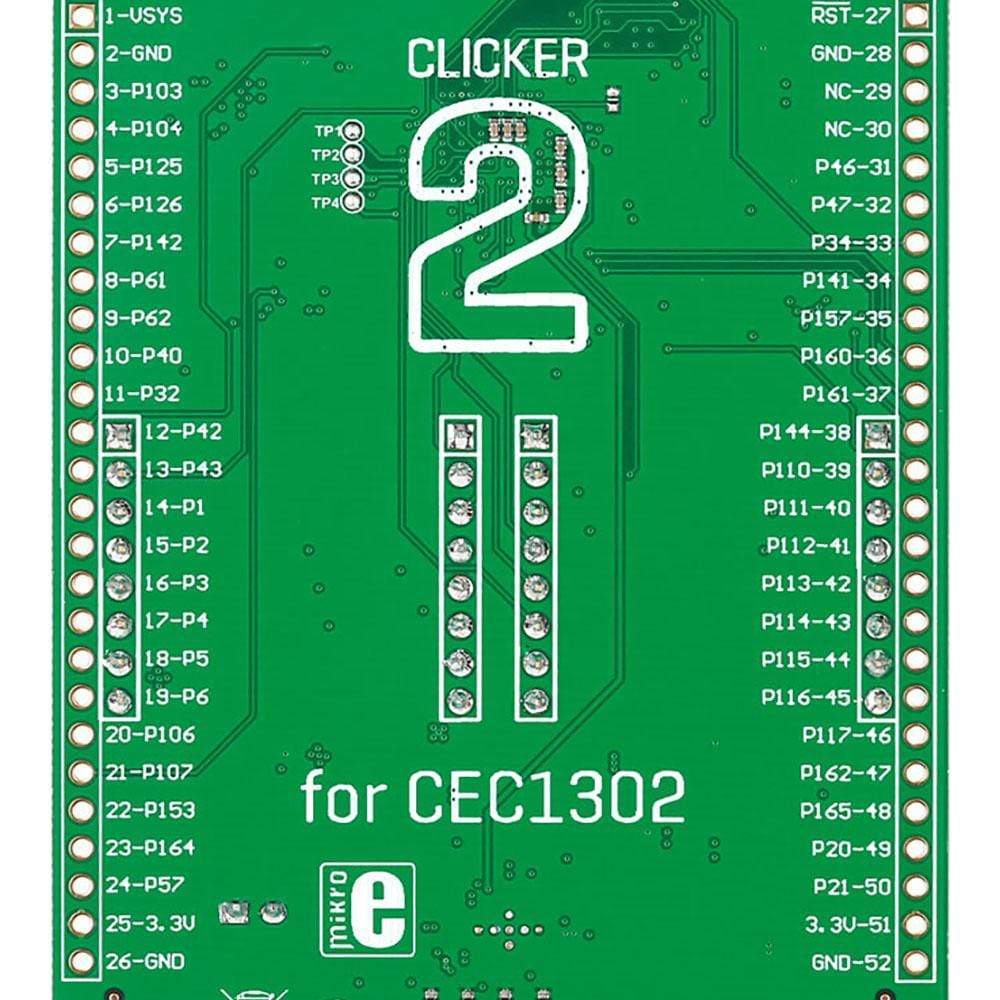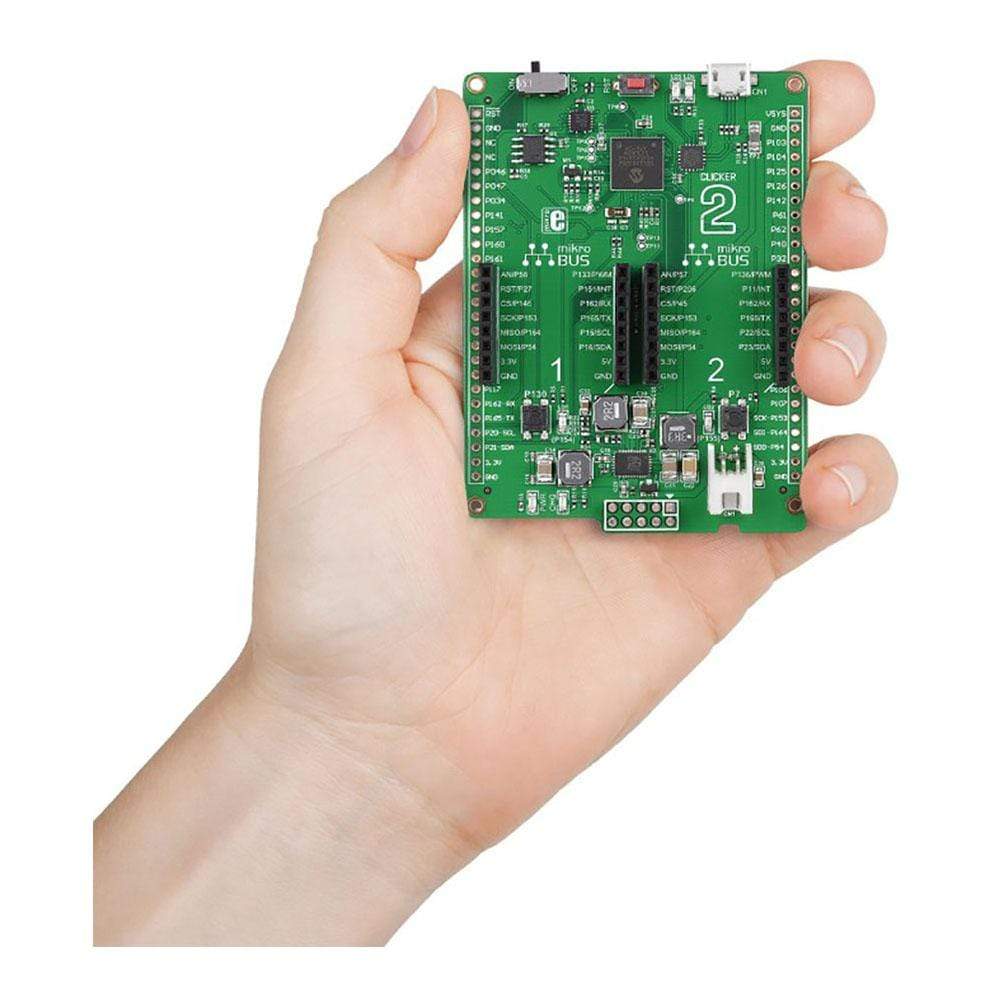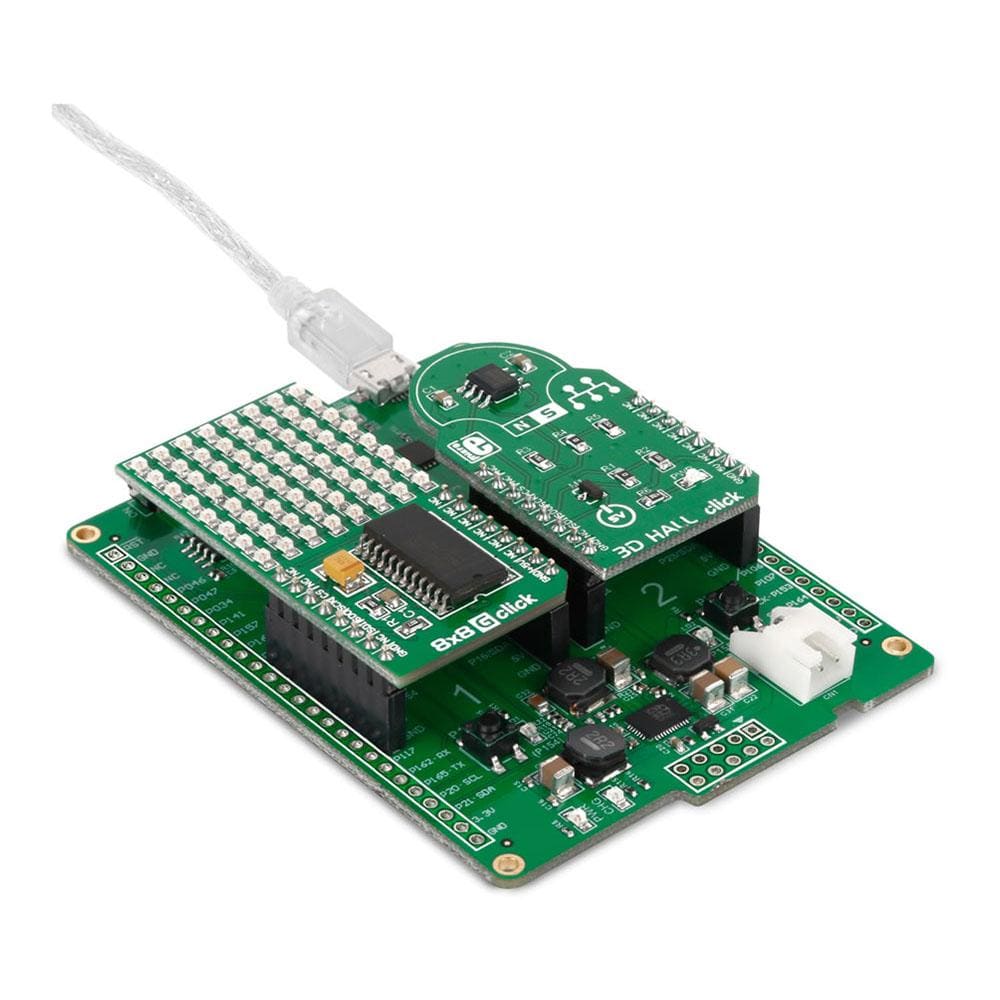 Thousands of Possibilities with Click Boards™
With two mikroBUS™ sockets on clicker 2, you can take advantage of the huge potential of Click boards™, the constantly expanding range of over 1204 add-on Click boards™. Blend different functionalities together and come up with new and original inventions. That's just two clicks and your project is half-way done. Go ahead and play with a few ideas right away.
Programming
To make your prototyping experience as convenient as possible, Clicker 2 for CEC1302 is preprogrammed with a UART bootloader. Just download our mikroBootloader application and you're ready to upload your firmware. On-board mikroProg for CEC connector enables programming through external programmer/debugger.
Power Management
The Clicker 2 for CEC1302 features LTC®3586, a highly integrated power management and battery charger IC that includes a current limited switching PowerPath manager. LTC®3586 also enables battery charging over a USB connection. You can supply power to the board with a micro USB cable provided in the package. On-board voltage regulators provide the appropriate voltage levels to each component on the board.
Powering Your Inventions
Focus on your main idea because clicker 2 will take care of the details for you: your prototype already has a power management system in place. The onboard LTC®3586-1 IC will provide 3.3V or 5V to the clicks. It turns the USB port into a battery charger. For convenience, clicker 2 for CEC1302 features a reset button and an ON/OFF switch (you can also connect an external ON/OFF switch).
Processor
- CEC1302 has 128 KB SRAM
- 32 KB boot ROM
- 48MHz
Connectivity
- 52 programmable GPIOs
- 2 mikroBUS host sockets
- USB Mini-B connector
Expanding Your Ideas
No idea is too big for the Clicker 2 for CEC1302. Let your train of thought lead you anywhere. Consider all options, explore all directions. More click boards? Additional electronics? Done and done. clicker 2 has the same pocket-size form factor and the same pair of 1x26 connection pads as mikromedia boards. This makes it compatible with mikromedia shields letting you expand your device any way you want.
Clicker Board 2 for CEC1302
Frequently Asked Questions
Have a Question?
Be the first to ask a question about this.
Ask a Question