Four Capacitive Touch Pads
When pre-ordered, this item normally ships within 10 working days
The TouchKey Click Board™ features four capacitive pads powered by the TTP224 touchpad detector IC. TTP224 chip comes with multiple operating modes that allow the user to configure how the buttons will work. The capacitive pads can be toggled even when placed under a layer of glass or paper. TouchKey Click Board™ outputs four interrupt signals: OUTA, OUTB, OUTC and OUTD in place of default MikroBUS RST, AN, PWM and INT pins, respectively. It features three onboard jumpers that enable the user to configure several operating modes of the TTP224 IC, including fast mode or low power mode, direct or toggle mode, enable/disable multi-key input, and so on. The TouchKey Click Board™ is designed to work on either a 3.3V or 5V power supply.
It works as an ideal replacement for mechanical switches and buttons and being capacitive, it can register inputs through paper or glass.
View full details
SKU: MIKROE-1906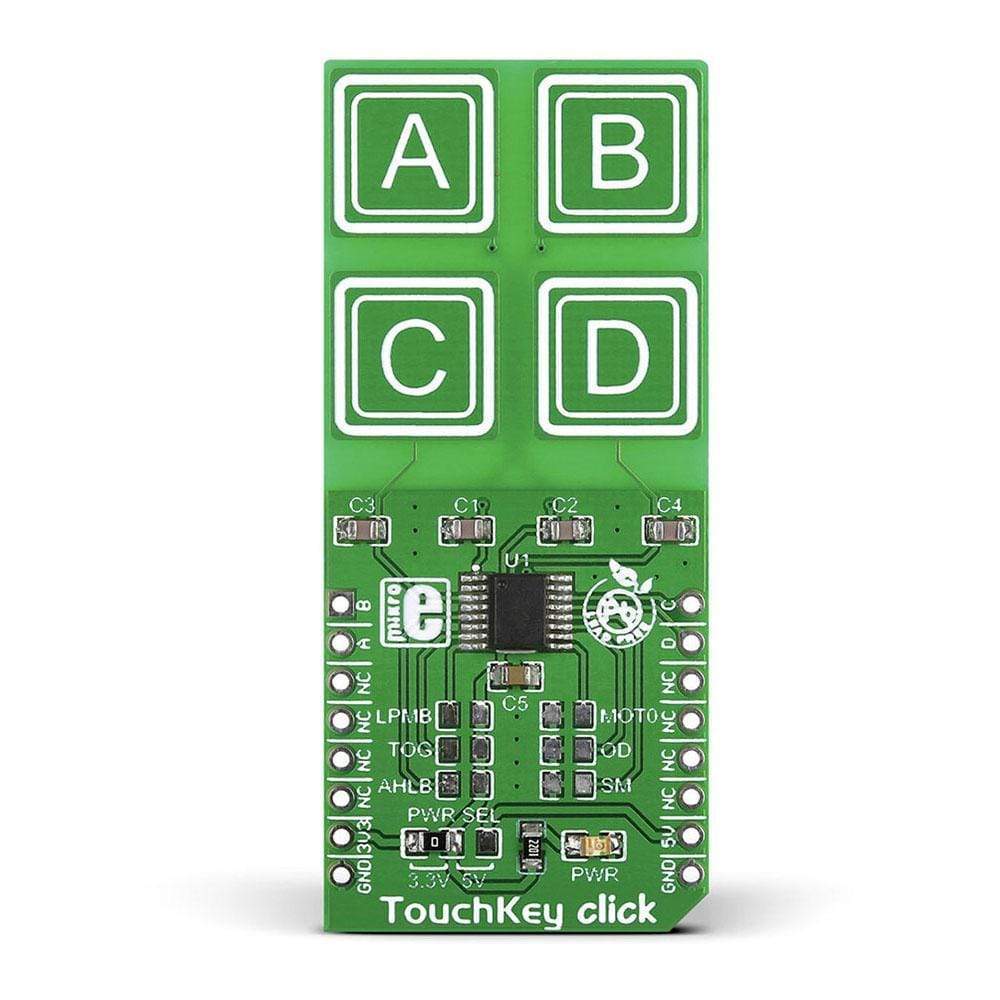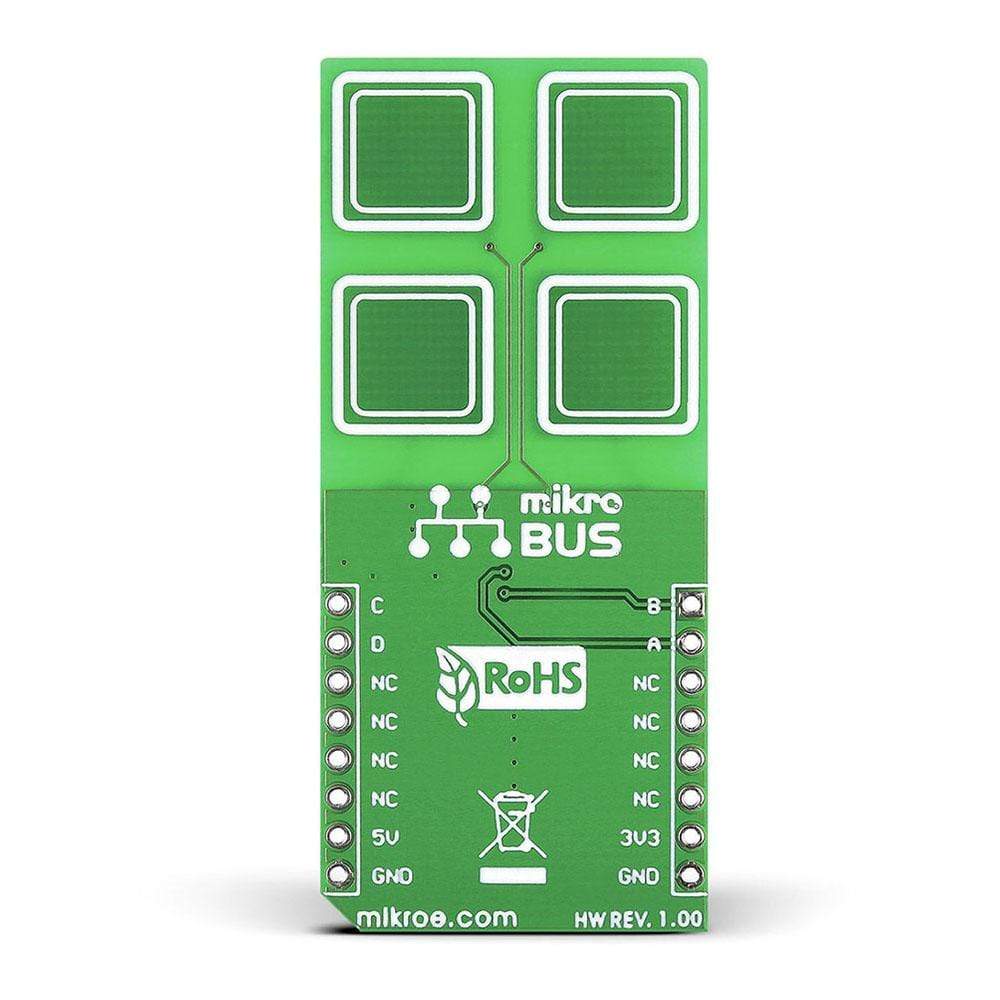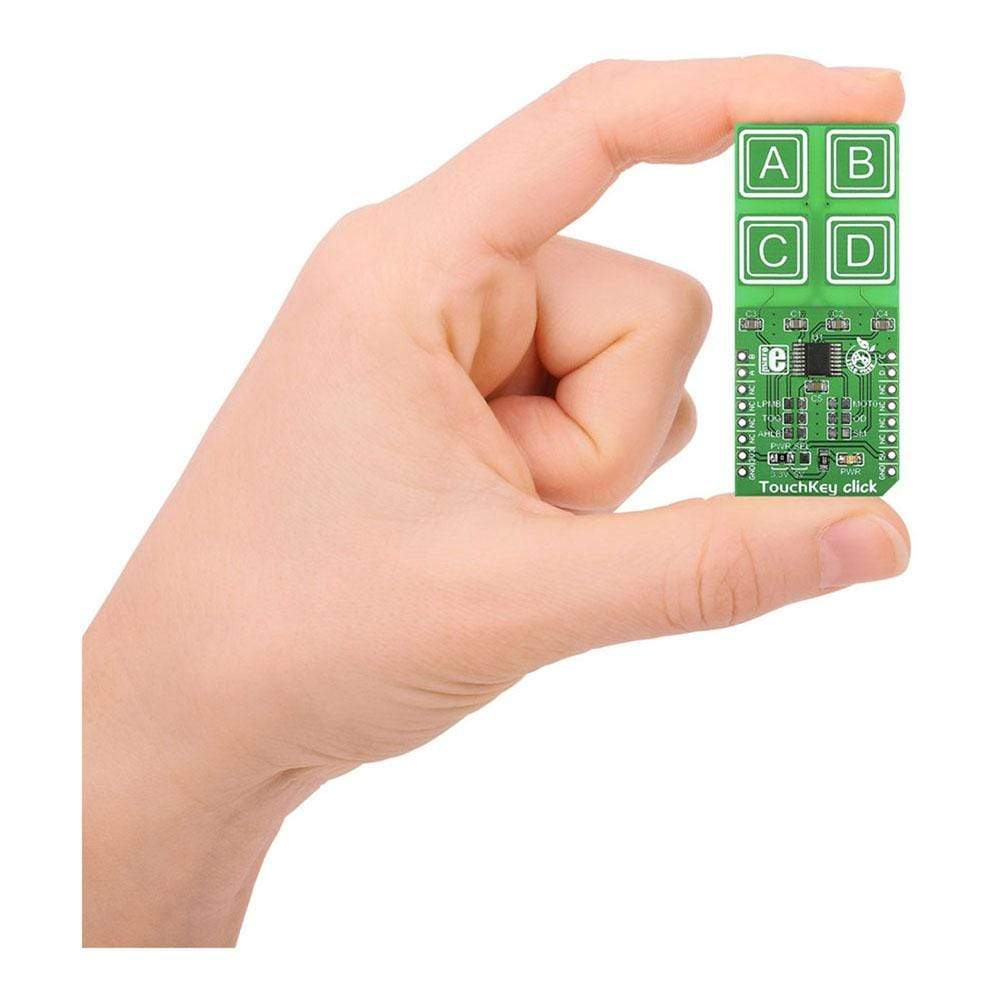 IC/Module: TTP224 Touchpad Detector IC
Designed specifically for touch pad controls, TTP224 chip has a capacitive sensing design and an embedded regulator with an external enable/disable option. It can be used in a wide range of applications, under various environments. What makes it even more impressive for the user is its capability to register input even through a layer of glass, paper, or similar non-isolating materials.
Range of Operating Modes
The TouchKey Click Board™ features three jumpers for accessing the TTP224 ICs different operating modes. The user can put the chip in fast mode (100mS response time) or in low-power mode (200mS response time) by pad option (LPMB pin), or can enable/disable multi-key input by pad option SM pin , or even set the buttons in toggle or direct mode using the TOG pin. Overall, the user can choose the required operating mode using the six pad options (LPMB, TOG, AHLB, MOT0, OD, SM) and the three jumpers.
TouchKey Click Board
Frequently Asked Questions
Have a Question?
Be the first to ask a question about this.
Ask a Question