When pre-ordered, this item normally ships within 10 working days
Key Features
ADC3 click carries Microchip's MCP3428 16-bit multichannel analogue to digital converter
mikroBUS: I2C Interface
Introducing the ADAC 3 Click Board - the perfect solution for your ADC and DAC needs. With its low-power 8-bit CMOS data acquisition device from NXP Semiconductors, this compact add-on board offers four analogue inputs, one analogue output, and a convenient serial I2C interface.
The ADAC 3 Click Board also features precise 8-bit analogue-to-digital and 8-bit digital-to-analogue conversion. With the ability to select your desired reference voltage value, this Click board is versatile and suitable for various control, monitoring, or measurement applications. Simplify your software development with our mikroSDK-compliant library.
View full details
SKU: MIKROE-1894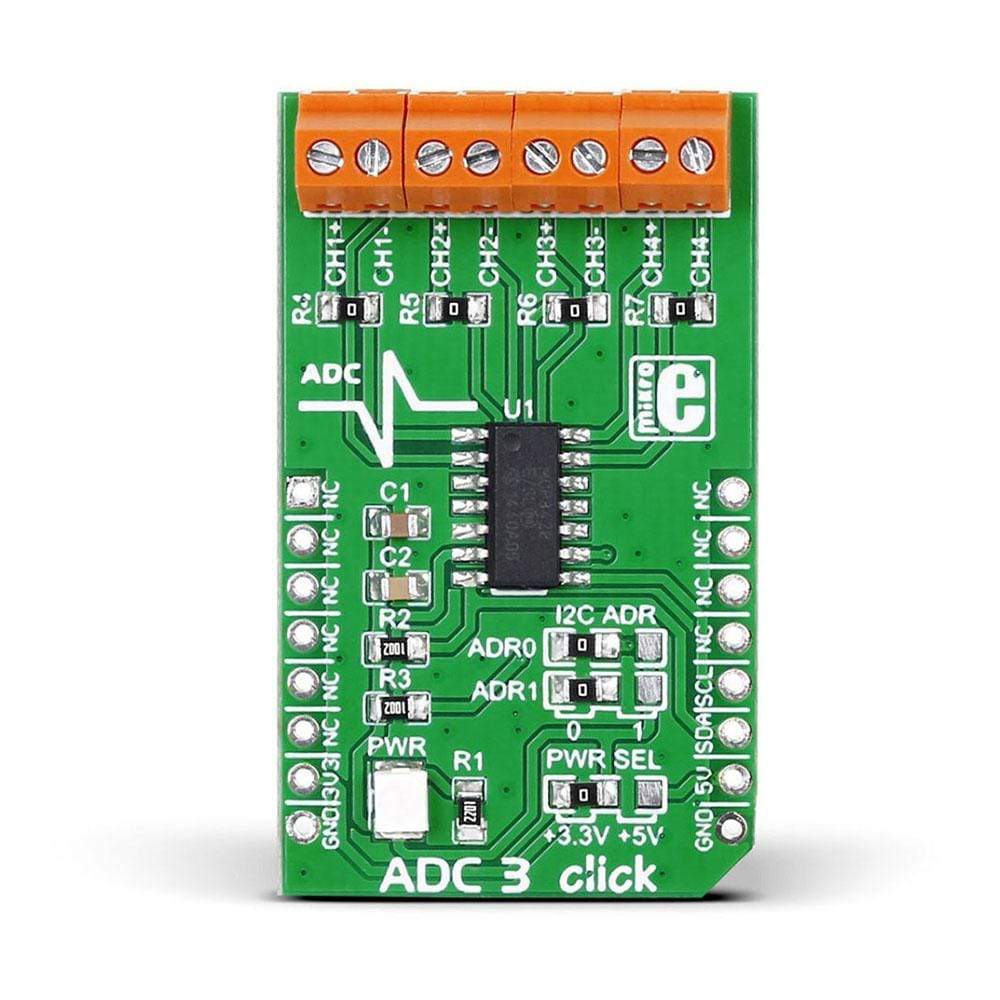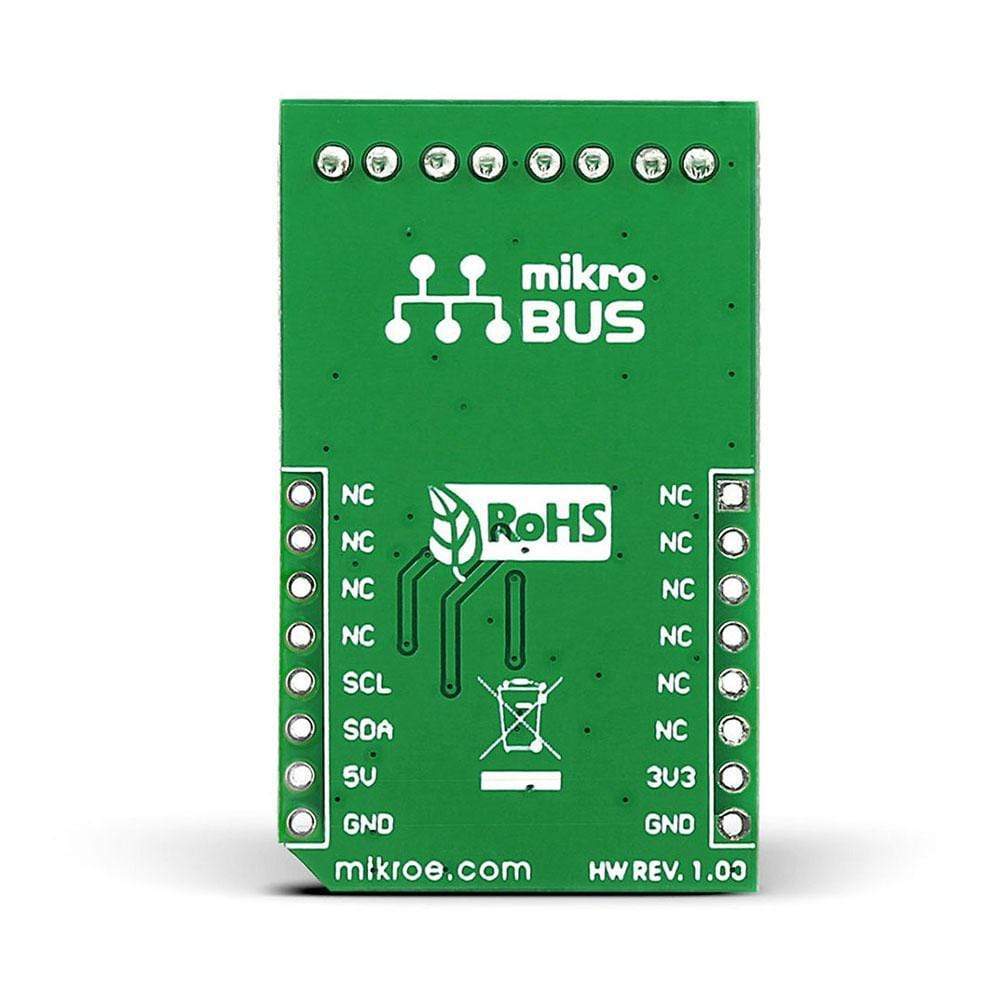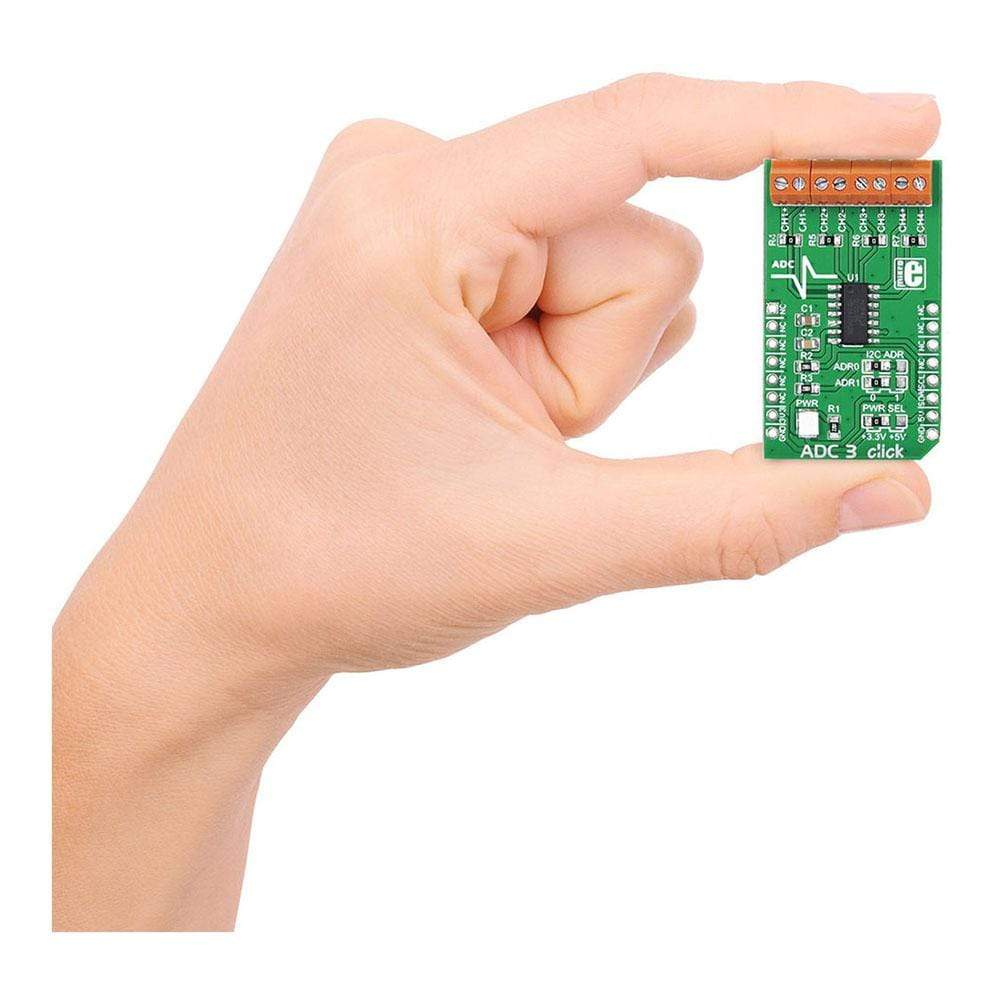 IC/Module: Microchips MCP3428 16-bit multichannel ADC
MCP3428 is a four channel analog-to-digital converter with programmable data rate options. Offering up to 16 bits of resolution and up to 240 samples per second (SPS), MCP3428 communicates using the two-wire I2C compatible serial interface. It is an ideal choice for varied high-accuracy, high-speed data conversion applications.
Resolution or Speed
Depending on whether the users primary concern is high resolution or high speed, the user can choose from different modes once the signal is ready for processing. At 16 bits, the chip can output conversion results at 15 SPS. At 14 bits, the chip can output conversion results at 60 SPS. Maximum conversion speed is achieved in 12-bit mode,
ADC 3 Click Board
Frequently Asked Questions
Have a Question?
Be the first to ask a question about this.
Ask a Question