When pre-ordered, this item normally ships within 10 working days
Designed to meet the demands of Raspberry Pi enthusiasts for better audio output, the RaspyPlay4 is a highly functional and innovative add-on board that connects directly to the Raspberry Pi (model B+ onward) using the 40-pin GPIO header. The RaspPlay4 has two standard RCA stereo ports and a line-out for connection to headphones and other audio devices. The availability of connectors for an IR receiver and an LCD on-board makes it a formidable audio station and server. The RaspyPlay4 features a PCM5122 DAC that provides high-quality audio without any electromagnetic interference. It is designed to support various sound formats, including FLAC, ALAC, MP3, and WMA sound formats. When talking about the software configuration, this board shows high compatibility with several solutions.
However, RuneAudio is recommended by MikroElektronika. Its biggest feature will be your music library. The user can play music on RaspyPlay4 from a USB flash, a USB hard drive, an SD Card, a NAS server, or even stream it through AirPlay, or any other web radio.
View full details
SKU: MIKROE-1767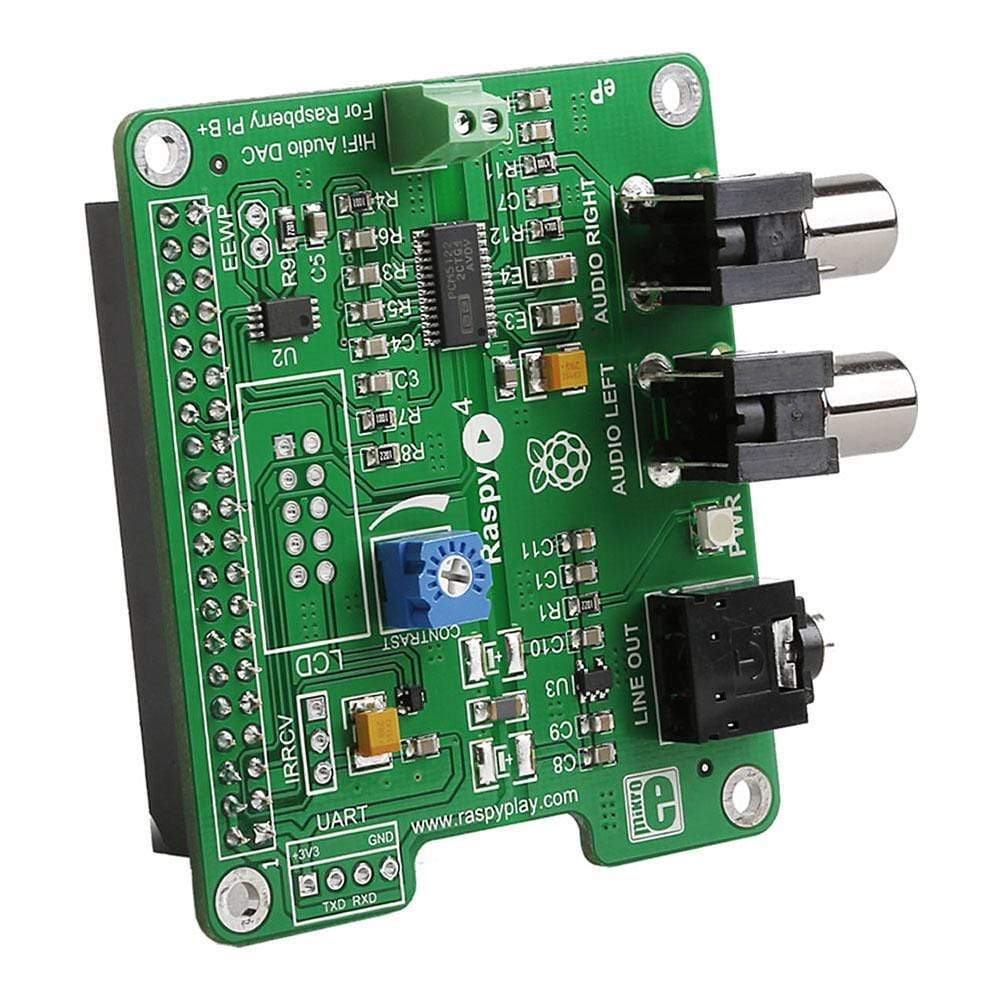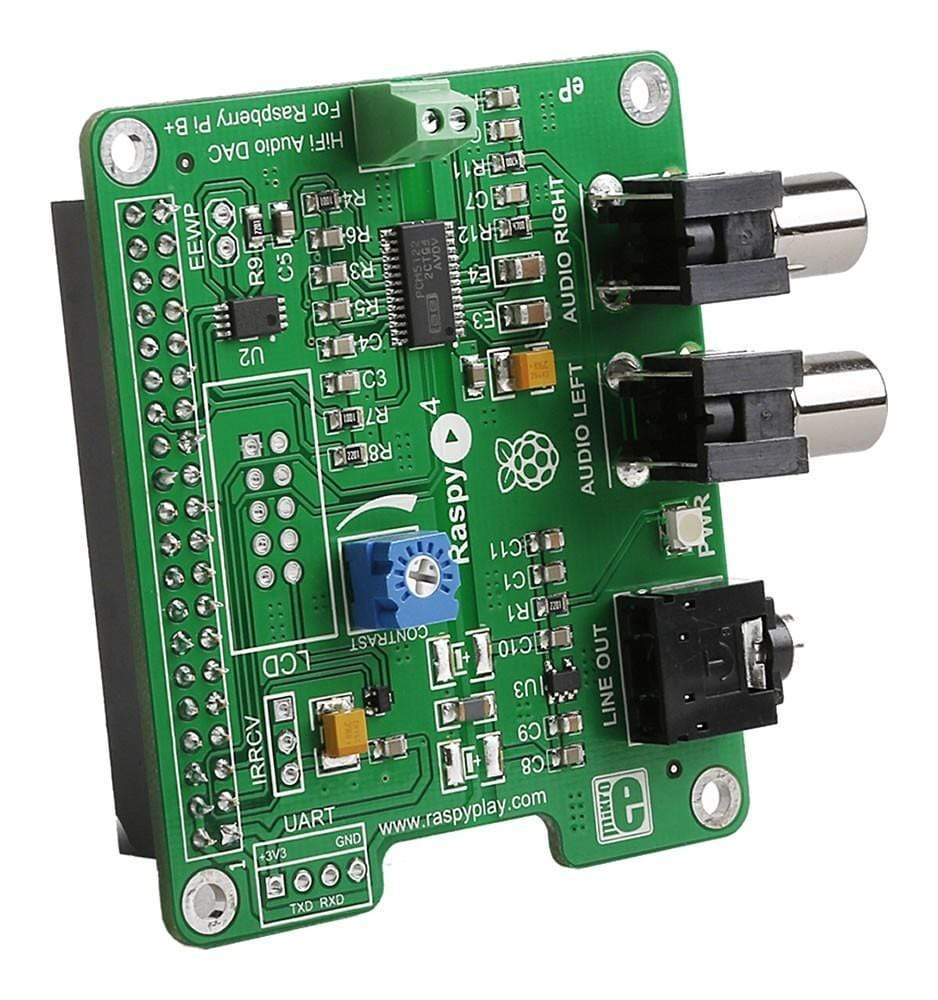 Ever since its inception, Raspberry Pi has been a popular solution for home multimedia centers for many people. But the poor sound reproduction abilities of the Pi were a deal-breaker for anyone remotely interested in Hi-Fi. Not anymore. Play hi-quality audio from your Raspberry Pi B+ and Raspberry Pi 2 with RaspyPlay4. This add-on board features the PCM5122 DAC with excellent dynamic performance for audiophile-worthy reproduction of your favorite music, on a budget. It supports FLAC, ALAC, MP3 and WMA sound formats. Software-wise, it's compatible with several solutions, but we recommend RuneAudio. Store your favorite albums on USB flash, USB hard drive, SD Card, on a NAS server, or even stream it through a web radio or AirPlay — RaspyPlay4 supports it all. Kick your feet up, relax and enjoy.
IC/Module: PCM5122 DAC
PCM5122 DAC provides exceptional performance for audiophile-worthy reproduction of music within a budget. Featuring preset audio processing functions with programmable coefficients, it facilitates developers to adjust the characteristics of the interpolation filter, speaker EQ, dynamic range controls, and average volume control in their products.
Idea of RaspPlay4
RaspPLay4 is a result of the collaboration between Eurogenyx and MikroElektronika. The idea is proposed by Nebojsa Pejcic from Eurogenyx, who after, years of research, came up with a better solution for Raspberry Pi. This DIY solution supported quality reproduction of digital sound in the most affordable way,
RaspyPlay4
Frequently Asked Questions
Have a Question?
Be the first to ask a question about this.
Ask a Question