When pre-ordered, this item normally ships within 10 working days
Enrich your device with LCD 2x16 or 4x20 character display using 4-wire SPI interface using the Serial LCD Adapter Board. Using a MCP23S17 16-bit remote bidirectional I/O port, this adapter board decreases the number of MCU pins required to run the display. The MCP23S17 module has high-speed (10 MHz) SPI interface that works well for applications that require higher throughput. The Serial LCD Adapter Board comes with a long flat cable featuring IDC10 female header connector that ensures compatibility with all MikroElektronika development boards. The user can also regulate the LCD contrast using the on-board potentiometer. It supports a 5V power supply only. The board has three hardware address pins that allow up to eight devices on the bus.
View full details
SKU: MIKROE-151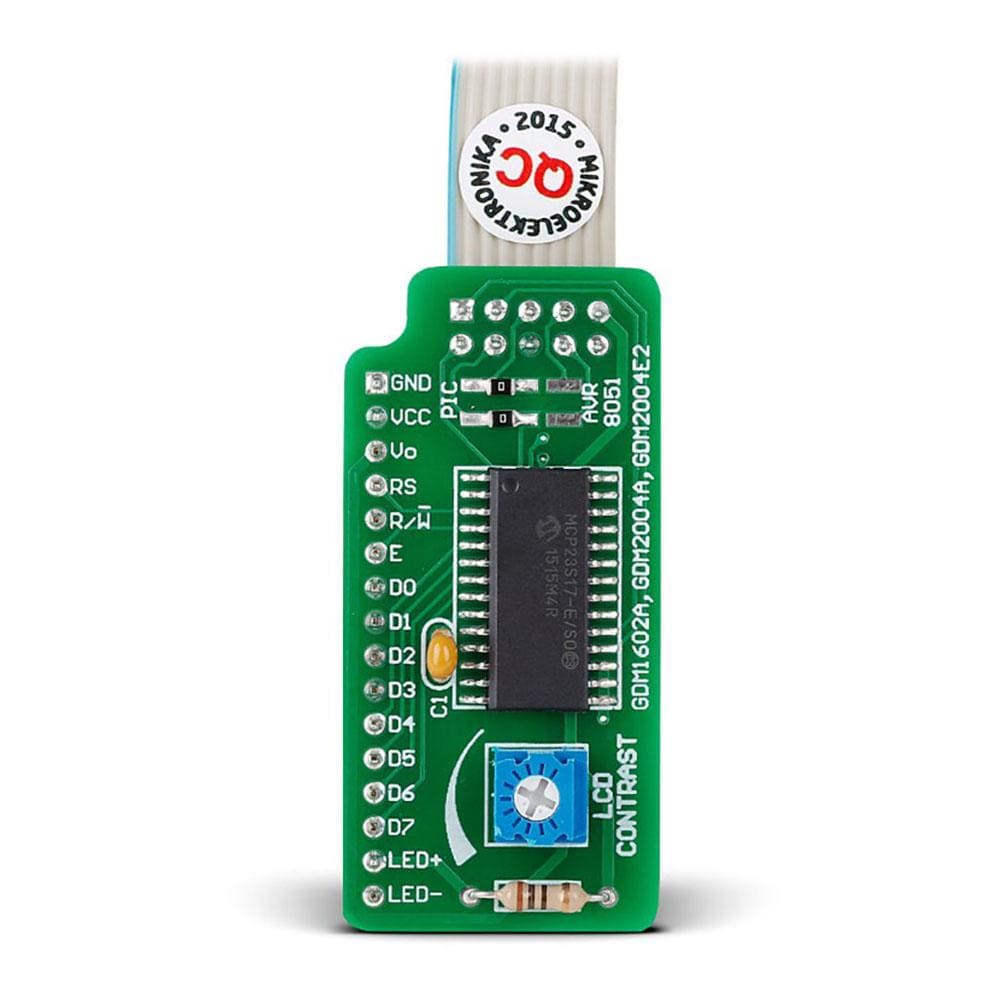 IC/Module: MCP23S17 High-Speed 16-bit I/O Expander
MCP23S17 features a remote bidirectional 16-bit I/O port that allows SPI clock speeds up to 10 MHz. It consists of several 8-bit configuration registers for input, output and polarity selection. The system master can qualify the I/Os as either inputs or outputs by writing the I/O configuration bits (IODIRA/B). The data for each input or output is kept in the corresponding input or output register. The 16-bit I/O port functionality consists of two 8-bit ports: PORTA and PORTB. It has two interrupt pins (INTA and INTB) that can be connected with their individual ports, or can be logically ORed together in order to activate the pins in case either port triggers an interrupt.
Board Connections
The Serial LCD Adapter Board makes use of an IDC10 connector (on the additional board) for connection to a development system as well as one of the 2x5 connectors on the development systems ports. The on-board 1x6 connector CN2 allows the user to establish a connection with the LCD display.
Serial LCD Adapter Board
Frequently Asked Questions
Have a Question?
Be the first to ask a question about this.
Ask a Question