Add GPS Functions to Your Project
When pre-ordered, this item normally ships within 10 working days
The SmartGPS Board is a development tool that will help you understand GPS technologies. Connect GPS (Global Positioning System) to your PC or development board using the LEA-6S module. The intuitive design of SmartGPS guides you through the process of learning GPS.
View full details
SKU: MIKROE-1381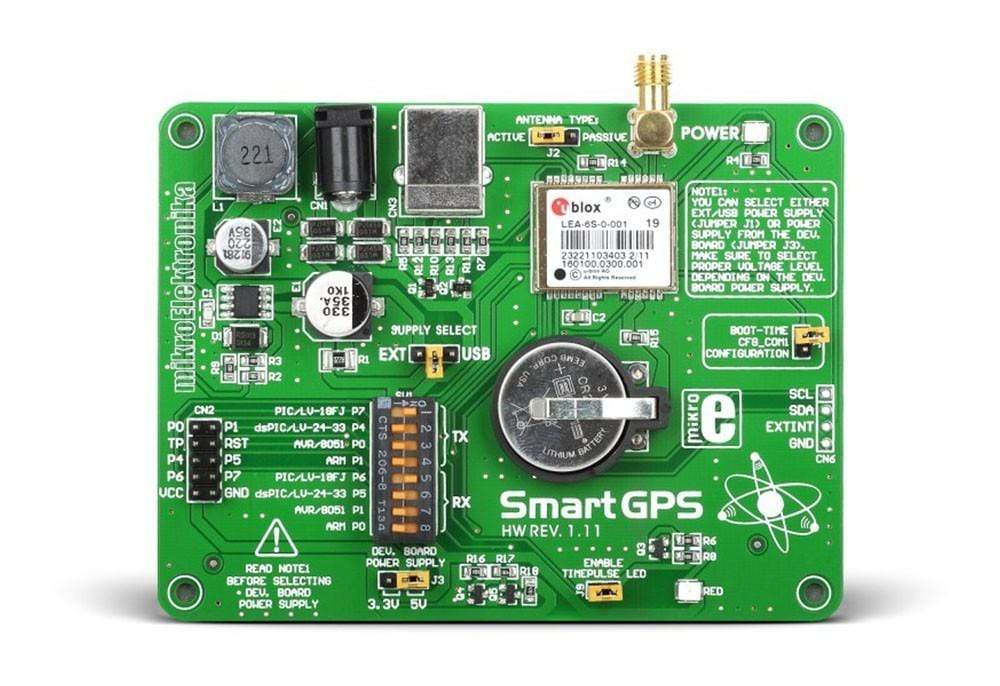 This SmartGPS Board enables the user to add GPS functionality to his device in a pretty simplified manner. The operating mechanism of this compact-sized GPS solution is based upon the popular ublox LEA-6S module. The board features a power supply circuit, and USB and antenna connectors. It comes equipped with a li-polymer battery that helps in data retention, and an IDC10 header that helps it in getting connected with the target board.
The SmartGPS Board has the amazing ability of doing numerous parallel searches, thanks to its unique SuperSense KickStart feature, which allows accelerated acquisition of weak signals. The additional board provides Time To First Fix (TTFF) of less than 1 second, while long correlation/dwell times make an acquisition and tracking sensitivity of -160dBm possible. Powered by the performance-driven 50-channel u-blox 5 technology, the board sports an innovative jamming-resistant RF architecture. For providing the user with a flexible choice of communication lines with various development systems, the SmartGPS Board has been fitted with DIP switches. The board communicates with development systems using UART or USB interface
SmartGPS Board
Frequently Asked Questions
Have a Question?
Be the first to ask a question about this.
Ask a Question