When pre-ordered, this item normally ships within 10 working days
The mikroMedia™ for STM32 M3 is a high-quality development system carrying STM32F207VGT6 microcontroller. It is equipped with rich multimedia modules and provided with full set of examples and documentation for ease of use.
The mikroMedia™ for STM32 M3 board comes integrated with a lot of modules such as stereo MP3 codec, TFT 320x240 touch screen display, accelerometer, USB connector, MMC/SD card slot, 8 Mbit flash memory, 2x26 connection pads and others. This compact board is also equipped with a battery charger circuit for Li-Polymer batteries, crystal oscillator, front-facing reset button, and connection pads for all other available pins. The on-board large TFT colour display with touch screen and stereo MP3 codec chip makes it a good choice for a wide range of multimedia applications.
The mikroMedia™ for STM32 M3 is designed to be compact and handy with quality components and 4-layer PCB. With on-board microSD memory card slot, the user can store enough data to use in applications. It comes pre-programmed with USB HID bootloader. If required, the microcontroller can also be programmed and debugged using the MikroProg for STM32 debugger or ST-LINK. The board enables users to create colourful GUIs for mikroMedia™ with support to VisualTFT software.
View full details
SKU: MIKROE-1101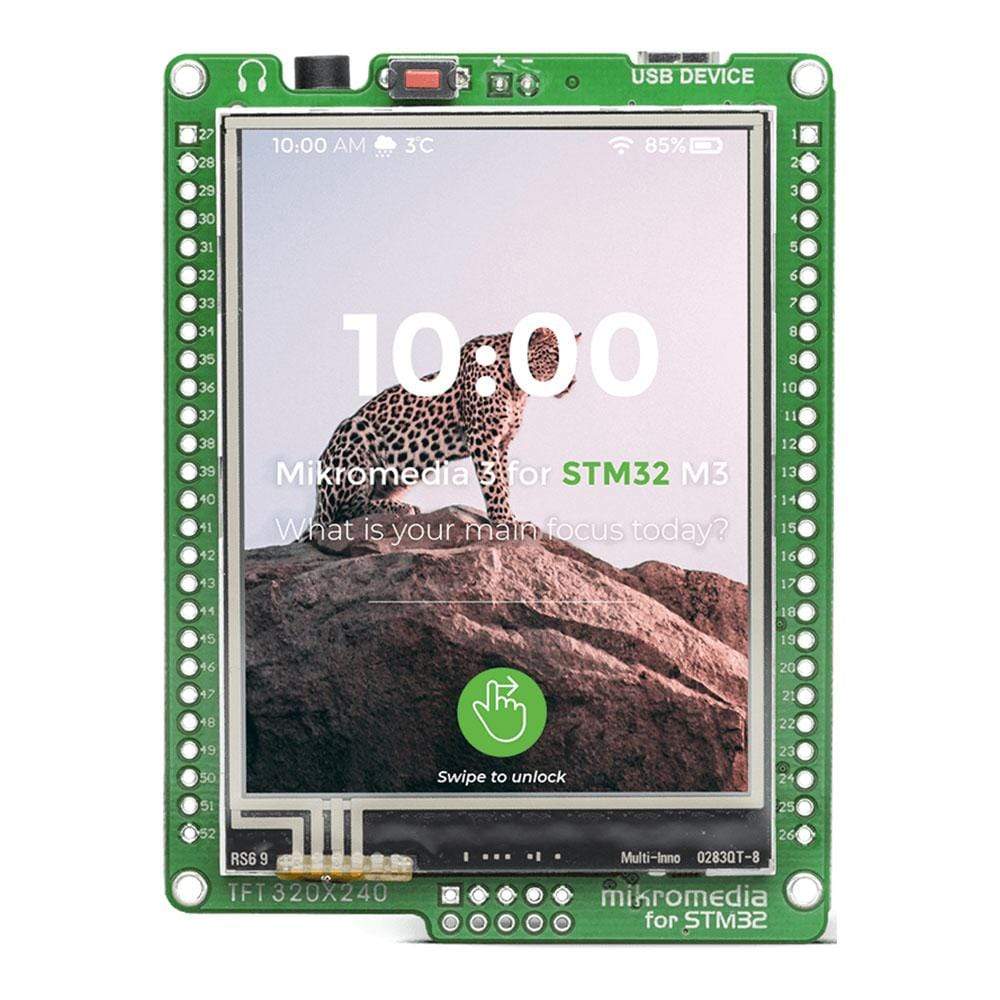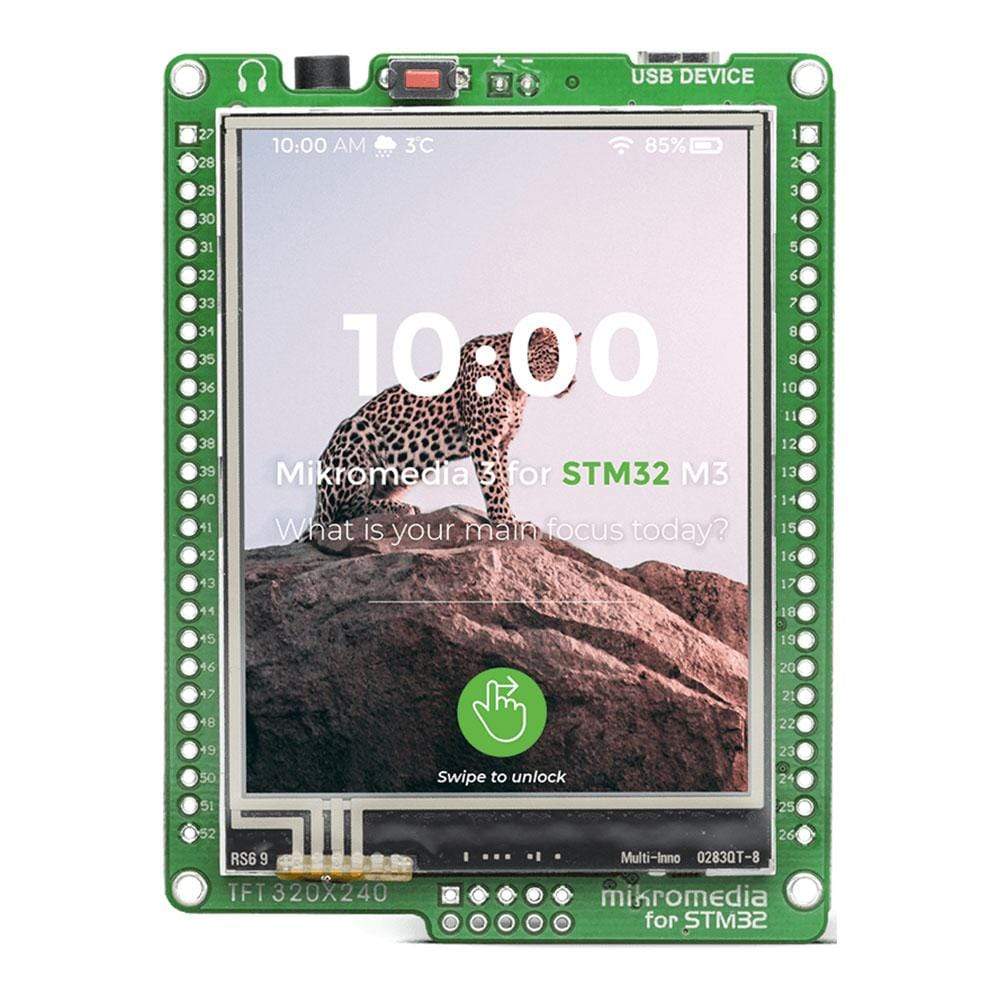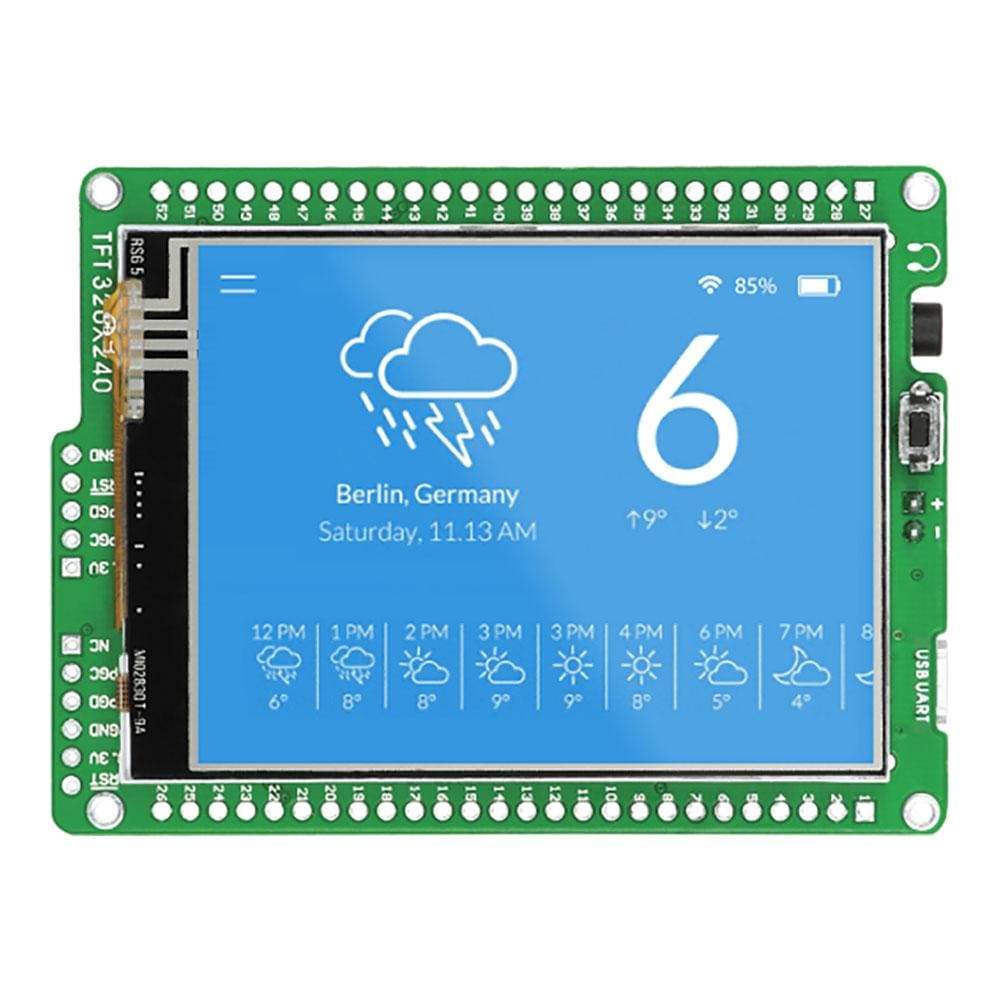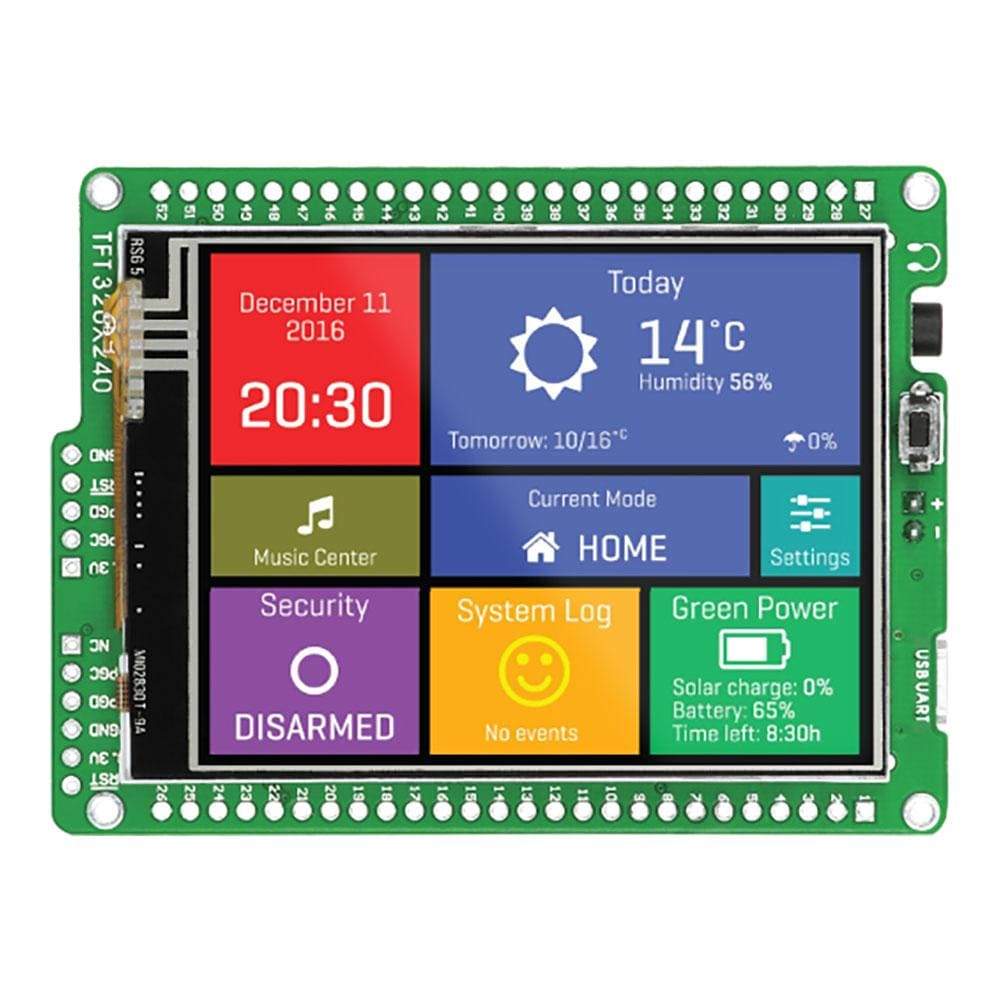 STM32F207VGT6 microcontroller
The mikroMedia™ for STM32 M3 development system includes high-performance 32-bit STM32F207VGT6 ARM Cortex-M3 microcontroller. Together with integrated modules on the board as well as combination with other on-board modules, this microcontroller makes a great choice for developing applications with multimedia content. It features a 1.25 DMIPS/MHz, 32-bit Cortex-M3 Core; 1 Mbyte Flash memory; 128 + 4 Kbytes of SRAM; 83 I/O pins, etc.
Power Supply
The user can power themikroMedia™ for STM32 M3 board using the provided Mini-B USB cable with the on-board voltage regulators provide suitable voltage levels to each section of the board. Another way of powering the board is using a Li-Polymer battery via the on-board battery connector. The battery can be charged over the USB connection via the MCP73832 battery charger circuit.
Touch Screen
The mikroMedia™ for STM32 M3 board has a TFT 320 x 240 display protected with a resistive touch panel that enables data to be entered and displayed at the same time. The TFT display is capable of showing data in 262,144 different colours.
mikroMedia for STM32 M3
Frequently Asked Questions
Have a Question?
Be the first to ask a question about this.
Ask a Question