When pre-ordered, this item normally ships within 10 working days
The MikroBuffer Board is an accessory board that lets the user buffer the analogue signals connected to prototype device inputs. This device amplifies an analogue voltage signal by using a unity gain operational amplifier. It comprises two MCP6284 operational amplifiers that are put together featuring 8 inputs. This additional board comes equipped with an IDC10 female header. Compatible with MikroElektronika development boards, and DIP switches for selecting input lines, the IDC10 connector CN1 gets the MikroBuffer board easily connected to a microcontroller. The amplified signal then gets delivered to the microcontroller analogue inputs.
This economical, low power consuming MikroBuffer Board makes use of CN2, CN3, CN4, and CN5 connectors for establishing a connection with the analogue signal generating device.
View full details
SKU: MIKROE-323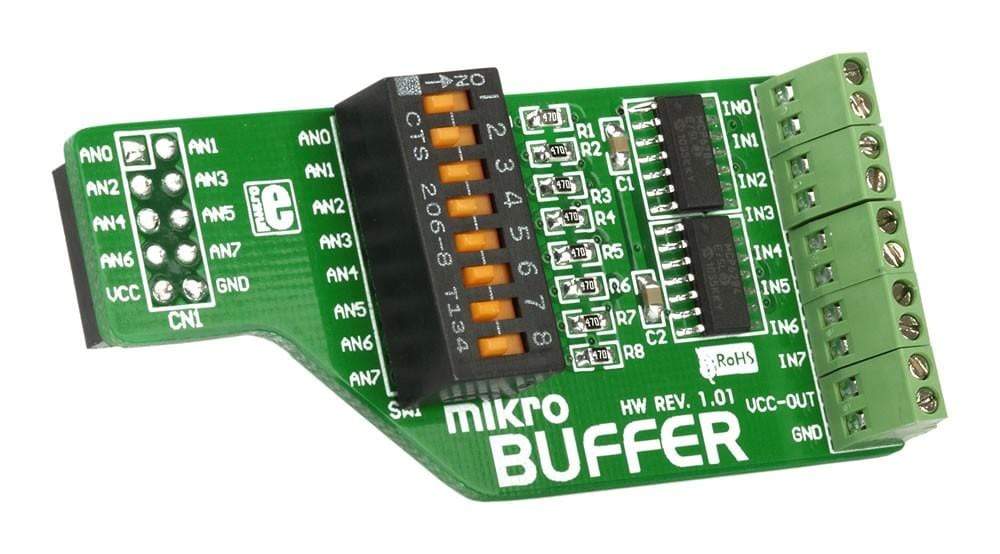 The mikroBuffer Board features two MCP6284 operational amplifiers with total of 8 inputs that are specifically designed for low-cost, low-power and general-purpose applications. low-power supply voltage, low quiescent current and wide bandwidth make this board ideal for battery-powered applications. Board features IDC10 female header compatible with mikroElektronika development boards, and DIP switches for selecting input lines.
MikroBuffer Board
Frequently Asked Questions
Have a Question?
Be the first to ask a question about this.
Ask a Question
Download Files