Regular price
$183.00 USD
excluding tax
Regular price
Sale price
$183.00 USD
excluding tax
Unit price
per
Sale
Sold out
Pre-Ordered items ship within 15 days of ordering
---
Measuring Power is not a simple today as it once was. Higher frequency devices, complex loads, challenging test setups, and 2nd order effects all serve to complicate your measurements. Let Picotest help you navigate the waters with tools and techniques designed to increase the fidelity and accuracy of your testing.
The Measuring Power Application Notebook, contains over 30 technical articles on power supply test and measurement.
The papers cover a wide range of measurements and test techniques including: Impedance, Stability, Step loading, PSRR, Reverse Transfer, Crosstalk, Noise, PDNs, Wireless Power, Clock Power Optimization, Non-invasive Phase Margin, and Part Parasitics (Resistors, Capacitors, Transformers, MOSFETs)
View full details
SKU: APPBTBK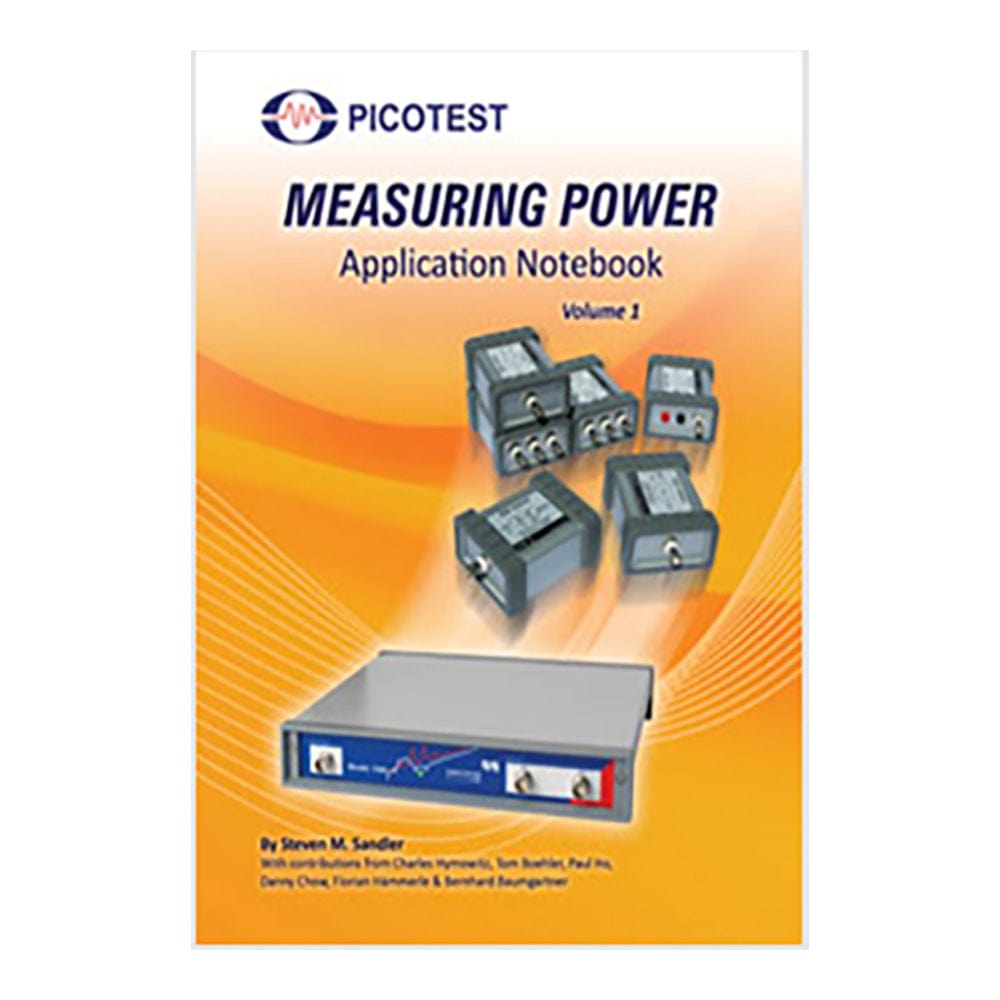 Measuring Power Applications Notebook - Table of Contents
Components - Impedance Measurements
 

An Accurate Method For Measuring Capacitor ESL
App Note DC Biased Measurements
High Fidelity Battery Measurements
Measuring MOSFET Gate Resistance

5
11
23
31
Components - Modeling Support
 

Measuring Optocouplers with J2130A37
Transformer Parameter Extraction43
Extracting SPICE parameters from a diode using two M3500A53
Debunking Transformer Performance Myths   

37
43
53
55
System Measurements
 

Measuring Ultra Low Impedances and PDNs
Measuring Output Impedance with the J2130A and Bode 100
Measuring Opamp PSRR
App Note PSRR Measurement
Measuring PSRR with the J2120A and Bode 100
Measuring Power Supply Noise with an RSA
Measuring Power Supply Noise with the Agilent N9020A
App Note Reverse Transfer Measurement
App Note Crosstalk Measurement

65
75
81
87
97
103
111
119
127
Stability Measurements
 

Non-Invasive Assessment of Voltage Regulator Phase Margin
Beyond Non-Invasive Phase Margin; Extracting Bode Plots from Output Impedance
App Note Noninvasive Stability Measurement
Simple Method to Determine ESR Requirements for Stable Regulators
When Bode Plots Fail Us
Signal Injection Transformers
Network Analyzer Signal Levels Affect Measurement Results

135
143
149
171
177
187
195
Design Techniques
 

Introduction to Signal Injectors
An unconditionally stable voltage regulator
Are we focused on the wrong reference characteristics
Deconstructing the Step Load Response
Measuring Oscillators with an RSA for ADC design
Optimize Wireless Power Transfer Linkage - Parts I & II
Powering RF Systems
Optimizing Power for Clocks and Other Sensitive Applications
Measuring LDOs requires more bandwidth than you think

203
209
215
223
237
247
261
271
279
Test Equipment
 

Using the J2110A Solid State Injector
Arbitrary Waveform Generator Aids Design of Power Electronics

287
297
Measuring Power Applications Notebook by Steven Sandler
Frequently Asked Questions
Have a Question?
Be the first to ask a question about this.
Ask a Question