Regular price
$312.00 USD
excluding tax
Regular price
Sale price
$312.00 USD
excluding tax
Unit price
per
Sale
Sold out
Pre-Ordered items ship within 10 days of ordering
The Lineeye SI-60-E is an interface converter to connect factory automation equipment and analyzers, which only have the RS-232C serial communication port, to LAN. The built-in Lantronix Xport® on the LAN interface converts RS-232C data into LAN protocol (TCP/IP). The device supports a 35mm DIN rail and a wide range of operating temperatures. Therefore, you can use it for factory automation without worry.
View full details
SKU: SI-60-E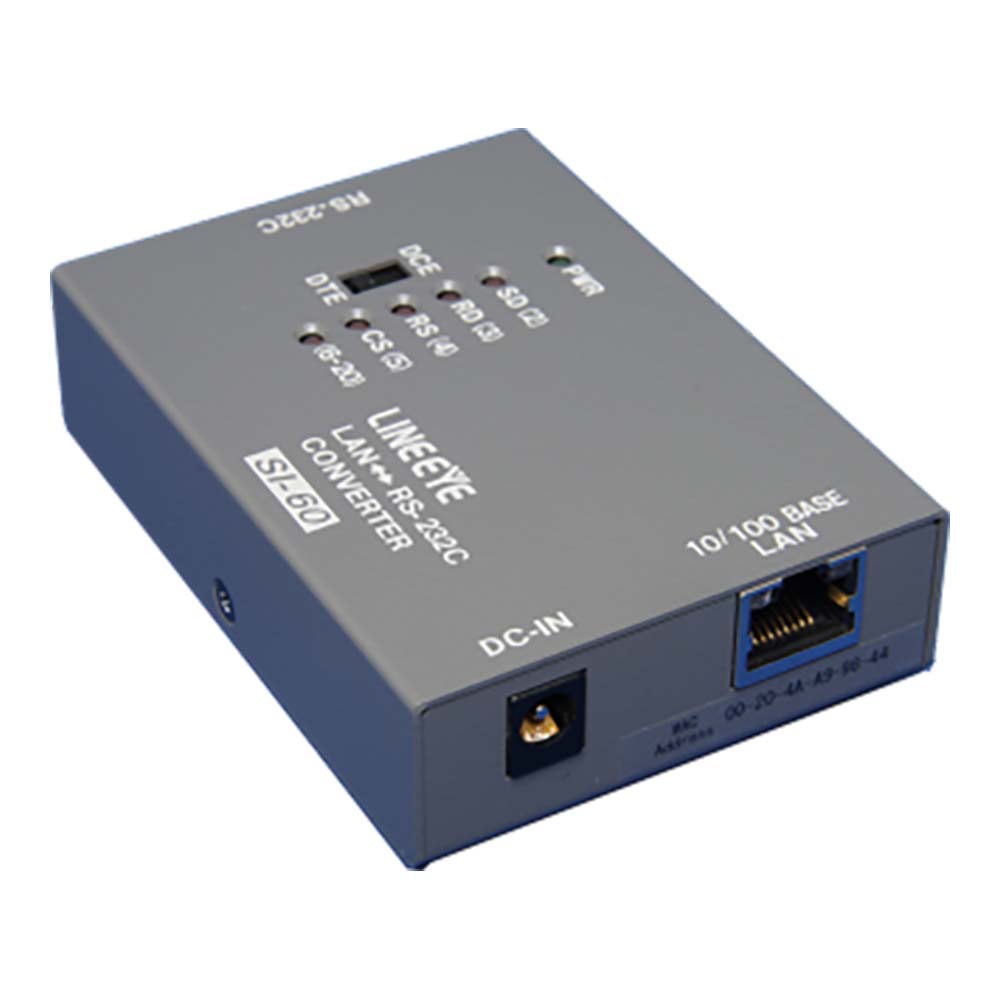 ■Block Chart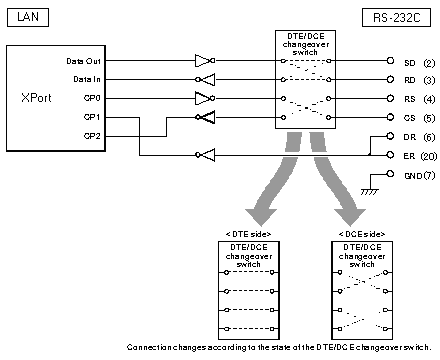 RS-232C connector pin arrangement
Pin *1
Signal
I/O *2
DTE
DCE
1
FG
-
-
2
SD
Out
In
3
RD
In
Out
4
RS (RTS)
Out
In
5
CS (CTS)
In
Out
6
DR (DSR)  *3
In
In
7
GND
-
-
9
+DC IN *4
-
-
20
ER (DTR)  *3
In
In
*1: Pins not listed here are not connected. *2: The DTE/DCE selector switch changes In and Out. *3: Pins 6 and 20 are internally connected in this unit. *4: Power can be supplied from this pin when the AC adapter is not used.
■Example of SI-60 Connection
Attached software (COM port Redirector TM ) controls the RS-232C device as if it is connecting directly to the serial port (COM1 to n) of PC. This reduces the modification of communication programs. Also, you can transmit/receive RS-232C serial data directly using the TCP/IP socket communication method.

■Locate RS-232C devices to further place using LAN cable
2sets of SI-60 makes it possible to locate the RS-232C devices in the far place using LAN cable. One set of SI-60 has to be in Server mode (or Server and Client mode) and the other one has to be in Client mode (or Server and Client) mode.

■Connection with LINEEYE analyzer
By connecting the LINEEYE analyzers to LAN (Ethernet) using SI-60, you can analyze the data on a PC in the office far from the workplace in real time, continuously measuring the data between the device A and B.

■Space-saving
Able to install the device on the 35mm DIN rail using Optional DIN plate (SI-DIN70), and to install it on the wall using the optional wall bracket (SI-WM1).
DIN Rail Installation Example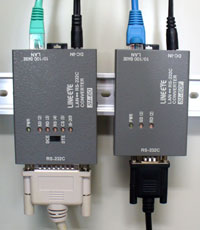 Optional "Metal Fitting for Wall"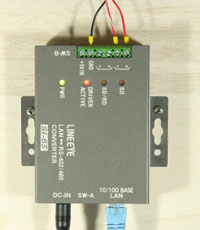 ■2 kinds of power input
Able to supply the power from attached AC adapter. Supplying power from Dsub 9pin of device via RS-232C device eliminates the use of AC adapter and saves space.
■A Useful Tool for Multiple Operation
SILANIOinit is a configuration tool for LINEEYE products embedded WiPort-NR. It is useful and saves time to rewrite the WiPort-NR configuration file (Setup Record) .
[ Functions ]
Searches the device on the Network. Displays the MAC address.
Reads and saves the configuration (set-up record) of converter.
Writes to the set-up record of selected converter.
Sets the IP address of selected converter.
Configuration tool (SILANIOinit)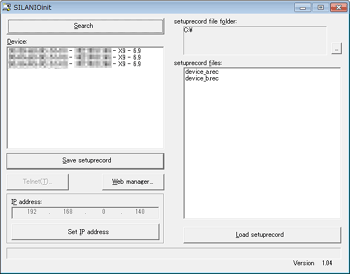 Specifications
Interface Converter SI-60
Conversion
LAN <->RS-232C
LAN Interface
RJ-45 connector 10BASE-T/100BASE-TX, Ethernet IEEE802.3
LAN Protocol
ARP, UDP/IP, TCP/IP, ICMP, SNMP, Telnet, DHCP, BOOTP, HTTP, AutoIP
Serial Interface
RS-232C, Dsub25 Pin (Female), DTE/DCE Switchable
Serial signal
SD, RD, RTS, CTS, DSR/DTR*1
Synchronous Method
Asynchronous
Baud Rate (bps)
300/600/1200/2400/4800/9600/19200/38400/57600/115200/230400
Data Frame Structure
Data (7 or 8) + Parity (Even, Odd, None) + Stop (1 or 2)
Flow Control
Xon/off, RTS/CTS
Management Initial setting
Web server, Telnet login, Serial login, SNMP
Sample software
Transmit and receive program (with source code) for Windows®
Firmware
Able to write on the FTP or internal flash memory via serial communication.
LED display
LAN connection, RS-232C signal status
Power Supply *2
Dsub connector: DC 5 to 12V
AC adapter: AC100V+/- 15%, 50/60Hz
Power Consumption*3
4.2VA (when using AC adapter (AC100V)
Temperature
Operating: -10 to 50 degree Celsius*4
Storage: -20 to 80 degree Celsius
Humidity
10 to 95% RH (no condensation)
External Dimension (mm)
65(W) x 95(D) x 24(H)
Weight (g)
Approx. 200
Accessories
AC adapter (VEN-650B), Utility CD-ROM, Instruction manual, Warranty
*1 DSR and DTR are connected inside the unit, which logic state can be checked with CP1 of XPort.
*2 Supplied either from.
*3 When using the attached AC adapter (AC100V).
*4 Operation temperature will be -10 to 40 degree Celsius when DC power voltage from Dsub connecter is more than 10V.
SI-60-E LAN to RS-232C Interface Converter
Frequently Asked Questions
Have a Question?
Be the first to ask a question about this.
Ask a Question
Download Files