When pre-ordered, this item normally ships within 10 working days
Introduce an easy and compact solution for adding infrared communication functionality to the user design by using the IrDA2 Board. This board comes integrated with an MCP2120 infrared encoder/decoder connected with the external crystal as well as TFDU4101 infrared transceiver module. The IR encoder/decoder is placed between the UART and infrared optical transceiver and performs modulation/demodulation in accordance with the IrDA standard. The infrared transceiver is module compliant to the latest IrDA physical layer standard, supporting IrDA speeds up to 115.2 kbit/s. High on performance and low cost, the IrDA2 Board encodes the data received from a standard UART and outputs as electrical pulses to the IR transceiver. This IR transceiver also receives data which it outputs as electrical pulses that the MCP2120 decodes and then transmits the data through the MCP2120 UART communication interface. The user can configure pins to be used for RX/TX and set the MODE pin of the MCP2120 using the DIP switches. The IrDA2 Board is designed to use both 3.3V and 5V power supplies.
It is an ideal choice for wireless infrared data communication with PC or other devices, remote controllers for home appliances and so on.
View full details
SKU: MIKROE-82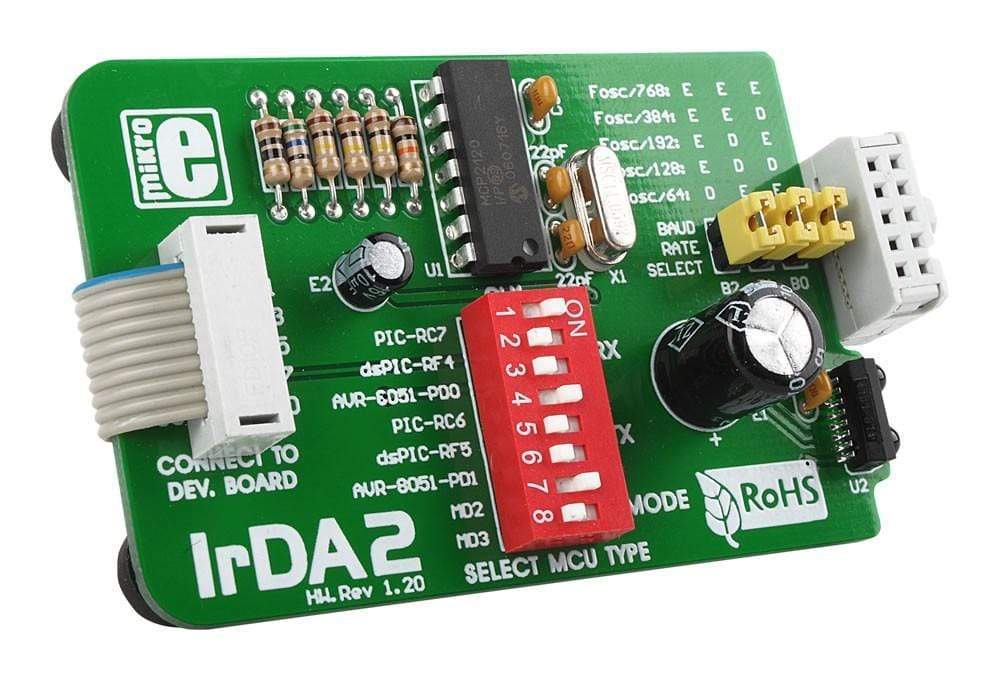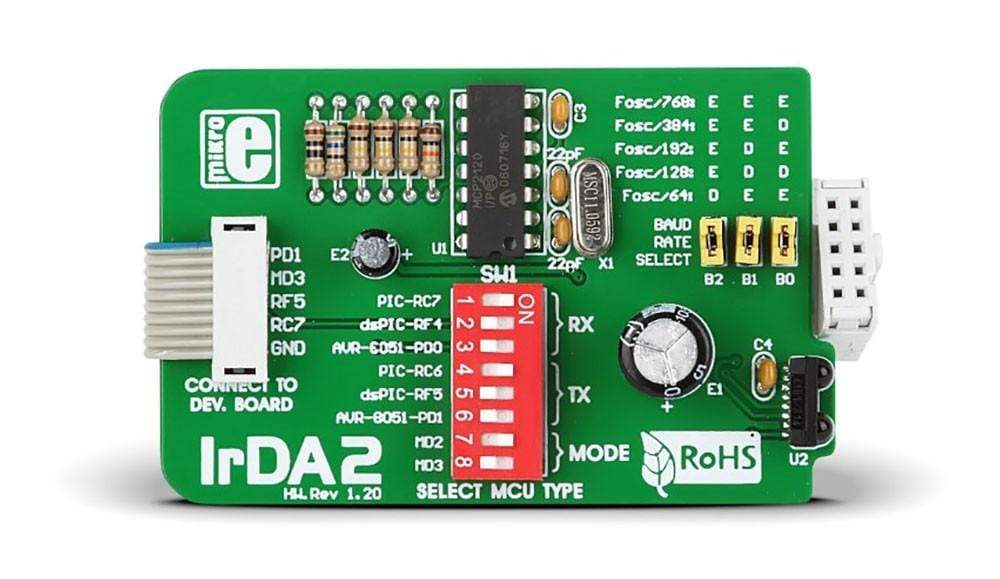 IC/Module: MCP2120 Infrared Encoder/Decoder
MCP2120 is a fully-static infrared encoder/decoder that sits between the UART side and an infrared (IR) optical transceiver. A standard UART encodes the data received and output as electrical pulses to the IR Transceiver. This data is received by the IR Transceiver which it outputs as electrical pulses. The electrical pulses are decoded by the MCP2120 and then the data is transmitted via the MCP2120 UART. This modulation and demodulation method is performed in accordance with the IrDA standard.
IC/Module: TFDU4101 Infrared Transceiver Module
The TFDU4101 is an infrared transceiver module that supports IrDA speeds up to 115.2 kbit/s, and carrier based remote control modes. This module comprises of a photo pin diode, an infrared emitter (IRED), and a low-power control IC to provide a total front-end solution. It has a tri-state-receiver output and is floating in shutdown mode with a weak pull-up.
IrDA 2 Board
Frequently Asked Questions
Have a Question?
Be the first to ask a question about this.
Ask a Question