When pre-ordered, this item normally ships within 10 working days
Add wireless communication function using infrared waves to your device by using the IrDA PROTO Board. This additional board comes equipped with an MCP2155 IrDA driver that is used for implementing IrDA standard wireless connectivity. It also provides IrDA protocol handling PLUS bit encoding/decoding functionality for Data Communication Equipment (DCE) applications. It is placed between the UART and the infrared optical transceiver. The TFDU4101 diode aboard the IrDA PROTO Board is an infrared transceiver module. This module is designed to be compliant with the latest IrDA physical layer standard for fast infrared data communication.
The IrDA PROTO Board is an ideal choice for wireless infrared data communication with personal computers, remote controllers for home appliances, etc.
View full details
SKU: MIKROE-325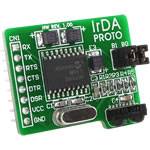 IC/Module: MCP2155 IrDA Driver
The MCP2155 is a low-power, high-speed IrDA standard protocol stack controller that provides IrDA standard physical signal layer support, with data communication rates up to 115.2 kbit/s. It uses serial communication UART interface for connecting to DCE systems. It converts data received from the transceiver module and send it to the microcontroller for further operation.
IC/Module: TFDU4101 Infrared Transceiver Module
The TFDU4101 is an infrared transceiver module that supports IrDA speeds up to 115.2 kbit/s, and carrier based remote control modes. This module comprises of a photo pin diode, an infrared emitter (IRED), and a low-power control IC to provide a total front-end solution. It has a tri-state-receiver output and is floating in shutdown mode with a weak pull-up.
Board Connections
The IrDA PROTO Board is connected with a microcontroller using a 1x8 male connector. It features two jumpers that enable user to select between four different baud rates: 9.6k, 19.2k, 57.6k, and 115.2k.
IrDA Proto Board
Frequently Asked Questions
Have a Question?
Be the first to ask a question about this.
Ask a Question