Regular price
$264.00 USD
excluding tax
Regular price
$320.00 USD
Sale price
$264.00 USD
excluding tax
Unit price
per
Sale
Sold out
Pre-Ordered items ship within 10 days of ordering
The Hantek DDS-3005 is a high-performance 5MHz arbitrary waveform generator with a high-precision frequency counter. Like other products from the Hantek family, this waveform generator delivers a stable and pure spectrum of the generated signal.
It also boasts an array of functions and signal parameter settings that make this waveform generator ideal for research work in the field and as a learning aid in technical institutions.
View full details
SKU: DDS-3005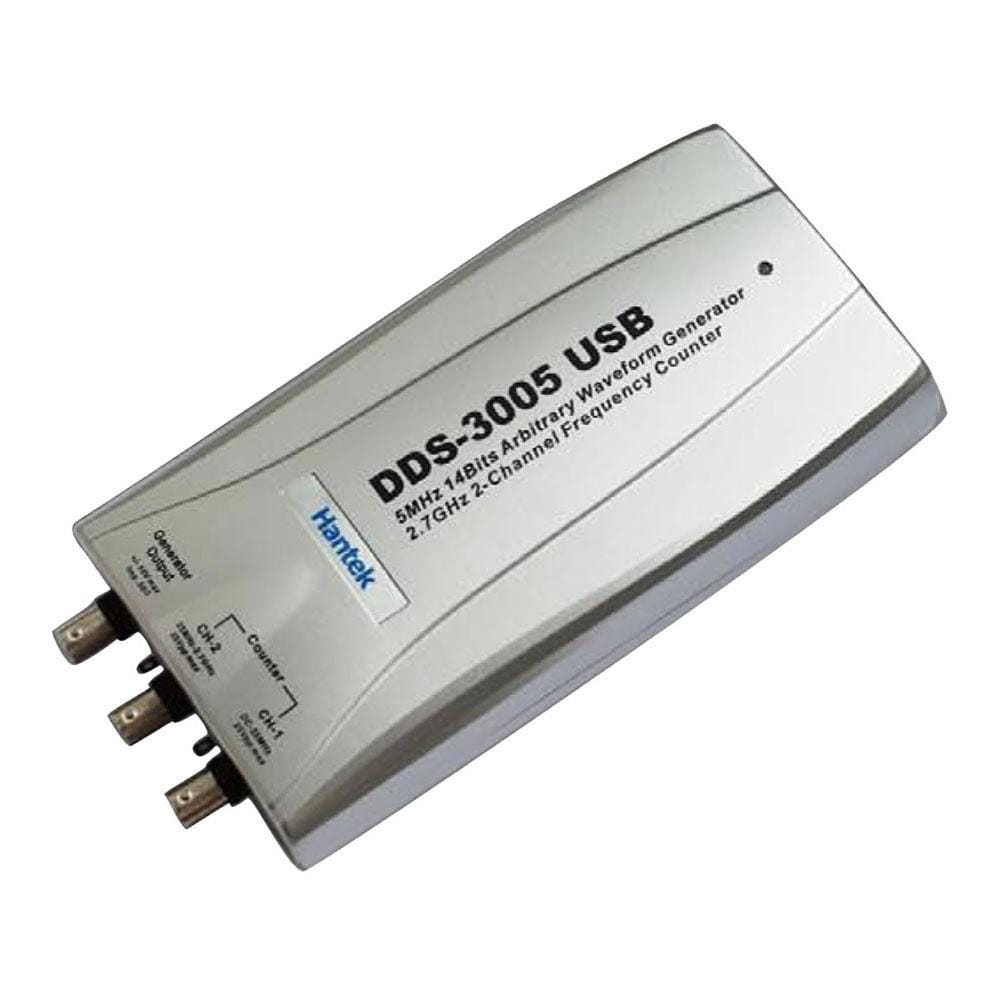 Specifications
Waveform Output Channel
Frequency Range
0.1Hz (DC)~5MHz
Resolution
0.01Hz
DAC Clock
0~50MHz Continuously adjustable, in step of 0.2Hz
Channels
1-ch waveform output
Memory Depth
256KSa
Vertical Resolution
14 Bits
Stability
<30ppm
Amplitude
±10V Max.
Output Impedance
50 Ω
Output Current
50mA Vpeak=100mA
Low Pass Filter
5MHz, 1MHz, 100KHz, 10KHz, 1KHz Programmable Control
Harmonic Wave distortion
-65dBc(1KHz),  -53dBc(10KHz)
Frequency Counter Channel 1
Range
DC~25MHz
Input Power
400mVpp~25Vpp
Coupling Mode
AC, DC Programmable
Accuracy
±Time Base Error ±1 Count
Input Impedance
50KΩ
Frequency Counter Channel 2
Range
25MHz~2.7GHz
Input Power

400mVpp~25Vpp

Coupling Mode
AC
Accuracy
±Time Base Error ±1 Count
Input Impedance
50 Ω
Digital Input and Output
Bits
8 Bits+ Synchronised Signal 1 Bit + External Signal 1 Bit
Level
3/5V  TTL/CMOS
Working Environment
Working Temperature
0~70 Centigrade
Working Humidity
0~65%
Weight
0.7Kg
Hantek DDS-3005 Arbitrary Waveform Generator
Frequently Asked Questions
Have a Question?
Be the first to ask a question about this.
Ask a Question