with 4mm Banana Plugs

Regular price

$103.00 USD

excluding tax

Regular price

Sale price

$103.00 USD

excluding tax

Unit price

per

Sale

Sold out

Pre-Ordered items ship within 10 days of ordering

The Hantek CC-65 Current Clamp for measuring currents in the range 20mA to 65A in conductors up to 12mm in diameter. It is powered by a 9V alkaline battery (not supplied) for up to 100 hours which makes ideal for use away from the lab.

It is a current transducer which constructed of permalloy and hall-effect element, which linearly transforms current flowing from the magnetic field generated around a conductor to a voltage at 1mV/10mA.

This model has been designed to be connected to a multimeter and is fitted with 4mm "banana" plugs.

View full details
SKU: CC-65-4mm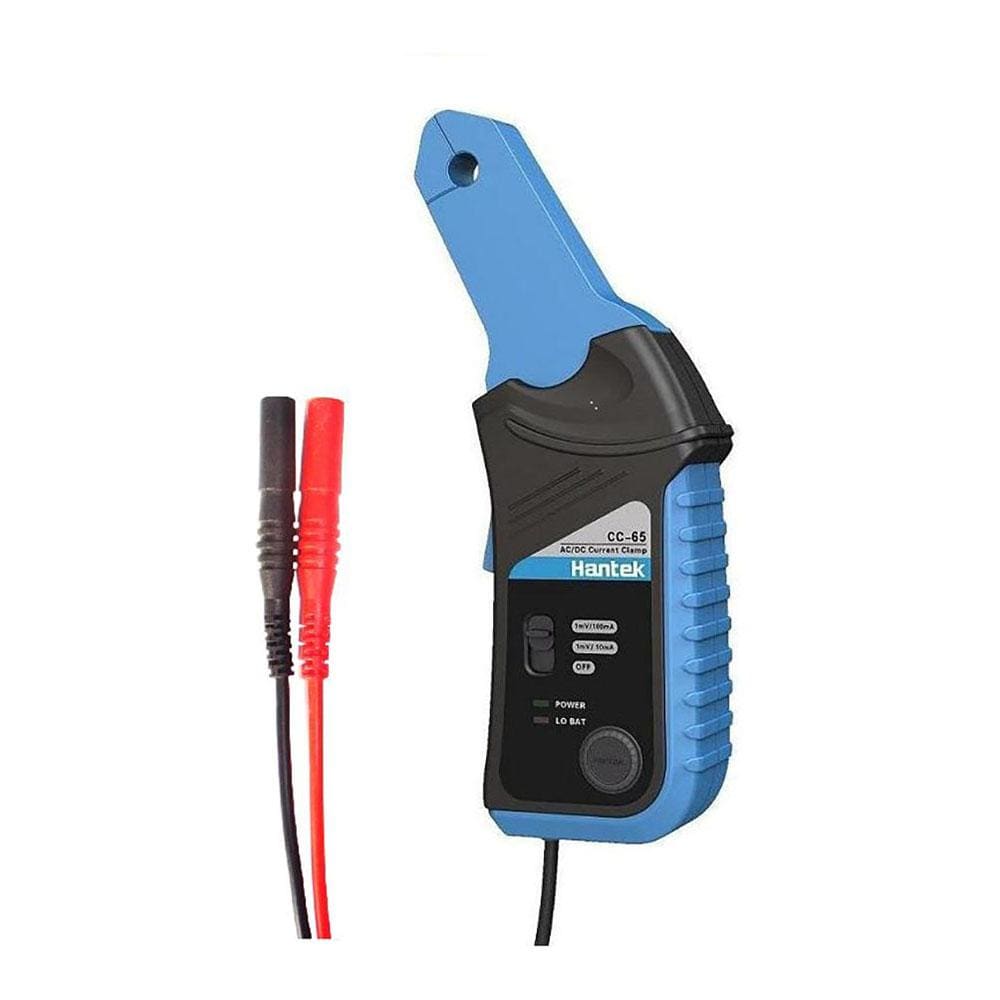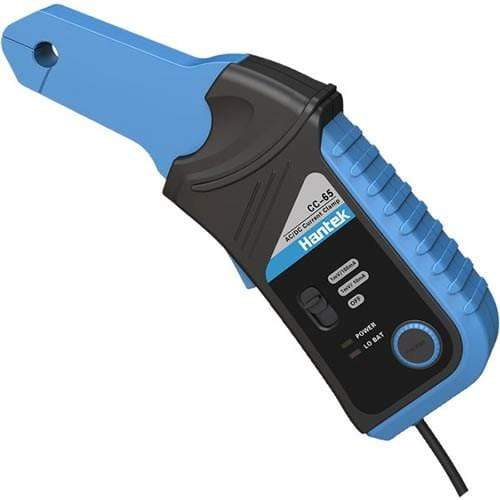 It is a transducer which allows your multimeter to measure current data and enable your oscilloscope to measure the current waveforms.
Its current transducer is composed by permalloy and hall element, which linearly transform the AC or DC current to AC or DC current voltage. And if connect to an oscilloscope by BNC type connector, you're able to observe the current waveforms; If connect to a multimeter by banana type connector, you can obtain the current data. 
Applications
The CC-65 Current Clamp is suitable for AC or DC power circuit measurement and malfunction analysis.
It is also suitable for use with motor drive and frequency converter measurements.
Oscilloscope Display
Specifications
DCA Range
1 mV /10mA
±(1.5%±5mA) 10mA ~ 20A
1mV/100mA
±(2%±20mA) 100mA ~ 40A;
±(4%±0.3A) 40A ~ 65A
ACA Range
1mV/10mA
±(2%±30mA) 100mA ~ 10A (40Hz ~ 2KHz);
±(4%±30mA) 100mA ~ 10A (2KHz ~ 10KHz);
±(6%±30mA) 100mA ~ 10A (10KHz ~ 20KHz);
±(8%±30mA) 10A ~ 15A (40Hz ~ 20KHz)
1mV/100mA
±(2%±30mA) 200mA ~ 40A (40Hz ~ 1KHz);
±(4%±30mA) 200mA ~ 40A (1KHz ~ 2KHz);
±(6%±30mA) 200mA ~ 40A (2KHz ~ 5KHz);
±(8%±0.3A) 40A ~ 65A (40Hz ~ 20KHz)
Captured Conductor Size
9mm maximum
Low Battery Indictor
Red LED
Operating Temperature
0℃ to 50℃, 70% R.H.
Storage Temperature
-20℃ to +70℃, 80% R.H.
Battery Type
9V DC, NEDA 1604, 6F22,0006P
Battery Life
100 hours typical with alkaline
Weight
250 gm typical
Dimensions
195mm(H) x 70mm(W) x 33mm(D)
Output
Supplied with coil cable with a pair of colour-coded 4mm Plugs.
Hantek CC-65-4mm 65A AC/DC Current Clamp
Frequently Asked Questions
Have a Question?
Be the first to ask a question about this.
Ask a Question