Designed for the Atmel AT51

Regular price

$212.00 USD

excluding tax

Regular price

Sale price

$212.00 USD

excluding tax

Unit price

per

Sale

Sold out

When pre-ordered, this item normally ships within 10 working days

The Easy8051 v6 is compatible with 14-, 16-, 20-, 28-, 40-pin PLCC44 and PLCC32 MCUs. It comes with an AT89S8253. The board has a USB 2.0 programmer and many peripherals such as a port expander, MENU and 4x4 keypads etc. 

Note: the COG display is not included in the package; instead the package includes an LCD 2x16 display.

View full details
SKU: MIKROE-455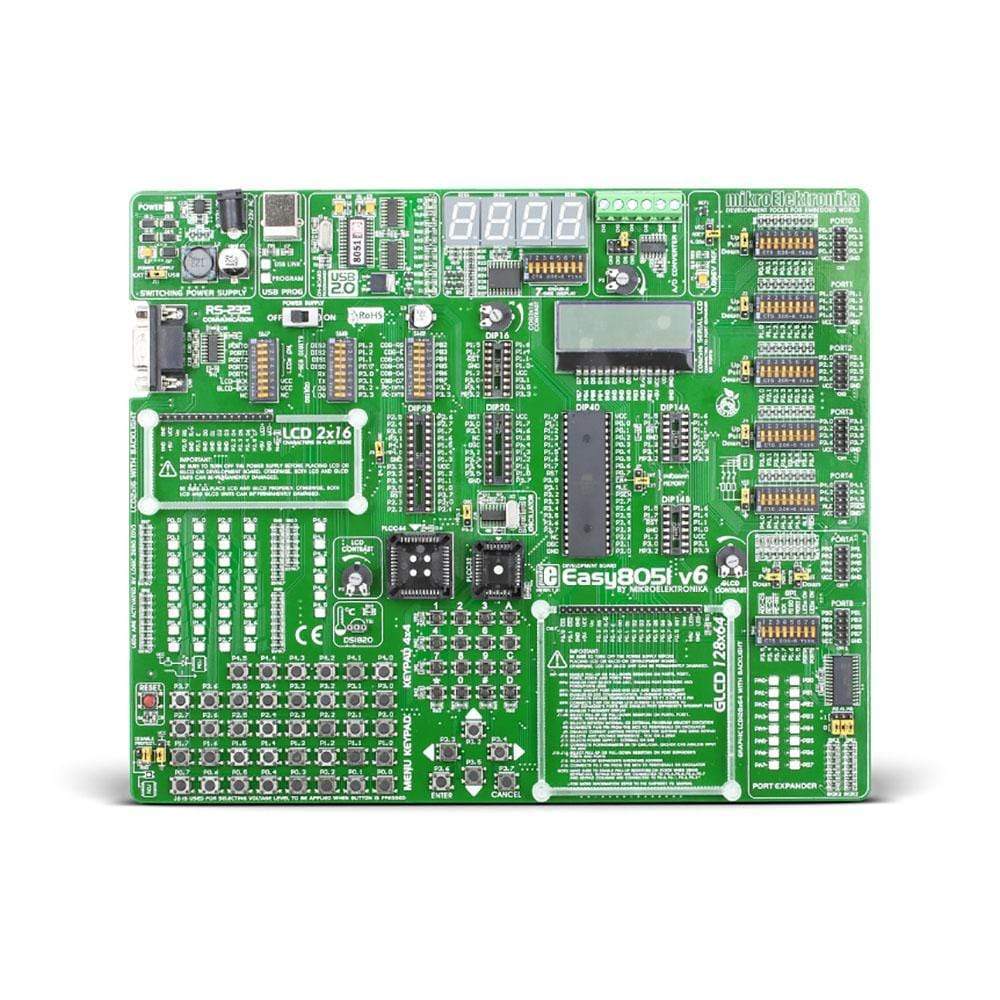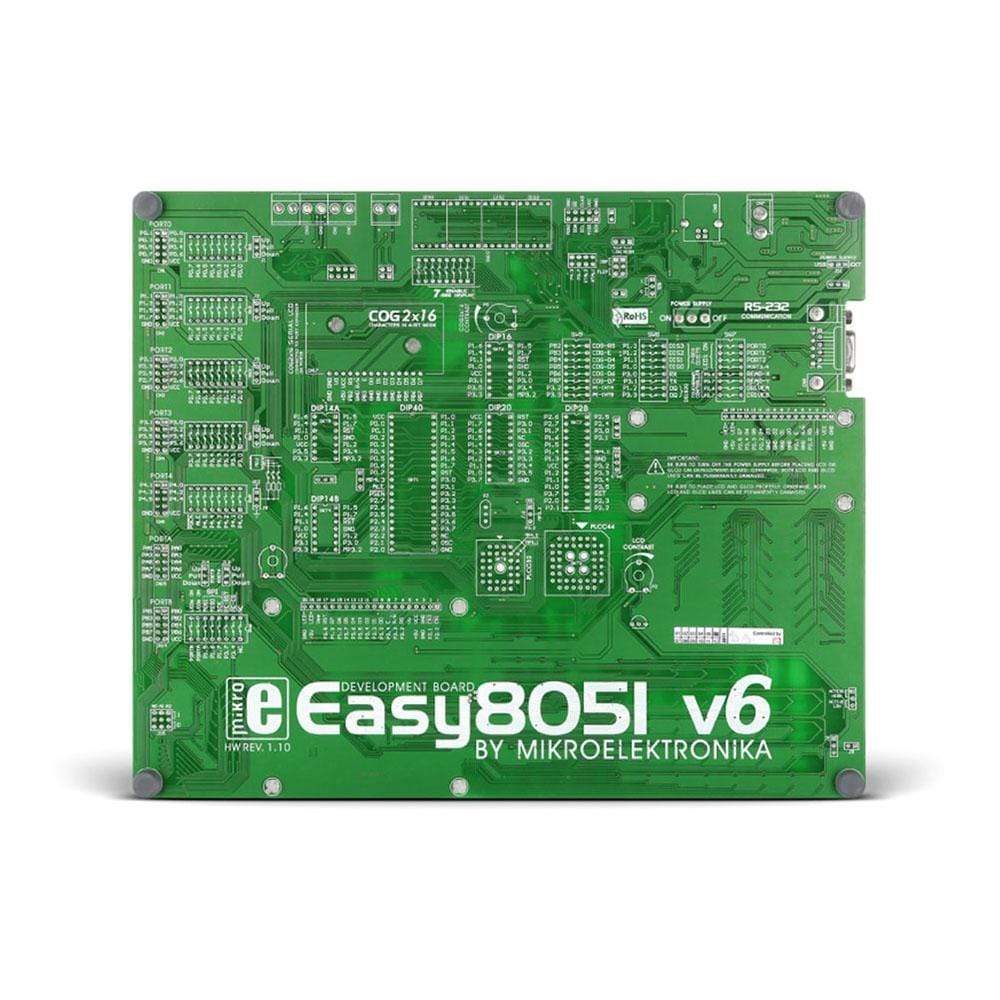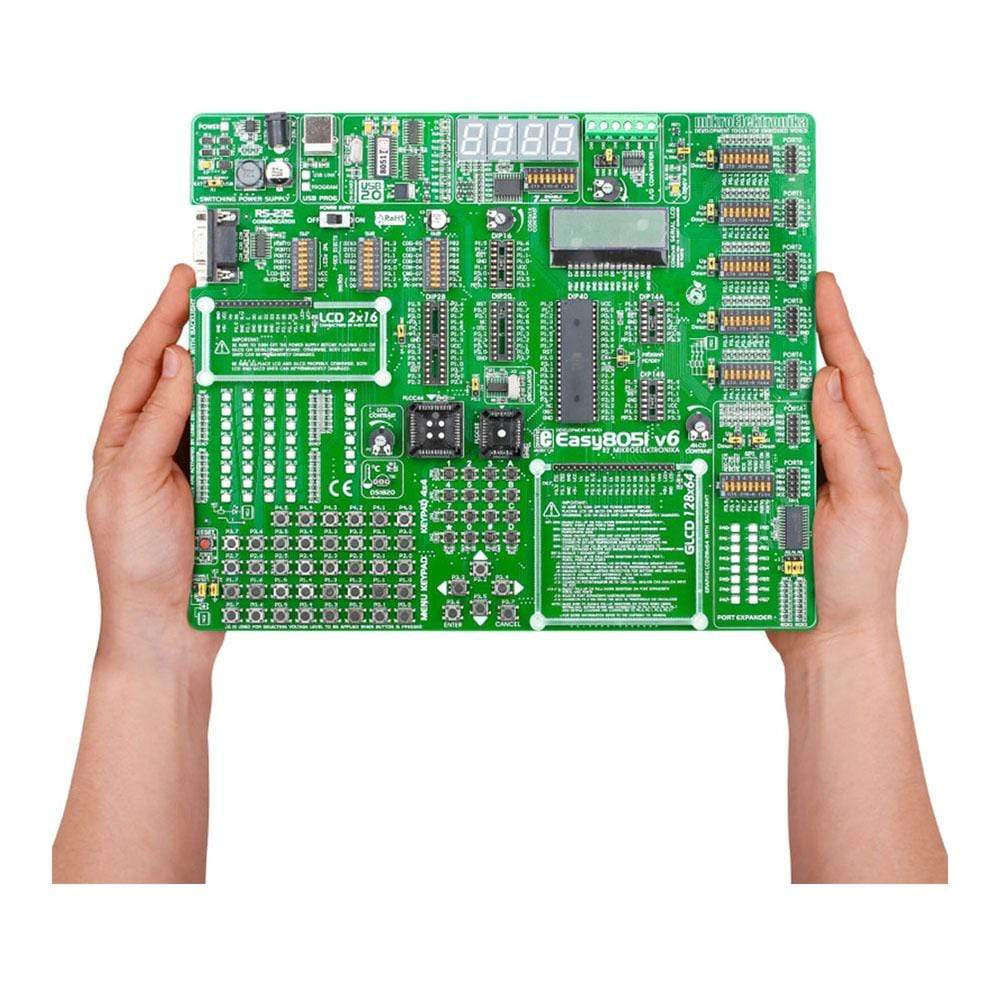 AT89S8253 Microcontroller
Manufactured by Atmel, the AT89S8253 microcontroller is a low-power, high-performance 8-bit microcontroller with 2 Kb of EEPROM Memory and 12 Kb of Flash Memory for storing programs. It has a maximum operating frequency of 24 MHz. Compatible with 8051 family, it is made using Atmel high-density nonvolatile memory technology. This versatile solution with downloadable flash makes a great choice for many embedded control applications.
Supported Microcontrollers
The Easy8051 v6 Development System includes eight separate sockets for 8051 microcontrollers in DIP14 (two pinouts), DIP16, DIP20, DIP28, DIP40, PLCC32, and PLCC44 packages. The use of two sockets in DIP14 package depends solely on the pinout of the microcontroller in use. The jumpers J7, J8, and J16 next to the DIP40 socket and oscillator are utilized for selecting functions of the microcontroller pins.
Power Input
The Easy8051 v6 board can be powered either by the USB programming connector or through an external barrel jack (9-32V DC or 7-23V AC). A jumper J11 enables the user to select which input to use, and a power supply switch allows user to turn the system off.
Easy8051 v6 Development Board
Frequently Asked Questions
Have a Question?
Be the first to ask a question about this.
Ask a Question