Mouse or Keyboard Interface
When pre-ordered, this item normally ships within 10 working days
Introduce easy and fast PS/2 connectivity to the prototype or device using the EasyPS/2 Board. The EasyPS/2 Board offers a direct connection between your microcontroller system and devices using PS/2 connectivity, such as a PC, keyboard, mouse, or other input devices to a computer. For instance, the microcontroller can be linked either to a keyboard to capture pressed keys or to a PC to act as a keyboard or a mouse itself.
The EasyPS/2 Board also includes a standard PS/2 connector in a metal shield and a female IDC10 header for easy connection to the host system. Also, there are DIP switches that allow flexible configuration of the CLOCK and DATA lines. The clear marking on the board facilitates secure and easy connections. The EasyPS/2 board is designed to operate using the 5V power supply only, according to the PS/2 standard specification.
View full details
SKU: MIKROE-486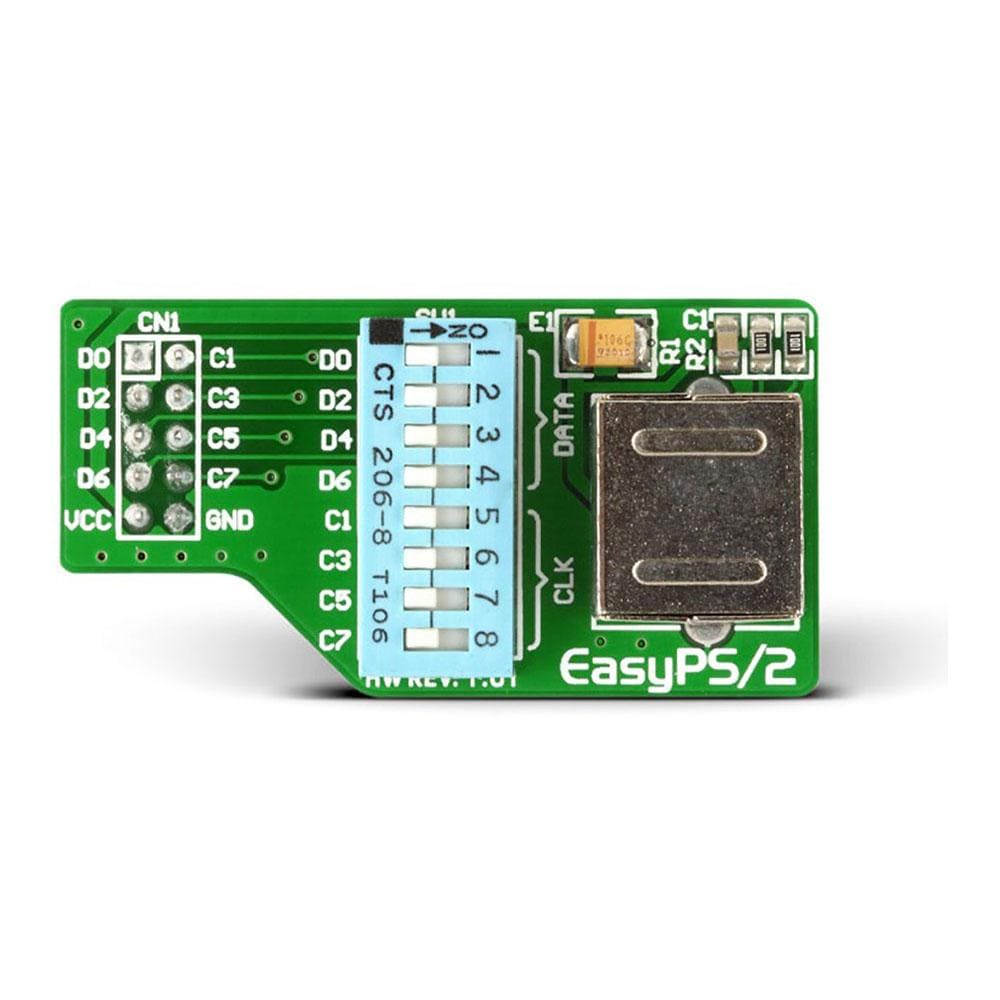 The EasyPS/2 Board is a great way to add PS/2 connectivity to your prototype, development board or final device. It features standard PS/2 connector in metal shield and female IDC10 header compatible with mikroElektronika development boards. Additional DIP switches enable you to select DATA and CLOCK lines that match your target application. Board is clearly marked which helps facilitate connections.
PS/2 Connector
The PS/2 connector is a 6-pin mini-DIN connector that allows connection between devices like keyboards and mice to a PC compatible computer system. Generally, purple PS/2 ports are used to connect the keyboards while green PS/2 ports are to be connect the mice.
Note: The PS/2 standard had been completely replaced by the faster and more flexible USB standard in consumer machines.
VCC is on pin 9 of the IDC10 connector and GND on pin 10. The DIP switches enable the user to choose pins 1, 3, 5, and 7 for the DATA line (D0/D2/D4/D6), and pins 2, 4, 6, and 8 for the CLK line (C1/C3/C5/C7). This plug-in compatible board with I/O port headers on various mikroElektronikas development systems also gives user with options for the design.
EasyPS/2 Board
Frequently Asked Questions
Have a Question?
Be the first to ask a question about this.
Ask a Question