Pre-Ordered items ship within 10 days of ordering
The Array Electronic 3715A DC Programmable Electronic Load is designed to dissipate 200W and is ideal for battery, solar cell, power driver and power supply testing.
View full details
SKU: 3715A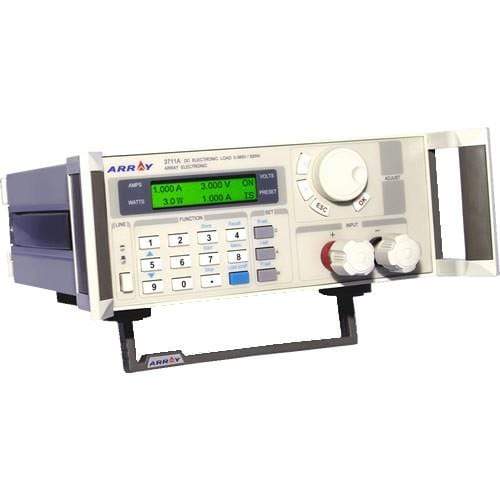 ARRAY 3715A programmable electronic load, as a new generation product of ARRAY Electronic Co., Ltd., is designed with high performance. It provides you powerful test function, user-friendly HMI, as well as RS232 interface to support SCPI and Labview. 3715A can be widely used in scientific research and production fields such as aerospace, shipbuilding, automotive electronics, solar cell, and fuel cell etc.
Features
4 basic test functions: CC, CV, CR and CP
16 bits DAC and 12 bits ADC converters integrated
The minimum operating voltage is less than 2V at the load's full rated current. The maximum current can be acheived even though the input voltage is 0V. This is especially useful for fuel cell, solar cell and other new energy test applications
Perfect protection assures high reliability in the most complicated of test environments
Powerful sequential test function; with a minimum step time of 50mS, and a maximum step time of 99999S.
Cycle time can be adjusted between 0-255 and a sequence can be chained to another one to acheive even more complex test procedures
A high-efficiency, intelligent cooling system can effectively reduce system temperature and enhance power density
Status saving function simplifies test operation
The combined use of knob and digital keypad makes the operation more convenient and user friendly.
Save/Recall function can save multiple groups of common settings
Model
3715A
Current
0~30A
Voltage
0~360V
Power
250W at 40oC
Minimum Operation Voltage@ Full Scale Current
2V
Current Range Resolution (Accuracy)
1 mA (0~3A)±0.2%±5mA
10 mA (0-30A)±0.2%±30mA
Voltage Range Resolution(Accuracy)
0~360V
1 mV(0-3.6V)±0.2%±3mV
10mV(0-36V)±0.2%±30mV
100mV(0-360V)±0.2%±300mV
Resistance Range Resolution (Accuracy)
0~2000Ω
0.001Ω
0.3%+0.002Ω
Power Range
0~200W
Resolution @P<100W
1mW
      @P≥100W
10mW
Accuracy
0.2%+600mW
Step Time
500ms~99999s
Resolution
500ms
Accuracy
0.2%+500ms
Step Number
1~50
Cycle
1~255
Store Capacity
4 lists
Protection Features
OV, OC,OT, OP,RV
Current(rms/p-p)
3mA/30mA
Voltage(rms)
5mV
Temperature
0~40oC
Relative Humidity
≤85%
Remote Interface
RS232
Programming Language
SCPI
Voltage
AC110V or AC220V±15℅
Frequency
48 to 63Hz
Net Weight
5 kg
Array 3715A 0-30A, 0-300V, 0-200W DC Electronic Load
Frequently Asked Questions
Have a Question?
Be the first to ask a question about this.
Ask a Question