68/136 Channels with Advanced Triggering and Protocol Decoders

Regular price

$8,588.00 USD

excluding tax

Regular price

Sale price

$8,588.00 USD

excluding tax

Unit price

per

Sale

Sold out
Key Features
Up to 128 channels for comprehensive signal analysis
2 GHz timing and 250 MHz state analysis capabilities
8 GB of stackable memory for extensive data capture
Supports over 80 protocols for versatile analysis
Introducing the Acute Technologies LA3000+ Series Logic Analyzer: A High-Performance and Versatile Tool for Digital Signal Analysis
Key Features
PC-based with USB 3.0 interface for fast data transfer
Up to 64 channels for comprehensive signal analysis
2 GHz timing and 250 MHz state analysis capabilities
8 GB of stackable memory for extensive data capture
Supports over 80 protocols for versatile analysis
Compact and portable design for on-the-go use
External trigger support for precise data capture
Benefits
The Acute Technologies LA3000+ Series Logic Analyzer is a powerful and versatile tool designed to analyse high-speed digital signals easily. Its key benefits include:
High-performance analysis: With 2 GHz timing and 250 MHz state analysis capabilities, the LA3000+ Series Logic Analyzer offers high-performance analysis for accurate and reliable results.
Multi-channel support: The analyser supports up to 136 channels, allowing you to capture and analyse multiple signals simultaneously. This is particularly useful for debugging microprocessor or microcontroller-based boards.
Extensive protocol support: The LA3000+ Series Logic Analyzer supports over 80 protocols, including UART, SPI, I2C, and USB, making it a versatile tool for various applications.
Large memory capacity: With 8 GB of stackable memory, the analyser can capture and store significant data, allowing you to analyse complex signals and identify issues more effectively.
Compact and portable: The LA3000+ Series Logic Analyzer's compact design makes it easy to carry and use in various settings, whether in the lab or on the go.
Easy-to-use software: The analyser has user-friendly software that allows you to navigate large amounts of signal data, including zooming, panning, and searching.
Cost-effective solution: The LA3000+ Series Logic Analyzer offers high performance and versatility at a lower cost than other solutions on the market.
Applications
The Acute Technologies LA3000+ Series Logic Analyzer is ideal for a wide range of applications, including:
Debugging and troubleshooting digital circuits
Analysing and decoding various bus protocols
Capturing and analysing digital signals in real-time
Learning and understanding digital timing sequence relationships
Invest in the Acute Technologies LA3000+ Series Logic Analyzer today and experience the power and versatility of this essential tool for digital signal analysis.
View full details
SKU: LA3068E+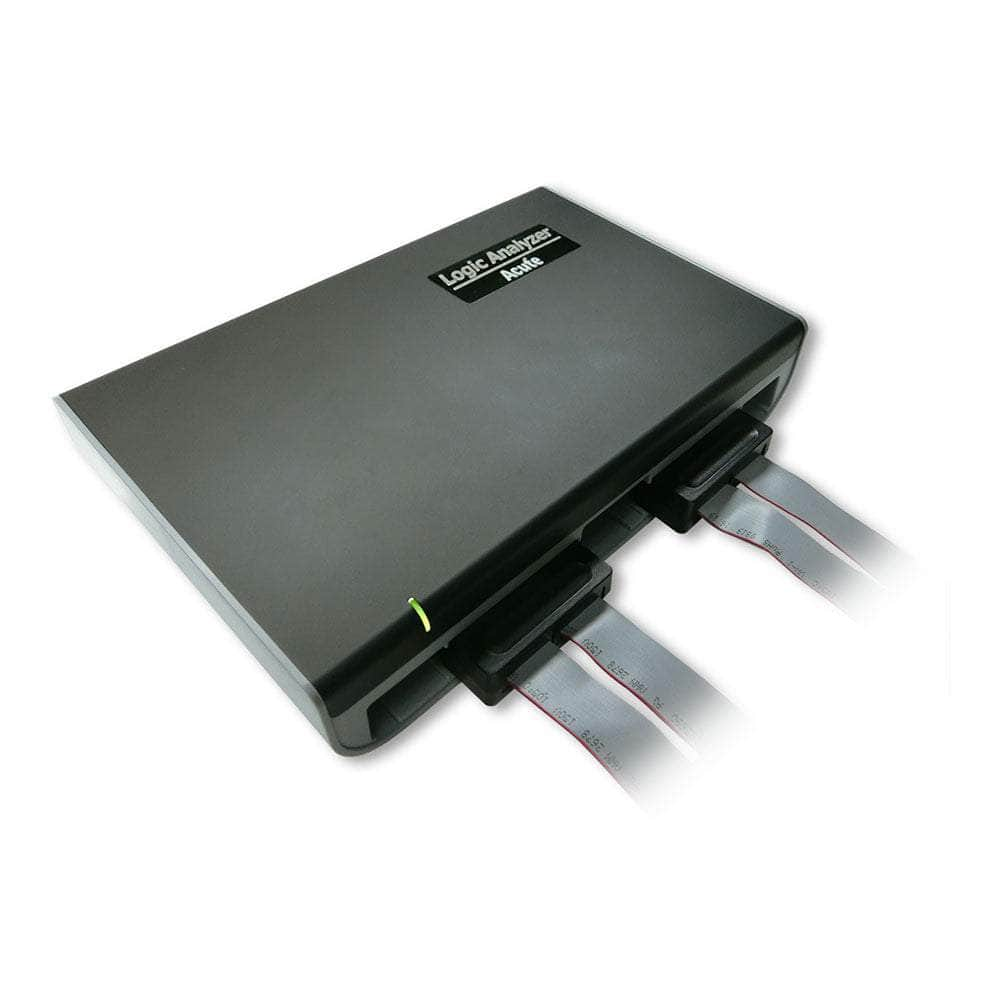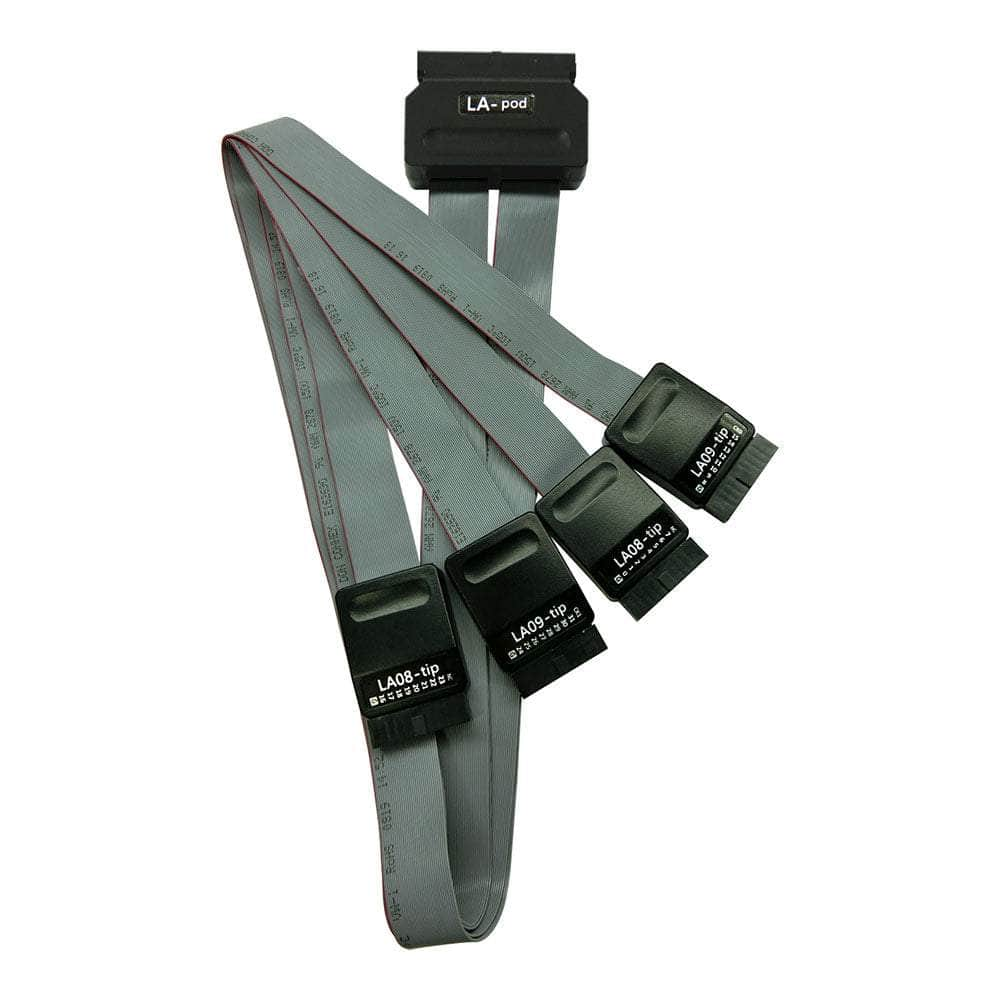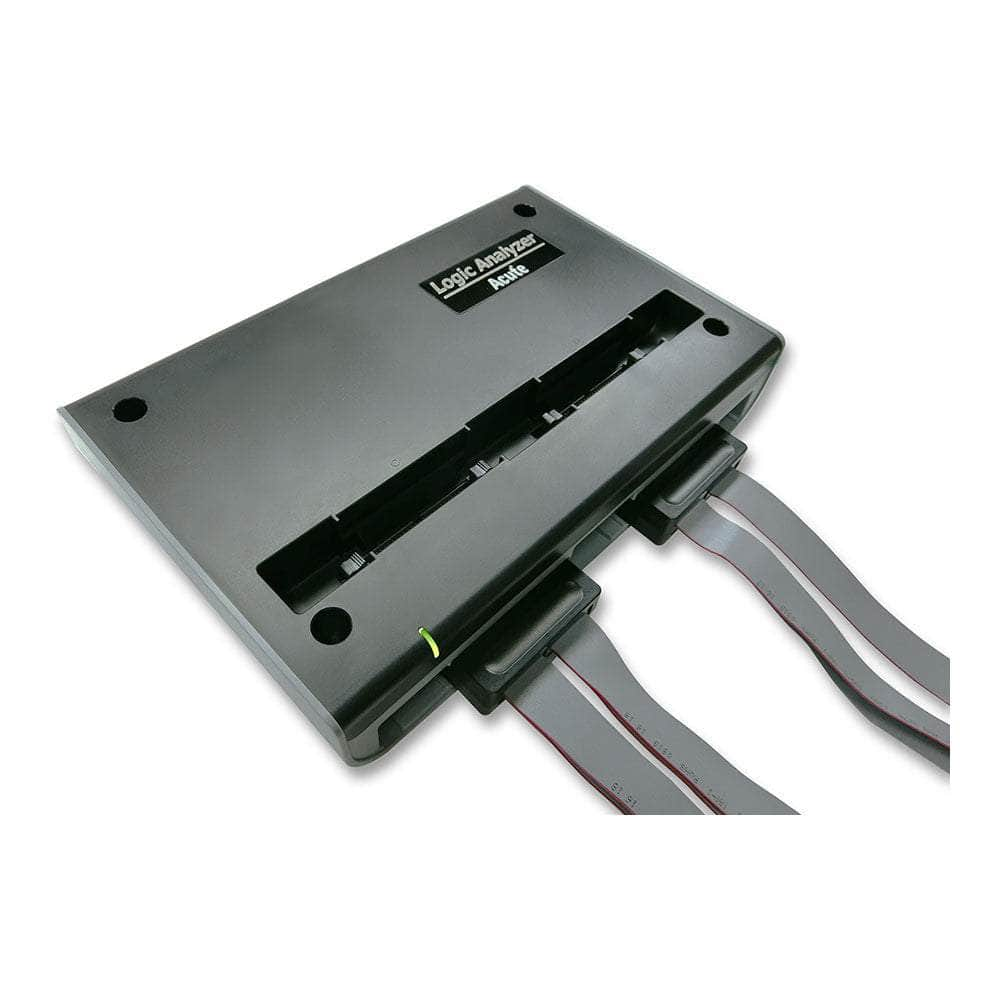 Overview
The LA-3000 Plus is a powerful PC-based logic analyzer with 68 or 136 channels. It supports timing analysis up to 2.4GHz and state analysis up to 300MHz. With a 32Gb memory and USB 3.0 interface, it captures and analyzes complex digital signals.
Key Features
PC-Based Design: Controlled by software on a Windows PC
High Channel Count: Number of digital signal lines that can be captured
Fast Sampling: How many times per second the signal is measured
Large Memory: 32Gb stores long capture sequences
USB 3.0 Interface: Fast data transfer to PC
Active Probes: Improves signal integrity by buffering signals
Advanced Triggering: Start capturing based on signal conditions
Stackable with DSO: Forms a mixed-signal oscilloscope
Capture Capabilities
Timing Analysis: Captures signal edges up to 2.4GHz
State Analysis: Samples signal level up to 300MHz with external clock
Huge Memory: 32Gb stores long capture sequences
Pre-Trigger: Capture events before the trigger condition occurs
Post-Trigger: Capture events after the trigger condition occurs
Zooming: Zoom in on signals up to 1000000X magnification
Triggering
The LA-3000 Plus has advanced triggering capabilities to start capturing data at the right time:
Channel Trigger: Trigger when a single channel matches a specified voltage level (rising, falling, or either edge)
Pattern Trigger: Trigger when a pattern of multiple channels matches specified conditions. Useful for triggering on bus cycles.
Bus Trigger: Trigger on specific events detected on supported bus protocols like start/stop on I2C or SPI frame completion. Requires no setup compared to pattern trigger.
State Trigger: Trigger when a sequence of signal levels matches specified conditions. Useful for state machine testing.
Time-out Trigger: Trigger if no other trigger event occurs within a specified time period. Useful to detect timing errors.
External Trigger: Trigger from an external signal source connected to the trigger input. Useful for synchronizing captures across multiple devices.
The advanced triggering allows highly flexible capture configurations to isolate events of interest from large data streams. For example, triggering on a specific I2C read cycle in the middle of other bus traffic.The LA-3000 Plus offers single-shot and repetitive triggering modes, AND/OR trigger combinations, trigger counters, and other advanced options. This powerful triggering capability coupled with the high sampling rate and deep memory enables insightful analysis of complex logic signals.
Bus Decoding
The analyzer can decode parallel and serial buses in real-time:
Parallel: Decode bus standards like ARM SWD
Serial: Decode protocols like I2C, SPI, USB, UART, CAN
Analysis and Reporting
Powerful software provides:
Live Bus Decoding
Fast Navigation through data
Custom Reports
Annotations and Labels
Data Export Options
With its high channel count, fast sampling, advanced triggering, and powerful software, the LA-3000 Plus captures and analyzes complex logic signals.
Acute Technology LA3000 Plus Series 68/136 Ch Logic Analyser
Can I set a trigger on a bus protocol state?

Yes, you can set a trigger on a bus protocol state with the LA3000 Plus Logic Analyzer. The device supports various bus triggers, including Bus Trigger I (I²C, MIPI I3C 1.1, SPI, UART (RS232), USB PD 3, etc.) and Bus Trigger II (eMMC5.1, eSPI, NAND Flash, SD3.0, Serial Flash, SVID, etc.)

This allows you to capture and analyze specific events or conditions in the bus protocol during your analysis.

How many channels does the LA3000Plus have?

The LA3000 Plus Logic Analyzer has either 68 or 136 channels, depending on the specific mode.

What is the Acute Technology LA3000 Plus Series Logic Analyser?

The LA3000 Plus Logic Analyzer, a PC-based logic analyzer developed by Acute Technology Inc. It is designed for analyzing digital signals and protocols in electronic systems. The LA3000 Plus offers various features, such as 68/136 channels, USB 3.0 interface, 2.4GHz Timing Analysis / 300MHz State Analysis, 32Gb memory, active probe, logic, state, and protocol triggers, and support for over 100 bus decodes. It is compatible with Windows 7, Windows 8, Windows 10 (64-bit), and Windows 11 operating systems and requires a USB 3.0 port and a minimum of 8GB RAM (16GB recommended) on the PC