Compact USB Real-Time Analyser

Regular price

$10,966.00 USD

excluding tax

Regular price

Sale price

$10,966.00 USD

excluding tax

Unit price

per

Sale

Sold out

Pre-Ordered items ship within 10 days of ordering
Introducing the SPECTRAN V6 PLUS 2000XA-6: Your Ultimate High-End USB Desktop Real-Time Analyzer
Discover the pinnacle of performance with the SPECTRAN V6 PLUS 2000XA-6, the flagship offering from Aaronia's cutting-edge lineup of real-time spectrum analyzers. Unleash the power of a 160MHz real-time bandwidth (expandable to 245MHz) alongside an unparalleled vector signal generator, setting new benchmarks in the realm of USB spectrum analyzer instruments!
Unprecedented Power Packed into a Compact Design
Designed to impress, the SPECTRAN V6 PLUS 2000XA-6 boasts a sleek aluminium housing measuring just 210 x 115 x 30 mm, and weighing only 850g. Its compact form factor finds a perfect home in laboratories or is an excellent companion for on-the-go applications with laptops, thanks to its low power requirements. With a real-time mode IQ-based POI as swift as 15ns, optionally reducible to an astounding 10ns, experience efficiency like never before.
Swift Scans and Seamless Connectivity
Experience lightning-fast scans from 10 MHz to 6 GHz (optionally up to 8GHz) achieved in a mere 5ms by the PLUS 2000XA-6, equating to a sweep speed of 700 GHz/s (upgradeable to 1100 GHz/s). Seamlessly transmit measurement data as raw I/Q data or FFT data via two USB3.x interfaces operating in parallel, ensuring data delivery at the speed of thought.
Empowering Software for Unrivaled Insights
Embrace the inclusive power of the modular "RTSA-Suite PRO" software, featuring over 20 measurement units and 5 detectors right in its basic version, including AVG and QPEAK. Unlock myriad unique display possibilities that can be further expanded with convenience through corresponding license keys. Even generate simple signals effortlessly using the complimentary bundled software blocks. For more advanced needs, opt for extensions enabling complex signal modulation, including QAM4096, achievable without additional USB connections.
Customization Beyond Boundaries
We understand that every setup is unique. That's why we offer versatile mounting and installation solutions, allowing you to tailor your SPECTRAN V6 PLUS 2000XA-6 according to your specific requirements, ensuring seamless integration into your workflow.
Experience the next dimension of precision and versatility. Elevate your spectrum analysis capabilities with the SPECTRAN V6 PLUS 2000XA-6 today!
View full details
SKU: 102/003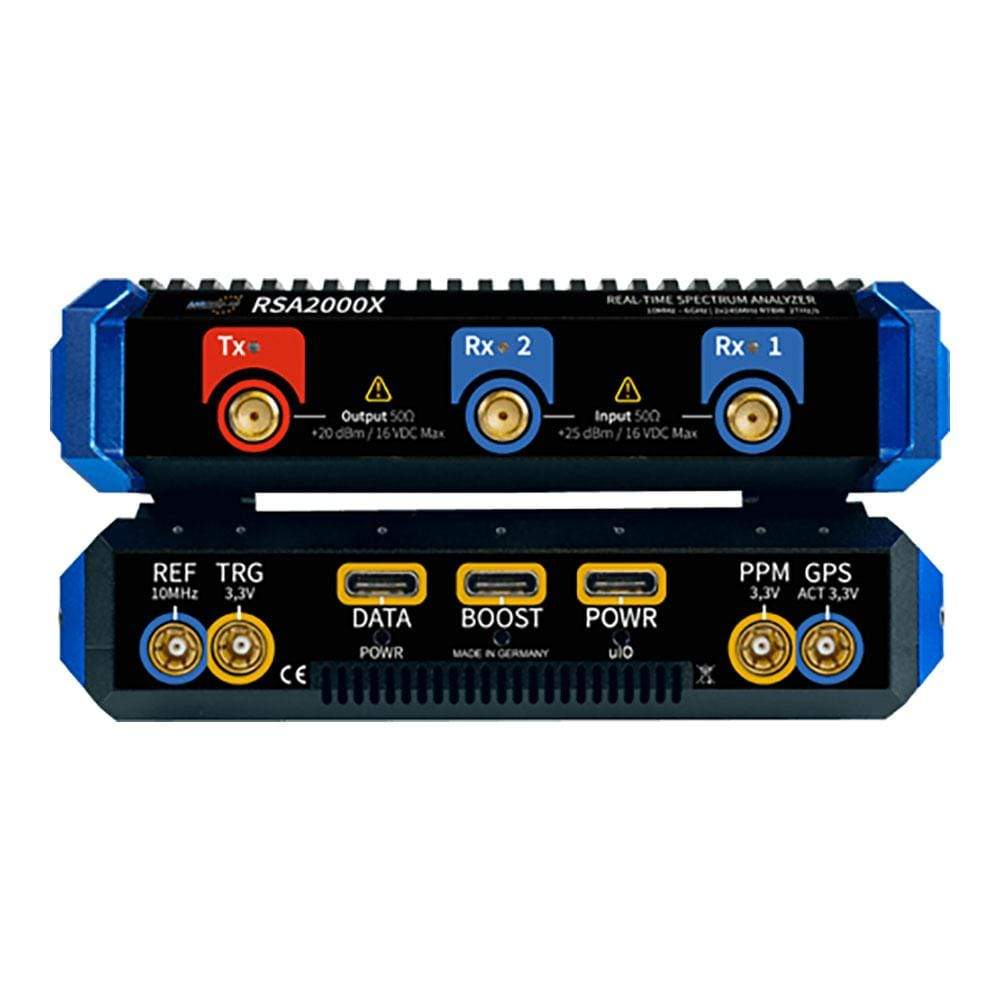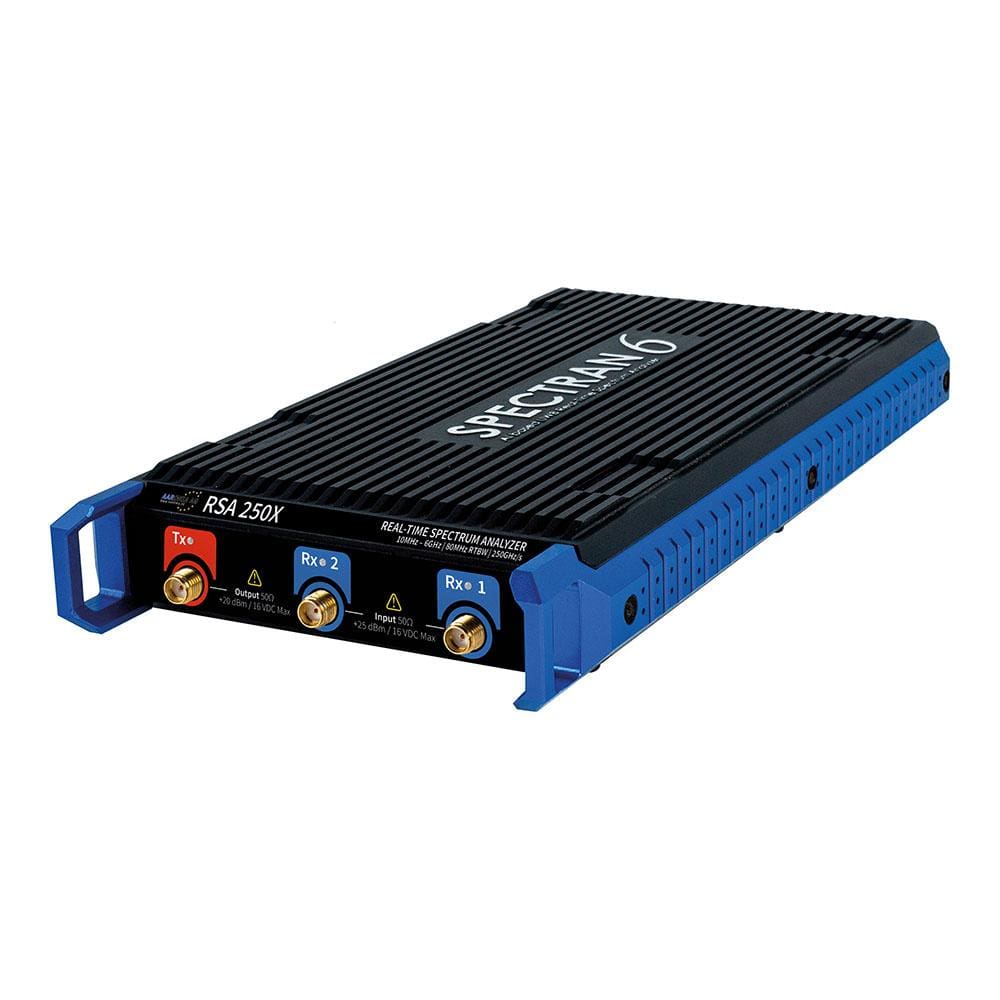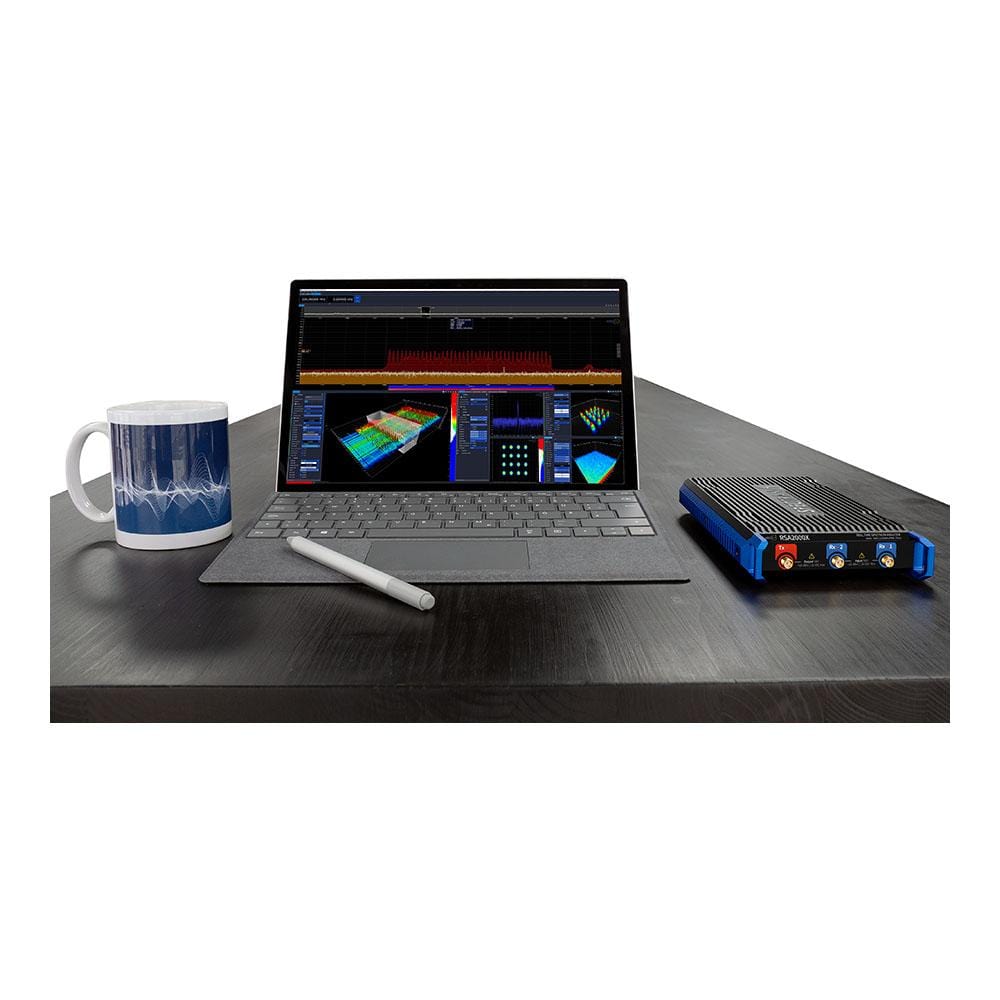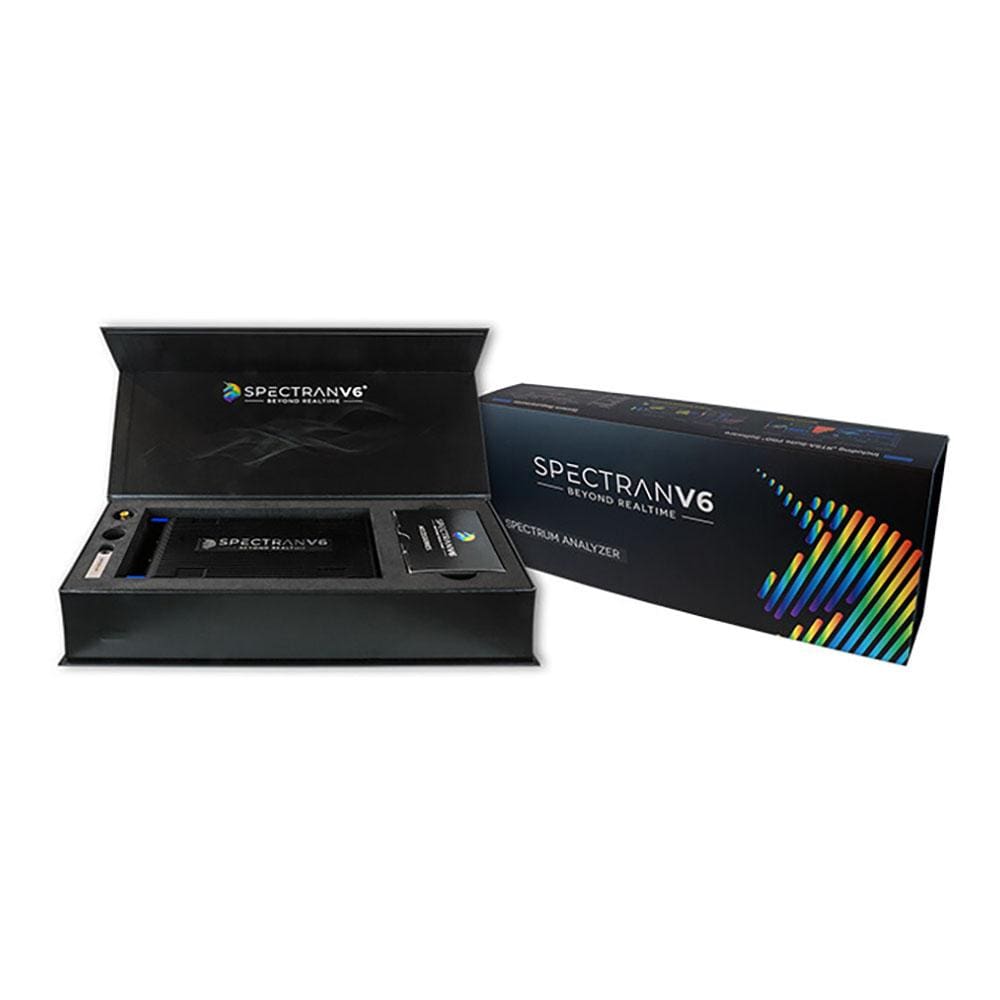 Introducing the SPECTRAN® V6 PLUS: Unmatched Real-Time Spectrum Analysis
The SPECTRAN® V6 PLUS by Aaronia is a cutting-edge, high-performance spectrum analyzer and monitoring receiver that redefines real-time signal analysis. Engineered to capture even the most fleeting signal transmissions, this device boasts unparalleled scanning speed and recording capabilities, setting a new benchmark in the field.
Lightning-Fast Scanning and Recording
Experience the pinnacle of efficiency with the SPECTRAN® V6 PLUS. With the ability to scan 6 GHz in less than 5 ms, this analyzer stands as the world's fastest USB spectrum analyzer. Every nuance of your signal environment is unveiled with remarkable speed and precision.
Versatility for RF Challenges
Conquer a wide array of RF challenges with confidence. From comprehensive spectrum monitoring and RF/microwave measurements to interference hunting, EMC testing, and Wi-Fi/wireless network analysis, the SPECTRAN® V6 PLUS stands as the ultimate solution for dependable and rapid measurements.
Compact and Portable Design
Weighing a mere 850g, the V6 PLUS redefines portability. This sleek design ensures that it seamlessly transitions between fieldwork and laboratory environments. Moreover, the included RTSA-Suite PRO analysis software transforms the V6 PLUS into a fully-fledged benchtop spectrum analyzer, adding a layer of versatility to its capabilities.
Tailored Solutions for Every Application
Experience versatility like never before. The SPECTRAN® V6 PLUS is meticulously engineered to cater to a wide spectrum of applications. No matter the task at hand, this analyzer offers a tailor-made solution that adapts to your unique requirements.
Discover the future of real-time spectrum analysis with the SPECTRAN® V6 PLUS. Elevate your measurements to new heights of precision and reliability.
Highlights
Radio Frequency Range: 10 MHz to 6/8 GHz
Dual USB True I/Q Streaming Spectrum Analyzer:

Up to 784 MBytes/s
Scans 6 GHz in under 5 ms (1 THz/s)

Unlimited, Continuous True I/Q Streaming:
Instantaneous Bandwidth (Complex I/Q): Up to 245 MHz
I/Q Vector Signal Generator Bandwidth: Up to 245 MHz
FFT-Based POI (Pulse Onset Indicator): Up to 97 ns
I/Q-Based POI: Up to 10 ns
Exceptional Dynamic Range:
Sample Rate: 500 MSPS (16 Bit Dual 256 MSPS I/Q-Data)
FPGA: 930 GMAC/s
FFT Rate: 960 Million FFT-Points/s (120 Million FFTs/s)
Full MATLAB Support
Fully Automatic Pulse Classification:

Decodes WiFi, BT, GSM, DECT, QPSK, QAM, etc.

Stackable Accessories
Compact and Lightweight: just 850g
Includes "RTSA-Suite PRO" Spectrum Analysis Software:
Manufactured in Germany
Housing
The high-quality black anodized housing is machined from a solid aluminium block. Thus the SPECTRAN® V6 X achieves an optimal shielding and cooling for the internal components. At the same time, the housing construction ensures maximum robustness. The integrated fan is speed- and temperature-controlled and thus generates only minimal noise.
USB
Depending on the version, the SPECTRAN® V6 X has one or two USB 3.0 ports for data transfer. A further USB port can optionally be used as power supply. A 26,800 mAh power pack with the same form factor is available separately and allows operation without the strain on the laptop battery.
Options / Extensions
- Frequency extension 6 ‐ 8 GHz for WiFi 6E
- OCXO time base - 5 ppb with extremely high shock and vibration resistance (±0.1 ppb/g)
- 120 MHz RTBW (for V6-RSA250X & V6-RSA500X)
- 245 MHz RTBW (only for V6-RSA2000X - via 2 x USB)
- 120 MHz Vector Signal Generator (only for V6-RSA250X, already integrated in the higher versions)
- Extremely low-noise preamplifier with 20 dB gain
- Internal GPS (Includes spoofing detection and active GPS antenna with SMB cable)
- RF over Fiber
- 4-way Splitter
- 26800 mAh Powerbank
- Large selection of compatible Aaronia antennas
Software
The spectrum analyzer is supplied with the latest version of the RTSA-Suite PRO software.
It is the most powerful and versatile spectrum analysis software solution on the market. The RTSA-Suite PRO allows signals to be displayed and analyzed in real time in many different ways. The software is constantly being developed and expanded. In the download section we provide daily updates. In the SPECTRAN® V6 Forum you will find all the latest information about our software.
What is Included?


The SPECTRAN® V6 X is supplied with all necessary USB cables and also the RTSA-Suite PRO software with manuals on USB a stick. A waterproof and shockproof transport case is available as an option.
Made in Germany
The SPECTRAN® V6 PLUS spectrum analyzer and vector signal generator is designed and assembled in Germany, guaranteeing the highest quality standards.
Specifications
| Specifications | SPECTRAN® V6 PLUS |
| --- | --- |
| Frequency range | 10 MHz to 6 | 8 GHz |
| Real-time bandwidth Rx | Up to 245 MHz I/Q – via 2 x USB |
| Real-time bandwidth Tx | 120 MHz I/Q |
| POI | Up to 97 ns (FFT-based), 10ns (direct I/Q-based) |
| Max. power Rx | +23 dBm |
| Max. power Tx | +20 dBm |
| DANL (internal pre-amp on) | Typ. -170 dBm/Hz |
| Amplitude accuracy (typ.) | Typ. +/- 0,5 dB (compensated by FIR filter) |
| USB streaming connection | One or two USB 3.0 (USB 3.1 Gen1; USB 3.2 Gen1) |
| USB bandwidth (2 x USB 3.0) | Up to 784 MBytes/s sustained throughput to PC |
| Frequency reference accuracy | 0,5 ppm (5 ppb via OCXO option) |
| RBW (resolution bandwidth) | 62 mHz to 200 MHz |
| Measurement units | Over 20 (e.g. dBm, dBμV, V/m, A/m, W/m², dBμV/m, W/cm²) |
| Detector | Min, Max, AVG, Peak, QPeak |
| Attenuator range | 50 dB / 70 dB (0,5 dB steps) |
| Traces | Over 20 (e.g. ACT, AVG, MAX, MIN, QPEAK) |
| Measurement modes | True IQ or Power/Frequency data |
| Trigger | Cursor, Measurement, Density |
| ADC | Dual 2GSPS 16 Bit |
| DAC | 2GSPS 14-Bit |
| GPS | GPS/QZSS, GLONASS, BeiDou and Galileo (concurrent reception) |
| GPS synchronisation | +/- 10ns timestamping in each data packet |
| External frequency reference input | typ. 10MHz, 3,5VRMS into 50 Ohm (SMB-connector) |
| FPGA | XC7A200T-2 |
| DSP processing | 930 GMACs |
| SDRAM | 2 GB |
| Temperature range (operation) | 0 °C to +50 °C (extended -40 to +75 °C) |
| Dimensions | 210 x 115 x 30 mm |
| Weight | 850 g |
| Power | USB 3.2 Gen 1 Type-C PD 3.0 |
| Power consumption | Typical 15 W |
| Country of origin | Germany |
| Recommended calibration interval | 2 years |
Aaronia SPECTRAN V6 PLUS 2000XA-6 Spectrum Analyser
Frequently Asked Questions
Have a Question?
Be the first to ask a question about this.
Ask a Question
Download Files