8-16V to 5V or 3.3V Regulator
When pre-ordered, this item normally ships within 10 working days
The 5V-3.3VReg Board is an accessory board that includes an onboard regulator. This regulator is used to provide local on-card regulation by reducing the voltage from 8-16V AC/DC to 5V or 3.3V DC.
The 5V-3.3V Reg Board is very handy for systems that demand a regulated 3.3V or 5V power supply.
View full details
SKU: MIKROE-192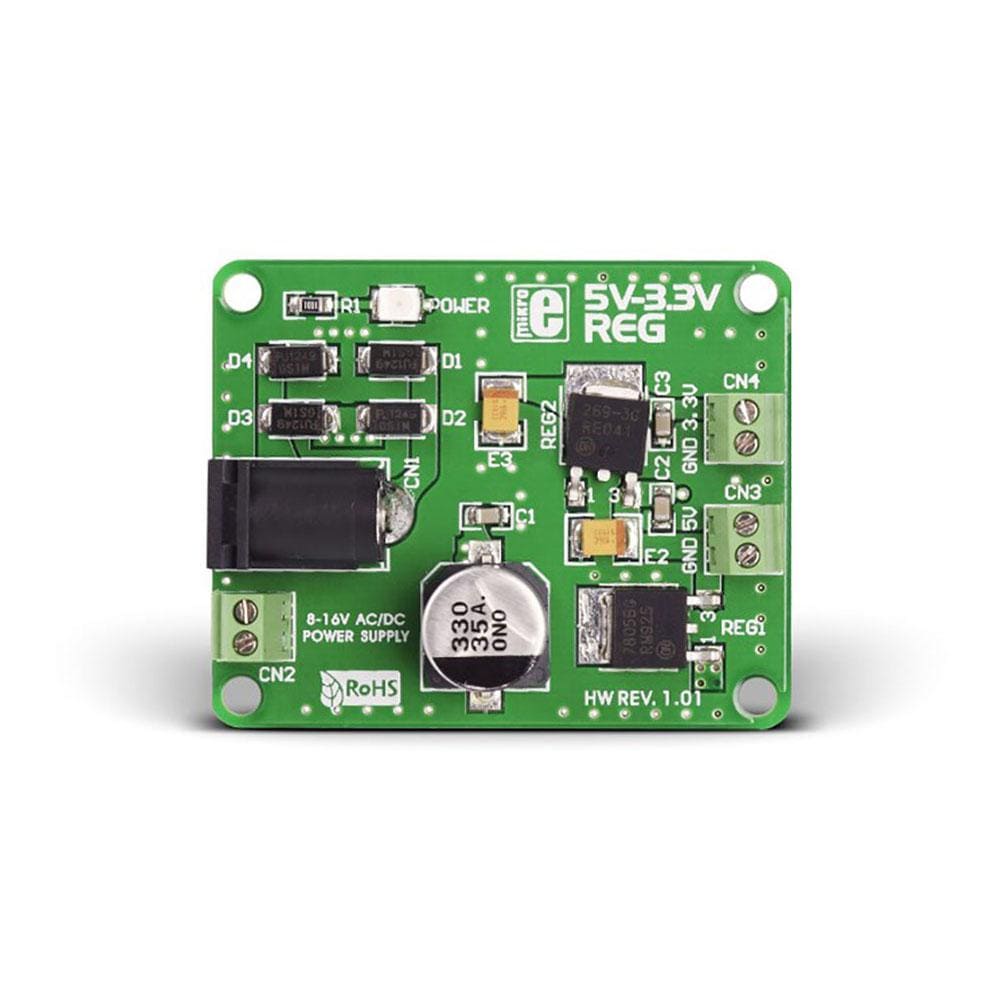 Provide a stable and reliable 3.3V and 5V power supply to the device using the 5V-3.3V Reg Board. This regulator board features a LM7805 3-terminal 5V positive voltage regulator and a MC33269 3.3V low dropout positive voltage regulator to provide fixed supply voltages. The board features two voltage input options, which includes a screw terminal connector CN2 and AC/DC adapter connector CN1 (8 to 16V AC/DC). An on-board voltage regulator is used to reduce and stabilize the supplied voltage. The reduced voltage may be either 3.3V or 5V and is delivered via screw terminals CN3 (5V) and CN4 (3.3V). For 5V voltage, the maximum current amounts to 1A, whereas for 3.3V voltage, it amounts to 800 mA. Furthermore, 5V-3.3V Reg Board is provided with mounting holes for easy integration into the design. The board has a diode bridge of four 1N4007 diodes that performs as a rectifier when using an AC input, and as polarity protection when using a DC input.
IC/Module: LM7805 Positive Voltage Regulator
The LM7805 is a three-terminal positive voltage regulator with several fixed output voltages. Highly useful in a wide range of applications, this voltage regulator employs internal current limiting, thermal shutdown, and safe operating area protection. If adequate heat sinking is provided, it can deliver output current up to 1A.
IC/Module: MC33269 800 mA, Adjustable Output, Low Dropout Voltage Regulator
The MC33269 is a low dropout positive voltage regulator that works well for a wide range of low input voltage applications. It works as a cheap and reliable solution for precision voltage regulation while keeping the power losses to a minimum. It comprises of a 1V dropout composite PNP-NPN pass transistor, current limiting, and thermal shutdown.
5V-3.3V Reg Board
Frequently Asked Questions
Have a Question?
Be the first to ask a question about this.
Ask a Question