Regular price
$688.00 USD
excluding tax
Regular price
Sale price
$688.00 USD
excluding tax
Unit price
per
Sale
Sold out
Pre-Ordered items we are unable to quote a lead-time due to severe component shortages
The Total Phase USB Power Delivery Analyzer is a small adapter for recording the Power Delivery protocol traffic on the USB Type-C connector. It connects in-line between two Type-C products, and passively captures all communication between them, on both the CC1 and CC2 signals. While connected, it does not disturb any USB 3.1 Gen 2 or USB 2.0 signals, enabling the capture of PD negotiation for power, USB data roles, and DisplayPort, or other Type-C Alternate Modes.
Data Center Software brings simultaneous capture and true real-time display and decoding of captured data. It runs on Windows, Mac OS X, and Linux.
View full details
SKU: TP350110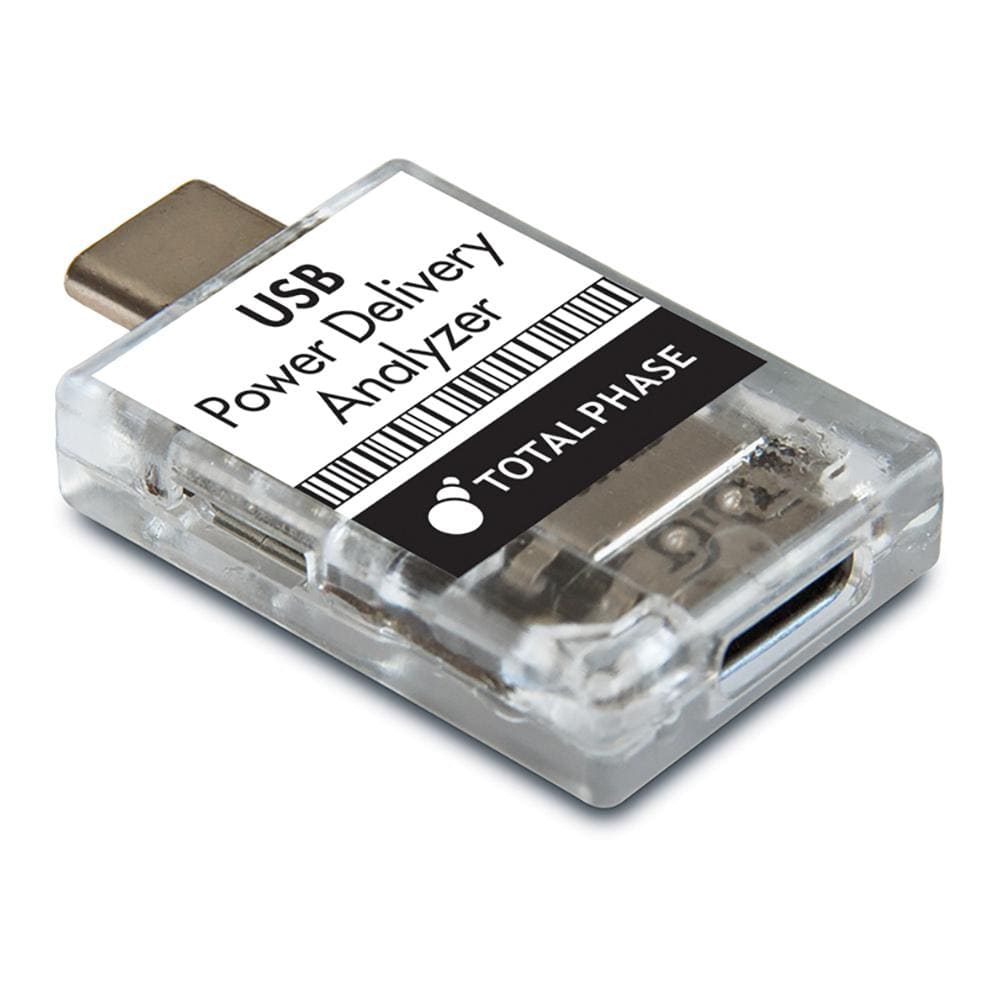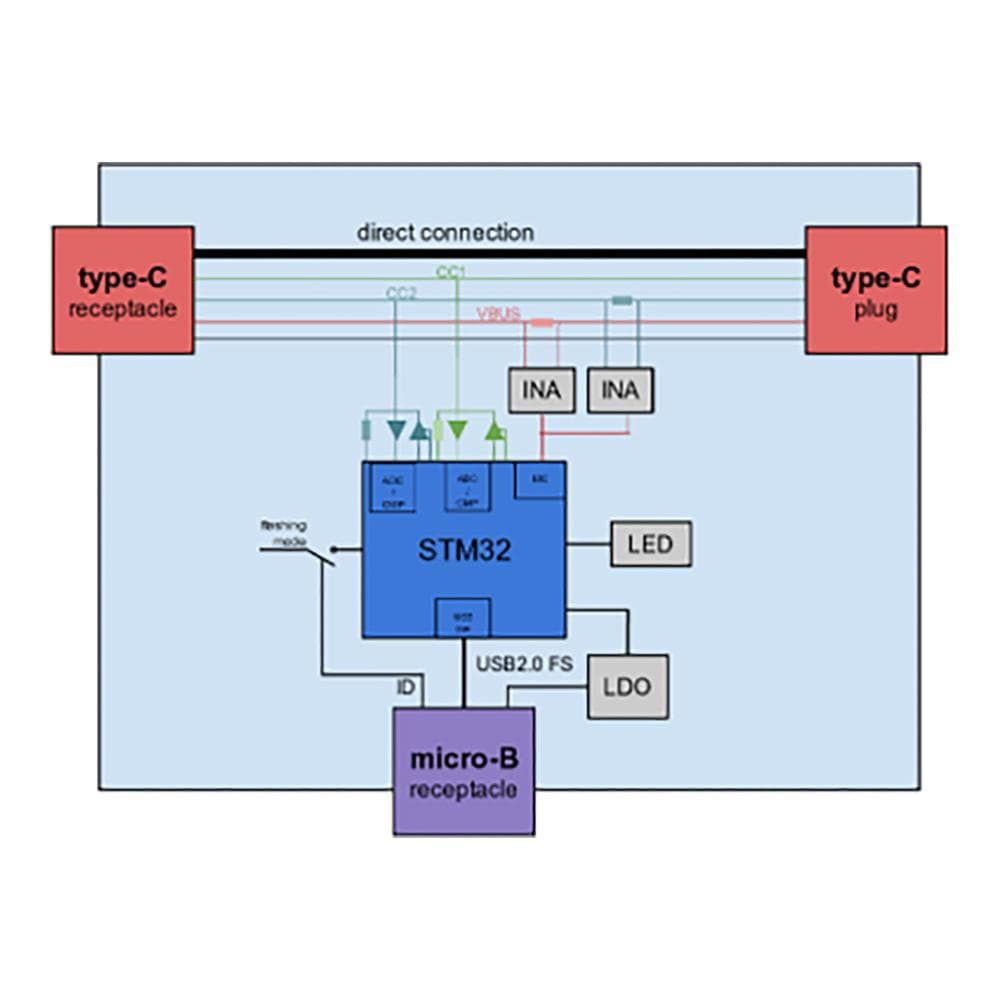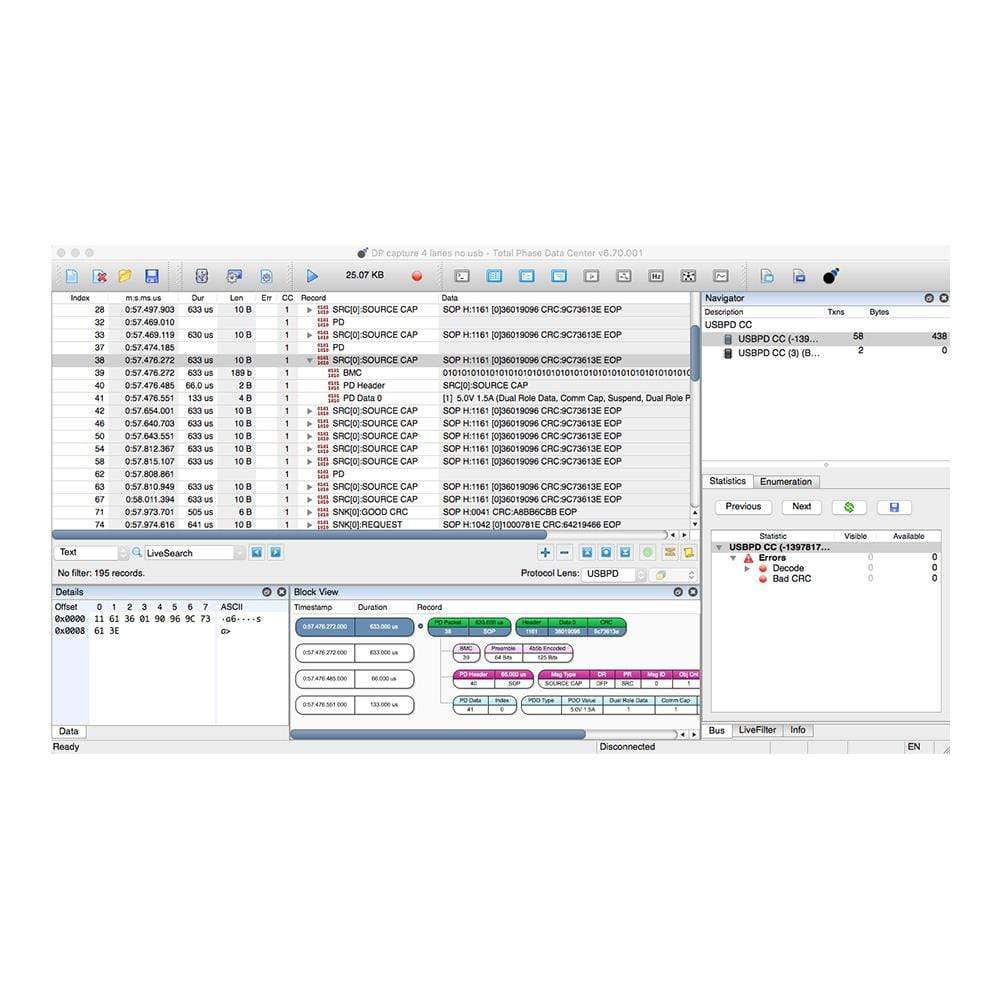 Features
Sniffing Power Delivery (PD) traffic on both Control Channel Lines (CC1/CC2)
Message decoding, including power negotiation, alternate mode negotiation, VDM data display, etc.
Capture and display PD 3.0 Extended Messages
Decode DisplayPort VDMs
Transparent interposing on a USB Type-C connection

USB Pass Through
SuperSpeedPlus Generation 2, 10 Gbps
SuperSpeed Generation 1, 5 Gbps
Hi-Speed, 480 Mbps
Full Speed, 12 Mbps
Low Speed, 1.5 Mbps

VBus Support (maximum)

Target Ports
1 x USB Type-C receptacle
1 x USB Type-C plug

Analysis Port (connects to PC)
USB 2.0 Micro B receptacle
Analyzer is bus-powered

Quality
RoHS
Six month warranty 
Manufacturing: ISO9001, ISO 13485, AS9100C, ITAR
Total Phase USB Power Delivery Analyser
Frequently Asked Questions
Have a Question?
Be the first to ask a question about this.
Ask a Question
Download Files
What's Included
Total Phase USB Power Delivery Analyser
USB Power Delivery Analyzer

(1) 6 foot USB A to USB Micro-B cable

(1) 6 inch Micro USB OTG Adaptor (Micro B male right-angle to Type A female)

(1) 3 foot USB 2.0 Cable (Type A male to Type A male)

Software (downloadable from Total Phase)