0.8V to 10V & 6A Buck Converter
Key Features
Wide input range, wide programmable adjusted output range, multiple functions for a small package, fixed soft start, high precision, dual-phase capability, superior EMI performance, spread-spectrum frequency modulation, and more
Based on the MAX20406 - an automotive fully integrated synchronous silent switcher buck converter from Analog Devices
Can be used for developing automotive infotainment systems, ADAS and other safety-critical components, industrial equipment, high-voltage DC-DC converters, and more
Introducing The Step Down 9 Click Board™: The Future of Voltage Conversion!
Welcome to the future of voltage conversion technology! The Step Down 9 Click Board™ is a revolutionary compact add-on board that is set to redefine the way we convert higher voltages into lower voltage levels. This state-of-the-art device is a must-have for anyone looking to develop automotive infotainment systems, ADAS, industrial equipment, high-voltage DC-DC converters, and other safety-critical components.
Key Features:
MAX20406 Buck Converter: A fully integrated synchronous silent switcher buck converter from Analog Devices, designed for automotive applications.
Wide Input Voltage Range: Operates with input voltages ranging from 3V up to 36V.
Programmable Output Voltages: Offers output voltages that are programmable in a range of 0.8V to 10V.
High Current Delivery: Capable of delivering up to 6A.
Low EMI Emission: Operates with minimal electromagnetic interference.
TPL0501 Digital Potentiometer: Features a single-channel digital potentiometer from Texas Instruments with a 256-position resolution and 100KΩ of end-to-end resistance.
Unmatched Benefits:
Optimized for Various Applications:
Whether you are developing automotive infotainment systems, industrial equipment, or other safety-critical components, Step Down 9 Click is the perfect solution, ensuring optimal performance and reliability.
Simplified Software Development:
Supported by a mikroSDK compliant library, this Click board™ includes functions that simplify software development, allowing you to focus on creating innovative solutions.
Ready to Use:
This Click board™ comes as a fully tested product, ready to be used on a system equipped with the mikroBUS™ socket, saving you time and effort in implementation.
View full details
SKU: MIKROE-5844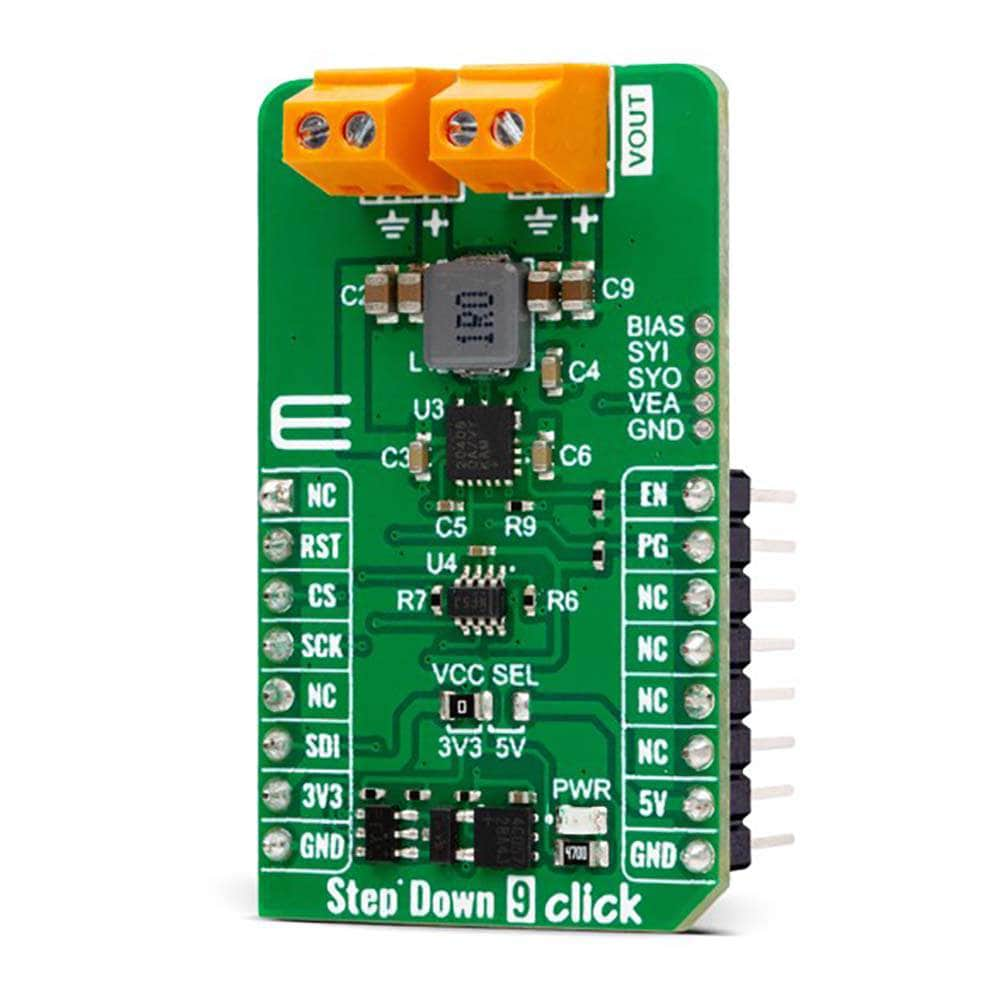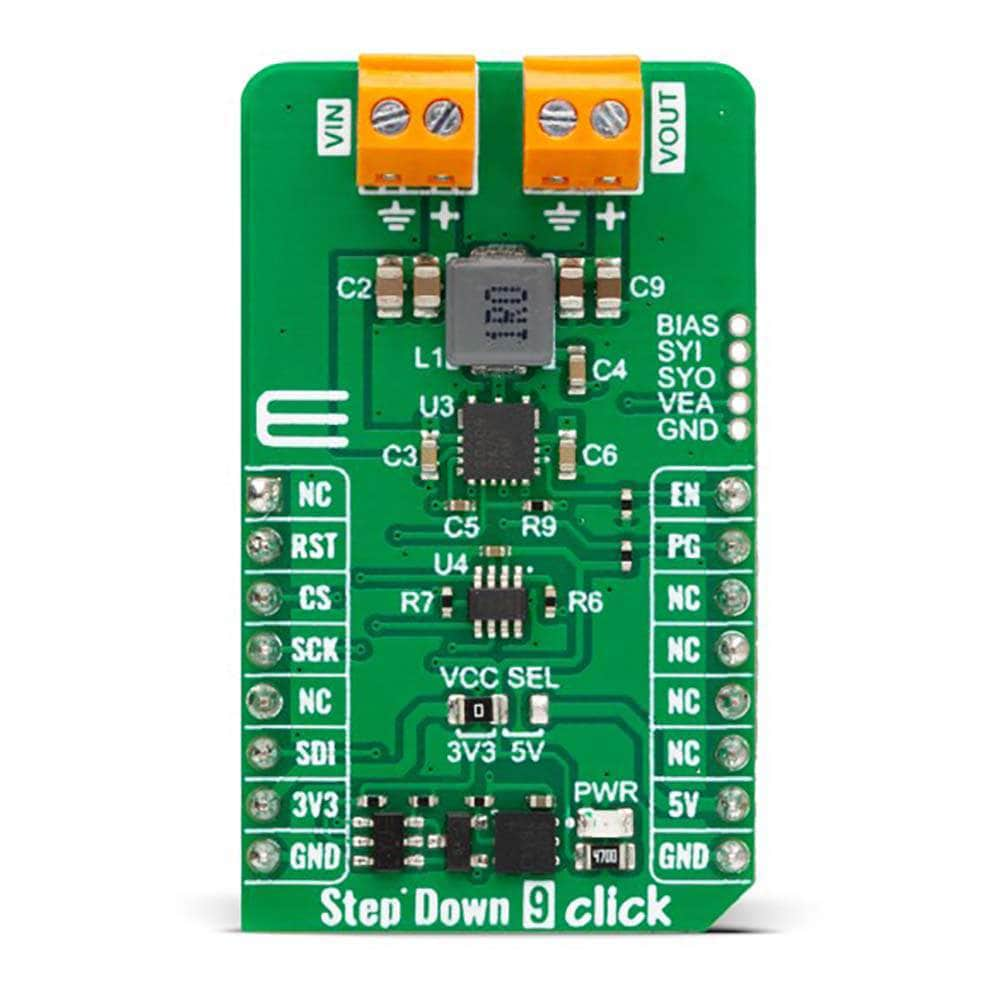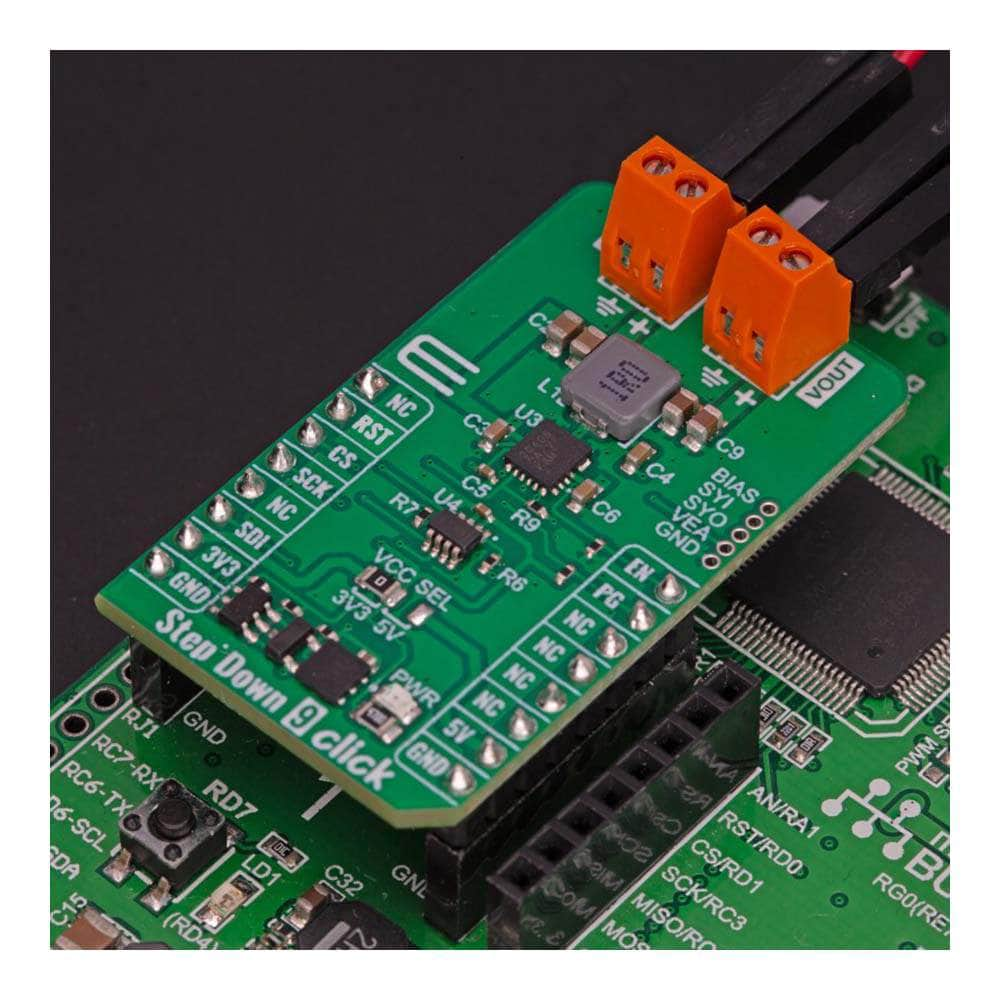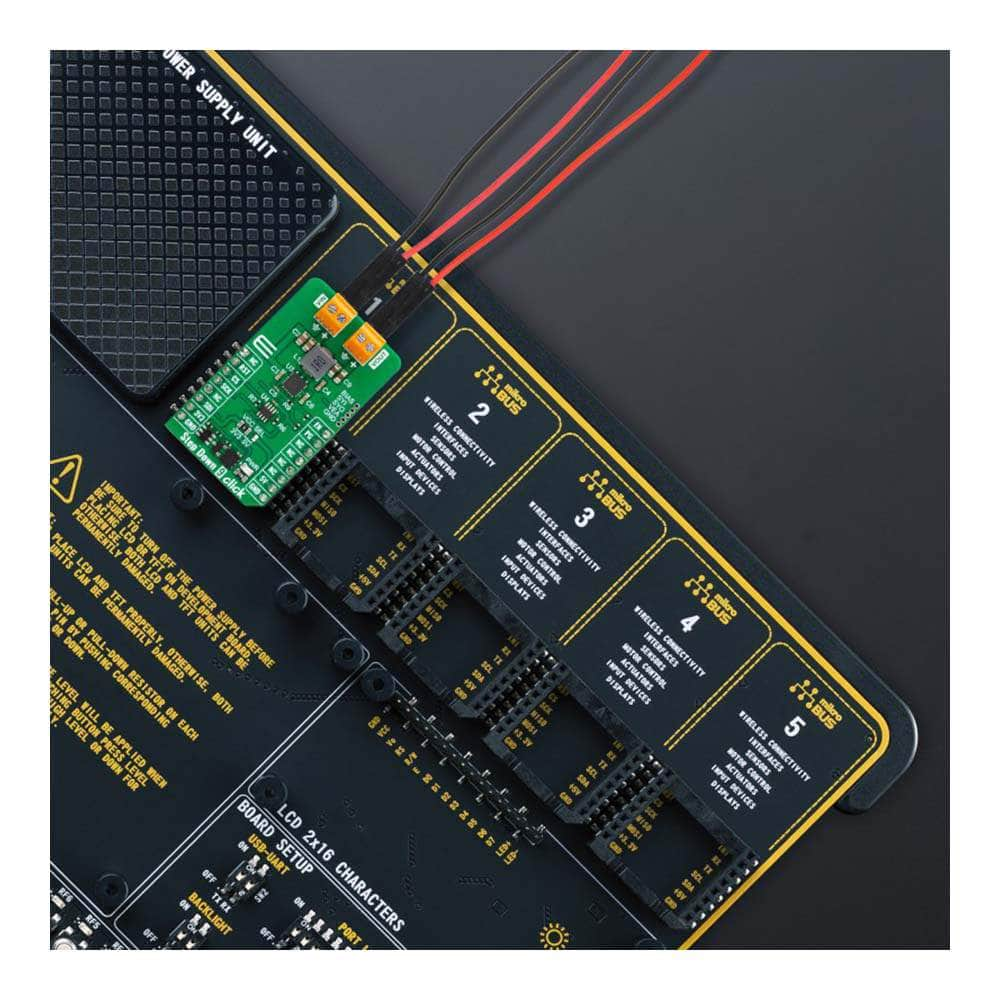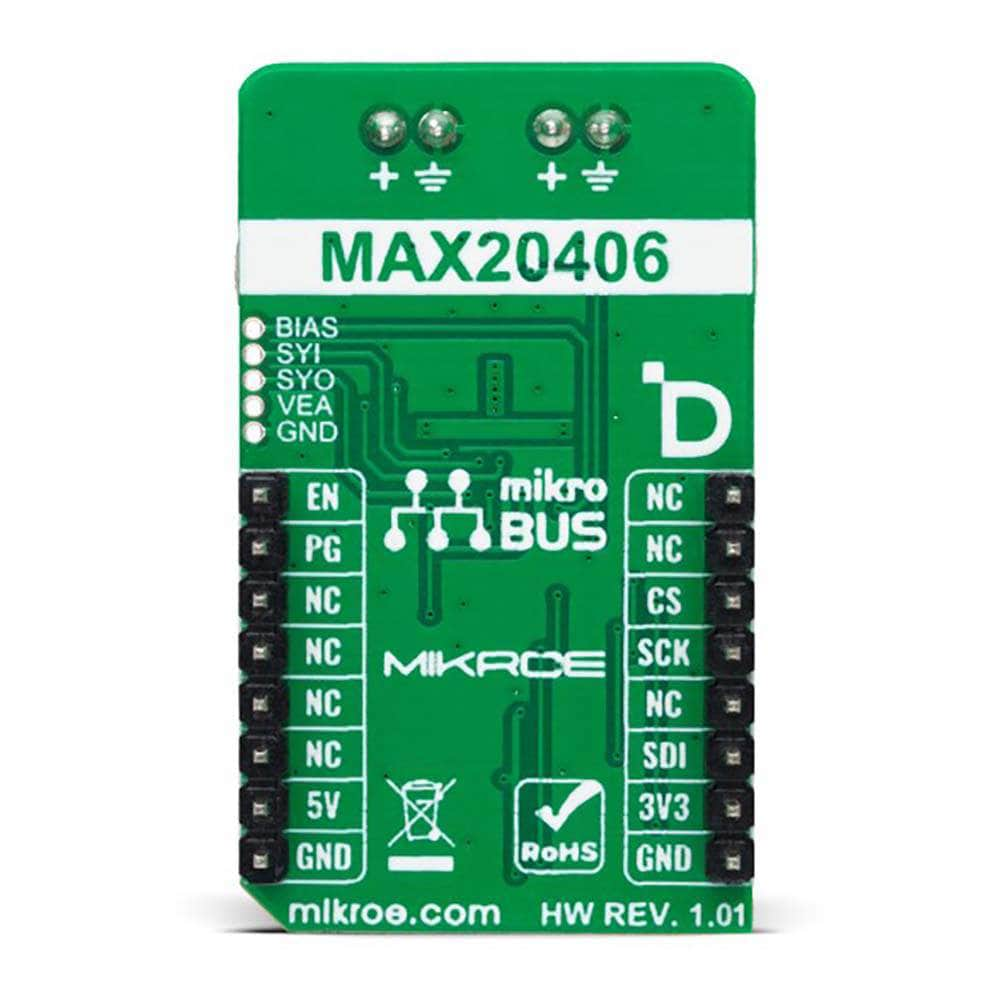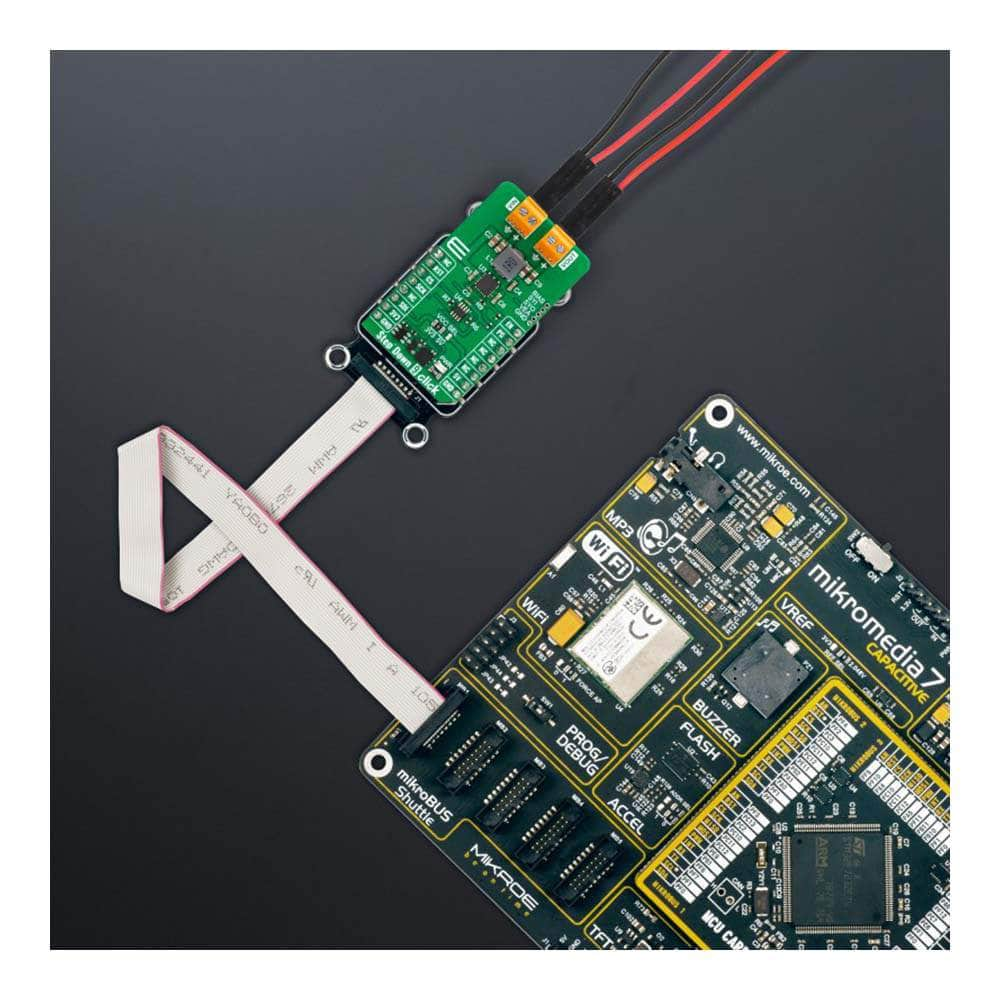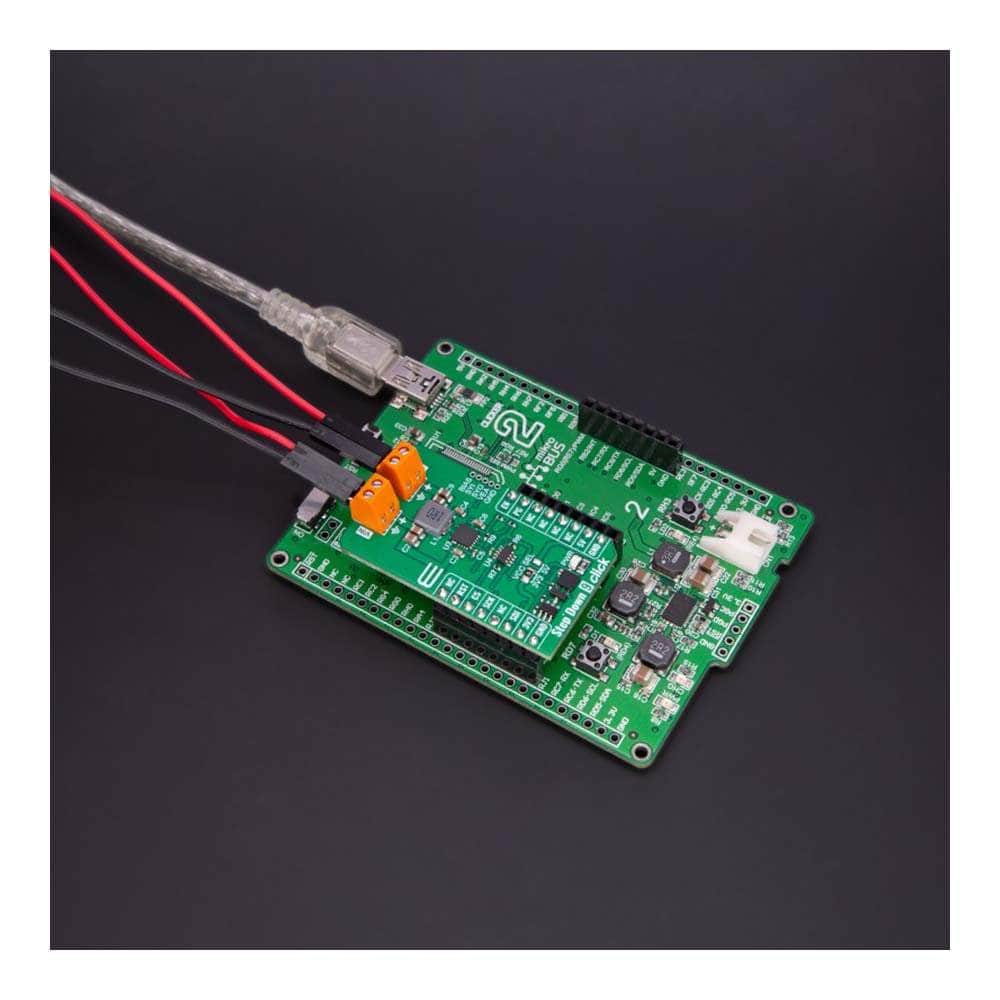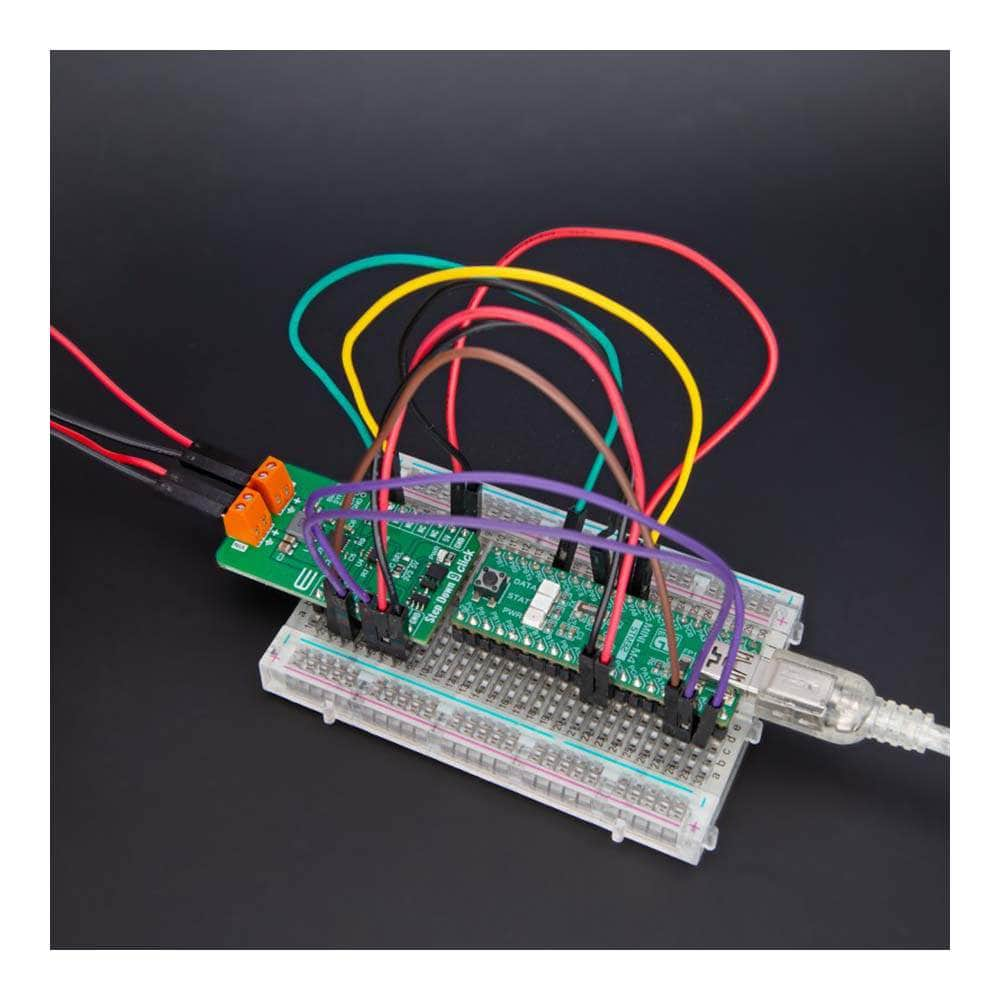 Step Down 9 Click Board™
Frequently Asked Questions
Have a Question?
Be the first to ask a question about this.
Ask a Question