External Power Amplfier for use with the Bode-100
Check Availability before Pre-Ordering
Introducing B-AMP 12: Elevate Your Measurements with Power and Precision
Unlock the true potential of your Bode 100 with the revolutionary B-AMP 12 external power amplifier. Designed to enhance your testing capabilities, the B-AMP 12 empowers you to amplify the Bode 100 output signal by an impressive 12 dB (equivalent to a staggering x4 increase). This advancement enables you to perform measurements with signal levels reaching up to an astonishing 25 dBm.
Amplify Signals, Amplify Possibilities
Experience the convenience and accuracy of impedance measurement like never before. B-AMP 12 offers dedicated impedance measurement ports that empower you to directly measure impedance at high signal levels, enabling unparalleled precision and clarity in your measurements.
Unleash the Potential of B-AMP 12 in Your Work
Uncover a world of applications with B-AMP 12, designed to revolutionize your measurement experience:
Measure incredibly low impedance values with ease
Explore voltage-dependent impedance, including chip capacitance
Enhance your circuit analysis with amplified power during Loop Gain measurement, Input Impedance measurement, or Output Impedance measurement
Conquer noisy environments with boosted power, perfect for high-power DC/DC converters or AC/DC converters
Key Features that Redefine Excellence
Optimized exclusively for seamless compatibility with Bode 100
Enjoy an expansive flat frequency range from DC to an impressive 50 MHz
Gain insights with dedicated impedance measurement ports
Rest assured with CE compliance and RoHS compliance
Technical Data for the Enthusiasts
Delve into the specifics that set B-AMP 12 apart:
Gain: 12 dB ±0.25 dB for uncompromising accuracy
Max power: Unleash up to 25 dBm across the dynamic DC to 50 MHz range
Input and output impedance: A solid and reliable 50 Ω for consistent performance
Experience measurements elevated to a new standard with B-AMP 12. Upgrade your testing capabilities today!
View full details
SKU: P0005772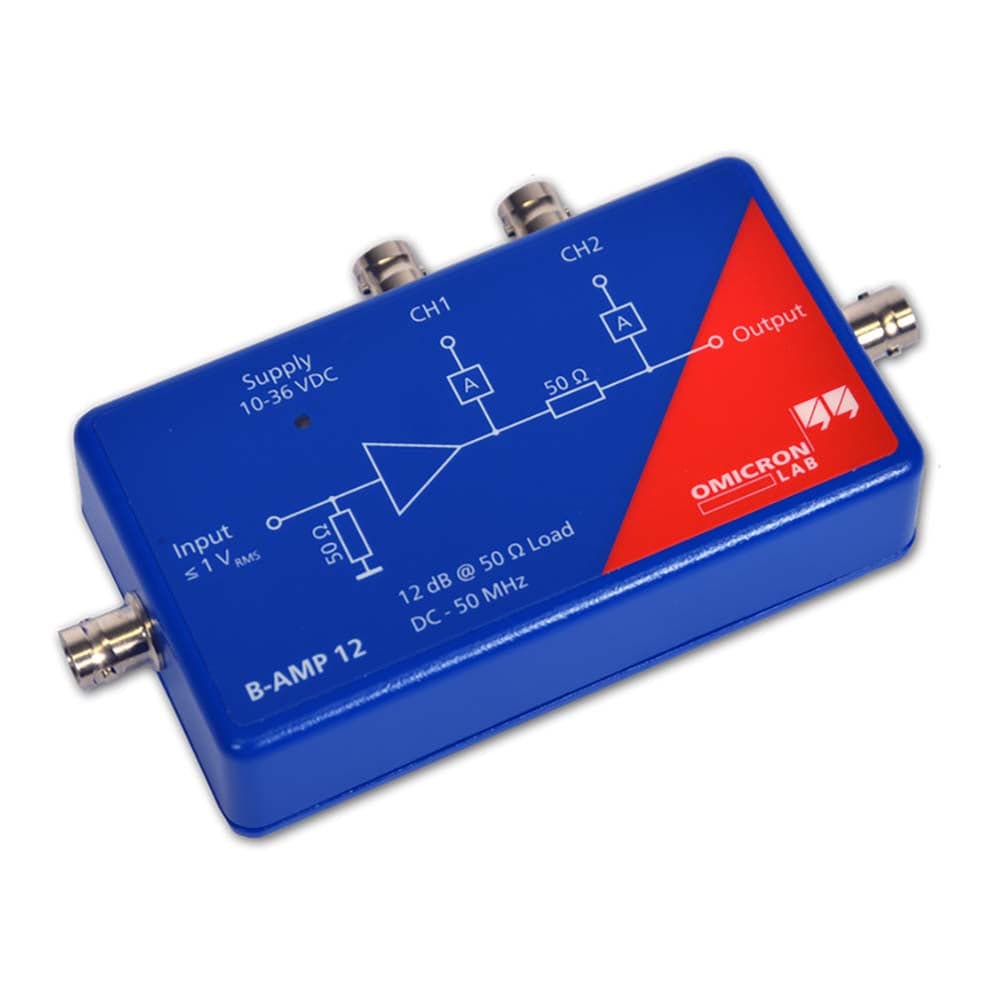 Typical Applications:
Measuring very low impedance values
Measure voltage dependent impedance (chip capacitance)
Use B-AMP 12 to inject more power into circuits during e.g. Loop Gain measurement, Input Impedance measurement or Output Impedance measurement
Generate more power in noisy environments such as measurements on high-power DC/DC converters or AC/DC converters
Key Features
Optimized for use with Bode 100
Flat frequency range: DC – 50 MHz
Impedance measurement ports
CE compliant, RoHS compliant
Some Technical Data:
Gain: 12 dB ±0.25 dB
Max power: 25 dBm (DC to 50 MHz)
Input and output impedance: 50 Ω
OMICRON-Lab B-AMP 12 External Power Amplifier
Frequently Asked Questions
Have a Question?
Be the first to ask a question about this.
Ask a Question