Connects 2 MikroE Click Boards to the Arduino Uno
Key Features
Click Shield for Arduino UNO allows you to use Click boards™ on your Arduino UNO board.
Based on 2 x mikroBUS™ sockets, connector for connecting compatible Arduino UNO board, four TXS0108 level-shifting voltage translators, power part for converting 5V USB to the 3.3V
mikroBUS: I2C, SPI, GPIO, Analog, PWM and UART Interfaces
Combine Arduino UNO with your Favourite Click boards™
Experience a seamless project development journey with the Click Shield for Arduino UNO. This cutting-edge solution combines the power of the Arduino UNO board and the versatility of mikroBUS™ sockets, offering unparalleled ease and efficiency. By utilizing the extensive collection of Click boards™, you gain instant access to a wide range of possibilities.
Explore a Huge Collection of Click Boards™
Equipped with two versatile mikroBUS™ sockets, this shield serves as the gateway to our vast collection of Click boards™. Immerse yourself in a treasure trove of possibilities as we provide an extensive range, including sensors, WiFi transceivers, motor control modules, audio amplifiers, and more. From essential components to specialized tools, we have everything you need to fuel your creative endeavors. Unleash the full potential of your projects with the Click Shield for Arduino UNO, where innovation knows no bounds.
Effortless Integration with mikroBUS™ Sockets
Click Shield for Arduino UNO has two proprietary mikroBUS™ sockets, allowing all the Click board™ devices to be interfaced with the Arduino UNO board without effort. This way, Mikroe allows its users to add any functionality from our ever-growing range of Click boards™, such as WiFi, GSM, GPS, Bluetooth, ZigBee, environmental sensors, LEDs, speech recognition, motor control, movement sensors, and many more. More than 1419 Click boards™, which can be stacked and integrated, are available.
Unlock the Potential with Arduino UNO
The Arduino Uno, a microcontroller board based on the ATmega328P, provides an affordable and flexible way for users to try out new concepts and build prototypes with the ATmega328P microcontroller from various combinations of performance, power consumption, and features. The Arduino Uno has 14 digital input/output pins (of which six can be used as PWM outputs), six analogue inputs, a 16 MHz ceramic resonator (CSTCE16M0V53-R0), a USB connection, a power jack, an ICSP header and a reset button. Most of the ATmega328P microcontroller pins are brought to the IO pins on the left and right edge of the board, which are then connected to two existing mikroBUS™ sockets.
Enhanced Functionality with Switches
This Click Shield also has several switches that perform functions such as selecting the logic levels of analogue signals on mikroBUS™ sockets and selecting logic voltage levels of the mikroBUS™ sockets themselves. Besides, the user is offered the possibility of using any Click board™ with the help of existing bidirectional level-shifting voltage translators, regardless of whether the Click board™ operates at a 3.3V or 5V logic voltage level.
Start Creating with Click boards™
Once you connect the Arduino UNO board with our Click Shield for Arduino UNO, you can access hundreds of Click boards™, working with 3.3V or 5V logic voltage levels. Our Click boards™ are equipped with a library containing functions and example codes for MIKROE compilers available on LibStock, which can be used, as a reference, for further development.
View full details
SKU: MIKROE-5739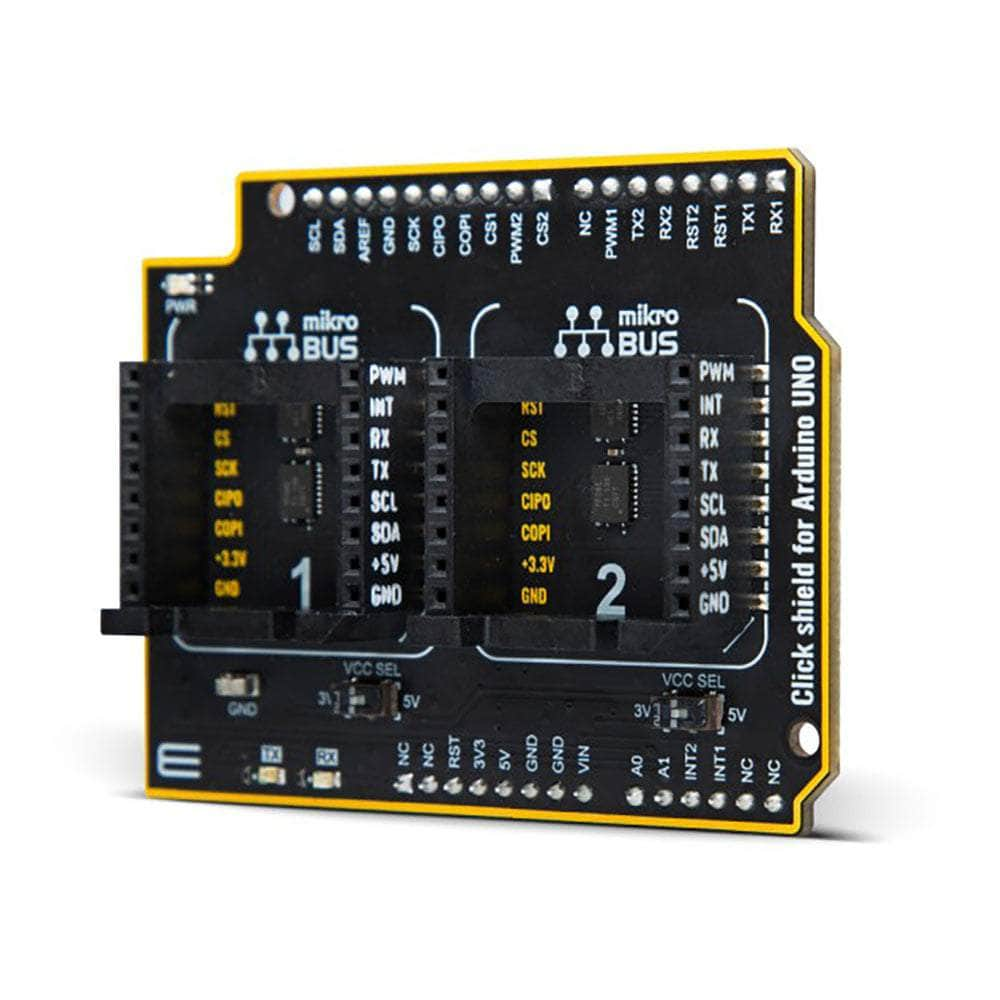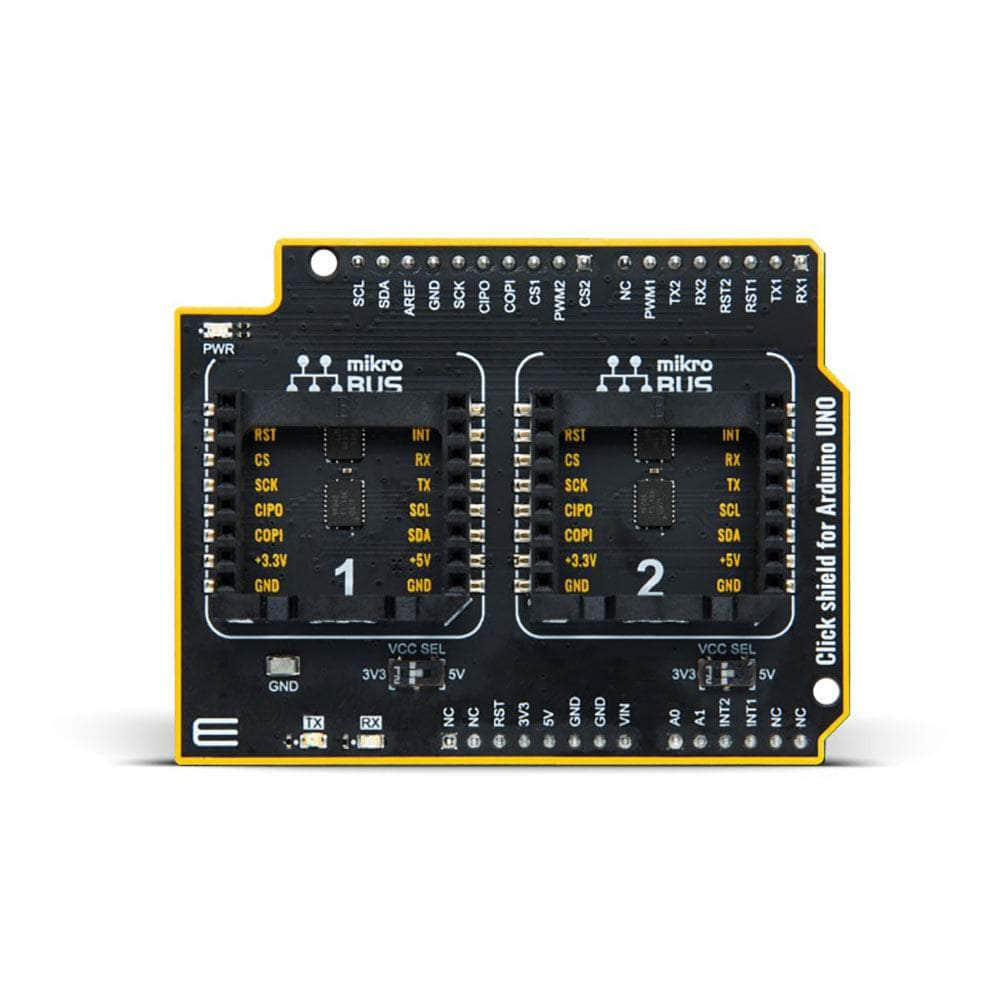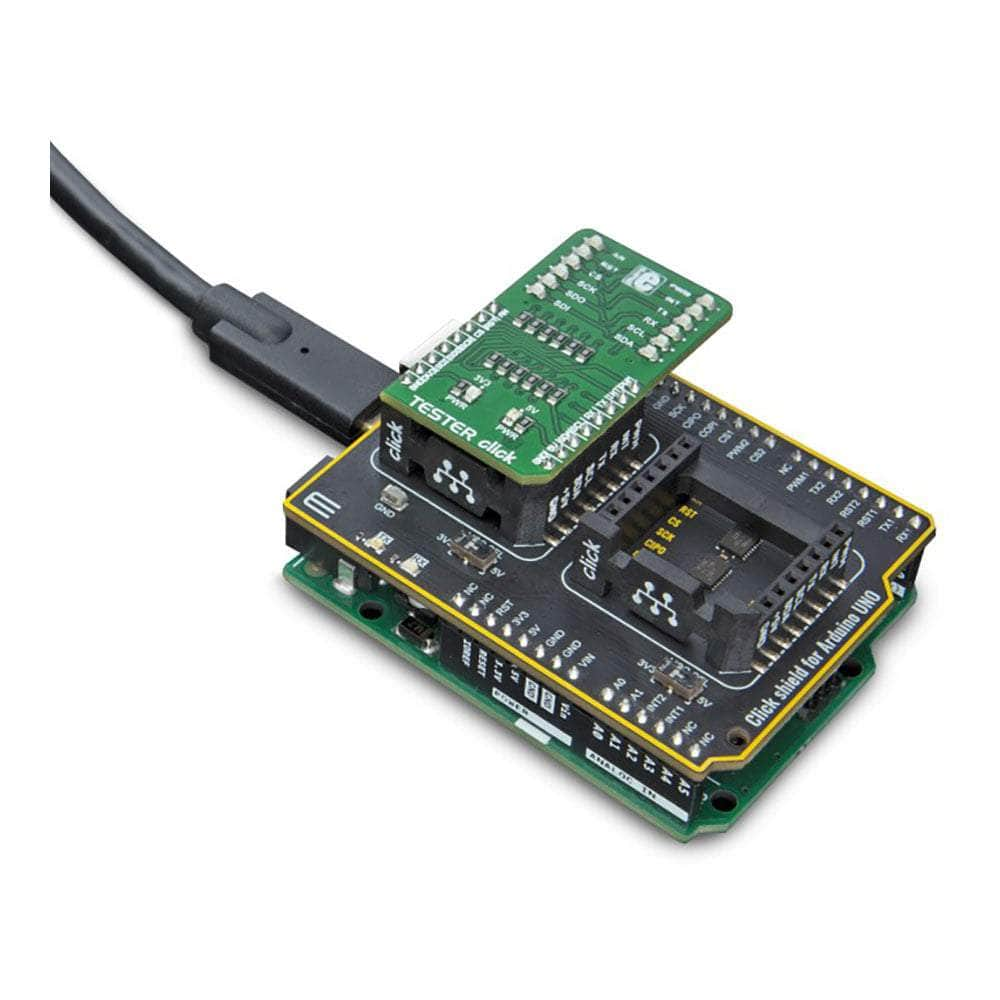 Click Shield for Arduino UNO
Frequently Asked Questions
Have a Question?
Be the first to ask a question about this.
Ask a Question