Pre-Ordered items ship within 10 days of ordering
The Hantek HT3325 is a new generation DC stable power supply we launched, which can be program-controlled. It has a USB program control interface and can output arbitrary voltage or current value; uses LED to display the working state of power; uses large scale integrated circuit, supplies 3 circuits voltage output,voltage-stabilization values and current-stabilization values of circuit 1 and circuit 2 can be changed step by step, the two working states of steady voltage and steady current can be changed automatically with the change of load. The output of circuit 1 and circuit 2 can be in series, in parallel and work independently. The third circuit supplies the optional 4 kinds of output voltage,1.8V、2.5V、3.3V、5V, and supplies overload protection.
View full details
SKU: HT-3325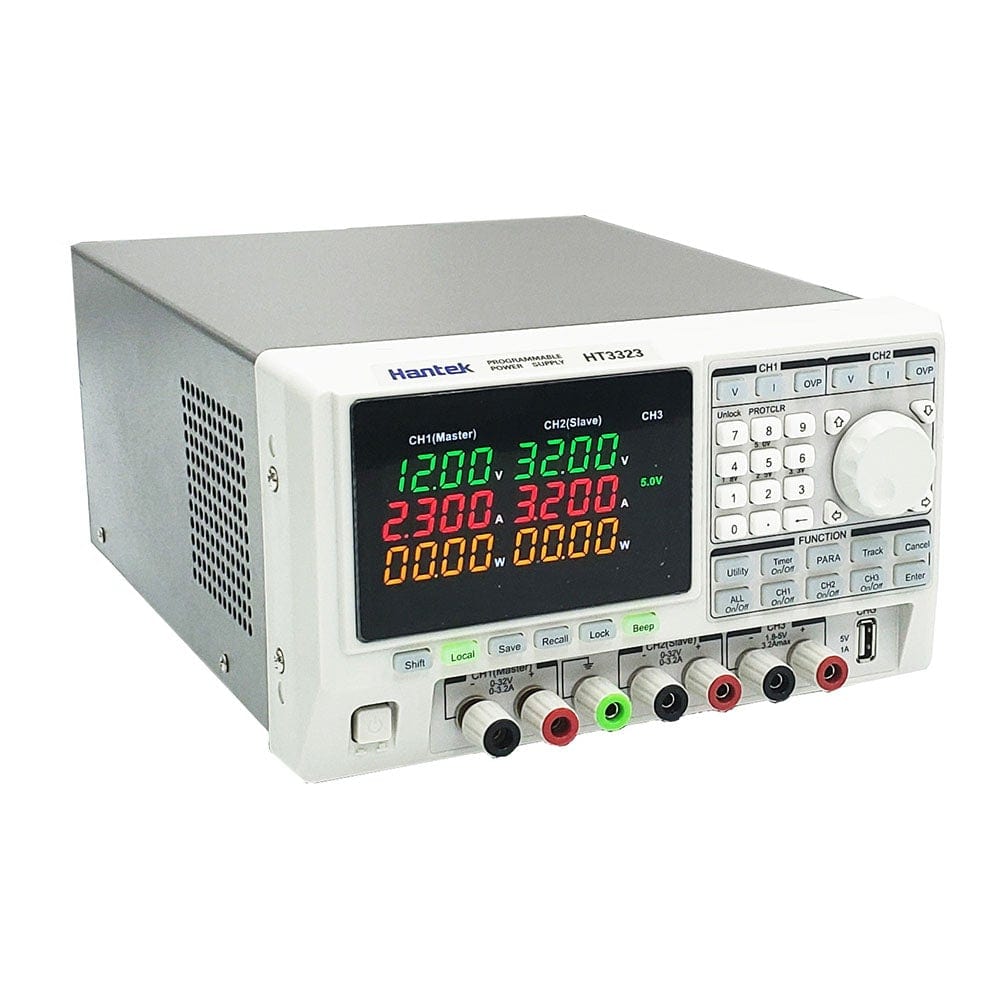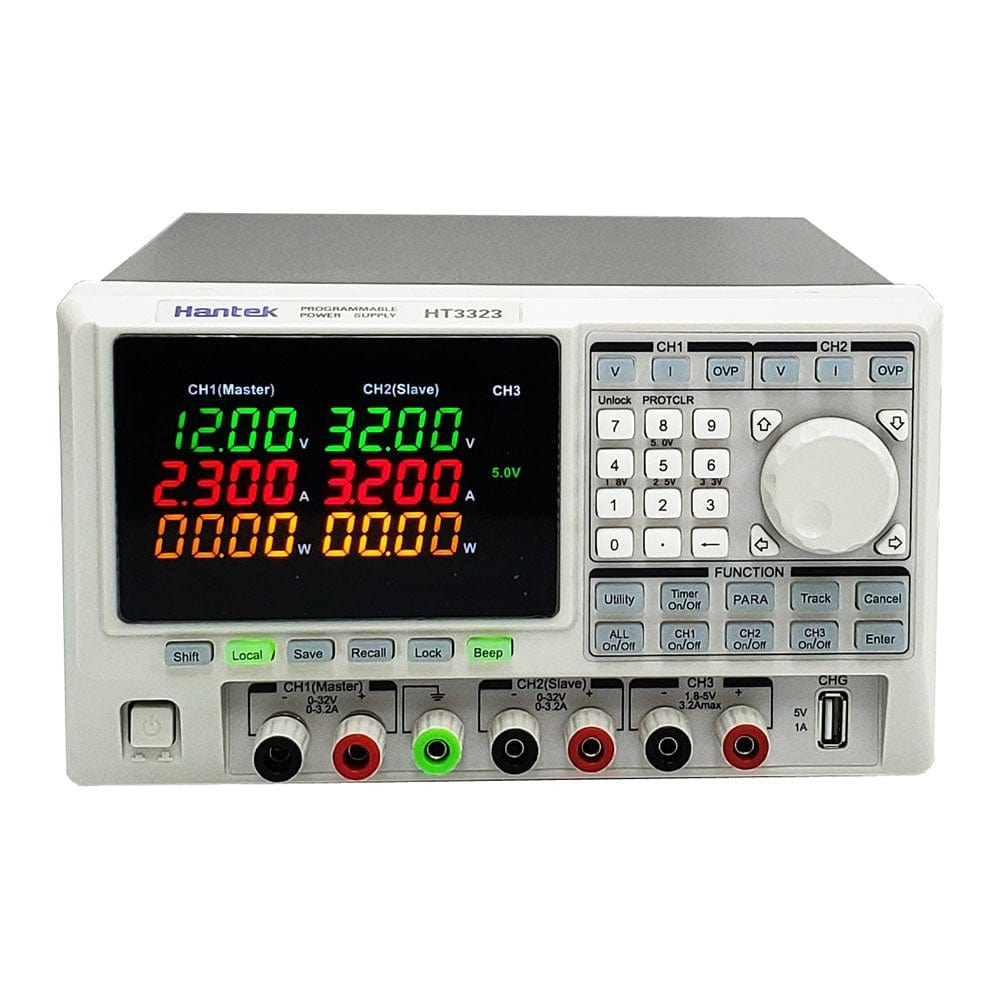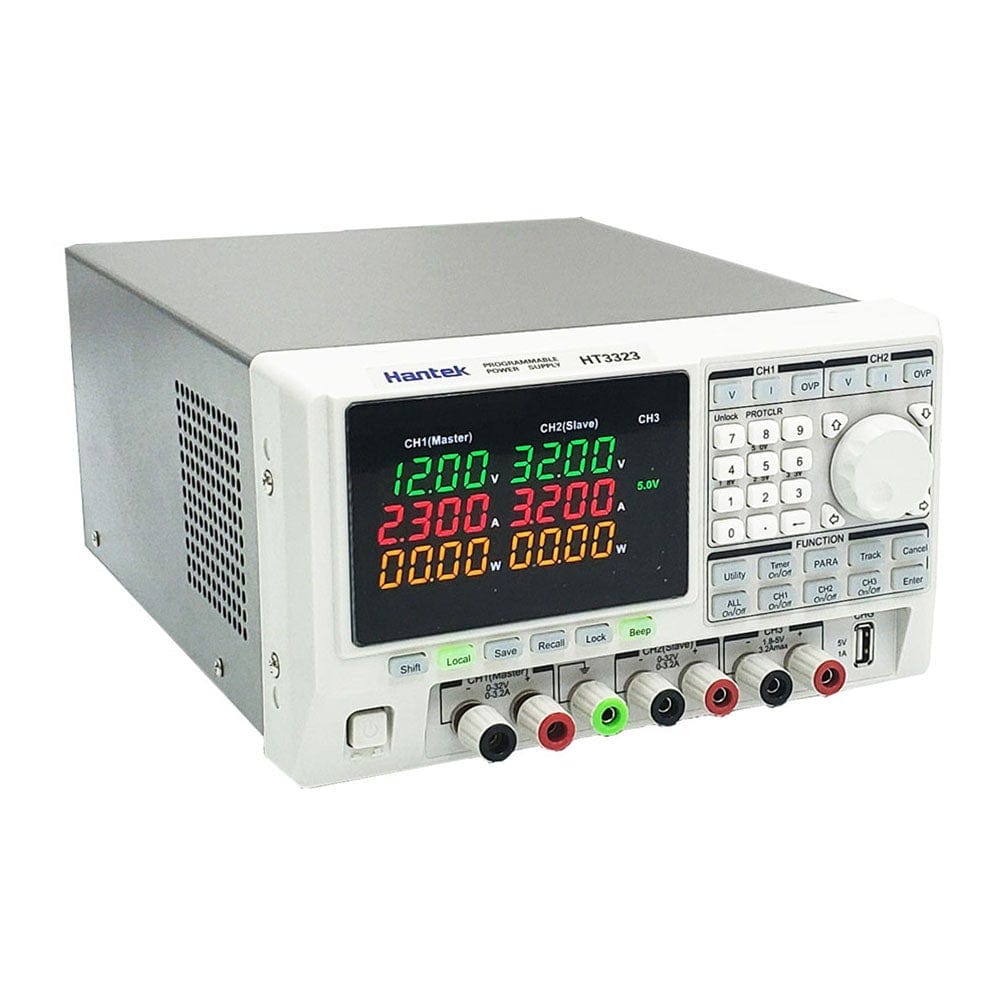 Features
3-circuit high precision power independent controllable output:
32V/5A(32V/3A) these 2 circuits can be adjusted arbitrarily,1 circuit can be switched to 1.8V/2.5V/3.3V/5V/3A
5-bit voltage and 4-bit current display,the minimum resolution is 10mV,1mA
3 kinds of output mode:independent,series and parallel connection,support timing output and SCPI remote command
All digital control,low drift
Nixie tube to display voltage,current and power
Memory replay function
Constant voltage and constant current automatic switching
3 kinds of output:independent,series and parallel modes,increase the range of output power
Digital knob adjustment;can coarse control,fine control;easy to set,intuition output
Fan speed control
USB interface,5V1AUSB charge and output interface
Support timing output function,can achieve 10 sets of timing settings and output control
5 groups of system parameters save/call inside, support data storage space expansion
Hantek HT3325 Programmable Power Supply 2 x 0-32V, 0-5A; 1.8-5.0V, 3A
Frequently Asked Questions
Have a Question?
Be the first to ask a question about this.
Ask a Question